December 30, 2007
Midwest 2007
I flew to Chicago on Tuesday, December 18th, for the annual Midwest Band (& Orchestra, but really, who is that kidding?) Clinic. It's really the "slow" day at Midwest, and there wasn't a lot happening when I arrived — except that my friends Jonathan Newman and Steve Bryant were setting up their exhibit booth. Here, Newman — who is considerably larger than I am — balances precariously on a stool with legs that were, I was sure, about to collapse under him. So, rather than assist, I took what I assumed would be the last picture of Newman alive.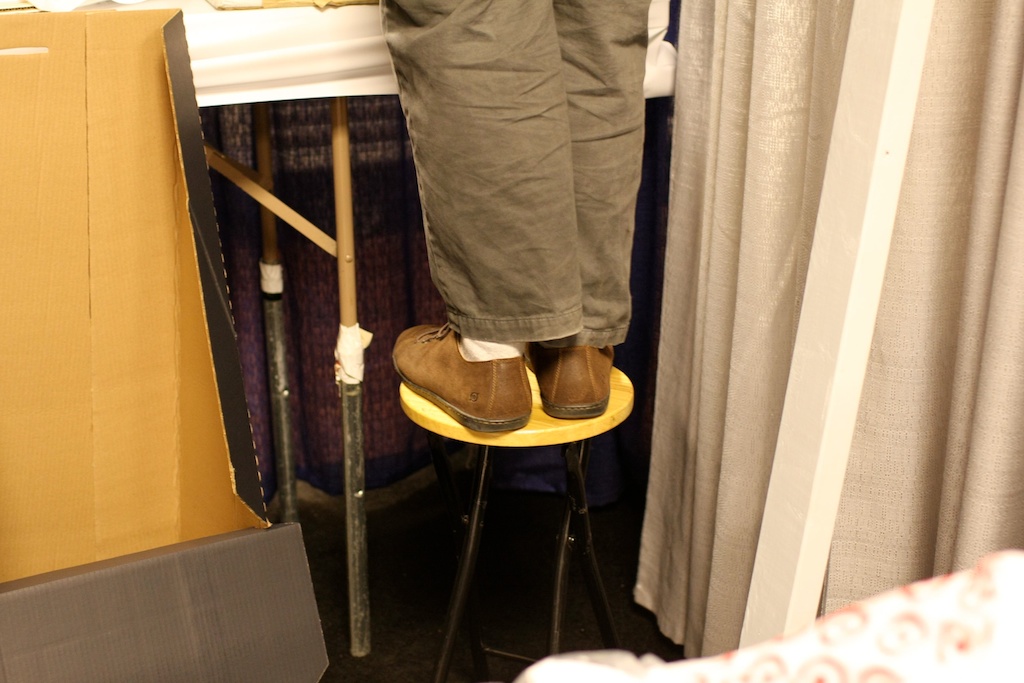 After visiting with them for a few minutes — but not long enough to actually be roped into being helpful — I went back to my hotel room to rest for a little before dinner. Last year, I was lucky enough to get a room in the Hilton Towers, the hotel that hosts the convention. The Hilton, while no Tawaraya, is a nice hotel. This year, I called the hotel a little too late, and the Hilton was booked. The Travelodge is a mere one block away, so I figured how bad could it be?
Ah. Got it.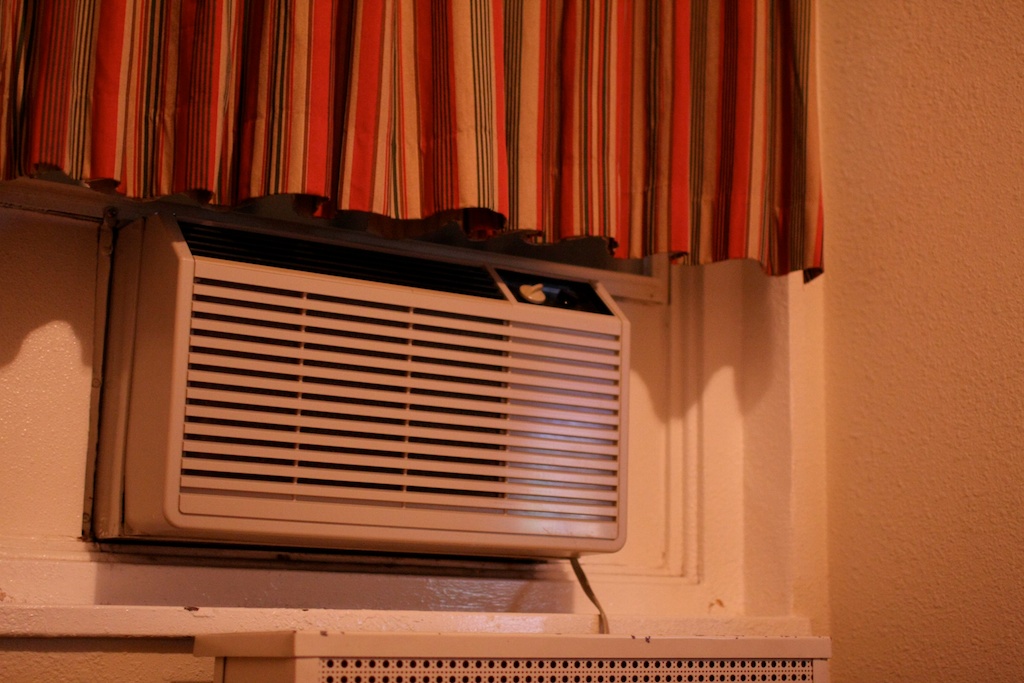 If you're doing Midwest the right way, you're barely in your room anyway (who needs sleep?), so it wasn't that big a deal. After a short nap, I headed out to dinner with Tim Roberts – the sax soloist for the US Navy Band — and a few of the other guys from the band. Step one: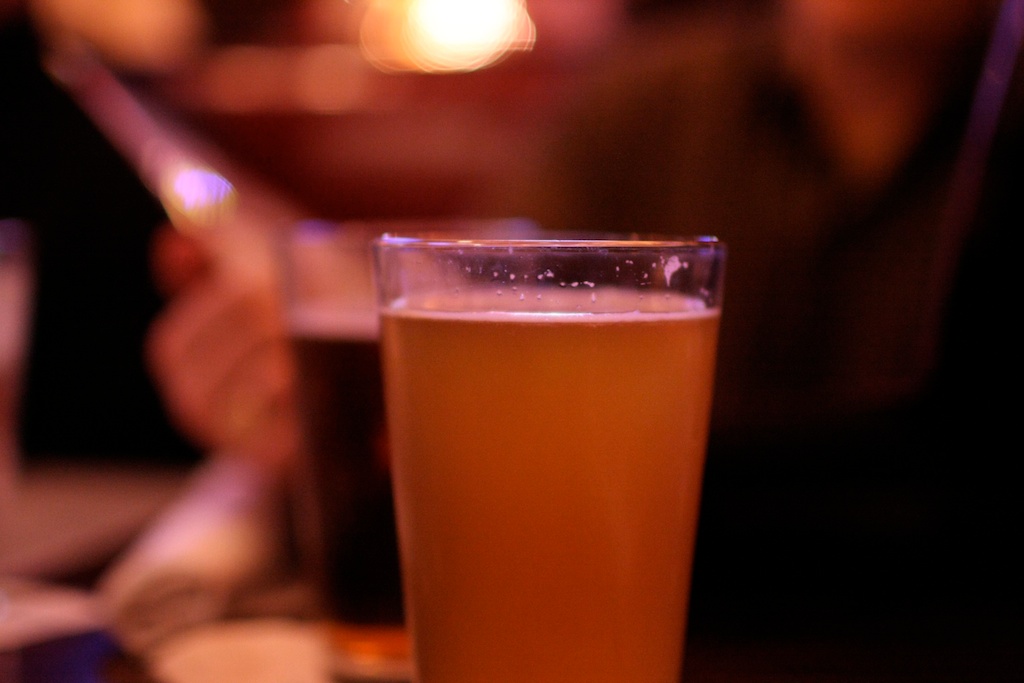 And step two: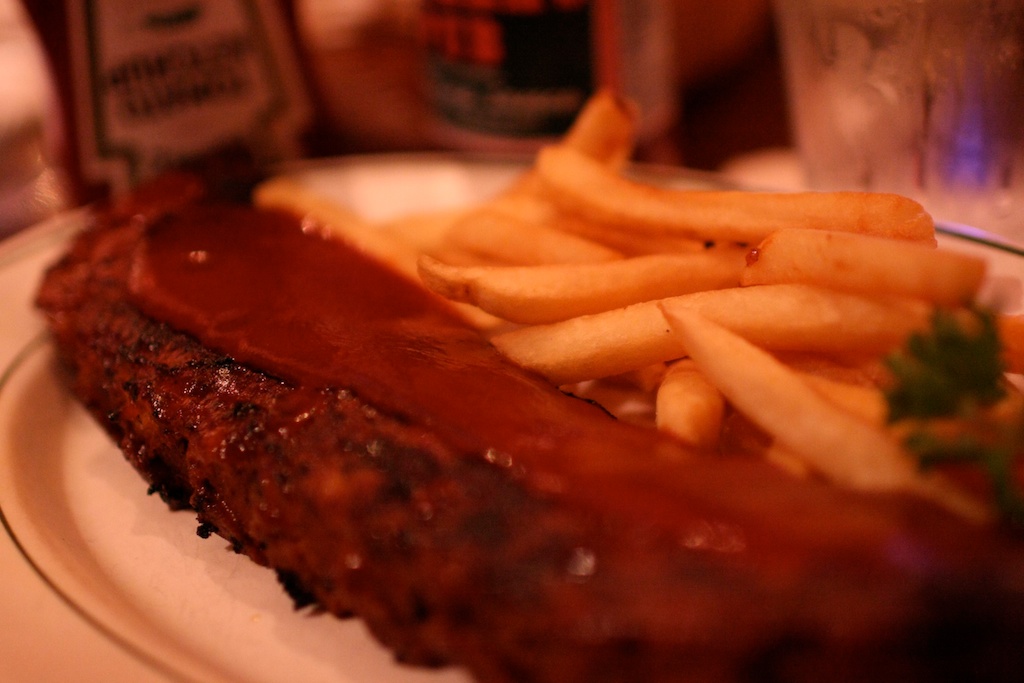 After dinner, it was time to check out the Hilton Hotel bar, the place where all of the Midwest action happens. I saw my friend Mamoru Nakata, who organized the consortium that commissioned Kingfishers Catch Fire. (He's also perhaps the best wind band arranger in Japan.)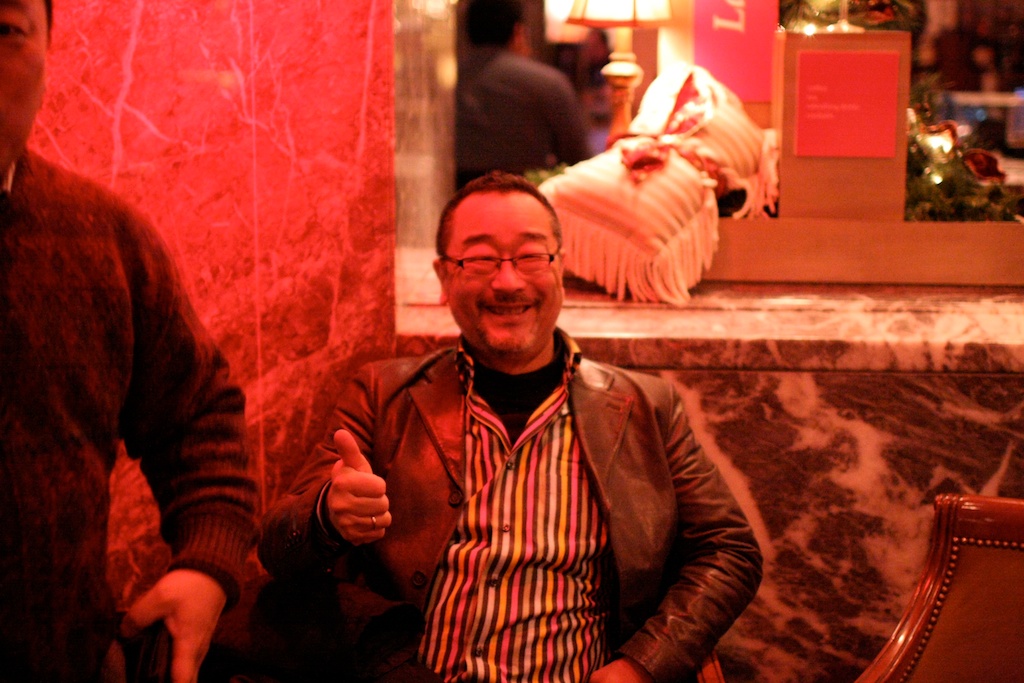 And here is one of my other friends from Japan, Kohtai Yoh, who took AEJ and I out for Kobe beef when we were there in March. I love pictures of people taking pictures.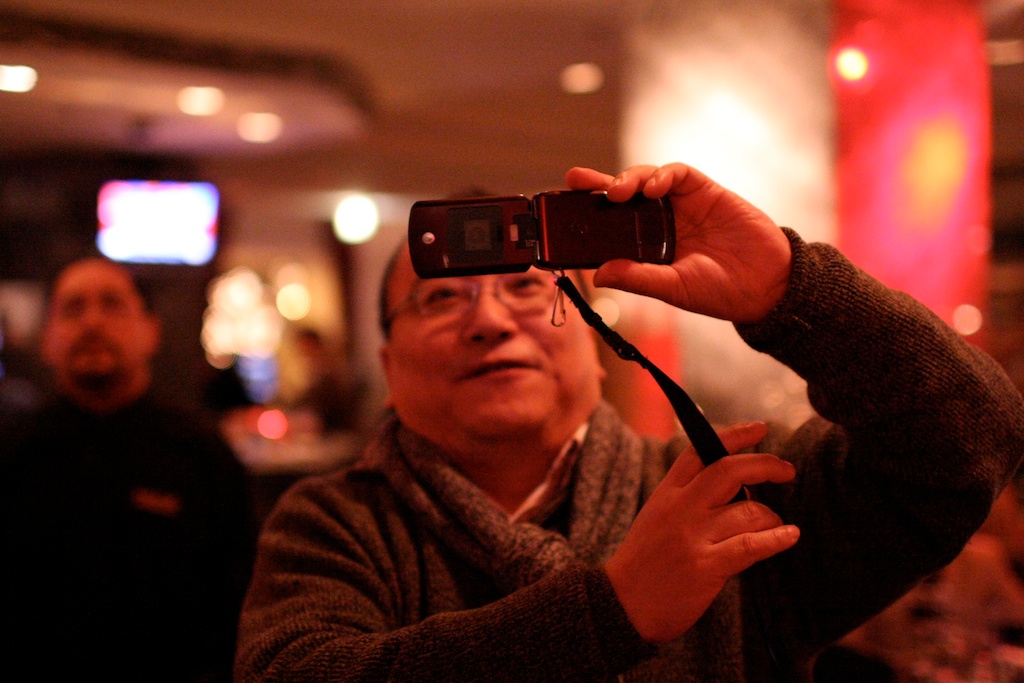 The next day, Newman and I headed out to lunch. There's a sushi place around the corner from the hotel. Well, a sushi place of sorts. It was all kind of downhill after the salad. (I didn't process this picture at all. The tomato really was that color.)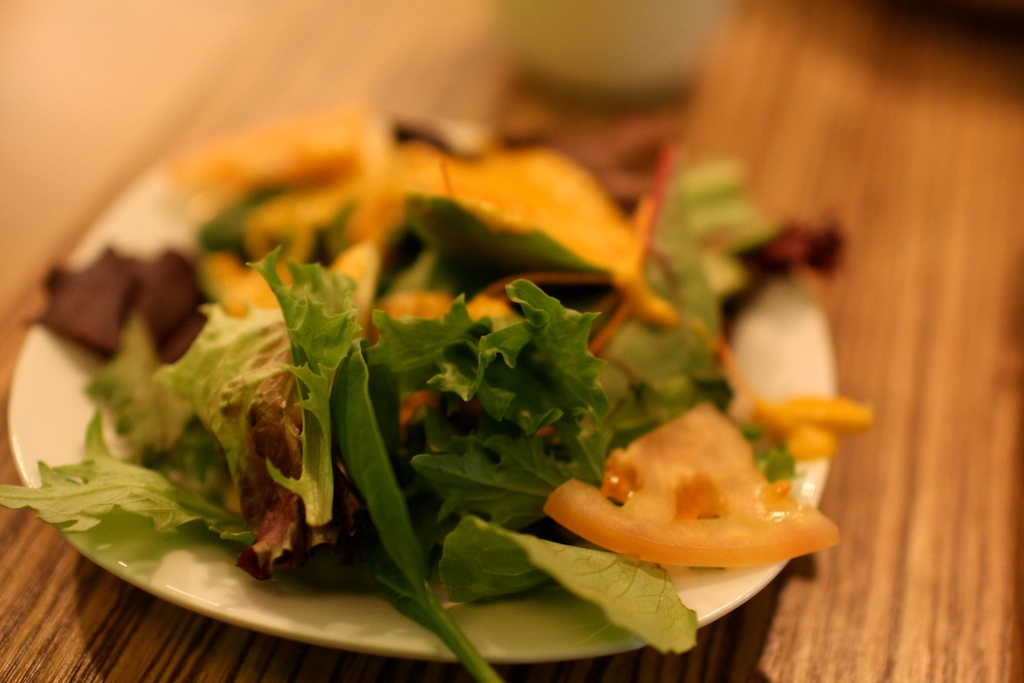 Here are my spicy tuna tacos. They were… fascinating. Still, preferable to the actual sushi pieces, which appeared to be loaded with those nasty stringy parts.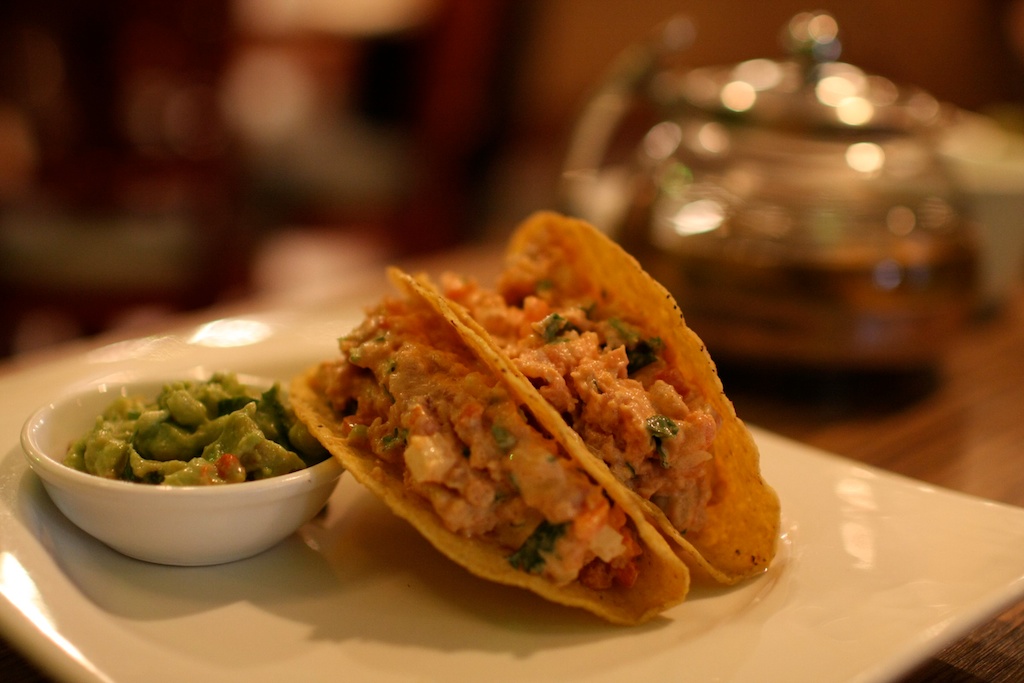 That night, the US Navy Band performed two movements of my Concerto for Soprano Sax and Wind Ensemble, with Timothy Roberts sax soloist. Here, Captain George N. Thompson leads the band and the audience in the National Anthem.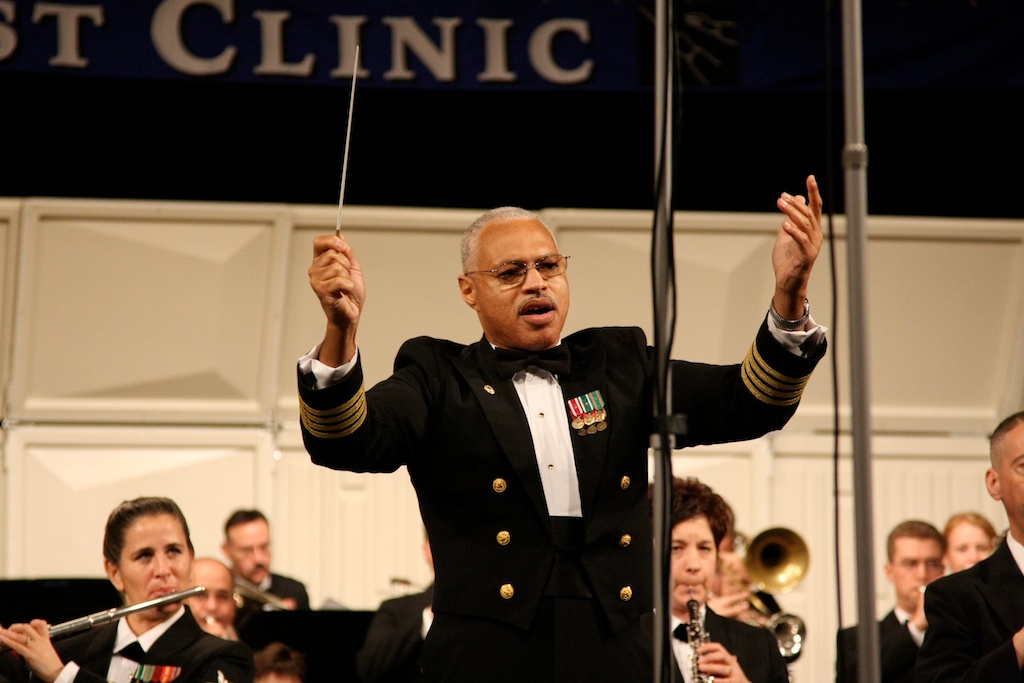 The trombone section was featured in "Malagueña – Extreme and Variations" by Ernesto Lecuona, arranged by Gerald Ascione. This is Michael Schmitz, who is also one hell of a conductor.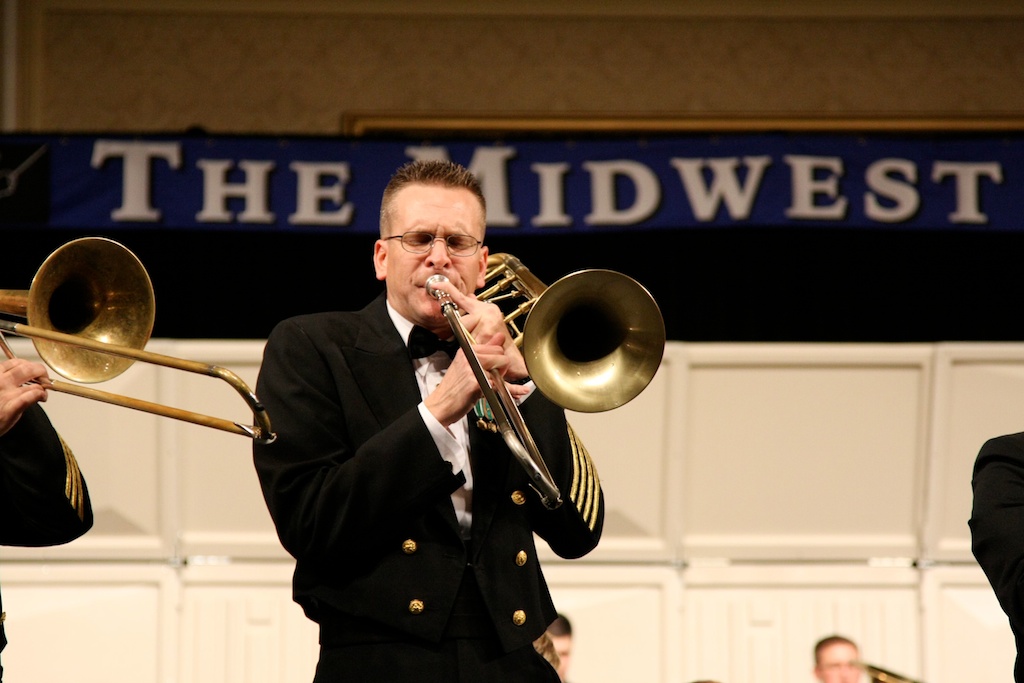 Tim Roberts was amazing on the concerto. I can't imagine "Wood" sounding better than what he and the band did that night. They only performed two movements at Midwest, but they're doing the whole thing at the International Saxophone Symposium in January. As much as I would love to be there, I have even more important things happening that weekend…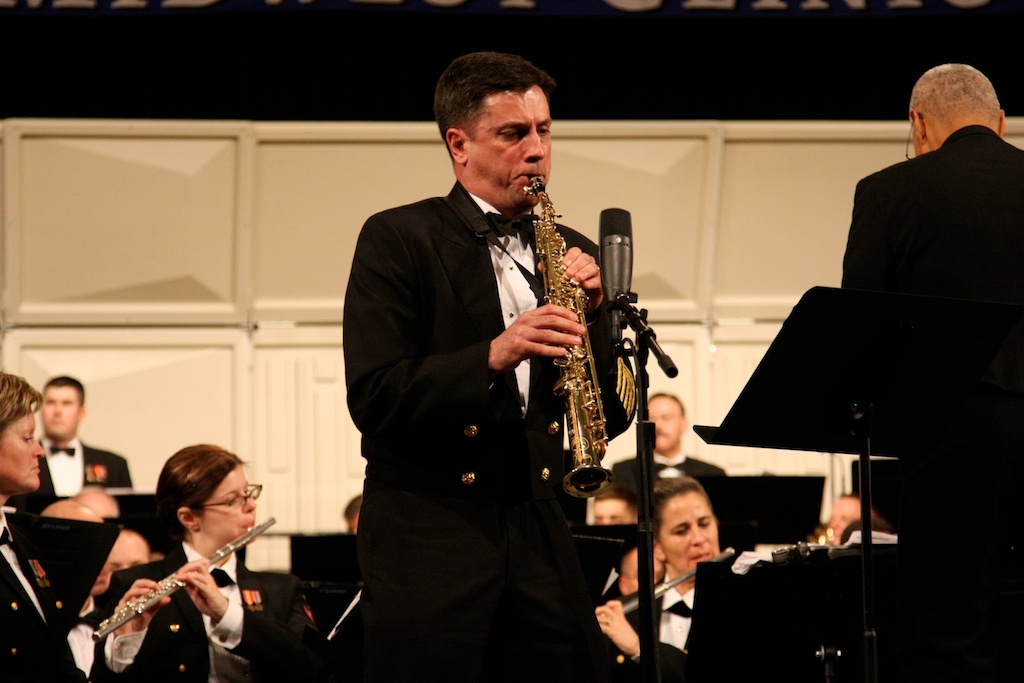 Here I am with Tim after the concert. Tim looks suave. I look happy and dorky.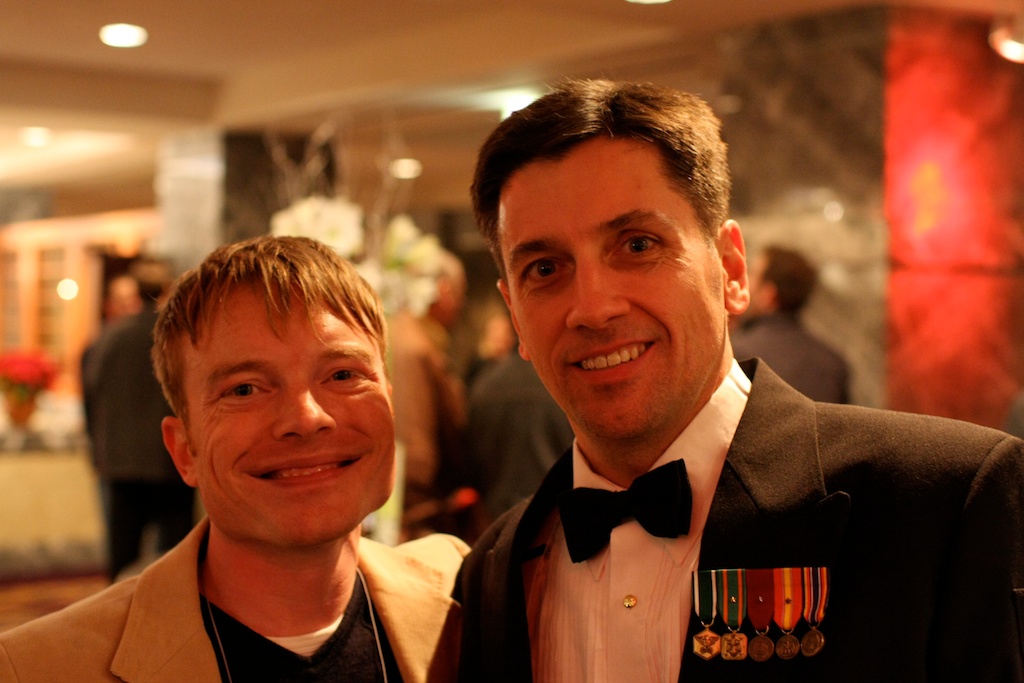 I need to learn how to pose for photographs. You know who has it mastered? Composer Joel Puckett. This guy makes sweet love to the camera.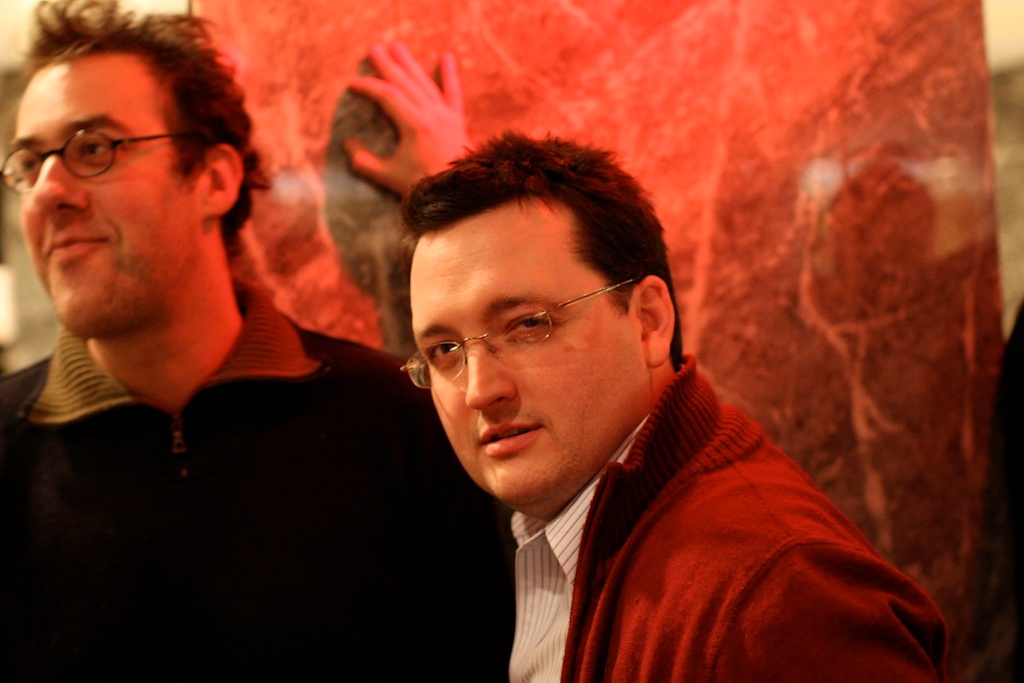 Here are two of my favorite conductors — and they're both based in Georgia. On the left is Robert Ambrose of Georgia State, who gave one of the best performances of "Redline Tango" I've ever heard, and on the right is John Lynch of the University of Georgia, who recorded "Redline Tango" on Naxos.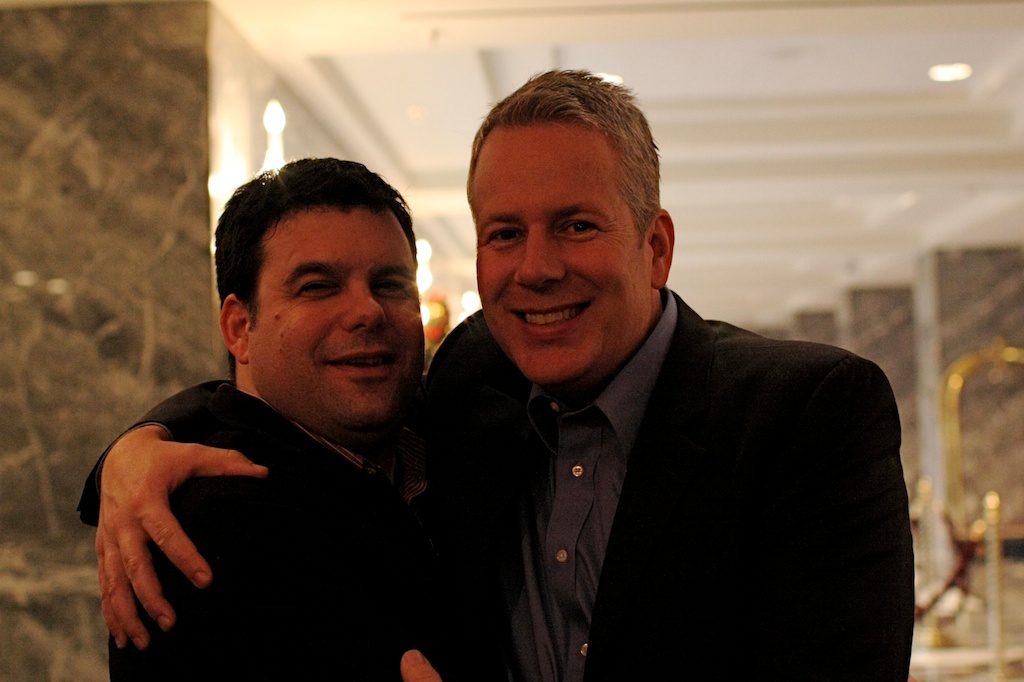 The next morning, I had a rehearsal with the Harrison High School Wind Ensemble. Their conductor, David Vanderwalker, was preparing "Kingfishers Catch Fire" for their concert.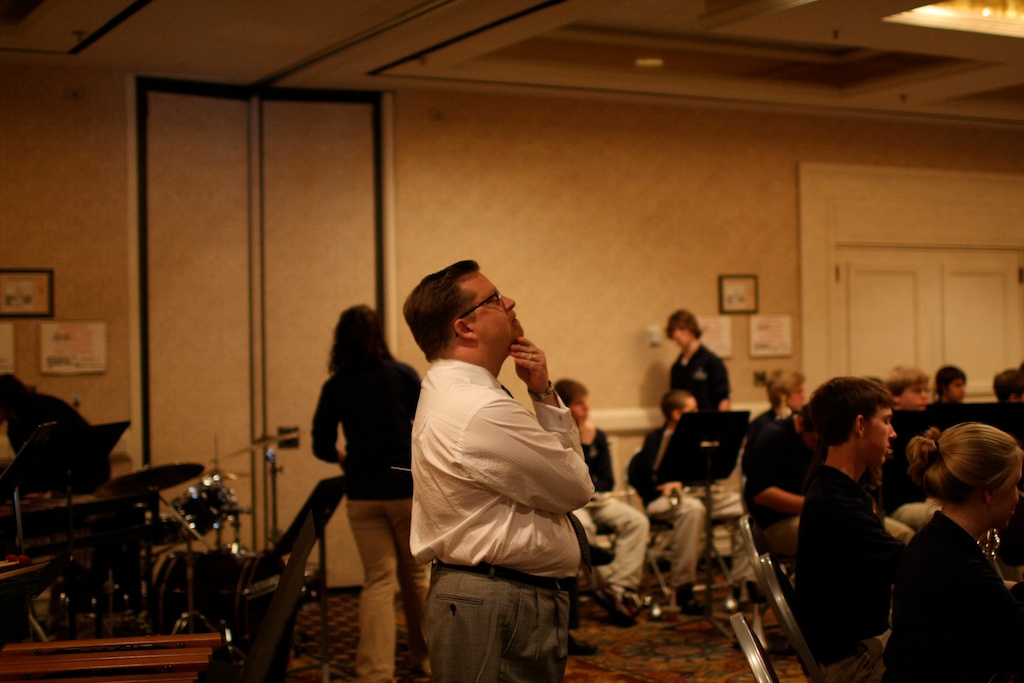 They are a great band. I worked with them extensively last year on "Redline Tango," and I think they're somehow even better now.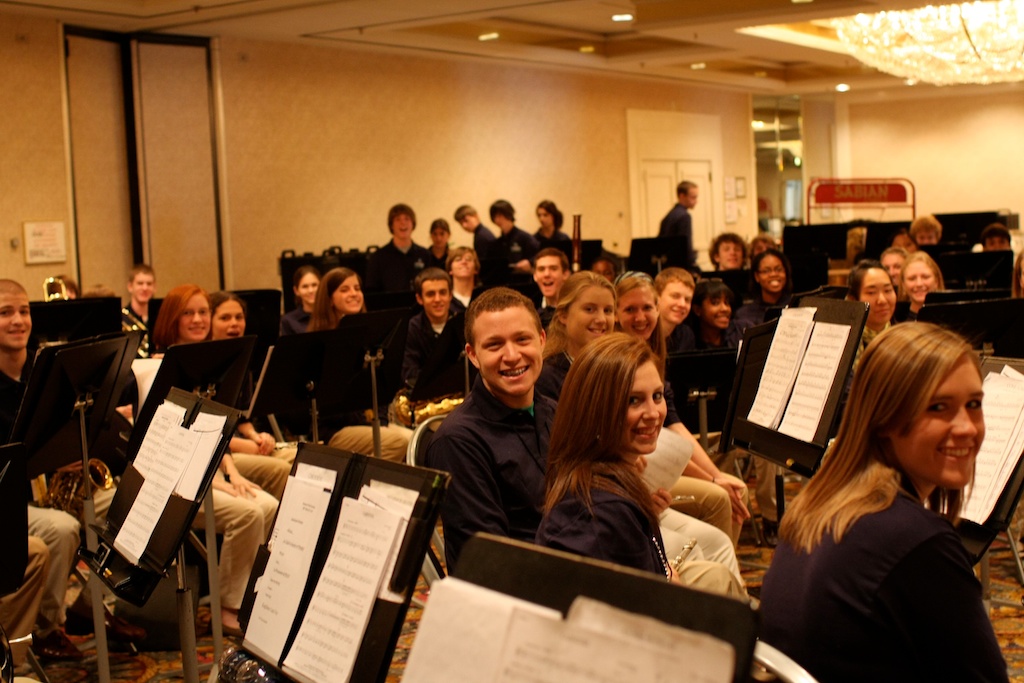 After rehearsal: lunch. Pizza at Giordano's. Ever seen any cheese?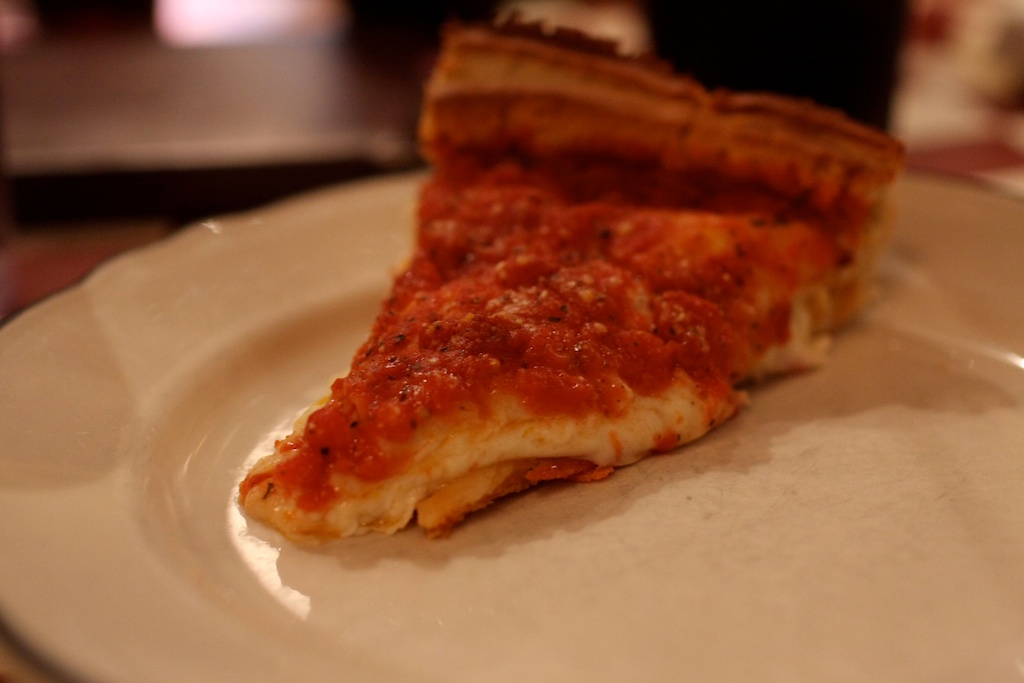 On Friday, I stopped by the Michigan State University's rehearsal. I heard them work on Carter Pann's "Slalom"…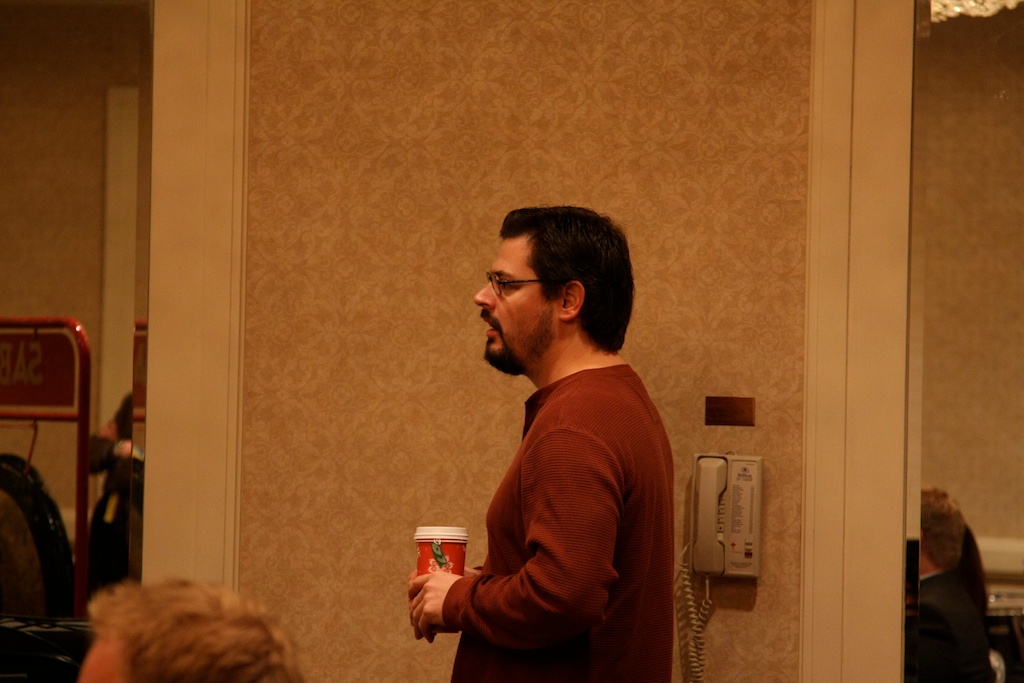 … Jonathan Newman's "As the Scent of Spring Rain…"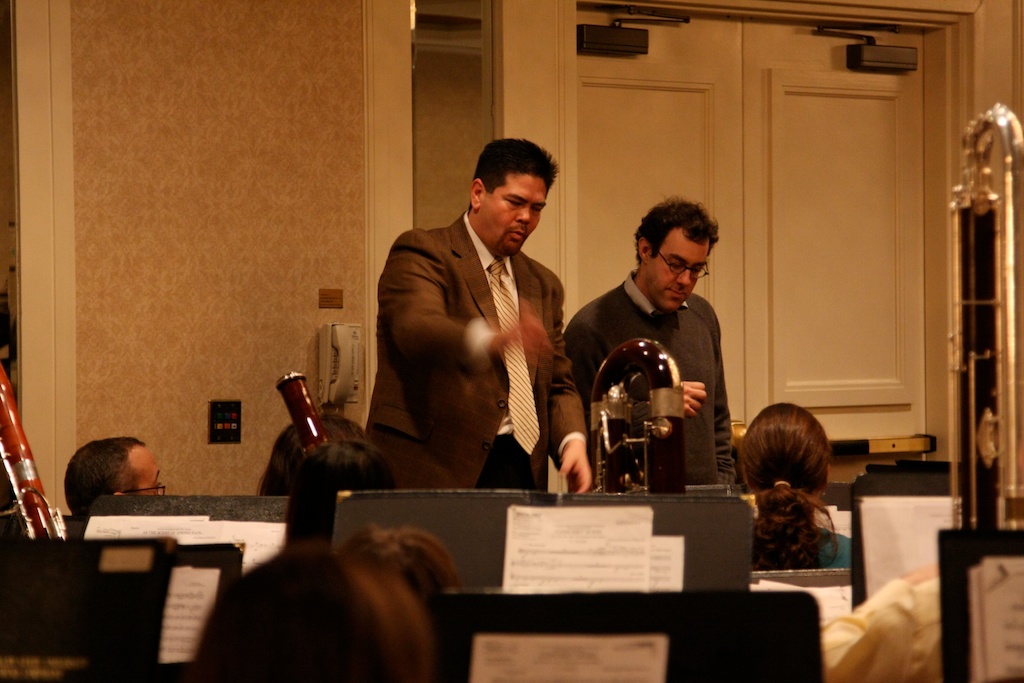 … and a new piece by Donald Grantham, "Starry Crown." The Grantham is a masterpiece. I was too blown away to even think to take a picture. It was that good.
After rehearsal, Newman had an apple…

… never using his hands.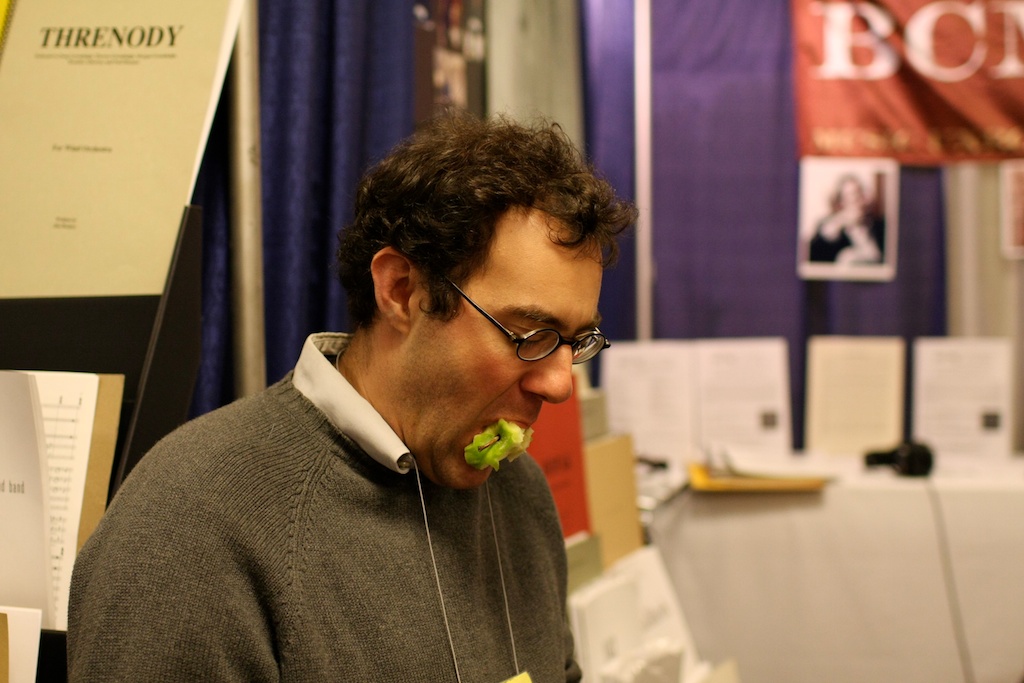 That night, I had a lovely dinner at Nick's Fishmarket with Rick Clary, Steve Peterson, and his wife, Beth. We started by sharing the chopped salad. Here it is, pre-mixed.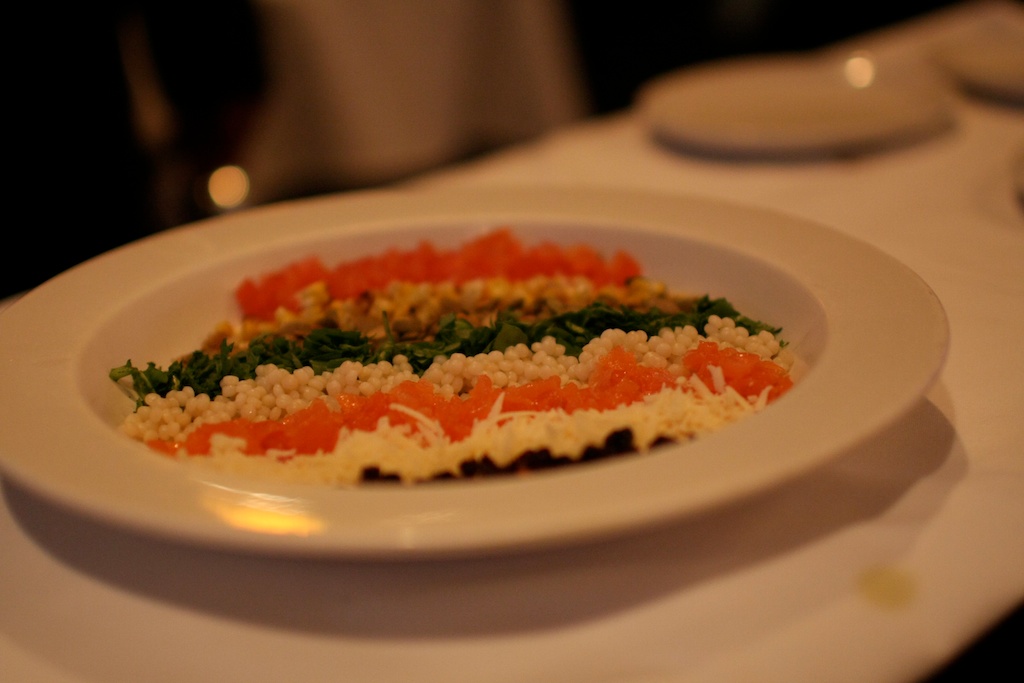 Here it is, mid-chop.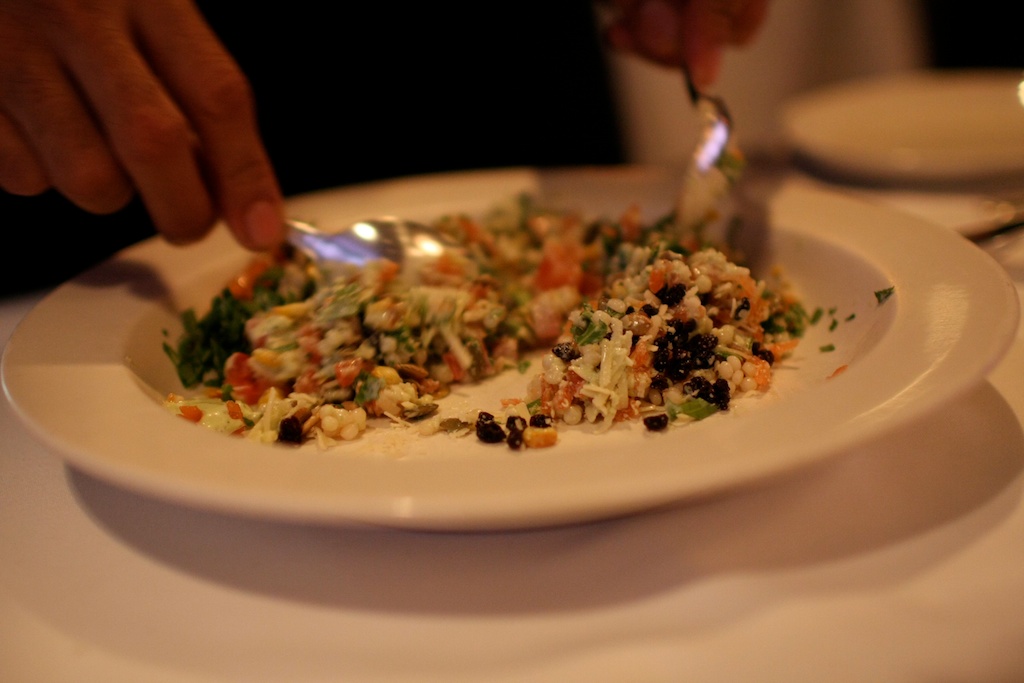 For my main course, I had the lobster and shrimp risotto. The waiter cuts the lobster out of the tail at the table.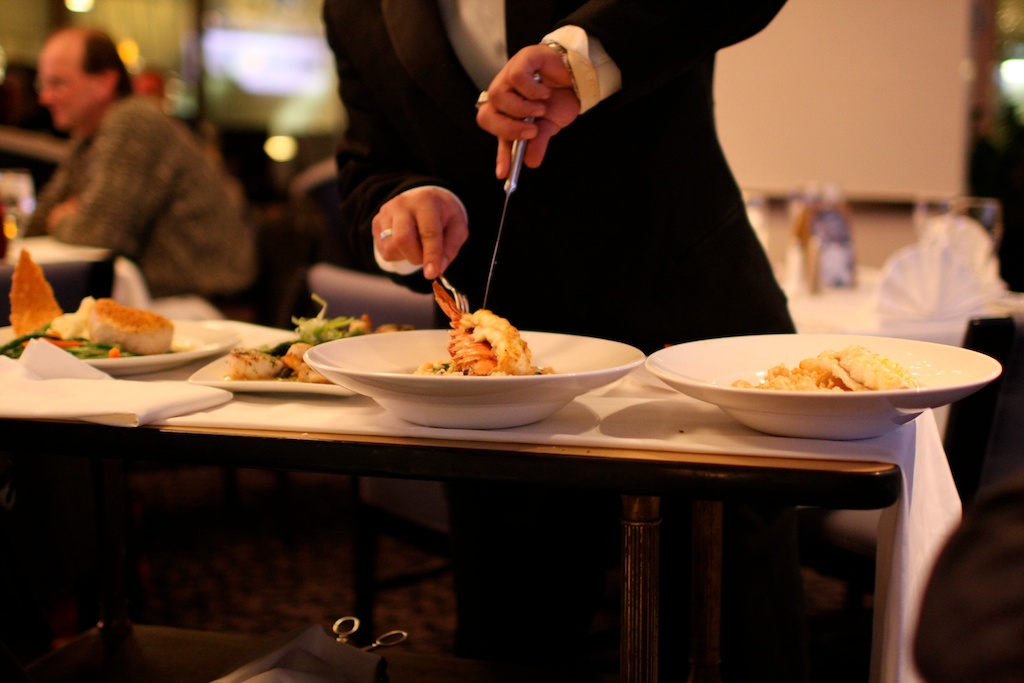 Rick had the scallop special.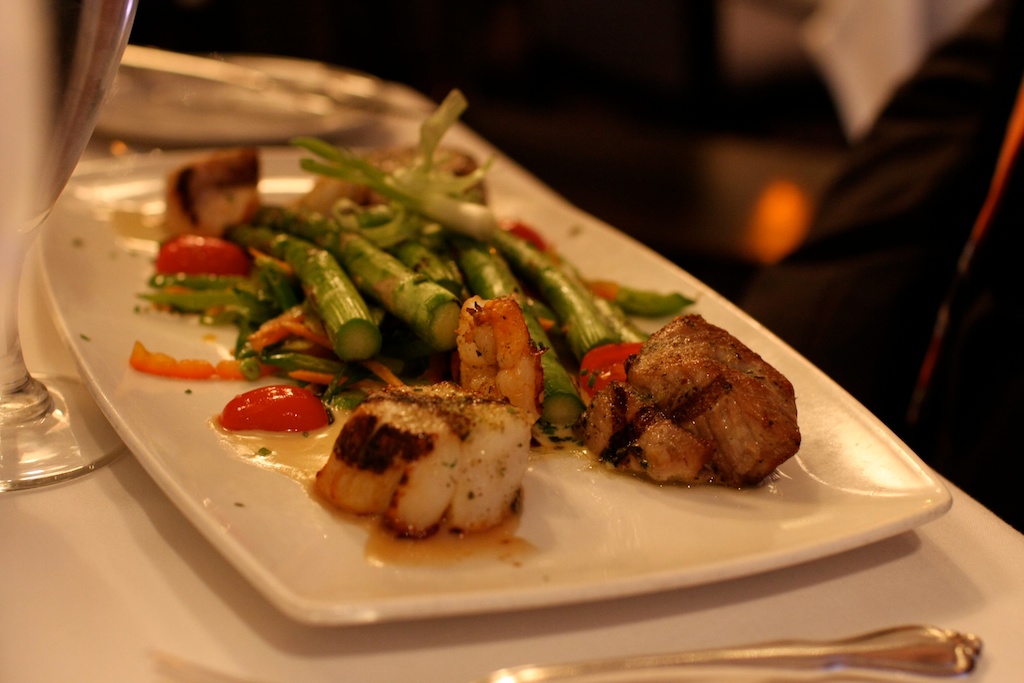 And then there were the dessert options.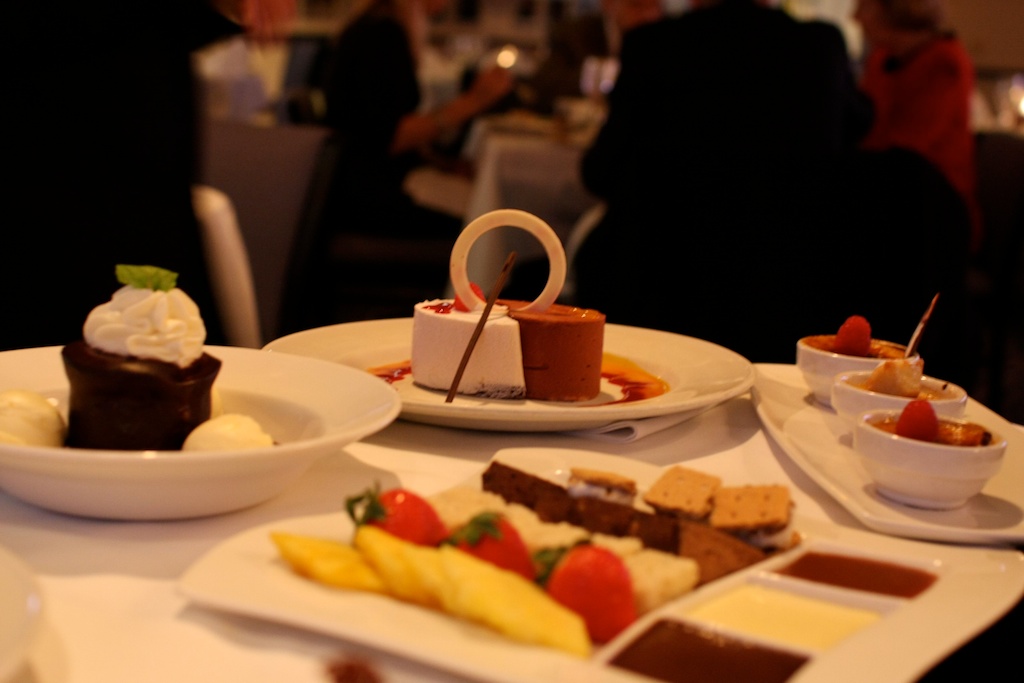 We were all stuffed, so we shared some things. Rick and I had the key lime tart.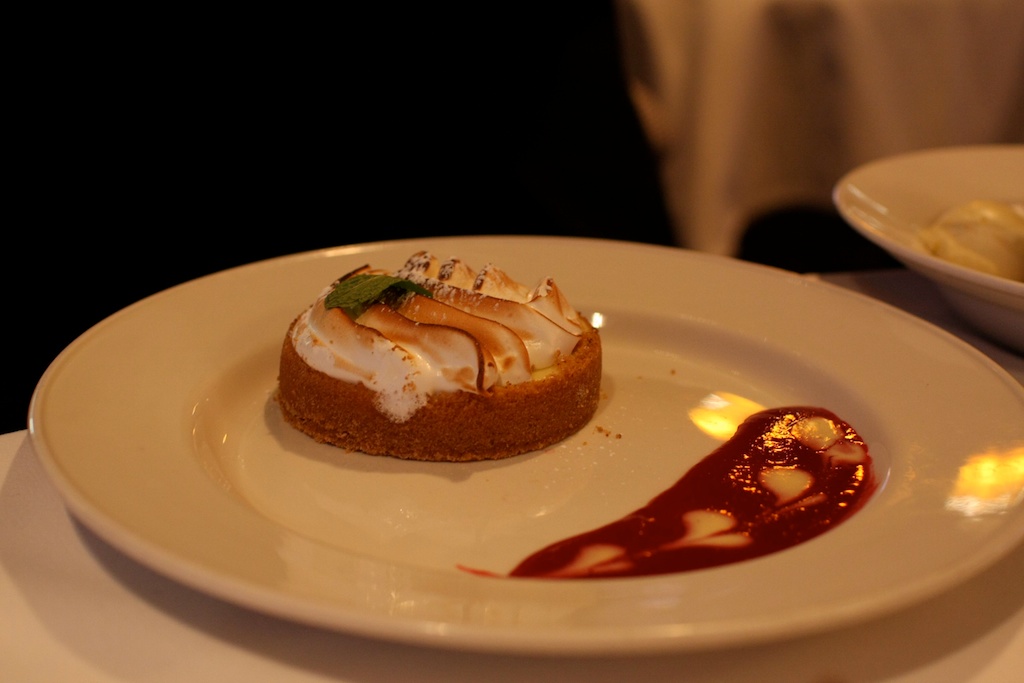 The next day was the Peterson's wedding anniversary, and they were treated to the chocolate molten cake with a special greeting from the kitchen.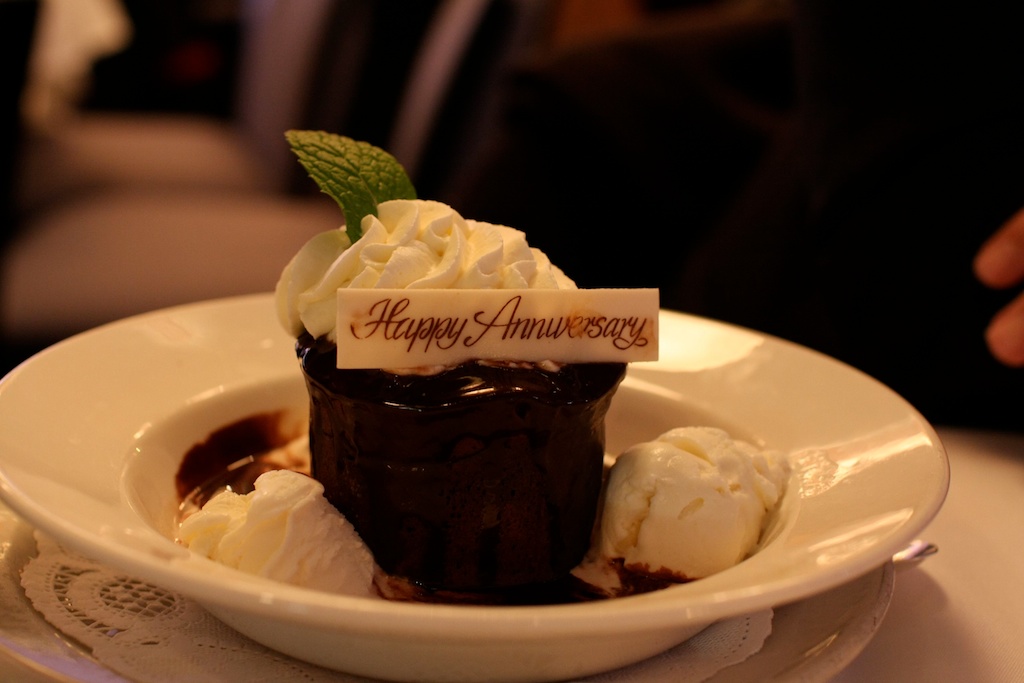 Harrison High School's concert was fantastic, and I have never experienced a crowd reaction to one of my band pieces like the audience showed after David finished "Kingfishers Catch Fire." People seem to like F major a lot. I'm excited to see how the piece comes off at TMEA in February…
It was another fun convention, but wow, it was good to get home — and get there on time, unlike a lot of people that weekend. I wish the convention weren't right before Christmas, but it does always make me extra-grateful to be home.