January 7, 2008
How the Setup Works
I received an email today from Alexandra Gardner, a composer based in Washington, DC. She asked me:
"I'm wondering (after checking out your composition gear list) if you might be willing to share some info about your composing process – particularly how you integrate your DP/Finale/Kontakt in the early stages of a new work? Do you use paper at all? I ask because I have a similar setup (minus the totally sweet sample library, wow!) and I am trying to streamline my process, and get away from dancing between paper & computer, which is really inefficient."
By coincidence, I received an email the next day from another composer, asking:
"What is your process regarding a short score? What are the benefits? How do you do it? I've always orchestrated as I go along, but I'm wondering if that's not the most effective method."
Here's what I do…
First, I spend a long time thinking about what a piece should do. Right now, for example, I'm working on my first piece for young band (Cheryl Floyd's group at Hill Country Middle School in Austin, Texas), and I'm trying to figure out how I can write a piece that's playable without seeming trite or simplistic. I don't want to write a total gimmick piece, or something that's an arrangement of a folk song (are any of them left?), or something where the wind players are expected to play percussion or something silly like that. Right now, I'm thinking I'd like to do something that's rhythmically interesting, and I'm trying to figure out how to do that and make it straight-forward enough for young players but not so simple that it seems… lame. That's the puzzle I'm trying to solve right now.
After I figure out what the basic approach of the piece will be, I'll think about the structure of it, and I'll jot down some kind of time-line that outlines that structure. Hopefully I'll have little motivic ideas that I can put into each of the sections of the form. (You know, like, "here's the basic tune for the beginning, here's a contrasting idea," etc.)
Next up, I think about the motives I have, and I go out for a run. (I never think of anything good just staring at the computer.) I'll "listen" in my head to that material as I exercise, and the material will loop and loop and loop, hopefully becoming more fleshed-out and longer as it loops. When I get home, I'll jot down anything I can, although I don't have perfect pitch, so sometimes I'm just writing down the shapes of the pitches but with the precise rhythms I want.
Pitches tend to come last because that's where I'm most likely to screw something up. I might have specific pitches in my head, but if I don't "know" them well enough when I try to match them up with actual notes on a keyboard, I'll get confused. It's too easy for me to hear a real pitch on a keyboard — a pitch that wasn't what I originally imagined — and think, oh, I think that's it… or was it? And in that moment, I've lost what the original note was. My ear is just awful. I can think of material when I'm jogging — to me, interesting, complicated material — but in trying to figure out the actual notes, I often lose it. That means that frequently, in selecting pitches, I reverse-engineer it. I'll end up initially with something watered-down from what I had in my head, then tweak it to make it sound more interesting again. The final version is probably somewhere between what I first imagined while jogging and what I am able to get down on paper (or into the computer).
Okay — so now I have the overarching idea, the structure, motives, and hopefully at least the beginning of the specific notes. Then I set up a "short score" in Finale. I do very little on physical paper. I do write down the structure, and I jot down shapes of melodies and rhythms, but once I start putting a piece together, I need to use the computer because my piano skills are so poor that the computer is the only way I can hear what I'm writing.
I'll have Kontakt 2 running (Kontakt 3 doesn't run so well on my system) with my long-ago programmed "Wind Ensemble Template," and Finale is controlling Kontakt. In that template, channel 1 is piccolo with all sorts of different articulations — legato, staccato, sffz, 3-second crescendo, 1/2-step trills, full-step trills, flutter-tongue, etc. Channel 2 is flute with those same articulation options. Channel 3 is oboe, etc.
The most important channel is channel 16, which is a piano sample. When I write, I don't compose to full score (that is, fully-orchestrated) unless I'm writing something slow. If I'm writing fast music, I need to get the notes out quickly while I have them, so I'll initially put most of the notes in several different staves all assigned to channel 16 with that piano sound. I use a piano sound because it's neutral to my ear and can later be orchestrated into anything else. (As a side-effect, though, sometimes my piano parts are pretty difficult. See "Felt" from the Soprano Sax Concerto, or "Turbine.")
There are two other sample channels that I rely on when writing the first short-score draft: percussion and… trombones. From the beginning, I know what I want the percussion and trombones to do. I'm not a composer who layers on percussion at the end (and they're out there). Percussion is essential to the texture and drive of what I write, and it's always been that way with my large ensemble pieces. Trombones, on the other hand, are the "meat" of the ensemble. So when I start writing a piece, if it's a fast piece, it's first scored for piano (lots and lots of pianos), percussion, and trombones.
As I work on the short score draft, I gradually add more and more staves, each with a different sound assignment. If I get to a moment where I know that "this line can only be a soprano sax solo," then I'll add a staff for that and assign it to the Soprano Sax patch. Once that channel is added, in listening to the piece over and over (and over and over again), I might think, oh, the soprano sax should play that lick, too, and I'll move a line from the piano sound to the soprano sax staff. By the time the short score is done, it might look like this screen shot from the short score of "Turbine" (to clarify somewhat, staves 6, 9, 10, and 13 are all non-pitched percussion) :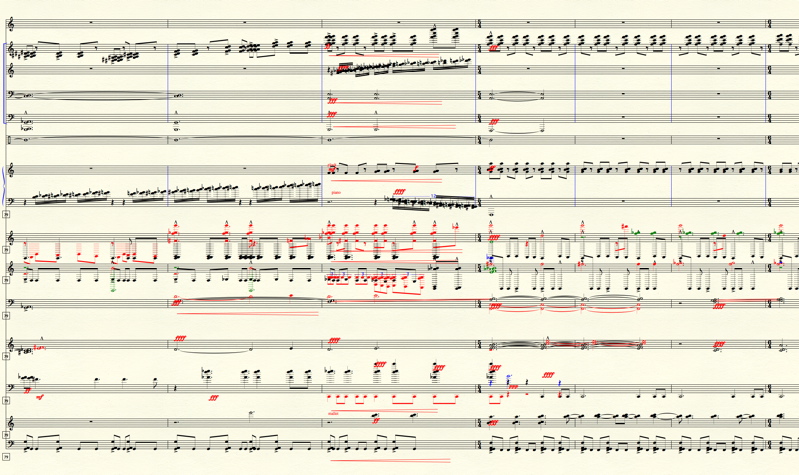 And here's another few measures from "Turbine," much later in the piece: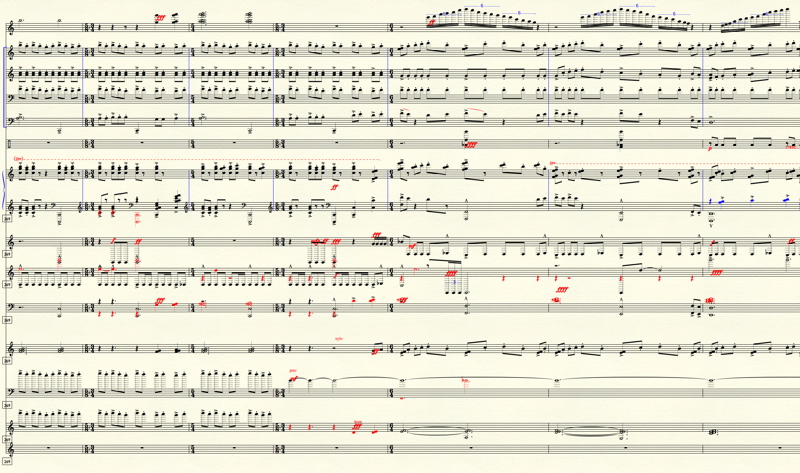 There's a lot going on there, and that's why I have to start with this short score — where all of the notes are there, but I don't yet have to worry about what instrument will play those notes. I'm a slow orchestrator, so if I were trying to write this on a full score, I could spend hours on a single bar, and forget where I was going.
You'll see that the short score is completely ugly looking, with ledger lines all over the place, extreme dynamics for the purpose of effective MIDI playback, missing rests, missing slurs, etc. But it all sounds, at least to me, essentially like "Turbine" would eventually sound. Well, if it had been scored for pianos, trombones, and percussion.
After finishing the short score — and I know it's done when I can listen to it and not know how to make any of it any better — I start the actual full orchestration. The orchestration process takes me about half as long as it does to write the short score in the first place.
So that's the general process. And I'm getting slower and slower, presumably because I'm getting more nit-picky. Every time I start a piece, it seems like I have to figure out how to write music all over again. I'll start a piece a half-dozen or more times before I finally find material that's worth developing into a full piece. "Turbine," for example, has 53 versions. They're not all completely different, of course, but there were 9 "false starts" before I figured out how to even start.
Enough talk, though. Now I need to actually go write something. The middle school band piece calls. I wonder… Is 7/8 alternating with 4/4 too complicated for a good middle school band?