February 1, 2008
Dinner at Joël Robuchon
In the past two weeks, I got married and went on a honeymoon — and I took 2481 photos. There's obviously a lot to post, and where to start? How about the post-wedding dinner! (All images in this entry are shot with the Canon 40D and 35mm f/1.4 L lens.)
We got married in Vegas, and Vegas has some of the best restaurants in the US. In the latest Michelin Guide, Las Vegas has, at the time of this writing, one of the two only 3-star (the top Michelin rating) restaurant in America outside of New York City. (The other is French Laundry in Napa. New York has three 3-star restaurants, including Jean-Georges, which I've written about several times.) That lone 3-star restaurant in Vegas is Joël Robuchon at The Mansion, located at the MGM Grand. It's also, as far as I can tell, among the most insanely opulent, extravagant, indulgent dinners anywhere in the world, so it seemed perfect for a Vegas wedding dinner. When a bottle of water is $20, you know dinner ain't gonna be Super Value, but holy damn, you get what you pay for. Plus, as I pointed out to AEJ, how many times a year do you get married?  Probably not more than twice.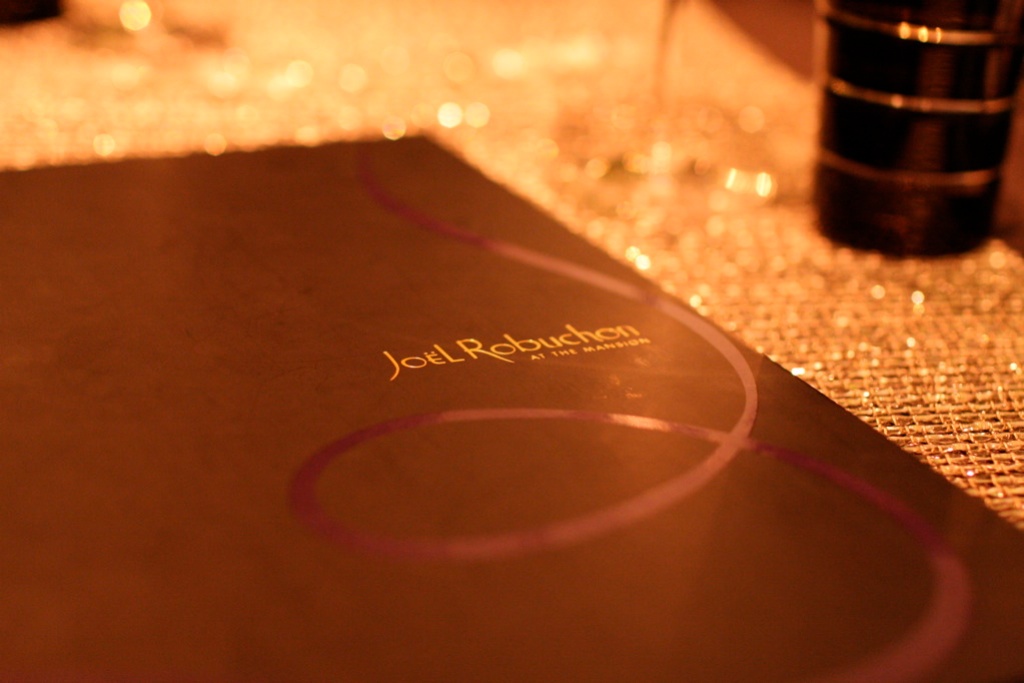 Those don't look like paper napkins. Hey! These are cloth! This must be a nice place. (The napkin is tied closed with a silk ribbon.)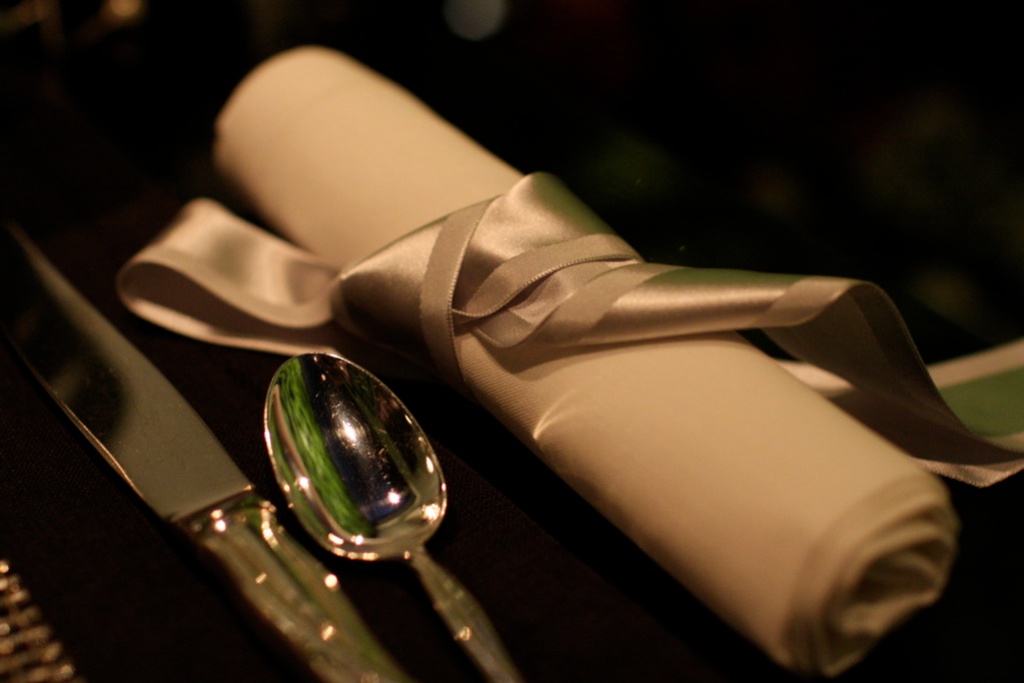 My camera is kind of heavy. Is there a small stool you could bring me to leave it on when I'm not shooting? What do you think?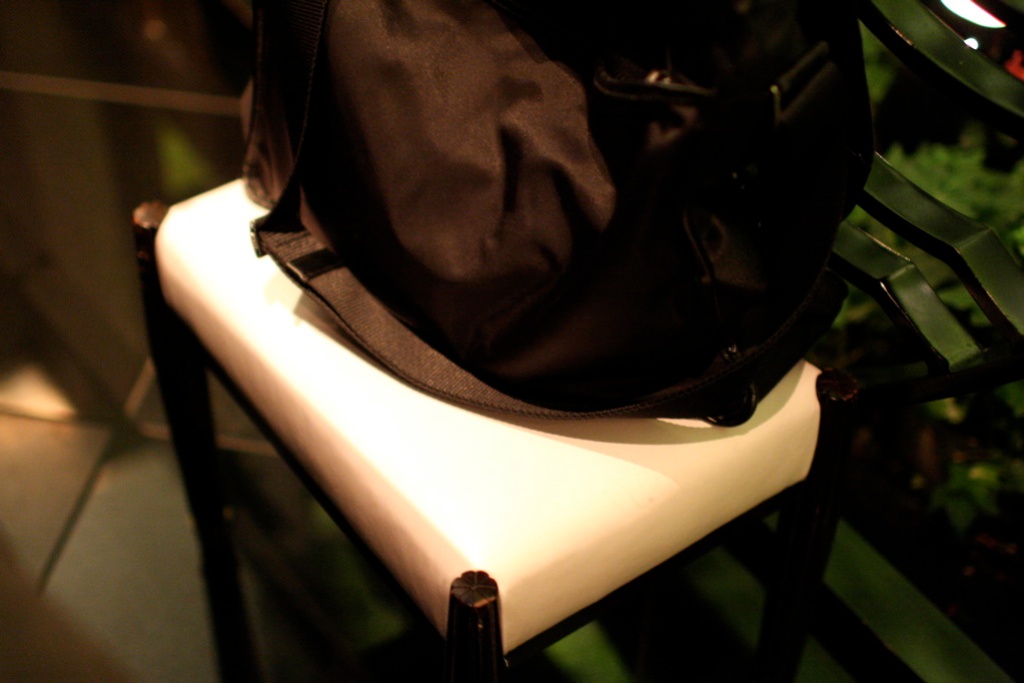 The restaurant has a few ordering options, both of which are multi-course. There's the fancy-pants six-course tasting menu, and the "I'm going to spend my massive poker winnings all in one shot" 16-course tasting menu. Yes, sixteen courses. It takes four hours, but we had nowhere to be, so… let's do it! And since it was our wedding day, let's celebrate with Bruno Paillard Rose Champagne. I'd never had Rose Champagne before. Mucho tasty.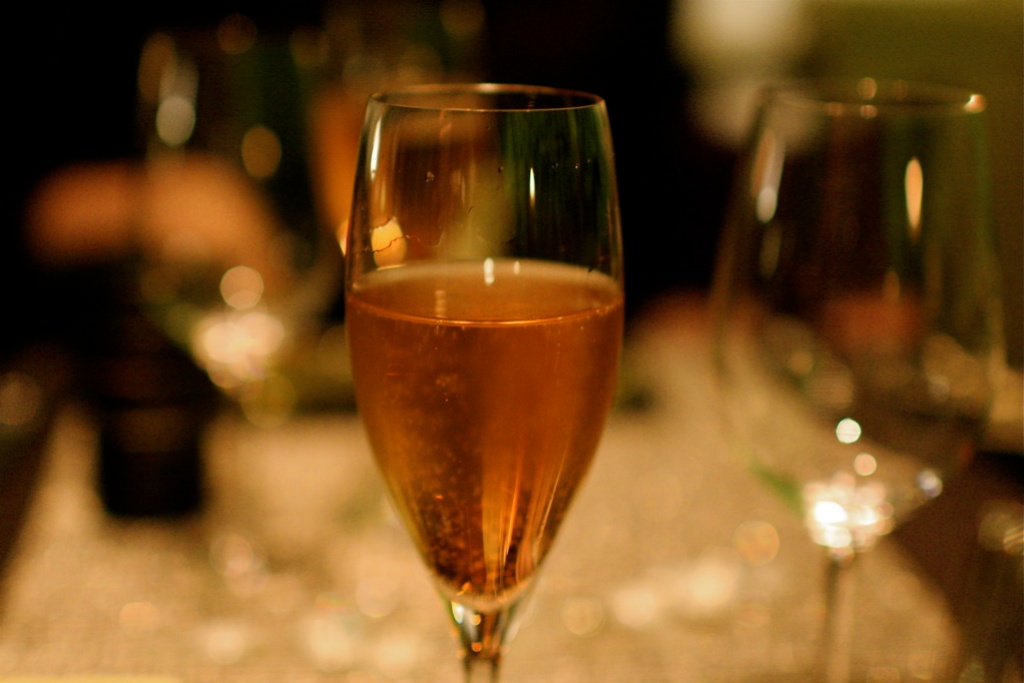 Now that I'm old, in order to be sure I won't wake up with a headache, I take a Tylenol before I start drinking. It sounds lame, I know, but after too many hungover mornings at Midwest, I finally learned that being lame is better than feeling like ass the next day.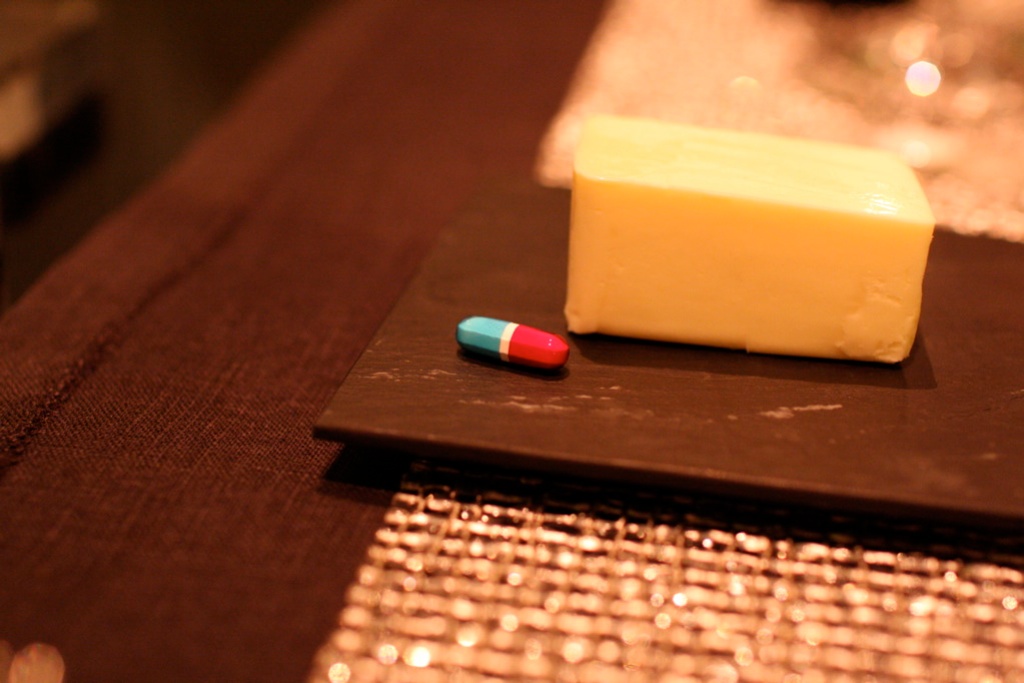 Here we go! Course number one: L'Avocat: Avocado purée in a thin herb gelée and olive oil flavored curd cheese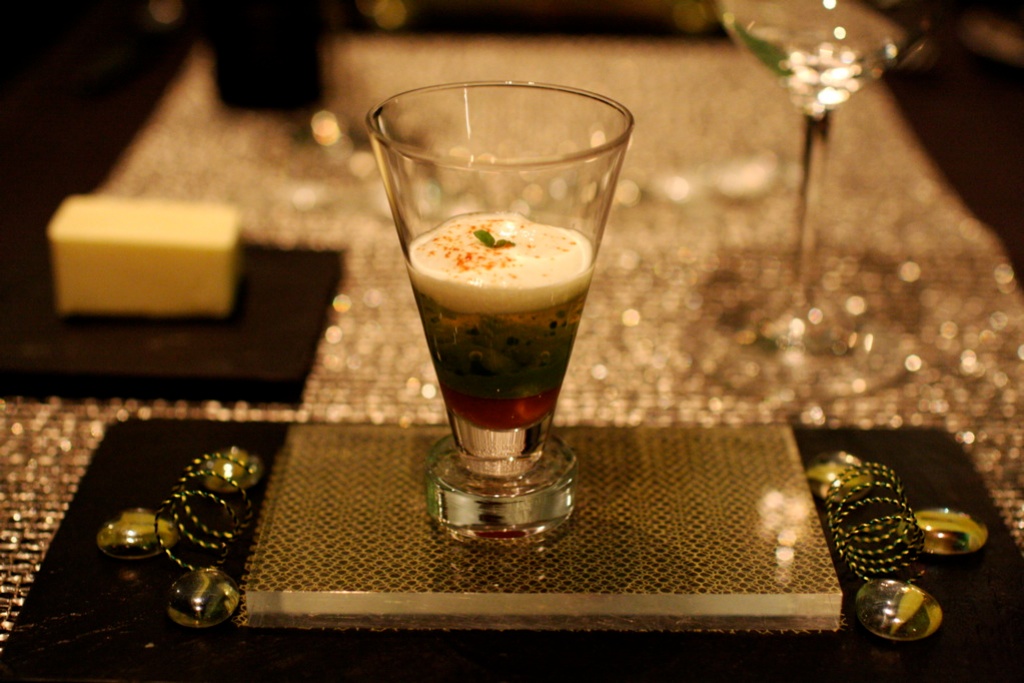 Next: Le Caviar: Consisting of three dishes — Green asparagus topped with Oscetra caviar…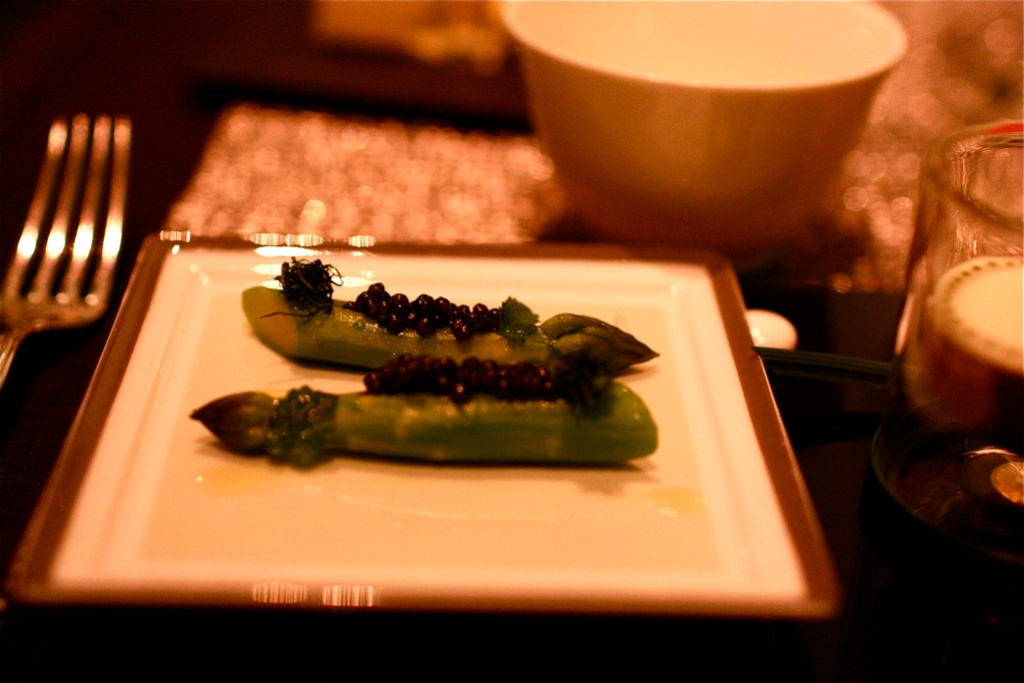 … delicate gelée (there's a lot of gelée in these 16 courses) and a smooth cauliflower cream…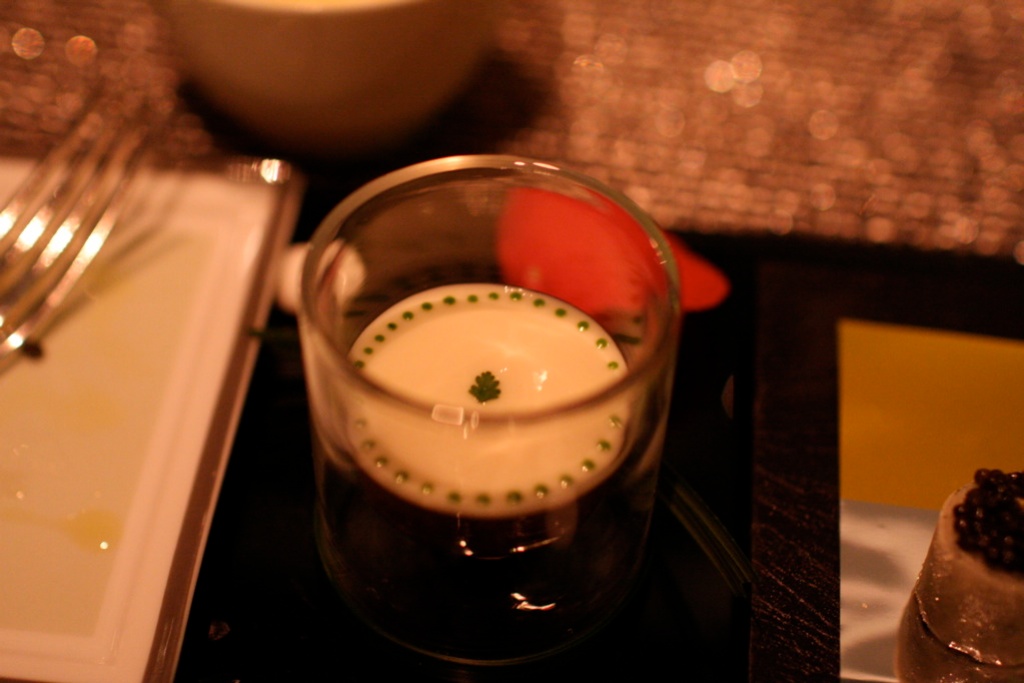 … and thin couscous and oscetra caviar.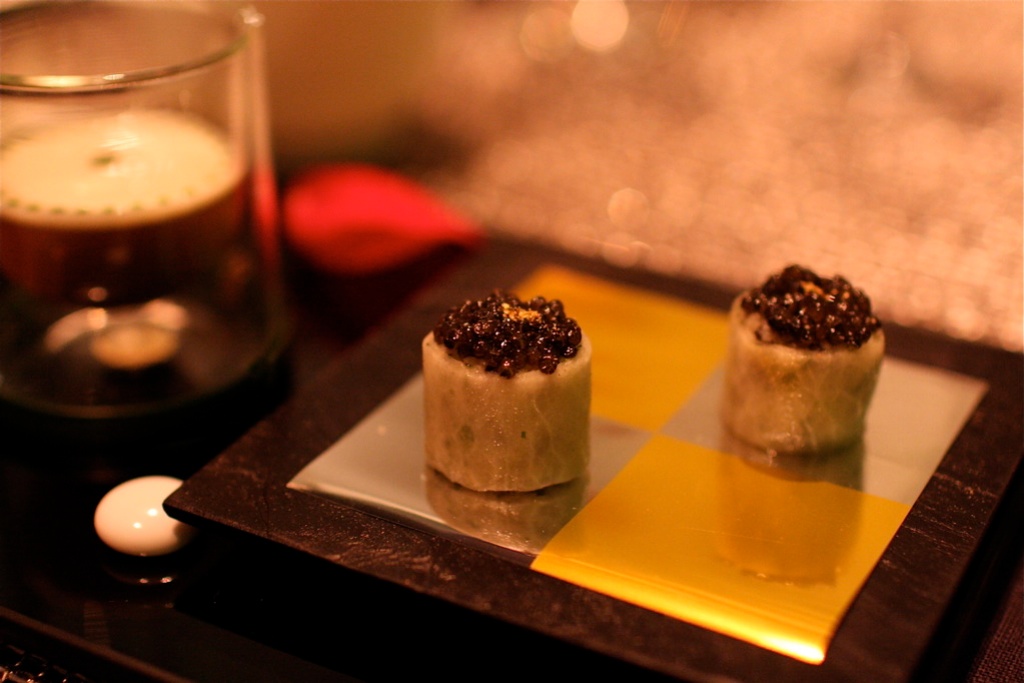 AEJ is allergic to shellfish, so they created a custom menu for her, as many of these courses included shellfish. While caviar isn't shellfish, the middle dish of the three (the one with the cauliflower cream) included shellfish in the gelée, so the chef had to change her middle dish. As a result, he didn't think the caviar made sense in this course, since it was no longer a fish course (without the shellfish in the middle plate), so he took out the caviar from the entire course, replacing it with something even more decadent : truffles. The truffle substitution was one that AEJ received throughout the night. She must have eaten 1/2 pound of truffles by the time the night was done. And when we were brought our courses, if they looked the same, the plates were marked to be sure that I received the one with the shellfish.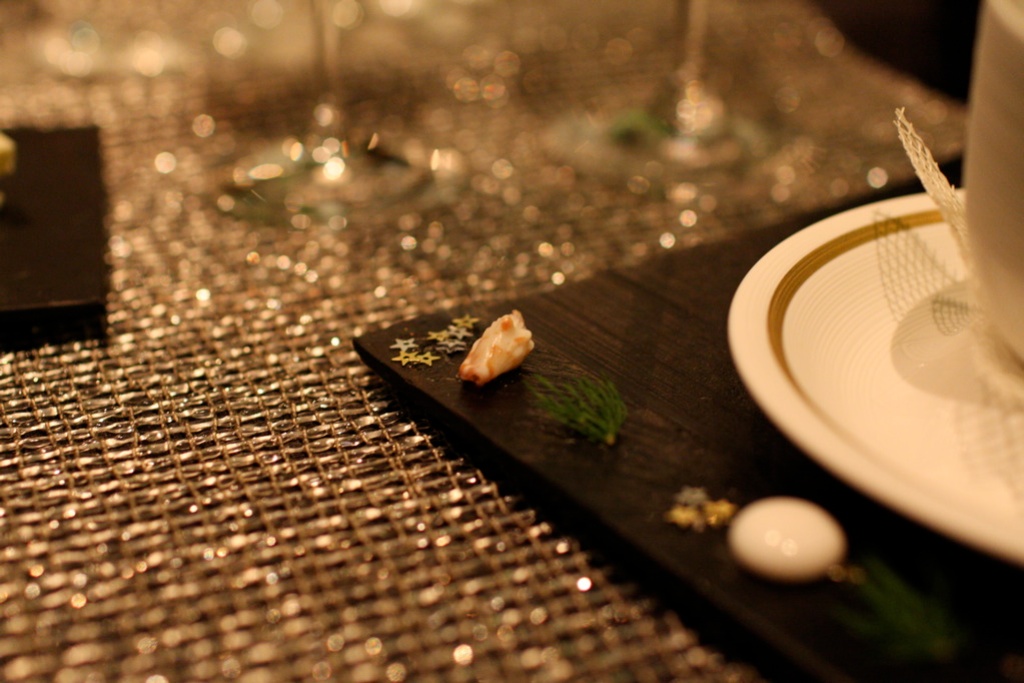 Next course: L'Ormeau. Abalone and baby leeks in a ginger bouillon. The broth was spectacular (Robuchon makes soups and broths like I'd never tasted) and it was fun to have abalone for the first time. (It's a type of shellfish, I found out. In AEJ's soup, which had to be prepared from scratch, the abalone was replaced with Chanterelle mushrooms.)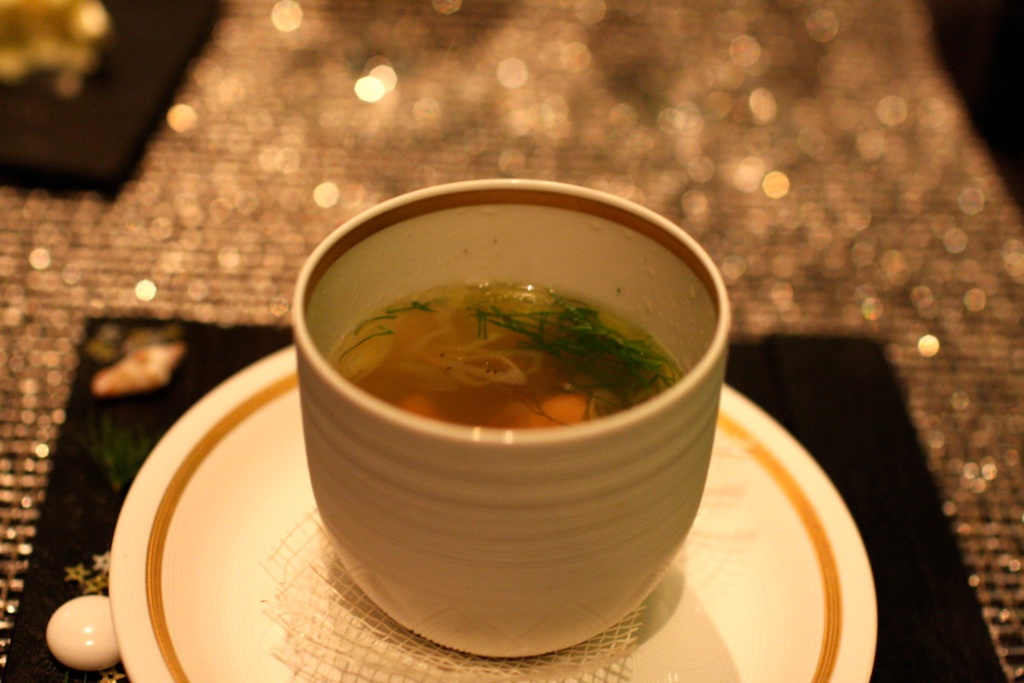 Next: Les Crustacés. Truffled langoustine ravioli with chopped cabbage, lemon grass roasted lobster with vegetable semolina, Sea urchin, potato purée with a hint of coffee. (Being the entirely shellfish course, AEJ's selection was completely different.) This was all, as you'd guess, spectacular with flavors that I've never even imagined. I mean, who mixes potato purée with sweet sea urchin, and coffee? It was amazing. Unfortunately, it was all a bit much for the camera to focus on.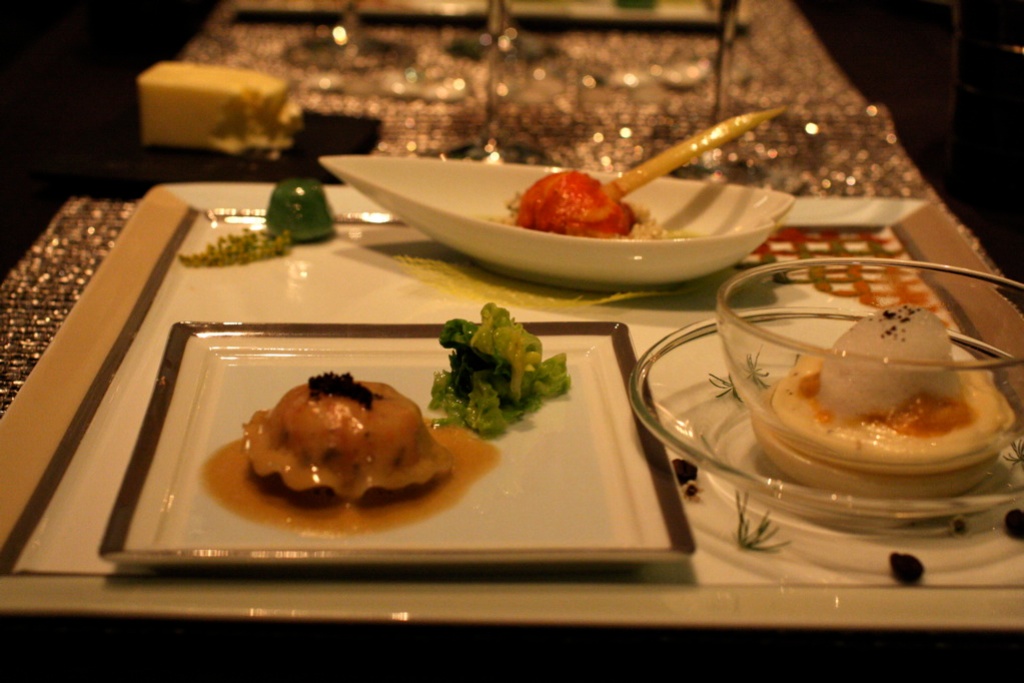 Here's a close-up of the lemon grass roasted lobster with vegetable semolina. Check out the plate. That's a perfect little symmetrical dusting of spices — purely decorative. The presentation of every course was like this.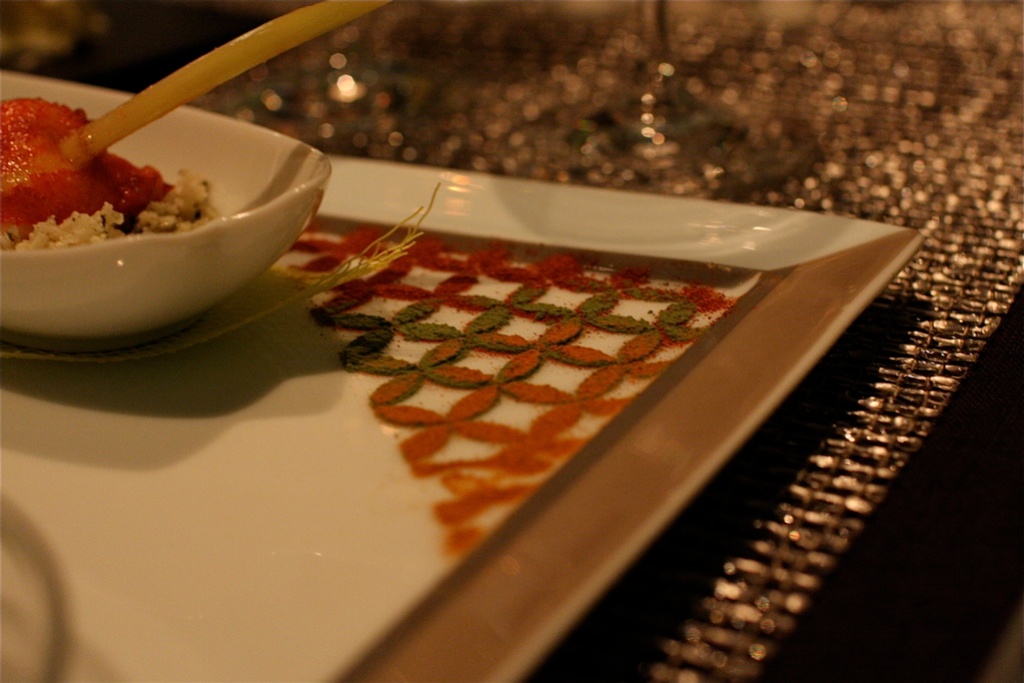 La Saint-Jacques. Pan-seared scallops with fregolas pastas and herb emulsion. I love scallops, and although the scallop was perfect, the broth was insane, and the little "fregolas pastas" were like tiny balls of texture in an otherwise smooth sauce. Wow, I loved it. And again with the presentation. The colors are beautiful in the food alone, but check out the little polished stones that encircle the bowl.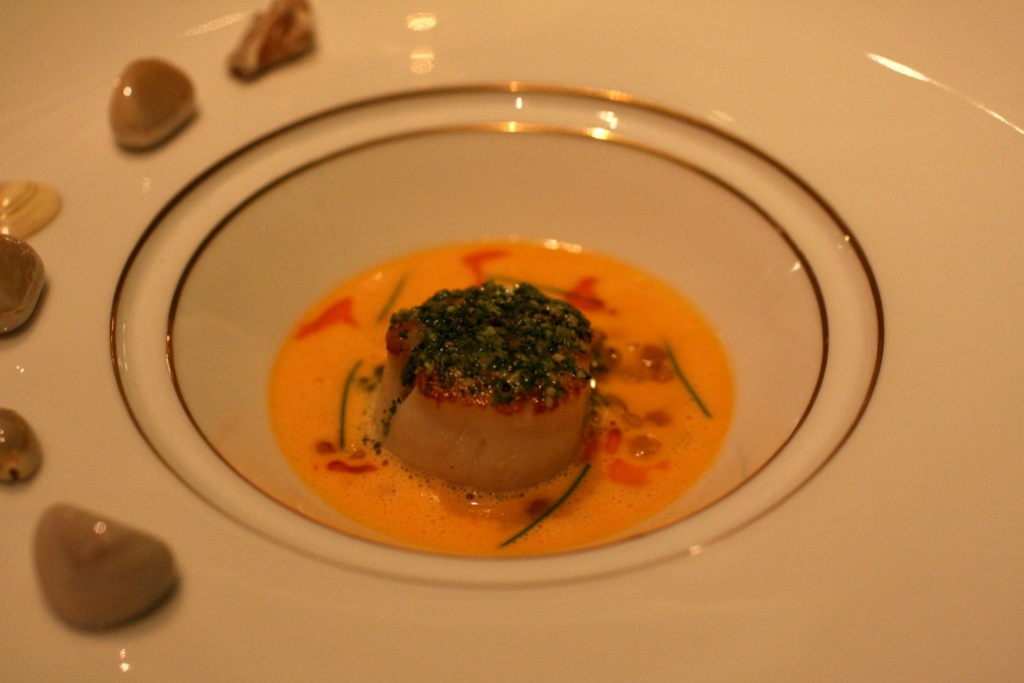 Scallops are, yes, shellfish, so AEJ's course was substituted. She gets a vegetable dish with more truffles on top.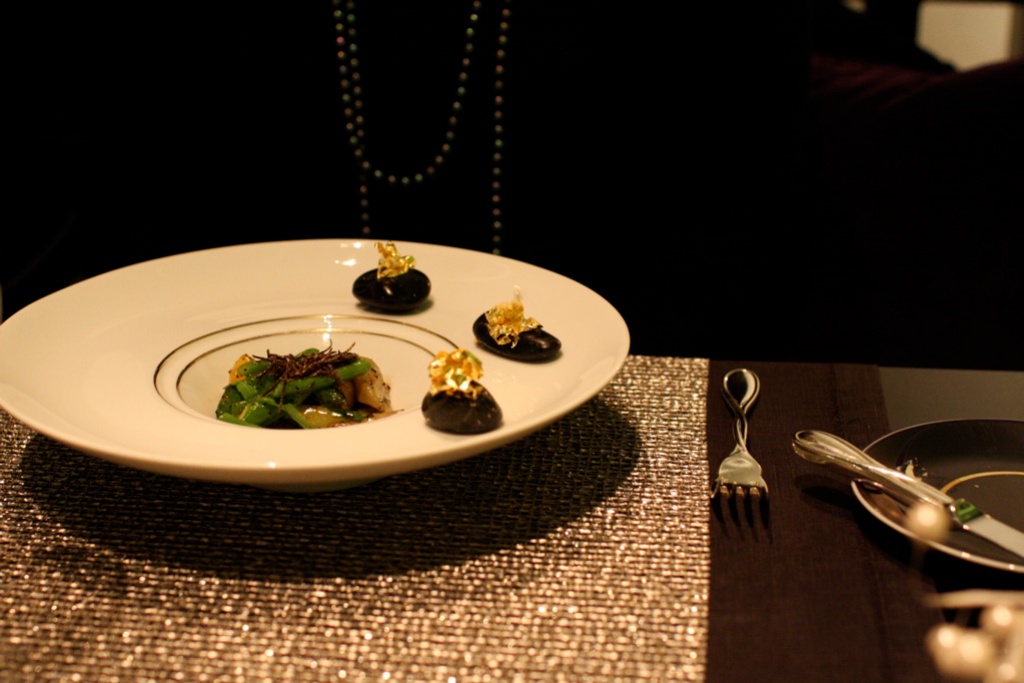 Oh, and decorative gold leaf.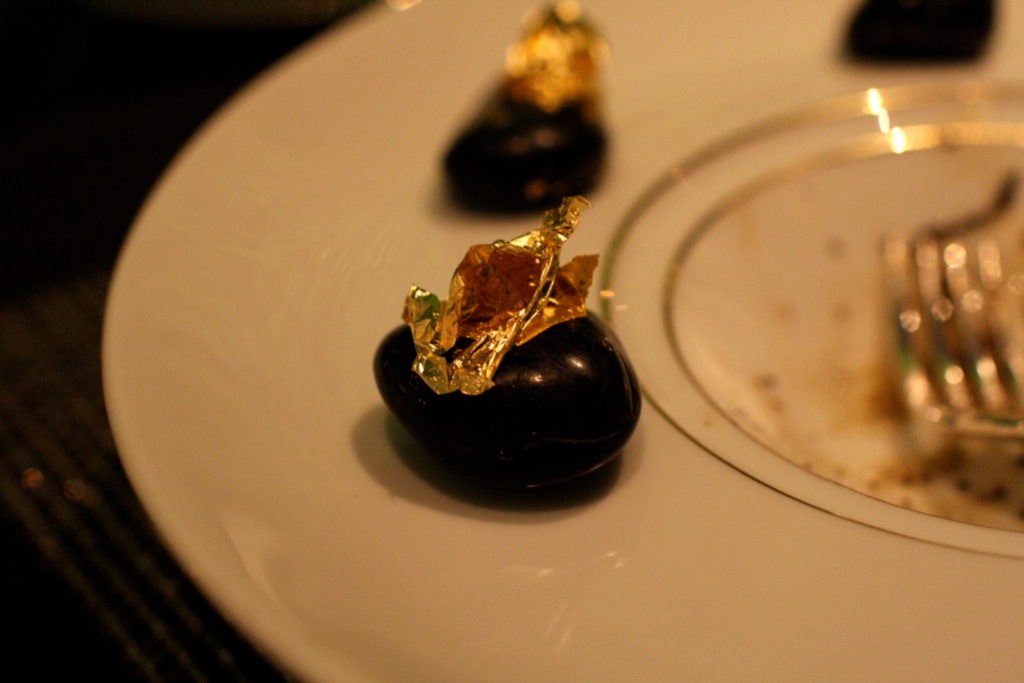 L'Avoine. Wild-oat velouté with roasted almonds and choizo. Again with the amazing soups.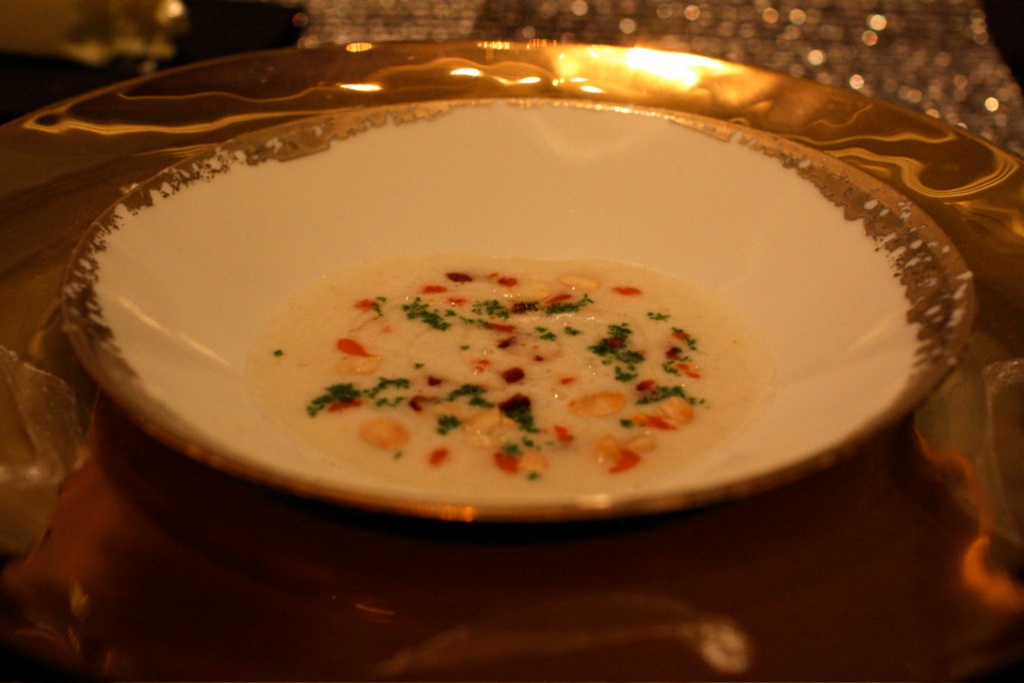 L'Amadai. Amadai in a lily bulb broth. Amadai is a Japanese fish also known as tile fish. The fish here is pan fried with the scales left on the fish so they become crisp and papery.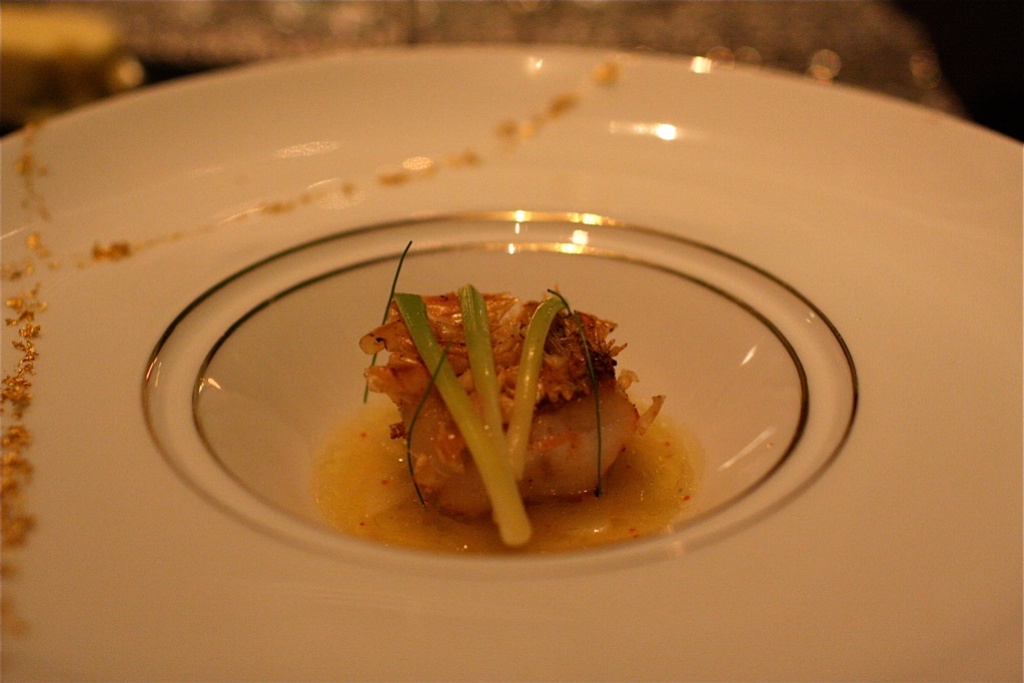 The next course. More beautiful presentation, with the shaved bark, seeds, and some other pretty little garnish, just because.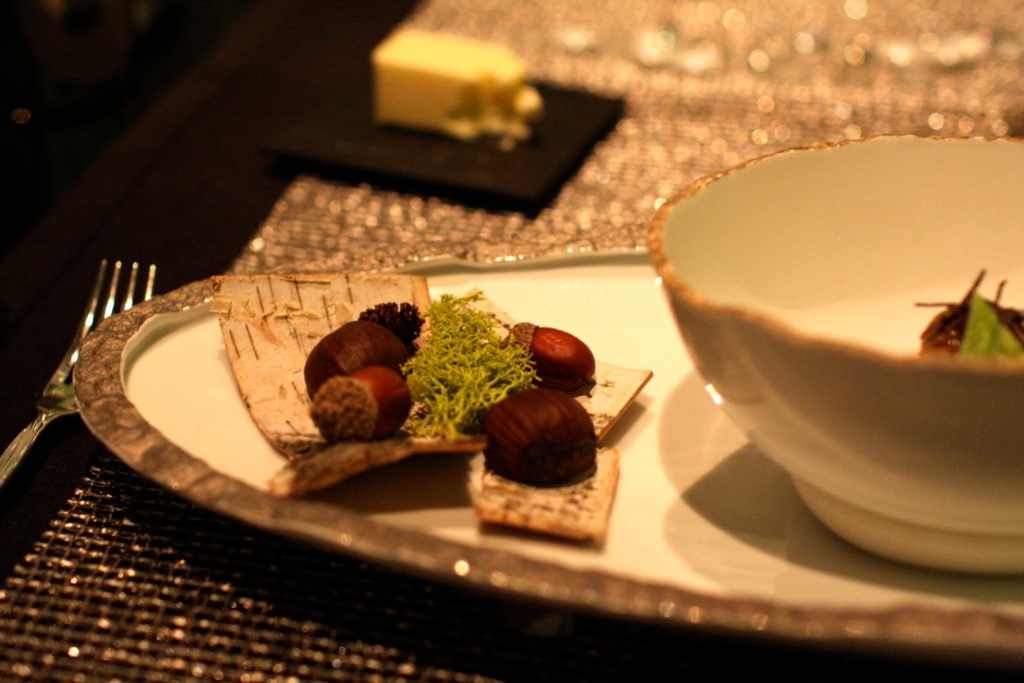 That course: Le Turbot. Roasted turbot "on the bone" with celery and truffle stew.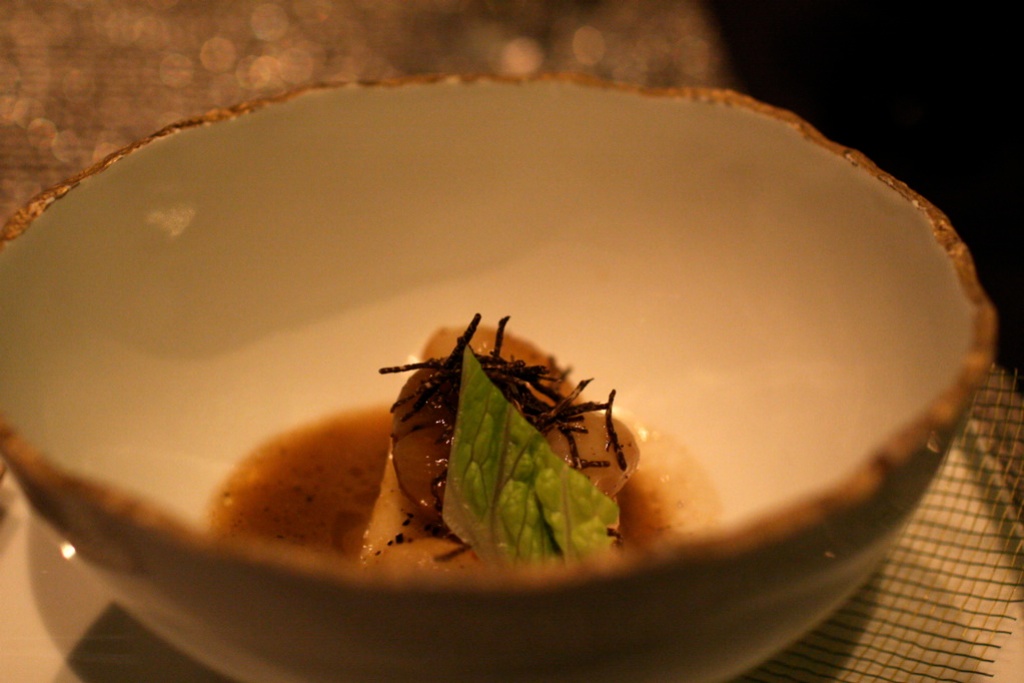 Le Boeuf de Kobé. Grilled Kobe beef, watercress tempura, and horseradish mustard. This was real Kobe beef — from Kobe, Japan. This wasn't that "Kobe style" beef they raise in Omaha. This was flown in — presumably in business class.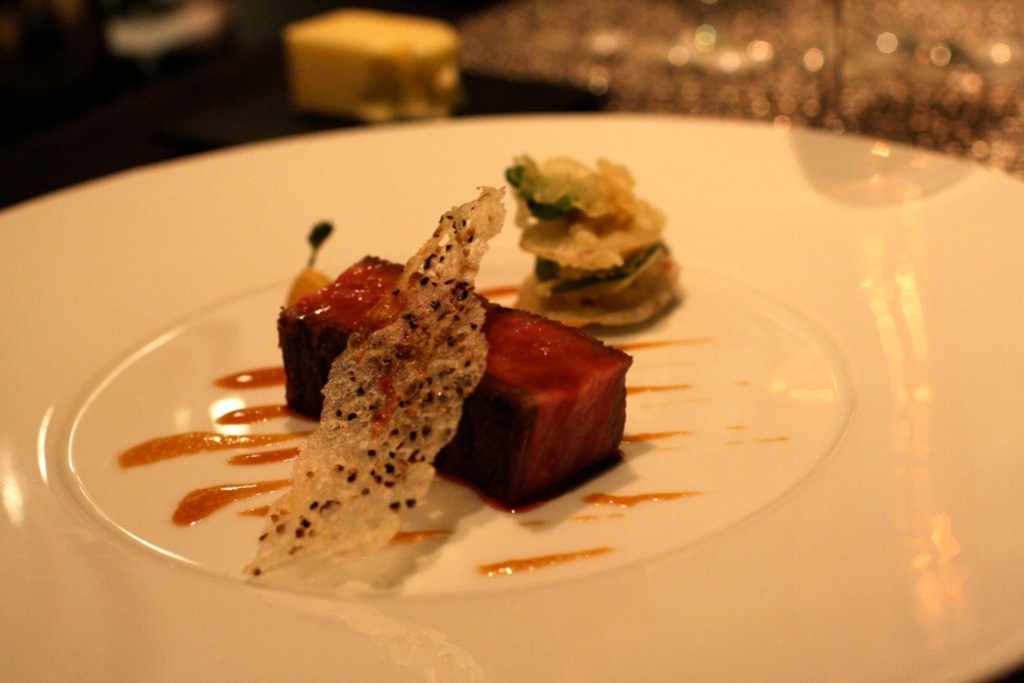 L'Epeautre. Sault farrow prepared risotto style with gold leaf. The soup was possibly my favorite course — which is crazy to me, after the number of beautiful courses that proceeded it. How I was able to still eat, let alone enjoy this so much, is incredible. The gold leaf was kind of a funny touch — and at least now I know what money tastes like (yummy).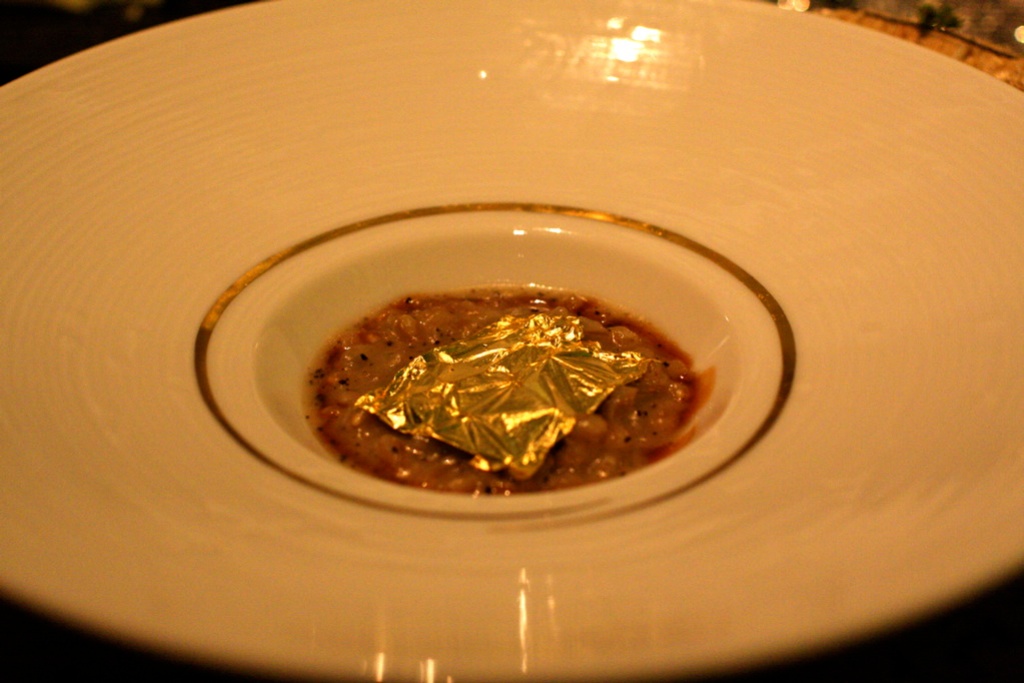 And this was on the side of the soup presentation plate. It's a teeny tiny bail of hay. With a miniscule bouquet of flowers tied to it. Again, just because.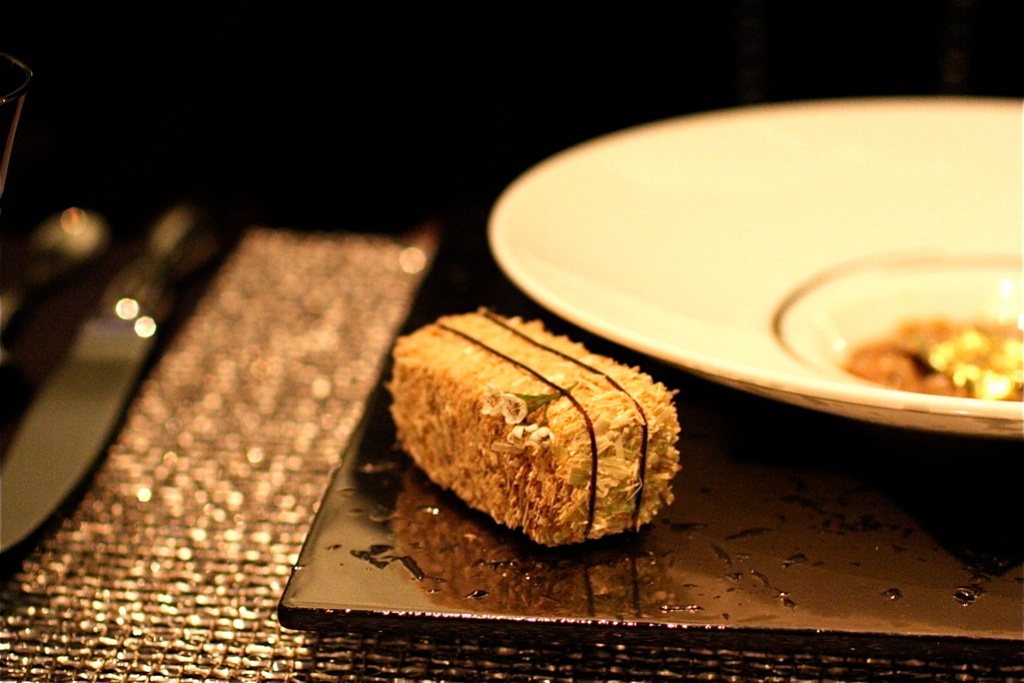 Okay, dessert is coming up, so let's rest for a minute and just look around the room. The restaurant is designed to look like a French mansion. We were seated in what would probably be called the restaurant's terrace room — designed to look like an outdoor garden, complete with fresh flowers and vines all around us. There was even an artificial awning above us.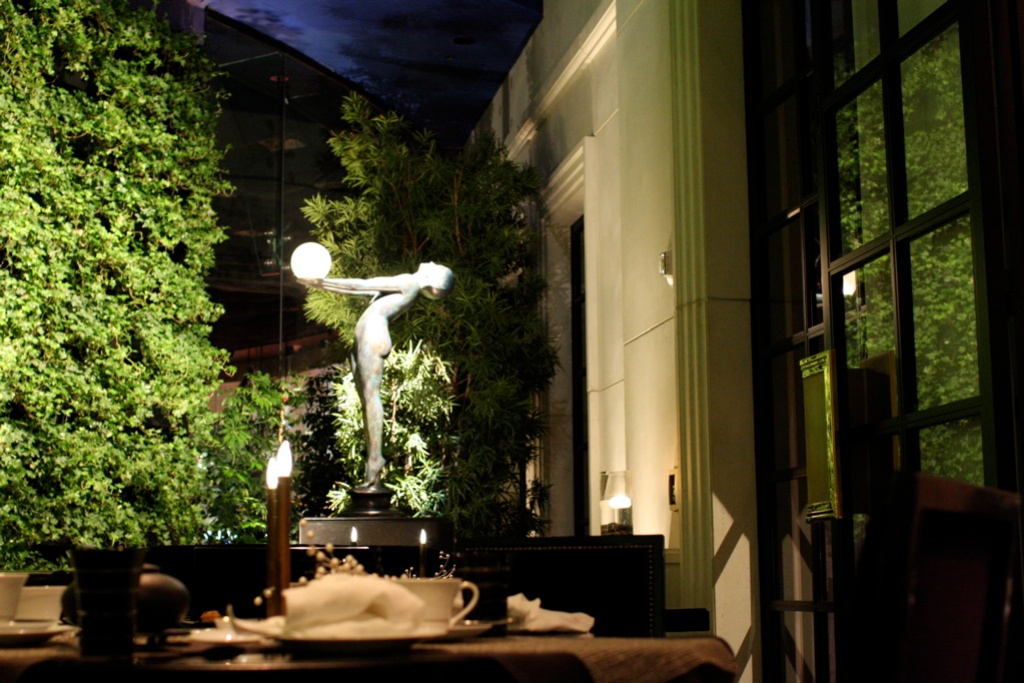 Looking through the window next to our table, into the main dining room (with multiple fireplaces).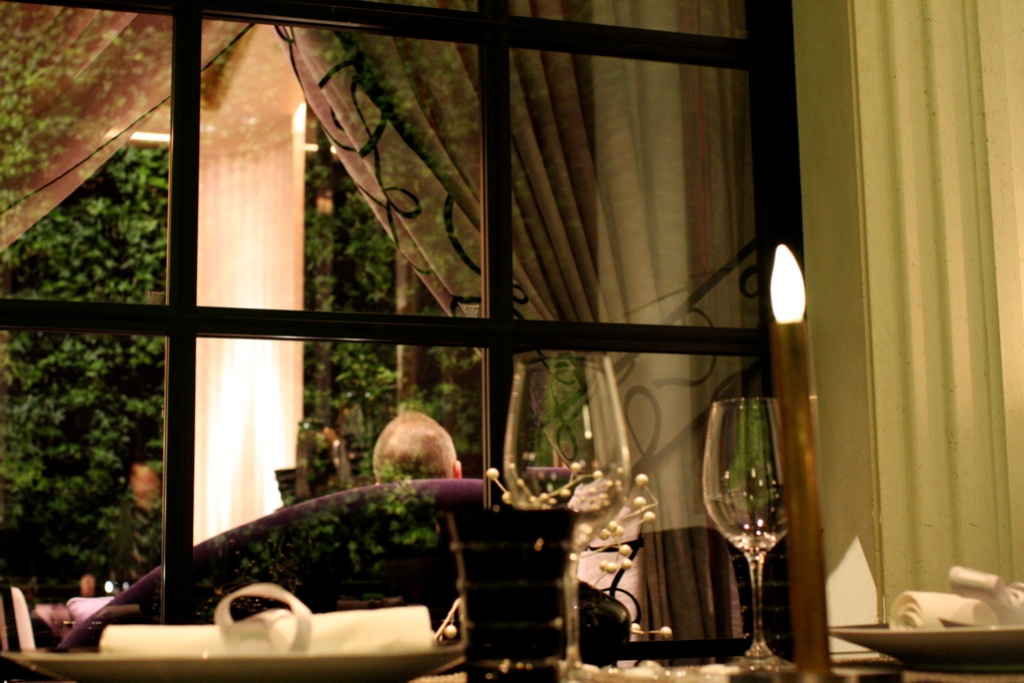 A shot of that main dining room. I took this when we were leaving the restaurant — around 12:30am — so it had largely cleared out by then.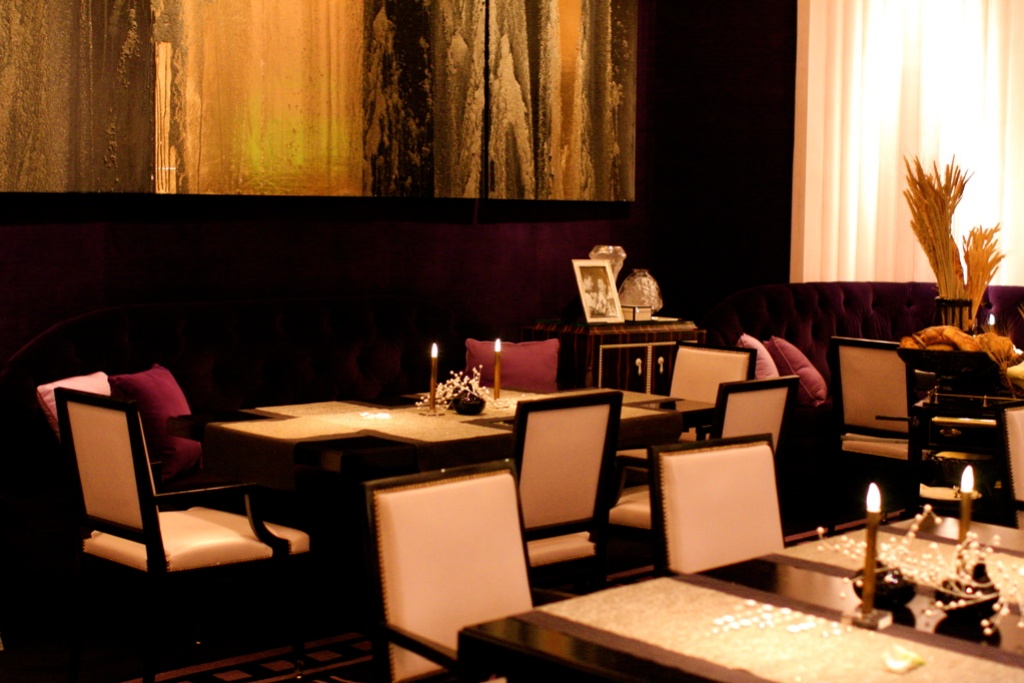 And here's the beginning of dessert! La Poire William. William pear on a sorbet and confit in black currant. It's a fancy pear sorbet with two different sauces — one on each side. It was nice to have something so bright and fruity after all of the rich food.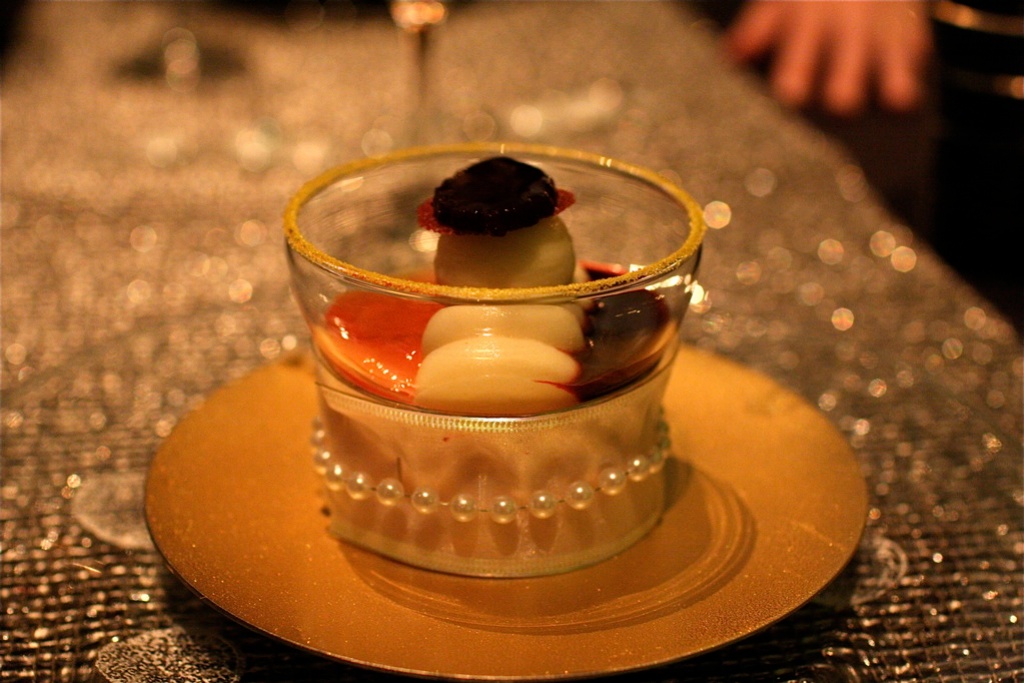 Another dessert! This one was my favorite: Le Chocolat "show." Melting Araguani chocolate with a hint of peppermint. But that description doesn't do it justice. That's mint yumminess on the top there, with a little mint gelatin ball on top (it popped like a piece of Freshen-Up gum when you bit it – it was awesome) and underneath it all is warm chocolate goo. It was like the most insanely fantastic mint chocolate chip ice cream ever made.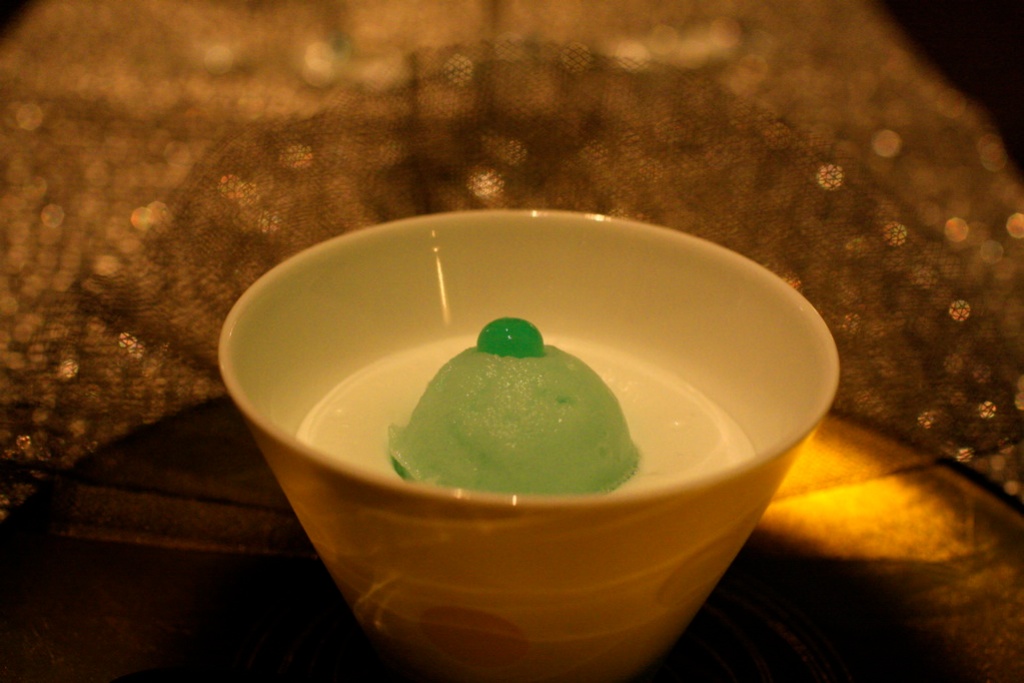 And yet another dessert. A selection of sorbets, nice and simple.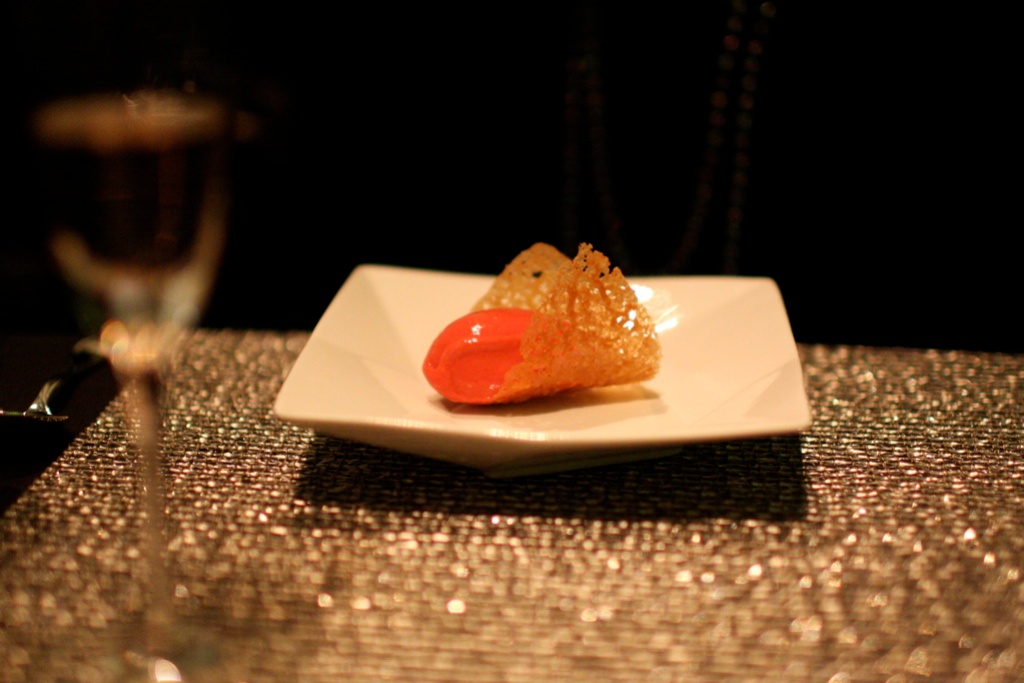 Wait — there's more dessert? Why yes — it's the famous Robuchon confectionary cart. "More than 35 kinds of petit fours," our server told us. We could make a selection on our own, or she would pick for us, using our guidance.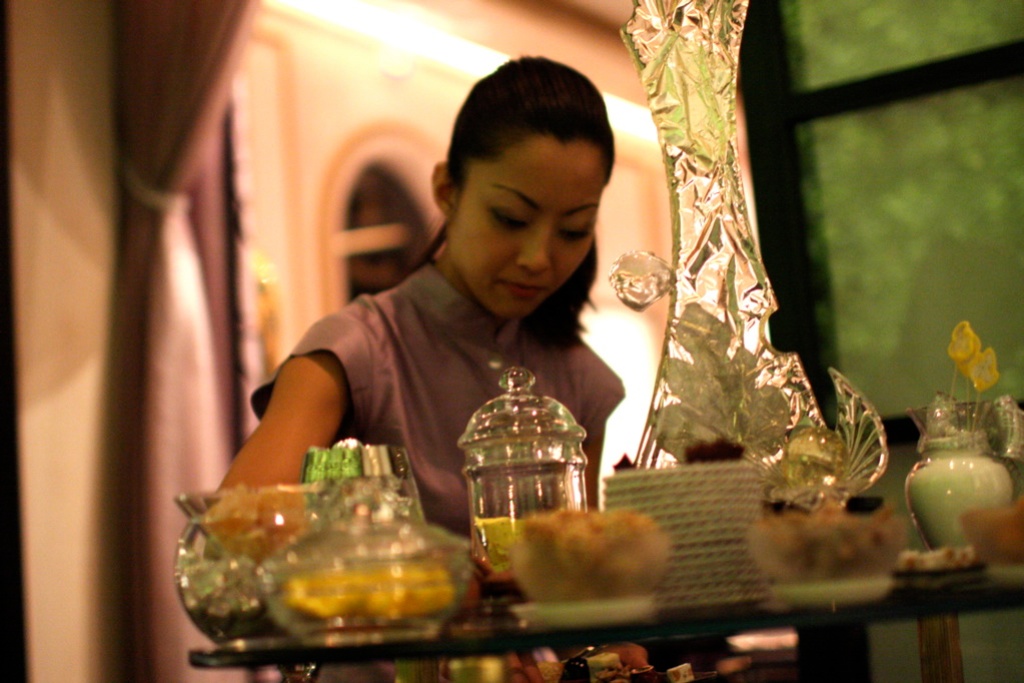 How do we pick? Do I want these?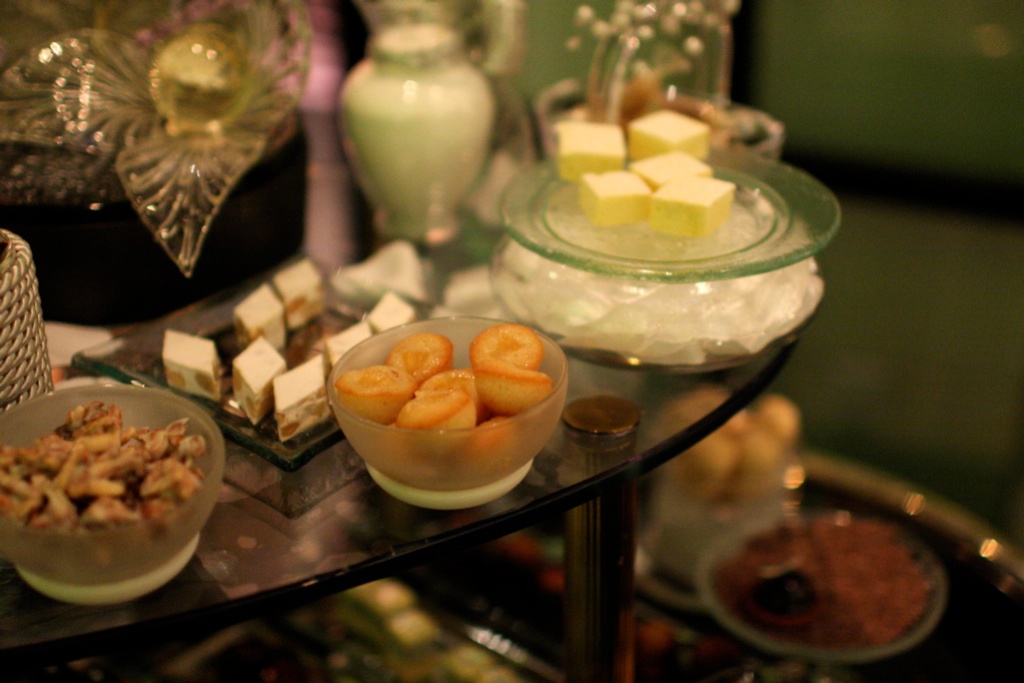 Or these?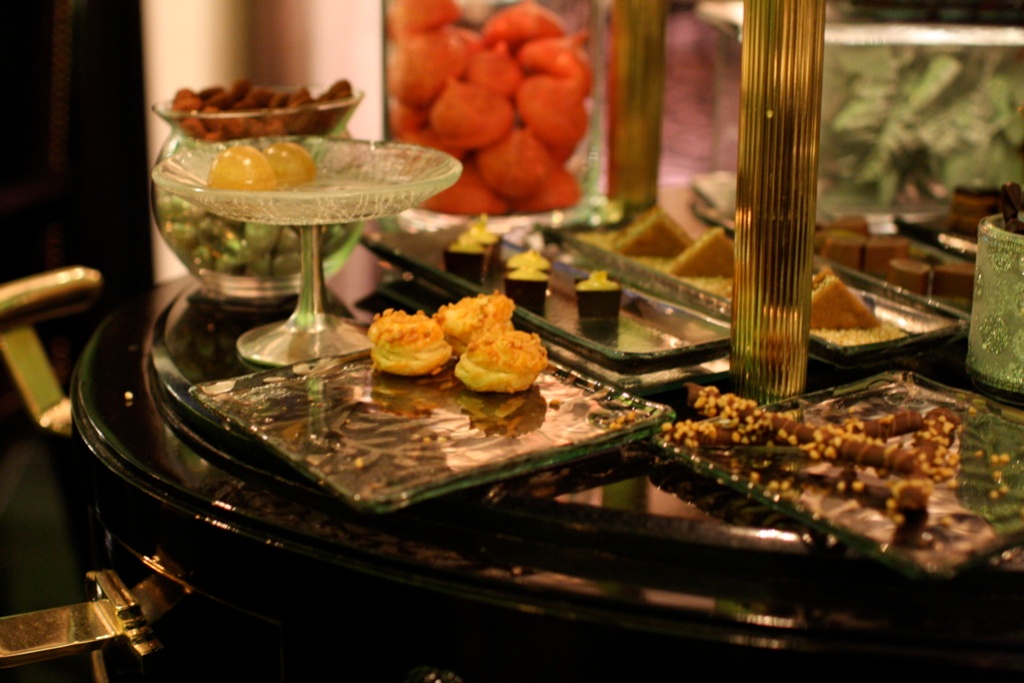 Fine, we'll take these.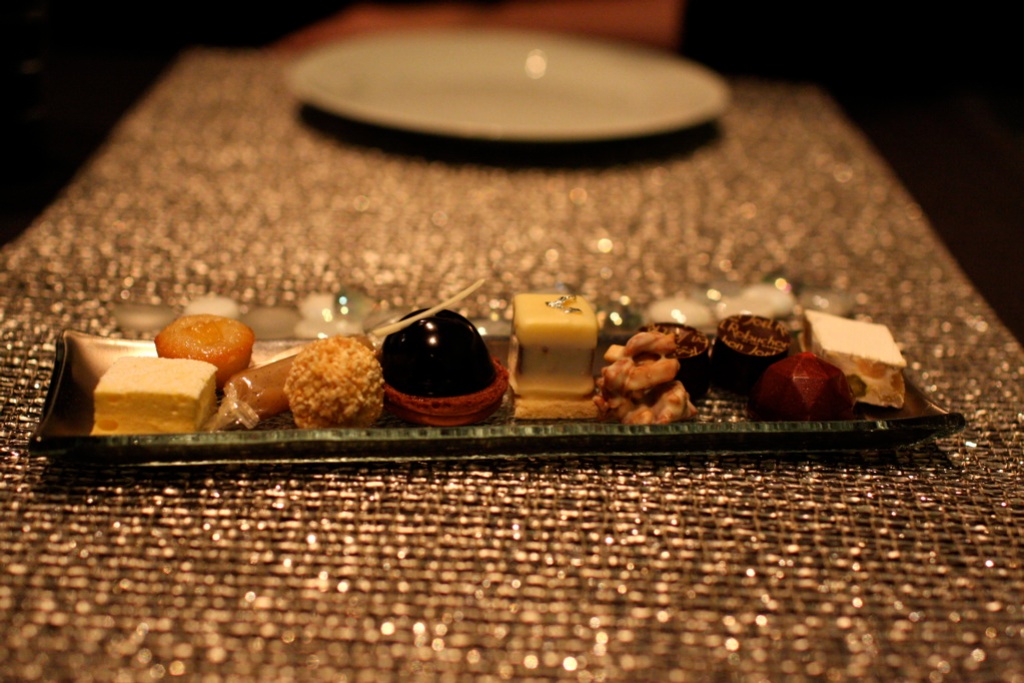 I had eaten more than enough gold leaf for the night, so for contrast, this chocolate was presented with silver leaf on top. Good lord, really?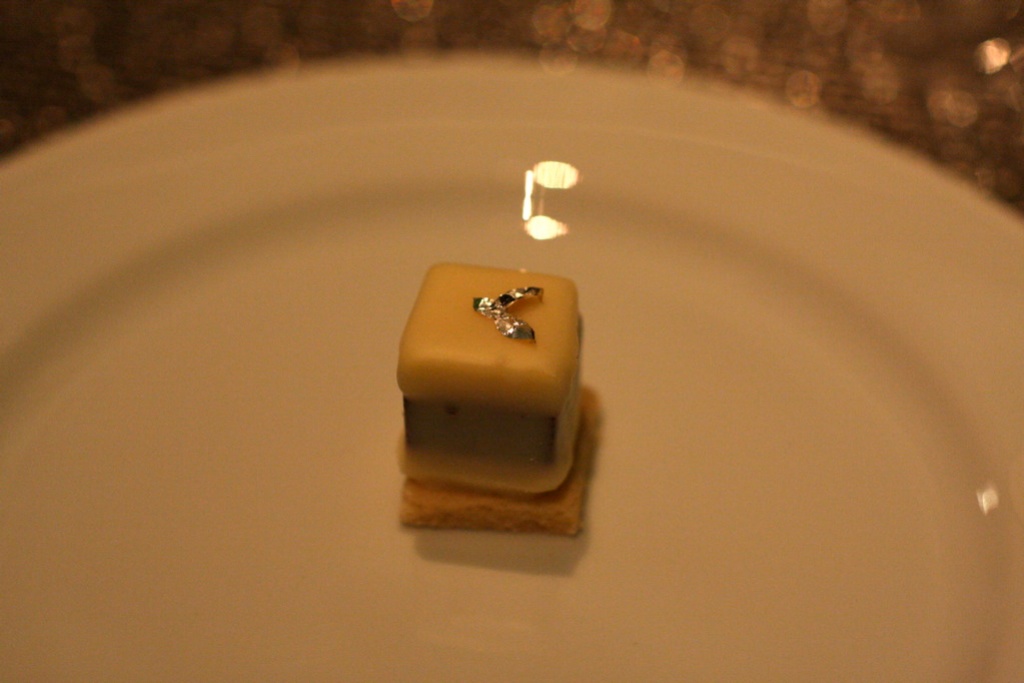 When they brought the bill (ha!), they brought us two copies of the menu (what, you think I wrote the names of the courses from memory?) on lovely heavy-stock colored paper, tied with a bow. When I opened the menu today to write this entry, I saw printed at the top, "Mr. Mackey and Guest." So they didn't just make me a copy of the menu — they printed a copy of the menu for me. Along with the menus, they brought us a fresh homemade panettone — a type of bread served in Italy around Christmastime — to take home and enjoy at breakfast the next day.
I think it's safe to say this was the most amazing dining experience I've ever had. It was four hours of culinary art — and it made AEJ smile. Your band booster dollars at work!