January 23, 2008
Greetings from Tokyo
AEJ (the newly Mrs. AEJ, that is) and I are now in Tokyo for our honeymoon. We arrived last night, after what ended up being — thanks to arriving a bit too early for the flight, then having it delayed by nearly two hours, then missing the shuttle bus from the airport in Tokyo — a 20-hour door-to-door trip. I will say that it was much more tolerable for one reason: Business Class.
We both cashed in all of our American Airlines frequent flier miles (and then some) so that we could fly to Japan free, round trip, in Business Class. I've been upgraded on flights in the past, but they're usually on short flights between Dallas and Burbank — flights on planes where First Class isn't really so different other than the fact that you can have bad wine for free, and your funky turkey sandwich is included rather than costing an extra $7. On an international flight, though, boy howdy, it's a different thing. First, our business class tickets gained us admittance to one of those Admiral Clubs that I've seen tucked away at big airports. What happens there? I wondered. Something snooty, I always figured. Indeed. It's totally a fancy pants club (fancy pants not required, as far as I could tell) with free coffee and sodas, and table service with completely edible food. We had breakfast there before boarding, and it definitely beat the LAX Burger King, which was where we originally planned to dine.
Once on the plane (boarding first, before they let on the riff raff), we got comfy under our massive comforter-grade blankets and rested our heads on full-size pillows, watching somewhat guiltily as the coach class passengers walked past us. I opted to drown my guilt with a Bloody Mary; AEJ started with Diet Pepsi. "Enjoy the flight," I said to the coach passengers, condescendingly mumbling the words through handfuls of warm mixed nuts.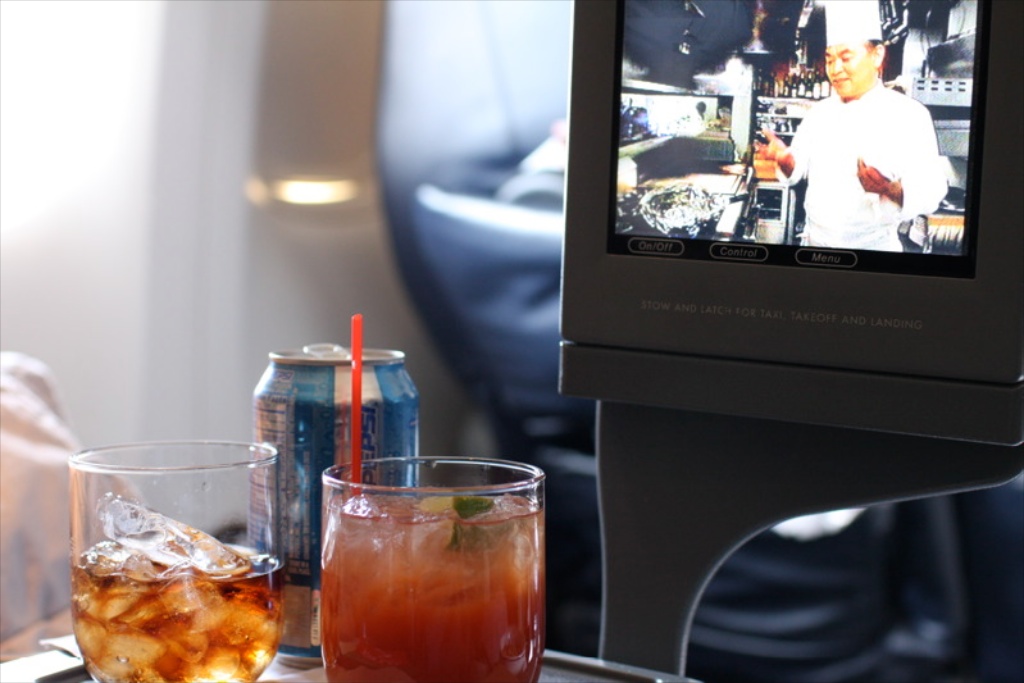 I was about to get out my iPod and little Shure earbuds that I use when flying, when the flight attendant came around and offered us Bose QuietComfort Noise-Cancelling headphones.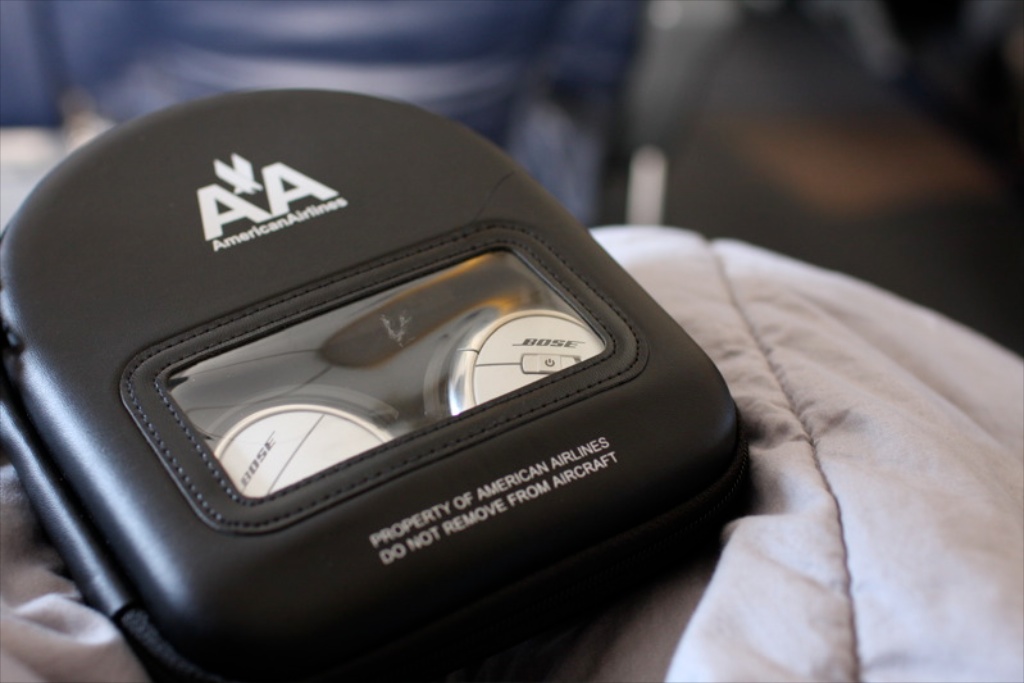 As if the fancy blanket, pillow, headphones, and cocktails weren't enough, we also received a gift bag containing a shoe bag, toothbrush, toothpaste, socks, mints, earplugs, lip moisturizer, hand lotion, eyeshades, a plastic toothpick, and a pen.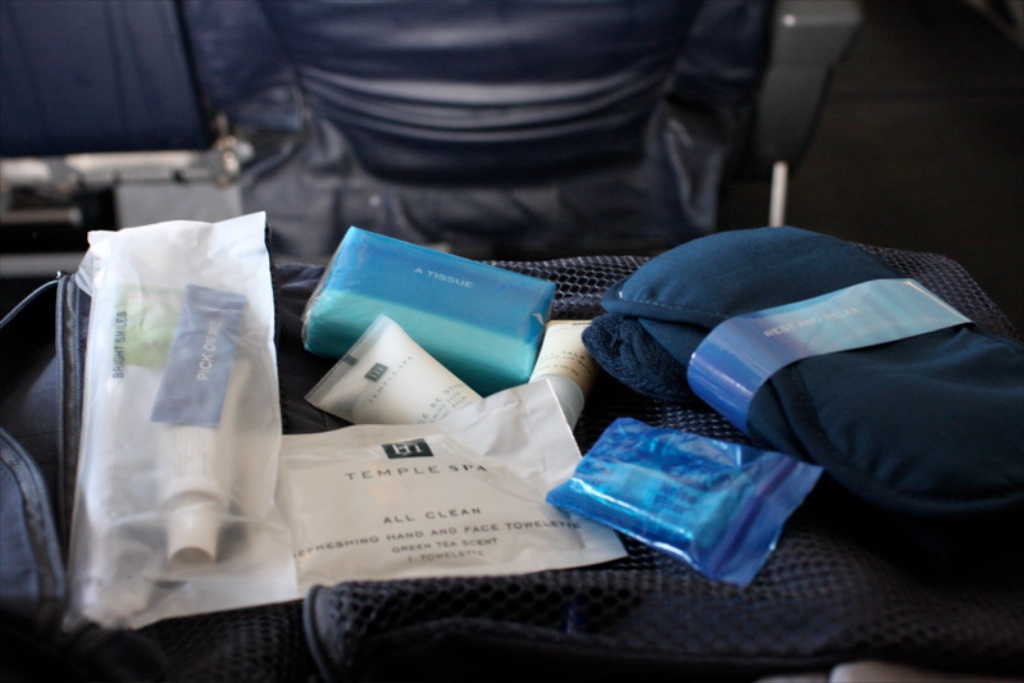 Once airborne, lunch was served. We both skipped the appetizer (vegetable rice noodles with shrimp) and instead started with the salad and warm rolls from the bread basket. AEJ had champaign.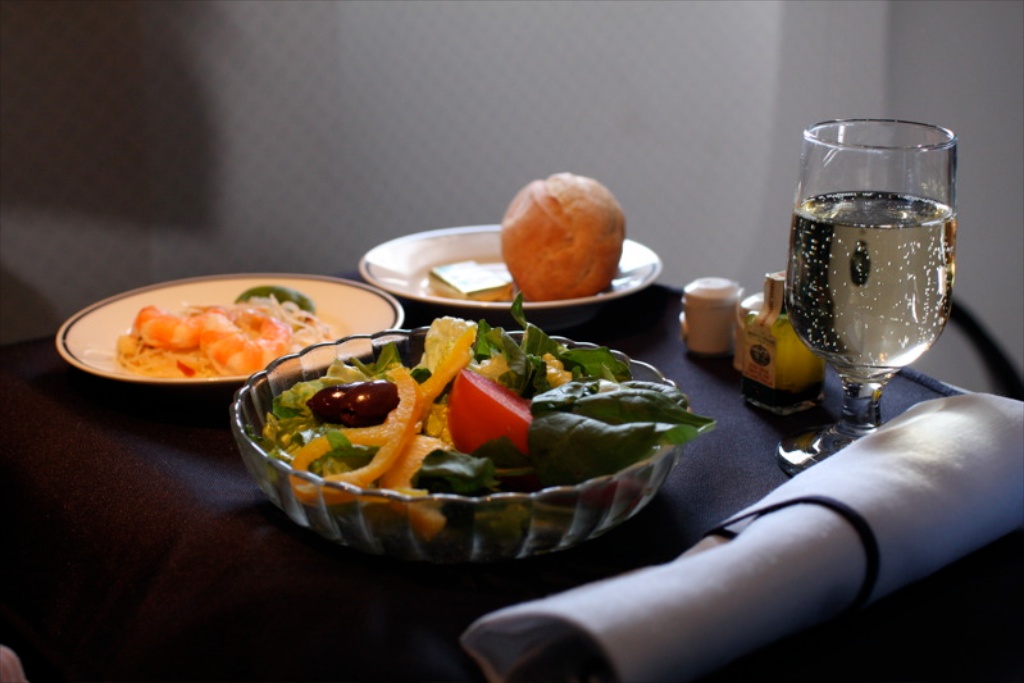 I went with a New Zealand Sauvignon Blanc.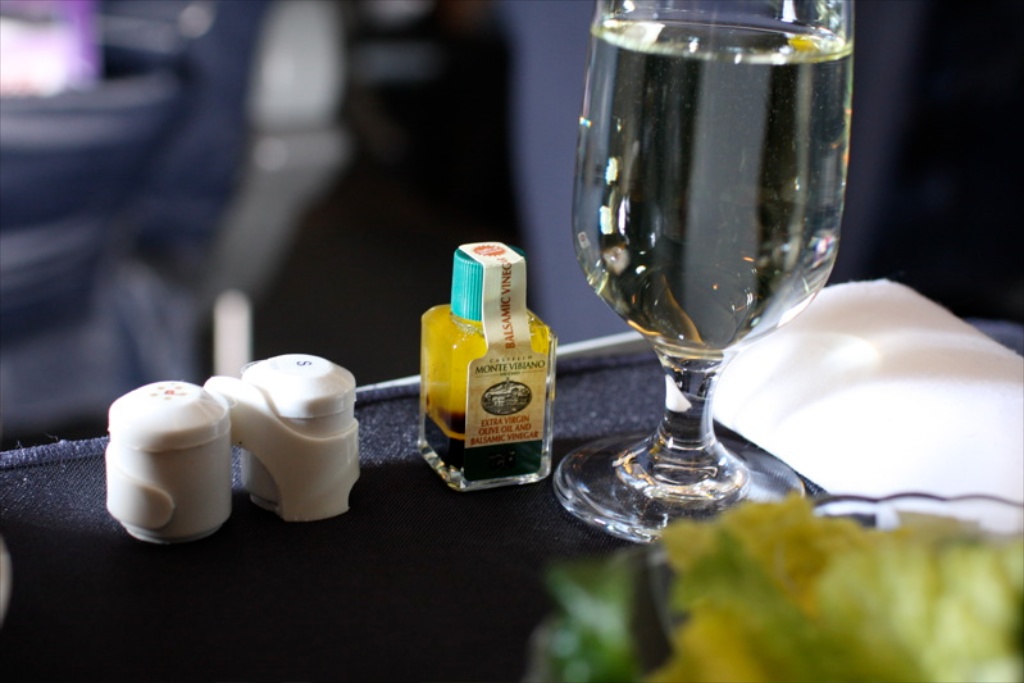 For her main course, AEJ selected the beef tenderloin in red wine onion sauce, with roasted butternut squash and mushroom risotto.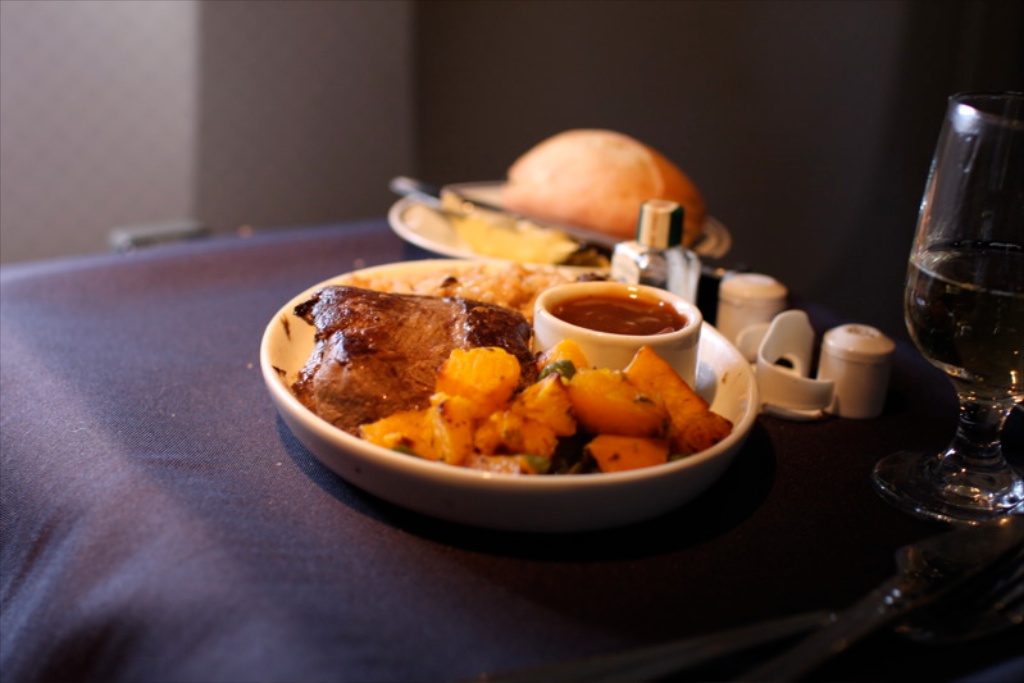 I went a little safer with stuffed shells.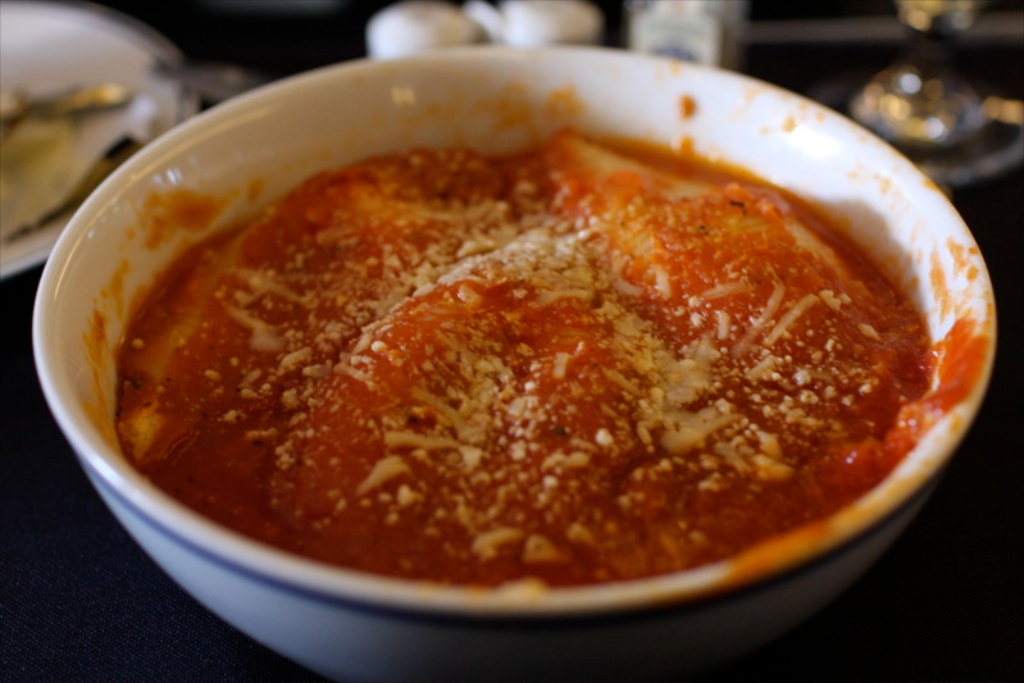 Dessert was Breyers chocolate ice cream with blackberry sauce topped with pieces of white chocolate brulee squares.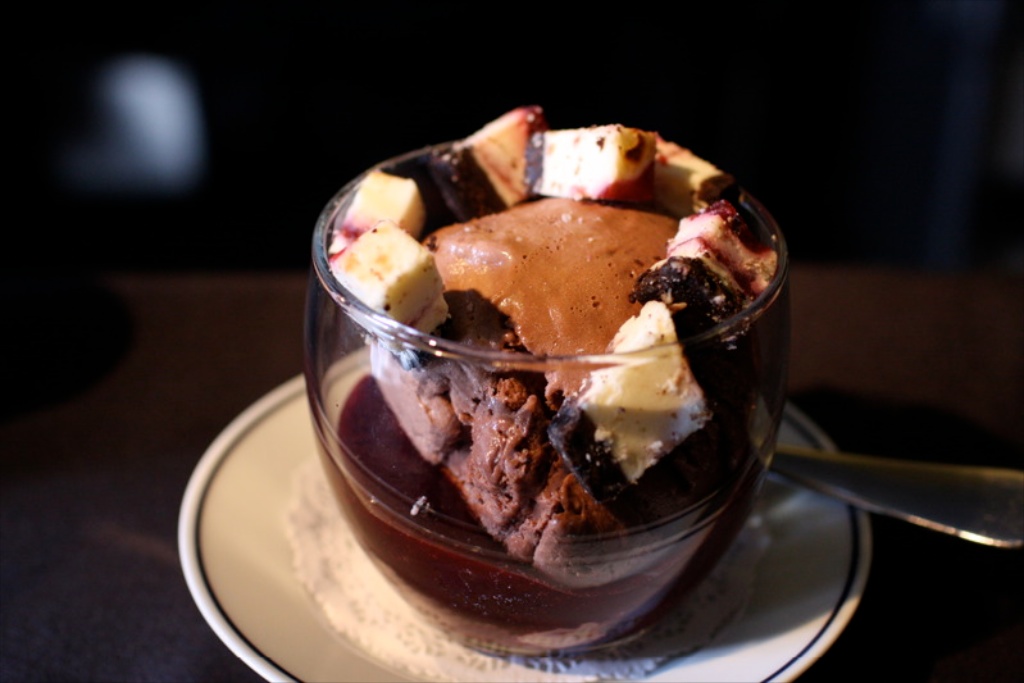 After lunch, a Ghirardelli chocolate and a cup of green tea, brought to us by topless models. (Okay, part of that isn't true.)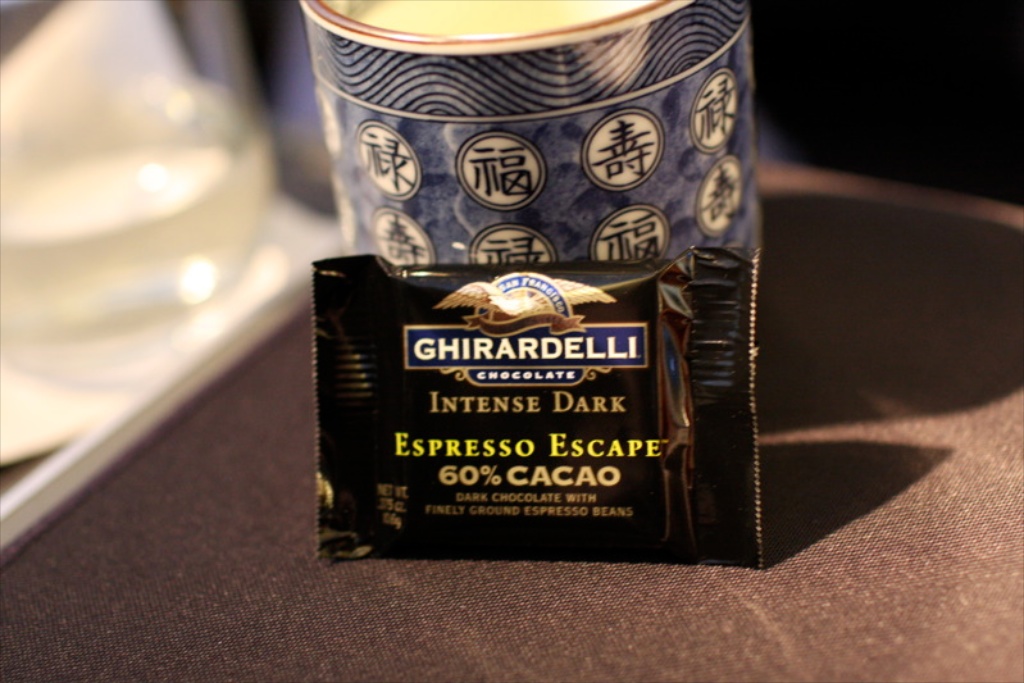 Several hours later (the flight takes over 11 hours), we were brought another bowl of warmed snacks.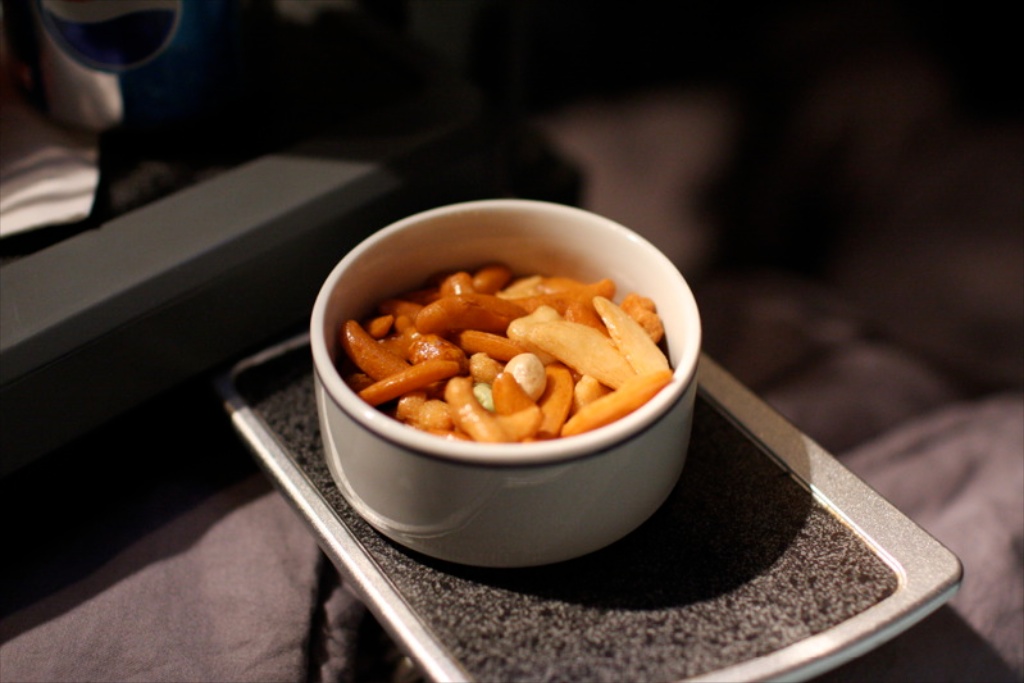 A few hours before landing, they brought another meal. This one was an Uno's Pizza — a personal deep dish cheese pizza served with a green salad and Caesar dressing.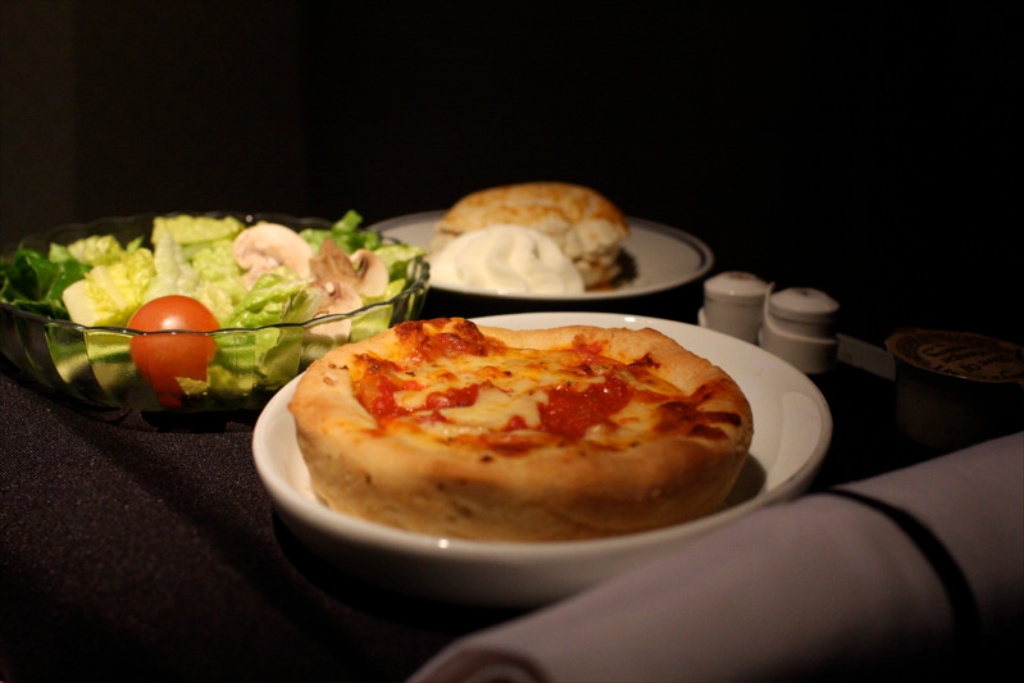 After we landed and cleared Japan immigration, our bags were already waiting for us with "Premium" stickers on each. I had no idea that first and business class bags were the first off the plane. Business Class is pretty damn sweet. I guess you'd expect that for seats that would sell for $5000 each. (Thank you, frequent flier miles.) What the hell happens in First Class? Even more hookers and blow, I assume.
The hotel is very nice (but tiny), and we love the area where we're staying — Ginza. This morning, we walked to the Sony Building to see the four floors of showrooms. Lots of fun three-years-from-now gadgets, including tiny camcorders that shoot in HD. Here's a photo of one of the HD LCD displays, showing a live feed from the HD camcorder. (That's the lens I've used exclusively so far on the trip: the Canon 35mm f/1.4 L.)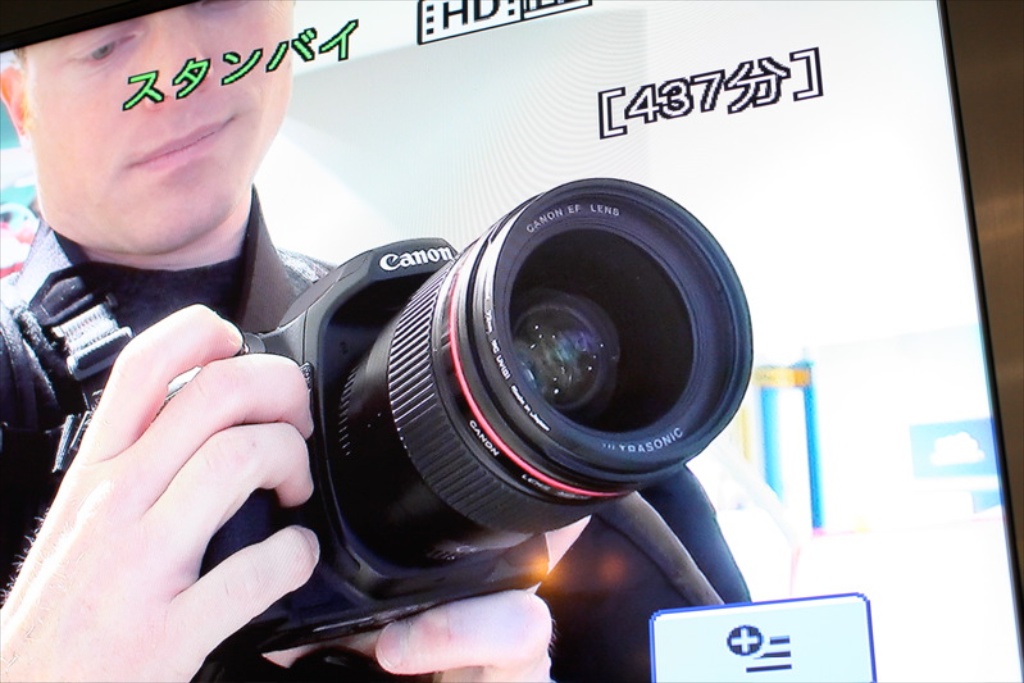 But this entry is long enough already, so the rest of day one will have to wait for another blog entry. Tomorrow will be quite an entry on its own: we're attending a sumo tournament. Right now, though, AEJ is going to take a nap, and I'm going to watch Japanese soap operas.