July 4, 2010
Eleven Madison Park
It's been an amazing couple of weeks in NYC, thanks in no small part to the incredible restaurants.  There was the good-if-slighly-overrated Morimoto, the fun and creative evening of molecular gastronomy at WD-50, a downright perfect Italian meal at Scarpetta, and several other good (but not photographed) meals.  Last night, though, was the epic meal of the summer:  The 12-course "gourmand" dinner tasting at chef Daniel Humm's restaurant, Eleven Madison Park.
The first thing you notice is the staff: all young, and genuinely friendly.  A lot of restaurants at this level can be overly-serious, bordering on snooty.  My preference is for the food to be taken seriously and treated respectfully, but there's no reason to be uptight about it.  I don't want to feel like I can't have fun and wear my clown shoes to dinner.  The extremes, at least in tone, have been Jean-Georges — where a jacket is required and the majority of the clientele is so elderly that you'd swear some have been embalmed — and at the other extreme, WD-50 — where almost everybody is under 45, and there's no dress code at all.  Both places have brilliant food (Wylie Dufresne, the chef at WD-50, used to work at Jean-Georges, and in fact, Jean-Georges is an investor in WD-50), but the tone (and, well, the food) is completely different.  Eleven Madison Park is closer to Jean-Georges than WD-50, both in mood and food, but it manages to remain just-shy of any hint of stuffiness.  It's a room full of smiles.
When you sit down, you're presented with a little bowl of warm Gougeres to nibble on while you look over the wine list.  Er, wine book.  The thing was just huge — probably 150 pages.  It was like the "Mission Earth" of wine lists.  (Did you know that L. Ron Hubbard's book, "Mission Earth," is the longest novel in the English language, with over 1.2 million words?  And what a page-turner it is!)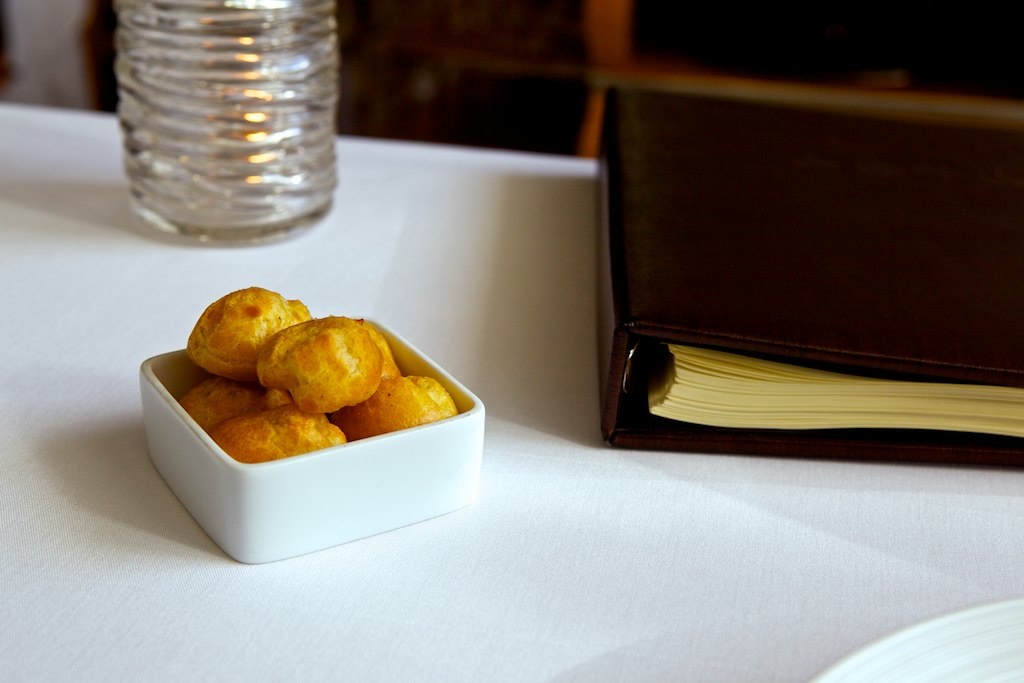 Here's our next plate of hors d'oeuvres (two of each) — from right-to-left, a sweetbread pocket (we skipped this; sweetbreads give us the fear), a mushroom tart, foie gras and jelly (not sure what kind — currant?) with black pepper on a cracker, big-eye tuna, and a carrot marshmallow.  The carrot marshmallow was the best part — sweet, bouncy like a good marshmallow should be, and… carroty.  You probably think I'm kidding, but it was magically delicious.  (Where have I heard that before?)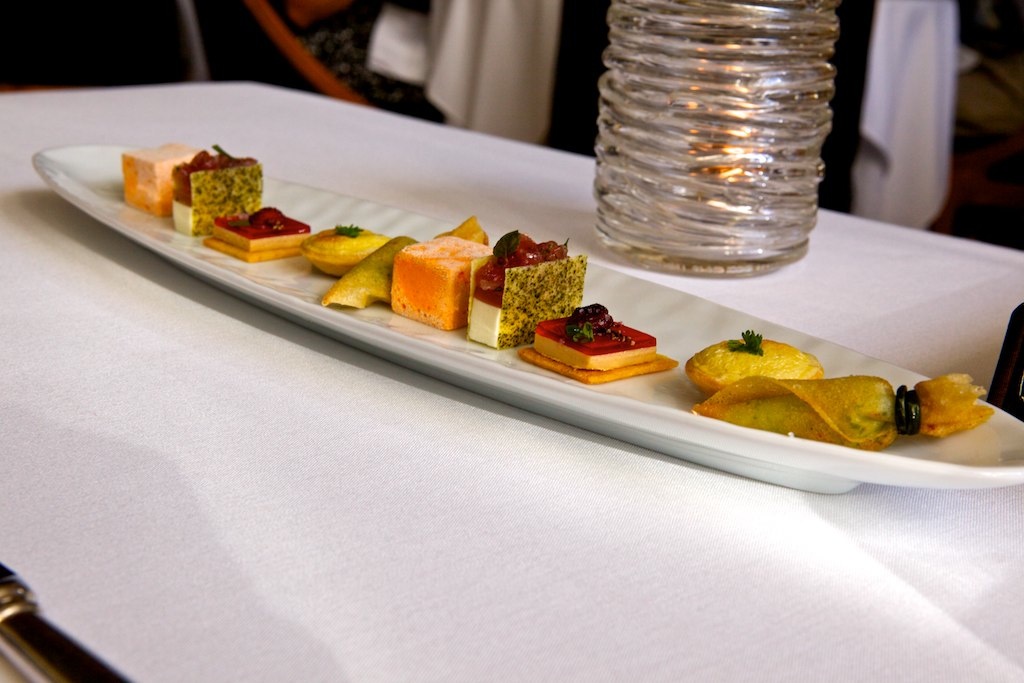 Cocktails! AEJ ordered the Velvet Cobbler: Amontillado sherry, Mosel riesling, and lemon verbena. It tasted (and looked) like the kind of drink that only men would drink, in, say, 1945.  Well, except for the strawberry garnish.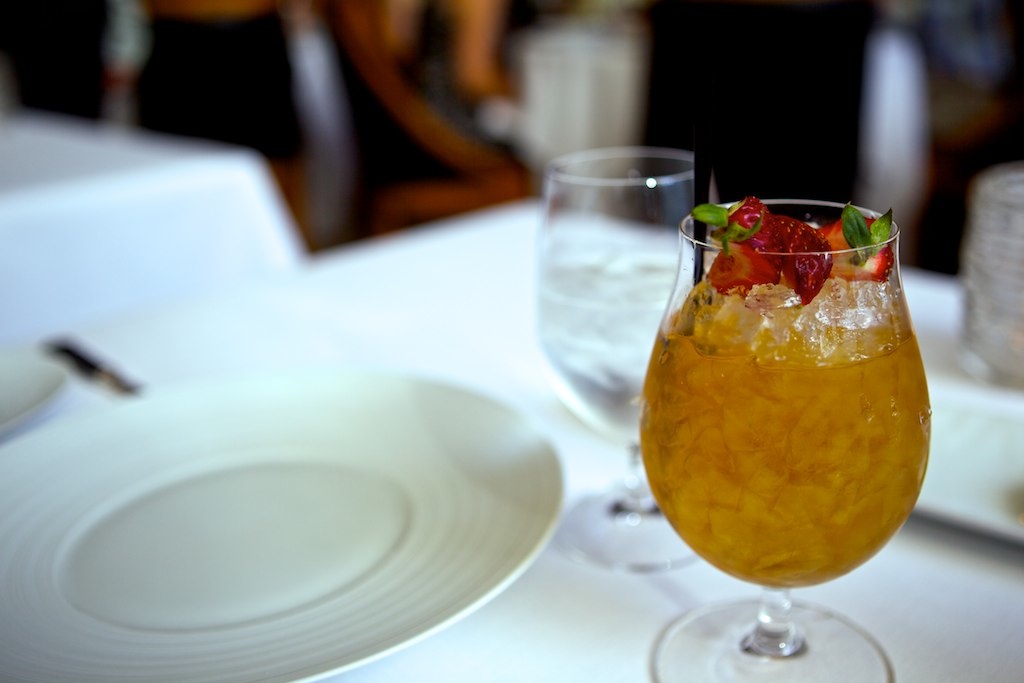 Turns out mine looked awfully girly by comparison. This is the Devil's Buck (a decidedly not-girly name) : Lowland blanco tequila, Creme de Cassis, ginger, and lime. (That lime on top is turned inside-out to hold the shot of creme de cassis.)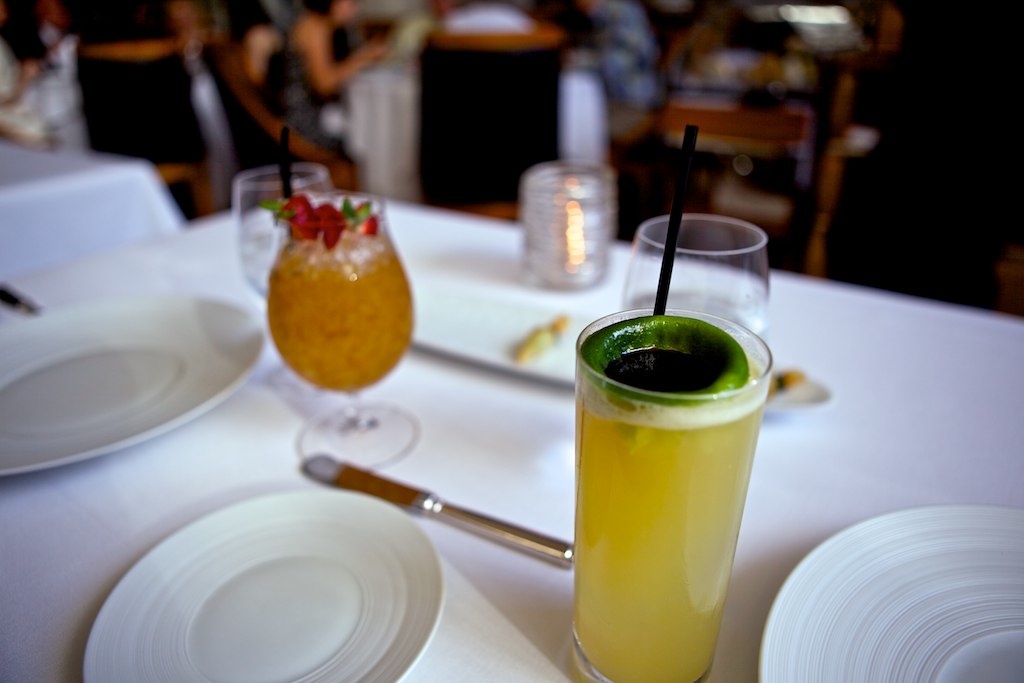 Bread and butter! Two butters, actually — cow milk butter on the left, and goat milk butter on the right, with a little bowl of fleur de sel (ie, course salt).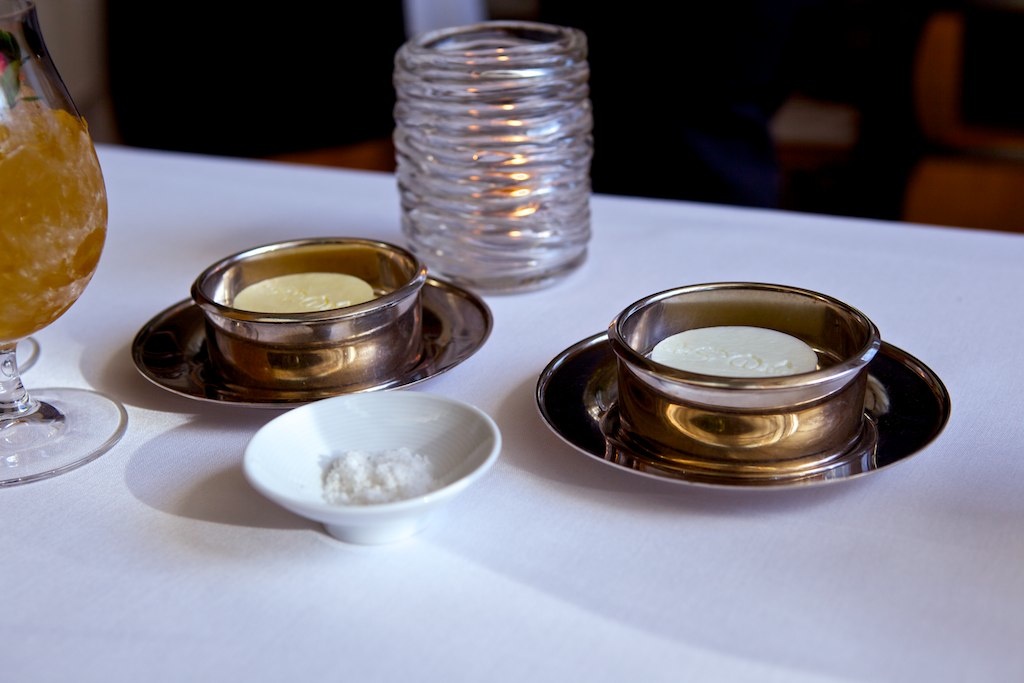 Things started light and fun. This is the Tomato Lollipop (presented in a basket of cherry tomatoes) : tomato, Taggiasca olive, and basil. The tomato, as far as we could tell, was tomato ice cream. This was sensational.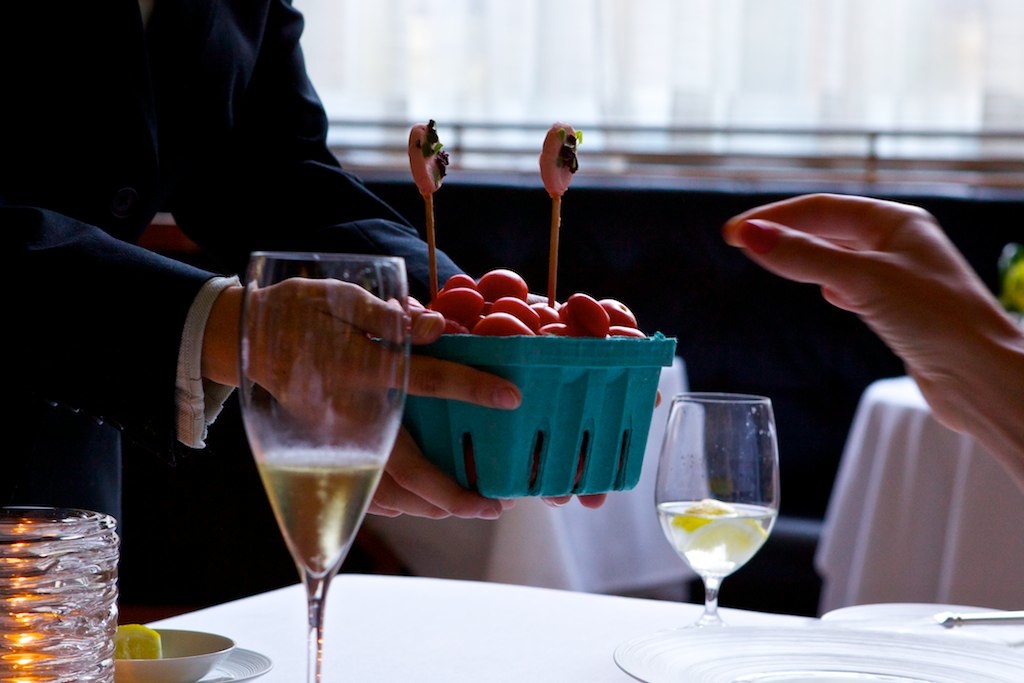 I love corn soup. This is chilled sweet corn soup with summer truffle, radish, and purslane (an eatable flower). The corn, like everything else, was ridiculously fresh — almost as fresh as I was feelin' after a few courses of wine. ZING!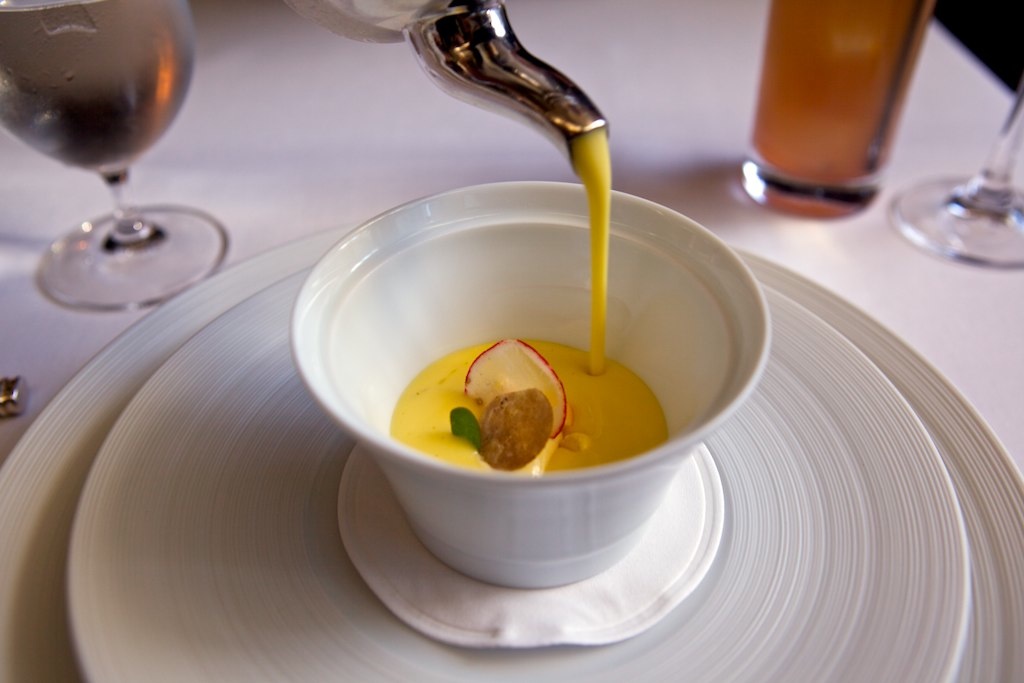 Speaking of the wine, we ordered the wine pairing, specifically requesting that the wines be kept kind of on the light side. (We aren't big fans of a chewy red wine.) In all, there were 10 wines, ranging from white to rose…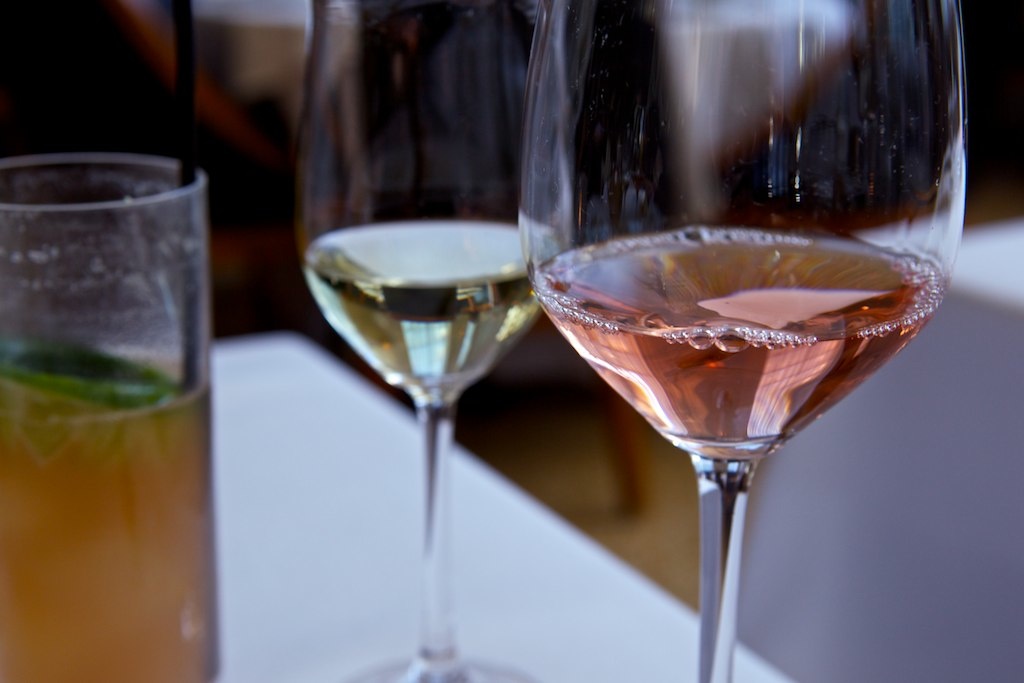 … to this Burgundy (according to our steward, it was "Domaine Jean-Marc Bouley, Clos des Chenes, Premier Cru, Volnay, Burgundy, France 2005" — but all I know is it tasted awfully light for such a dark wine), served in the biggest wine glass I've ever seen. (We were told that the glass could hold an entire bottle of wine. Now it's a party!)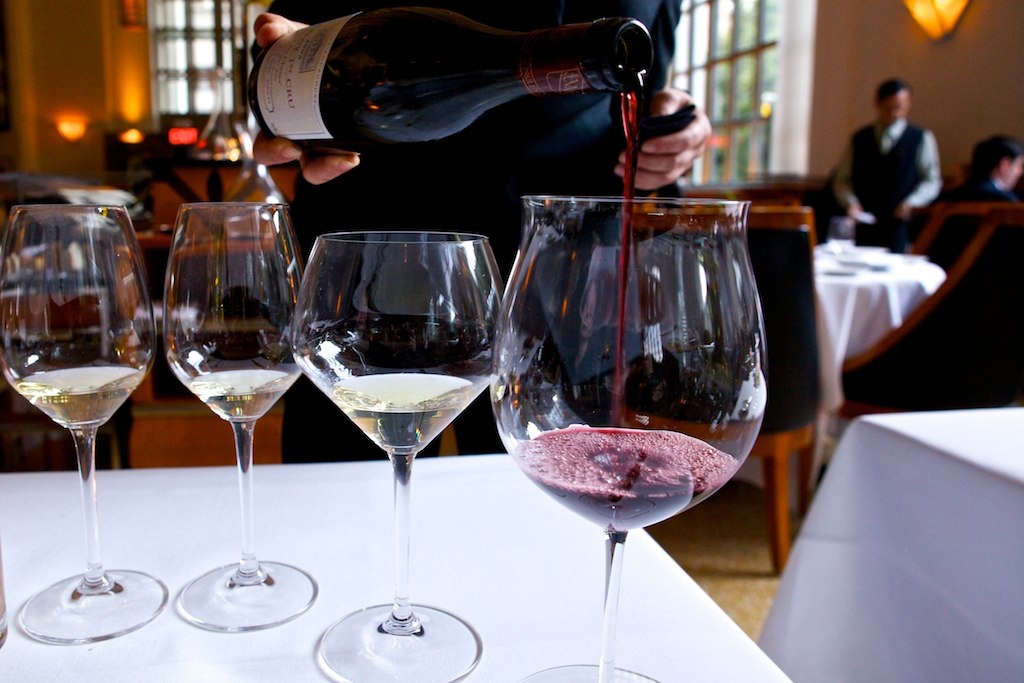 This is the Taboule salad with summer crudites (melon, etc.) and wild herbs. (I gave AEJ the cucumber. I hate cucumber.)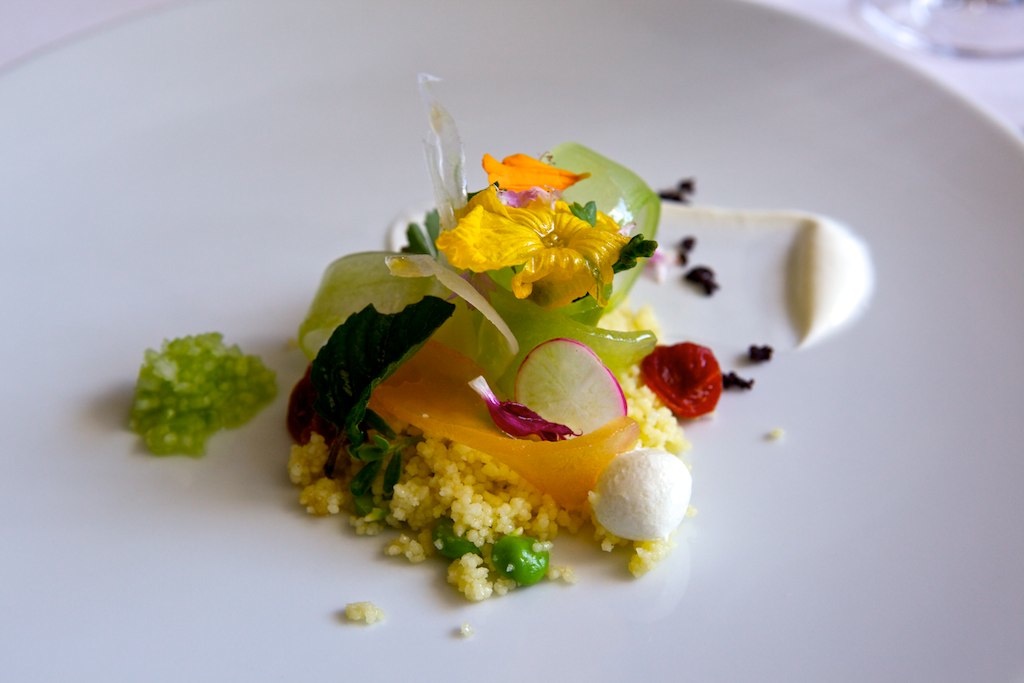 The next course in the tasting would have been rabbit, but we asked for a substitution, because I didn't want AEJ to start crying thinking of a tiny bunny. The substitution was amazing: Goat's Milk Ricotta Gnocchi with violet artichokes and bacon.  This was good with its paired wine, but even better with my cassis cocktail.  It was rich and gooey, and each bite tasted different, depending on whether you made a bite with gnocchi and artichoke, or olive, or that amazing sliver of cheese that you see on top.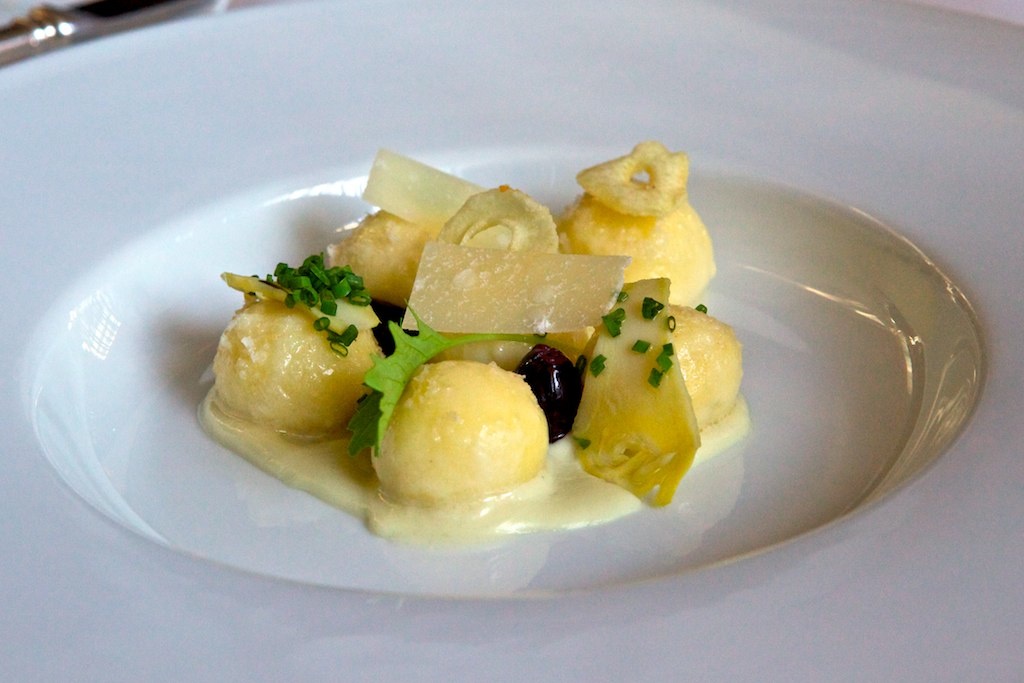 This is the Atlantic Cod Cheeks, poached in olive oil with sweet peppers and "piment d'Espelette." The sauce was wonderful, as was the fish, but the sauce wouldn't really stick to the fish for whatever reason.  (The fish seemed a little wet.)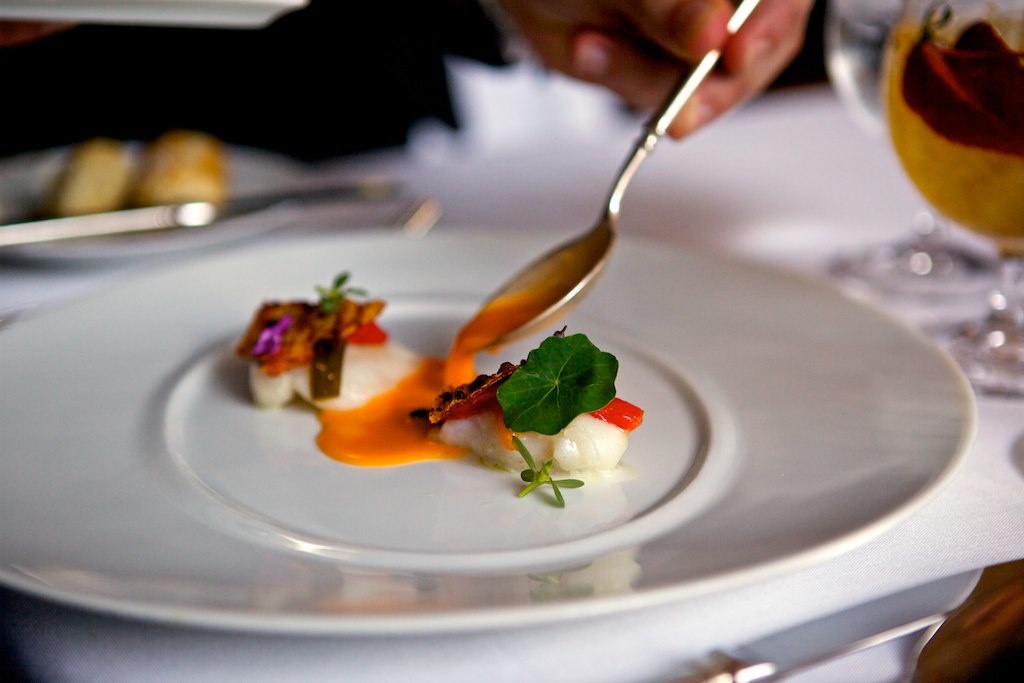 It looked very pretty, though. (I think every restaurant should use eatable flowers as a garnish, just because it makes a nice picture.)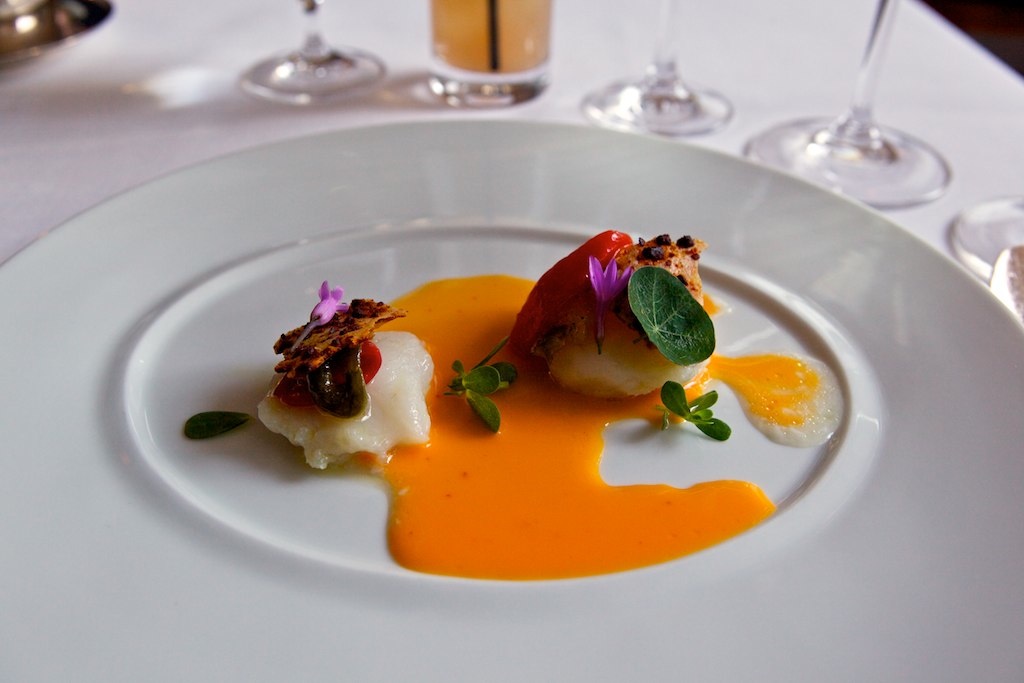 For my next course, I had the Nova Scotia Lobster Lasagna with lemon verbena and heirloom squash. This — the broth in particular — was a highlight of the dinner. I also loved that it was called "lasagna," but it obviously wasn't a traditional lasagna. Even the lasagna noodles weren't standard, but had been rolled in paper-thin flowers. (You can see a hint of a flower near the center of the frame.)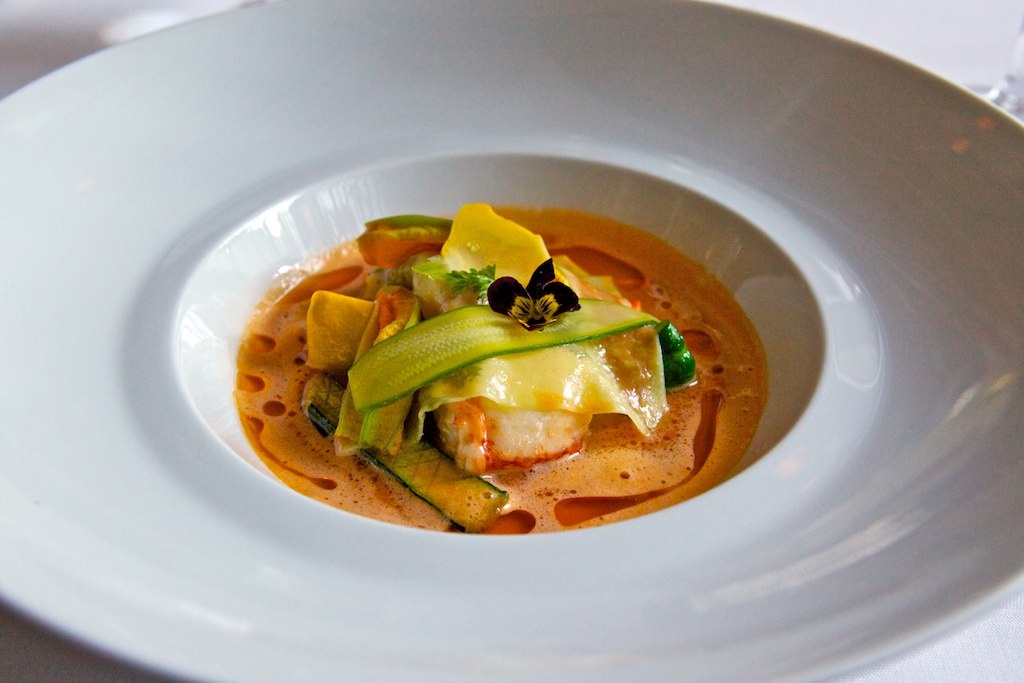 While I had the lobster, AEJ — who is allergic to shellfish — had the "Loup de Mer," slow-cooked with cannellini beans and chorizo.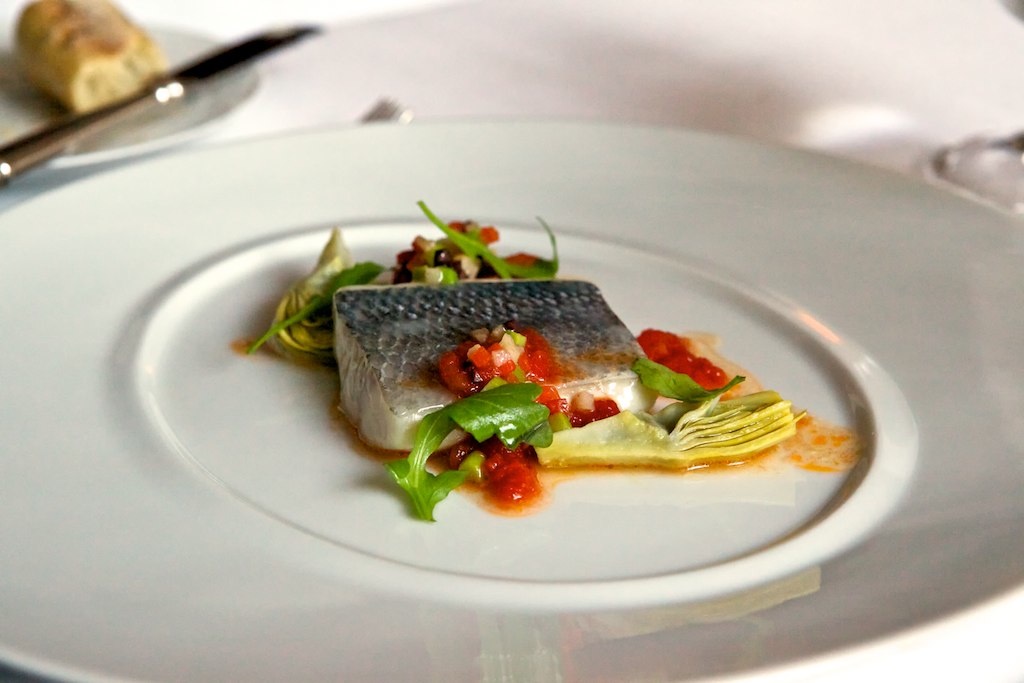 It wasn't included in our tasting menu, but the table next to us had the duck course (stuffed with lavender — I believe AEJ referred to the duck as "lavender butt!"), carved table-side.  (Those are some perfectly-polished copper pans.)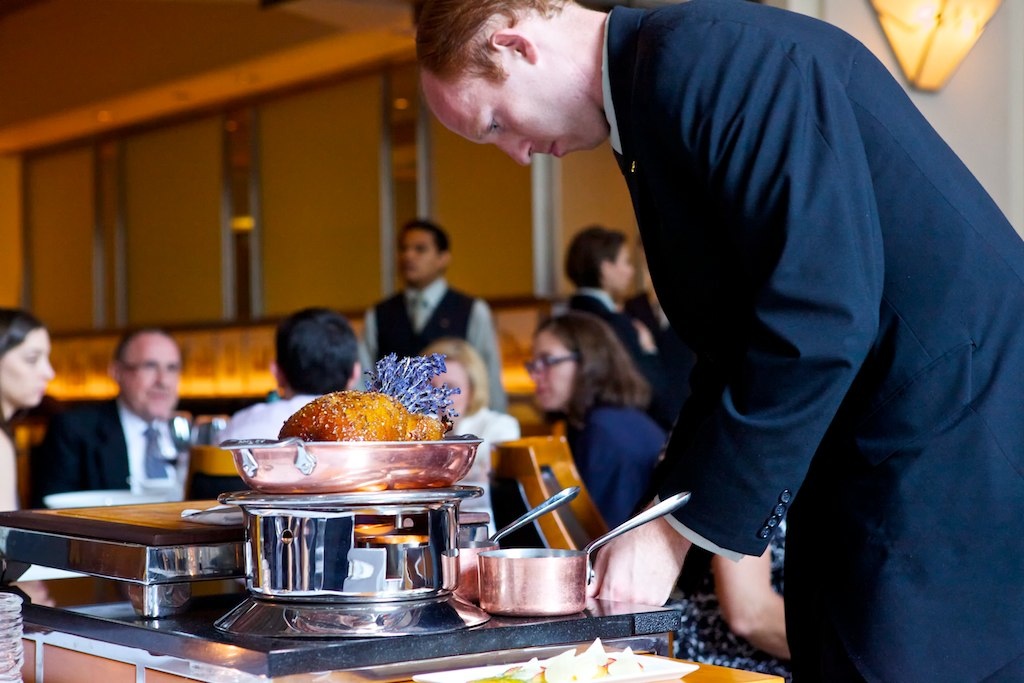 Here is the chicken, roasted with sweet corn, chanterelles, and farro. I know it's silly, but I think it's fun when the sauce is added at the table.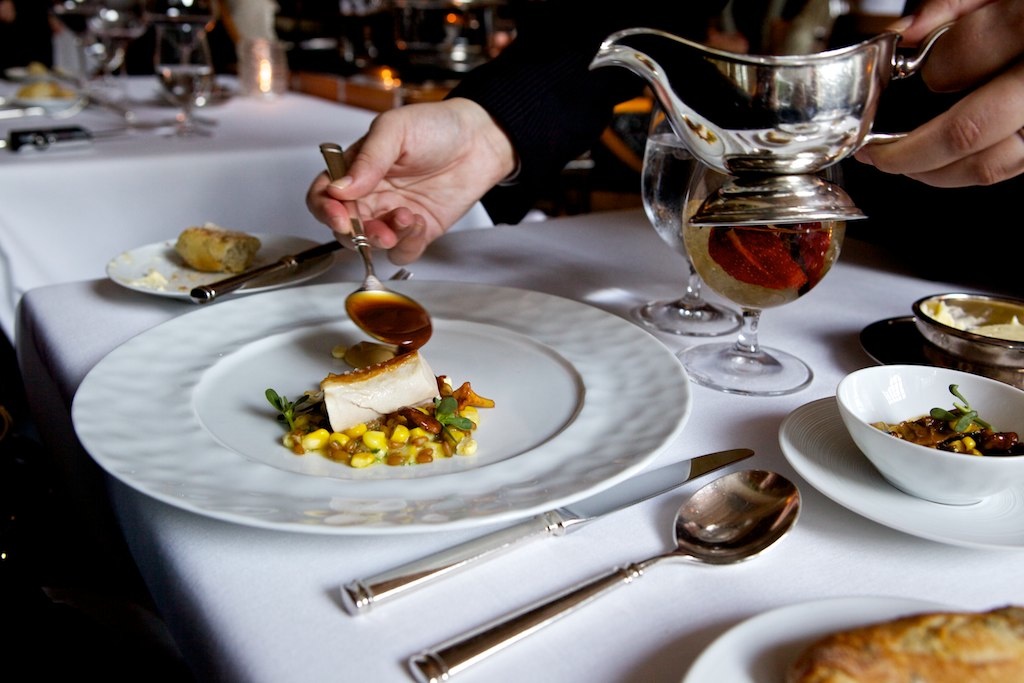 It also means you get two photos of the same course. (This broth, like the others, was intense and delicious.)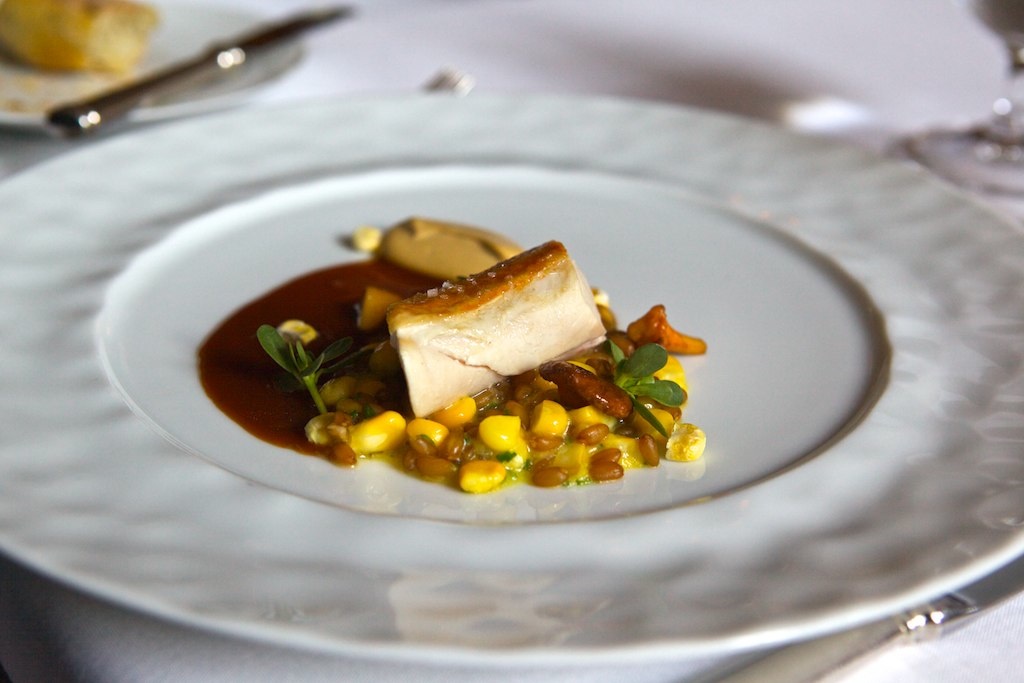 Next up: Colorado Lamb, herb roasted with eggplant, cumin, and yogurt. We think the lamb was cooked sous vide, as the lamb had been cooked at WD-50, and like WD-50's lamb, the texture was rubbery. Maybe there's a way to cook something sous vide and get a good result, but I haven't had it (or maybe I have, but didn't realize sous vide was involved). I'm all for tender, but meat this tender just resembles an eraser. A lovely, delicious eraser — like the kind you'd get at an art store — but an eraser.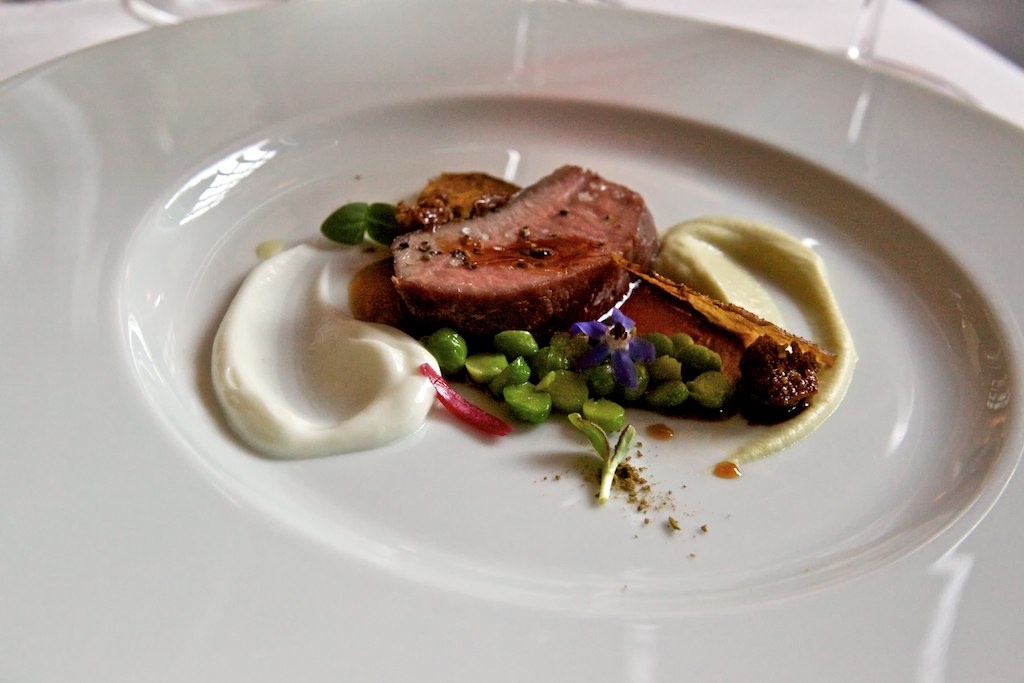 Look what's at the next table! It's the CHEESE CART!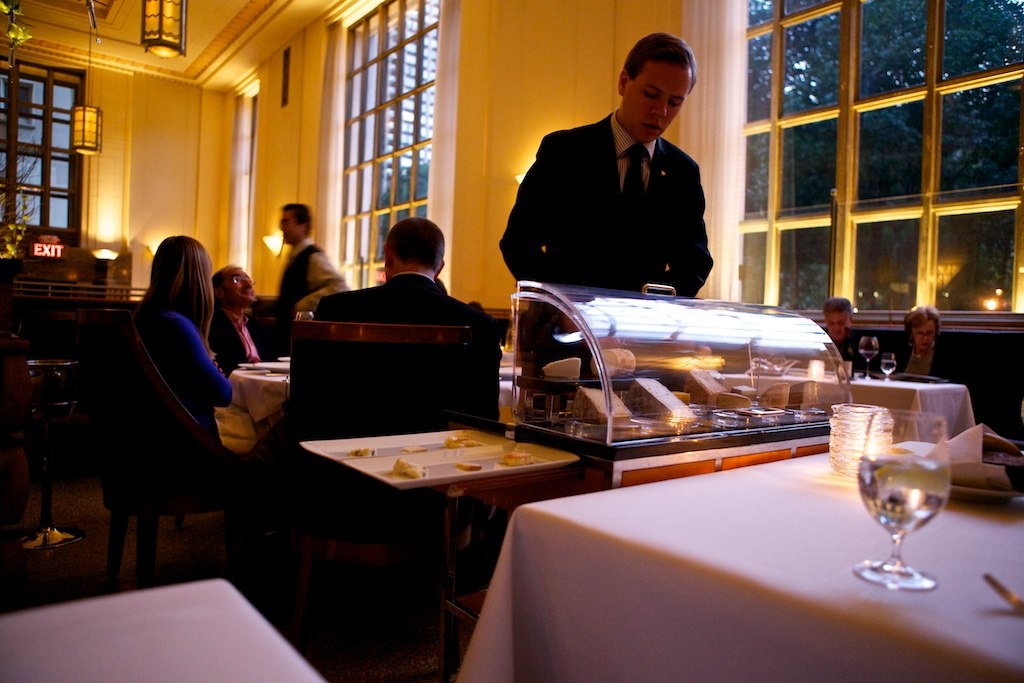 The cheese cart is a fun course. We don't know a great deal about cheeses.  (I, in particular, am clueless, but I do know that I prefer Mexican Velveeta to regular Velveeta.)  We don't like cheese on the stinky side (Mexican Velveeta being the exception), so we asked our waiter for a mild selection.  "A slice of your finest American cheese food, please!"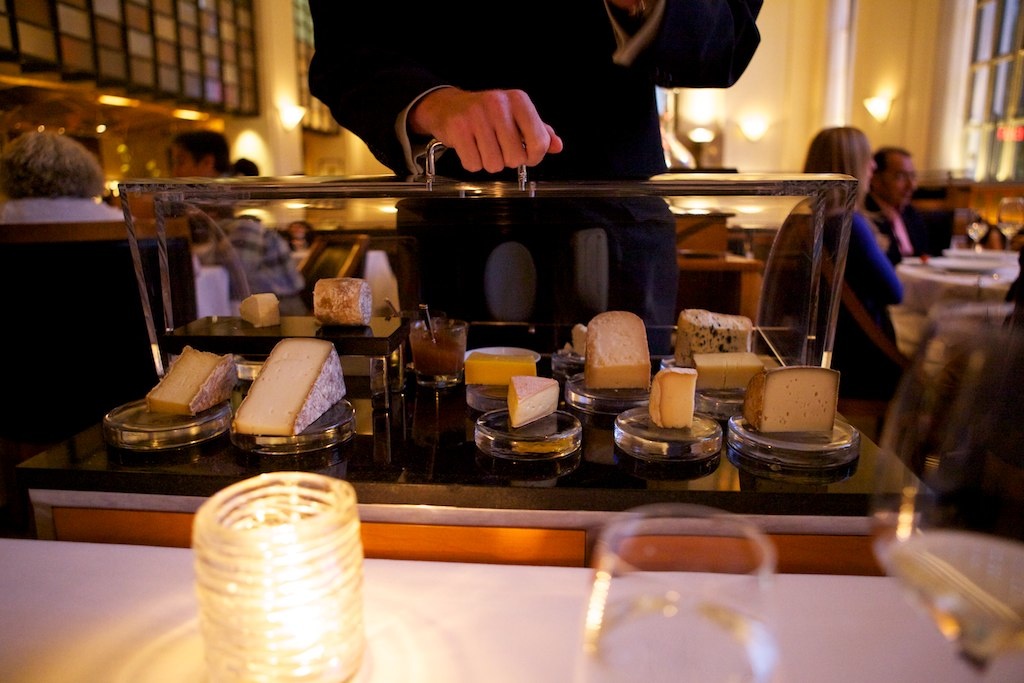 Our (exceptional) waiter, preparing the cheeses.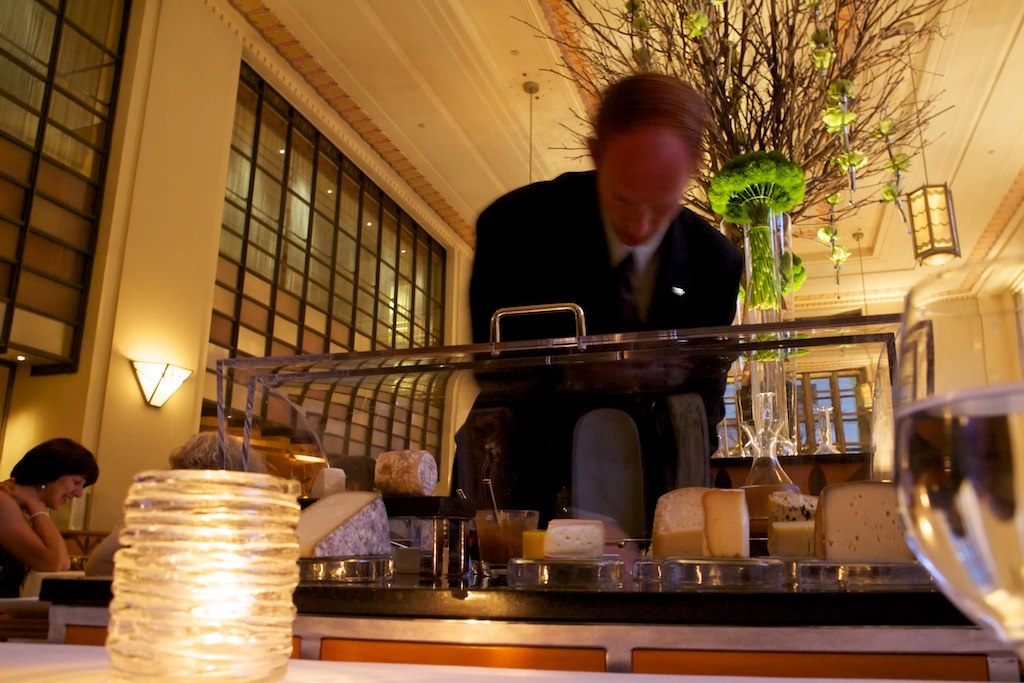 CHEESE! (and nuts.)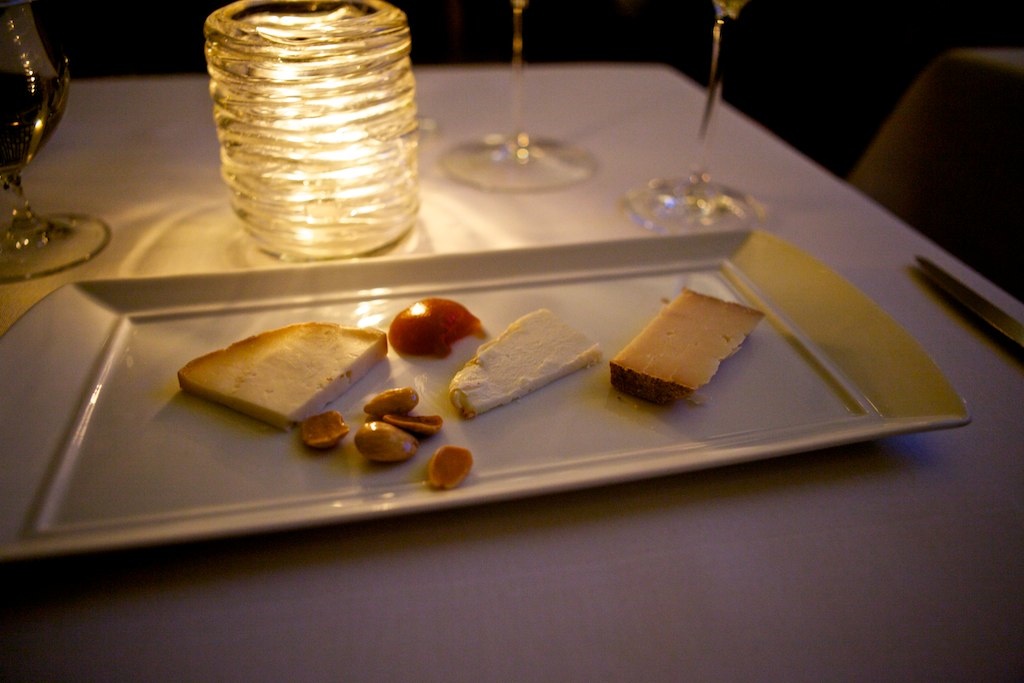 There's something awfully cheery about the Champagne and cognac cart.  (And again with the smiles!)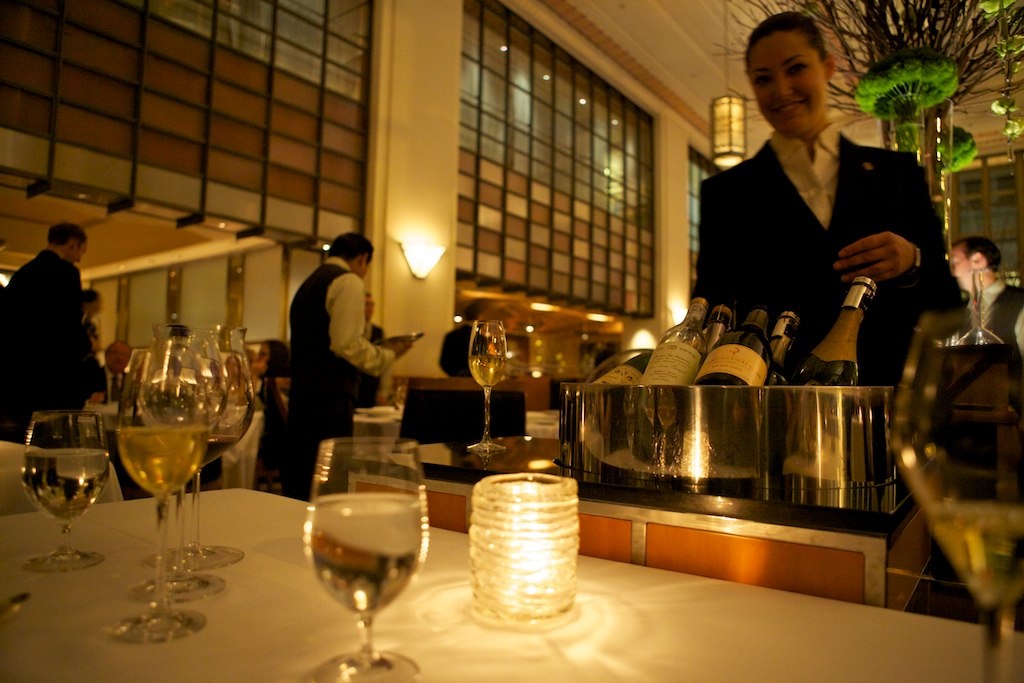 After the cheese course… desserts! This dessert doesn't look like much, but I can still — even the next day, after 10 glasses of wine last night — remember how amazing this was, and what the texture felt like. It's called "Milk and Honey" — a mountain of dehydrated milk (I suspect that liquid nitrogen was involved) that you crack open to release a river of lavender-infused honey.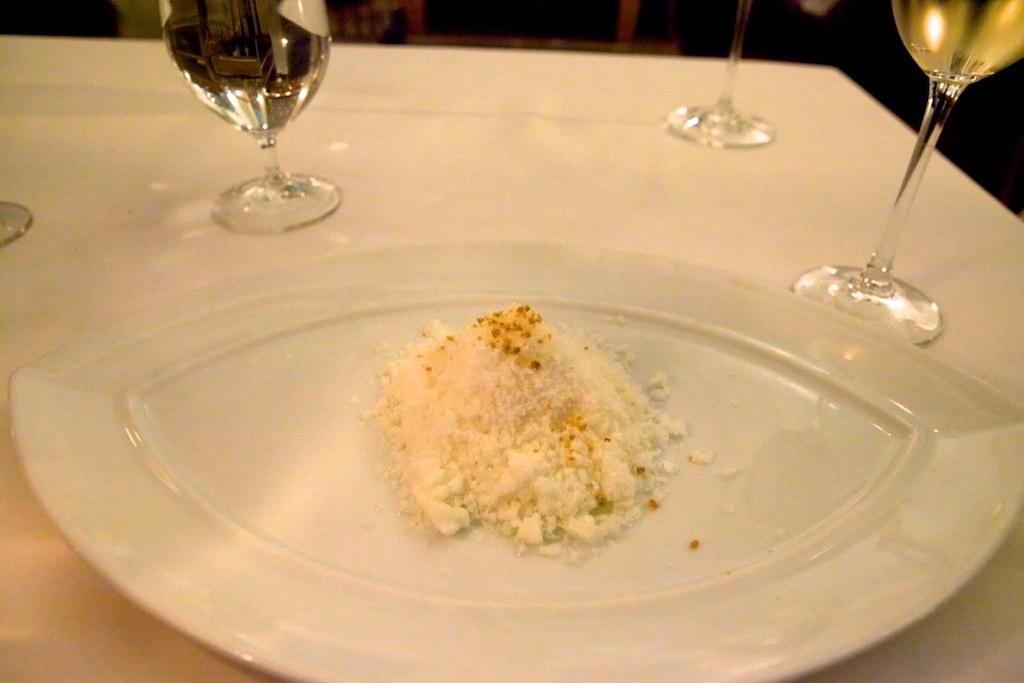 The next dessert was "bittersweet chocolate" –Cremeux with black sesame, caramelized banana, and yuzu. (More yuzu! It's everywhere now — Morimoto, WD-50 — and I love it.)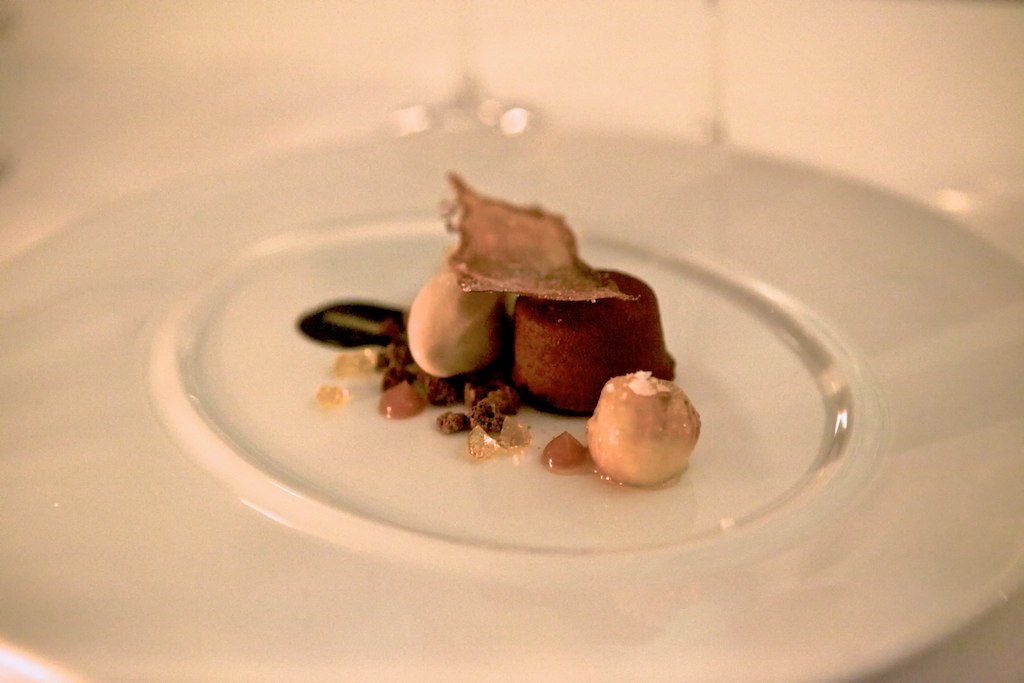 And now — "mignardises" — in this case, macaroons. Which one should we have?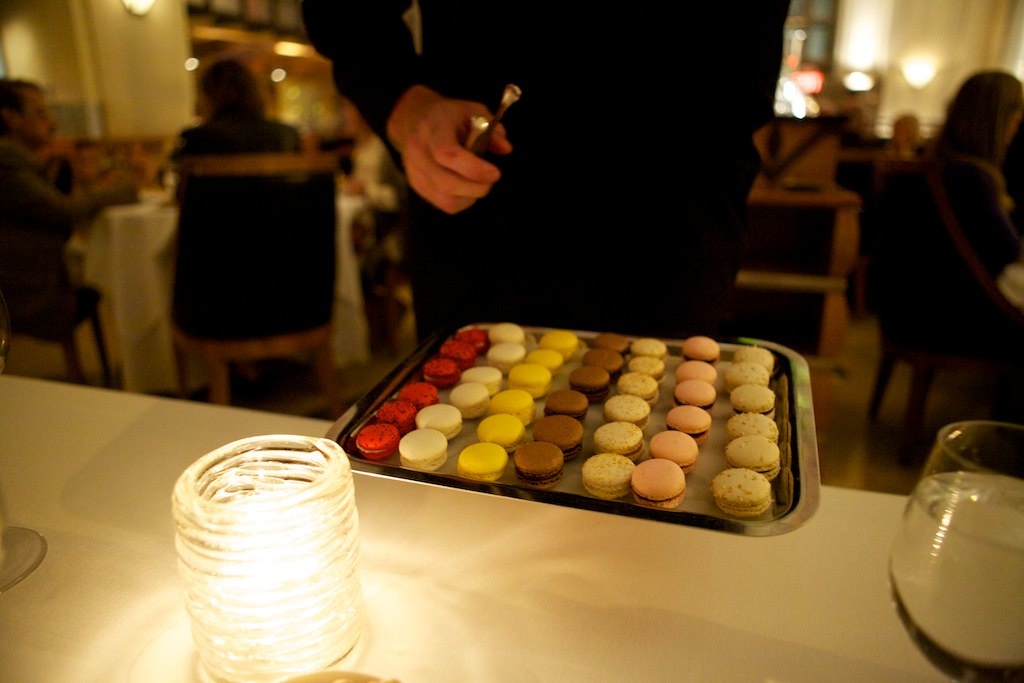 All of them, of course. (At this point, what's another 400 calories?!) Each one was different. Peanut butter & jelly was our favorite.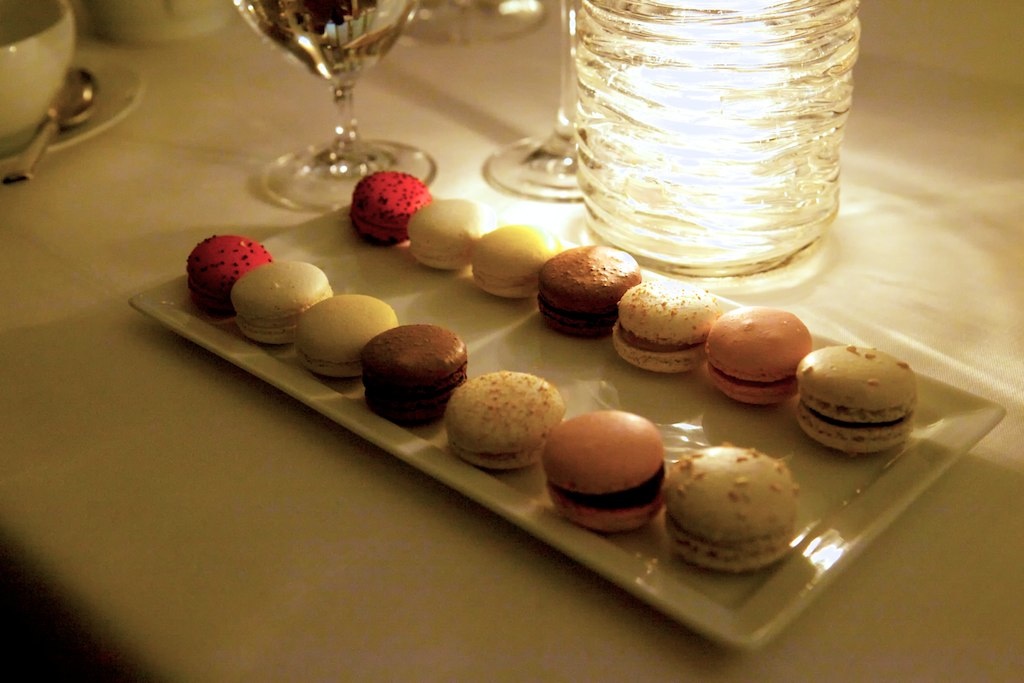 We also had a pot of their in-house tea called "White Sunrise in Tibet." We loved the tea and asked for more information about it. Minutes later, our waiter brought us a card with details about the tea — and the address of a store that carries it — all on a printed card. He also brought us copies of our menus (a slightly different one for each of us, since one course was different between them), including our personalized wine pairings for each course.
After tea: a glass of cognac. I don't think I've ever tasted cognac before. We have a bottle in the house, but we only use it for cooking. (Some recipes of Ina Garten's have you add cognac and then set fire to it. Very dramatic.)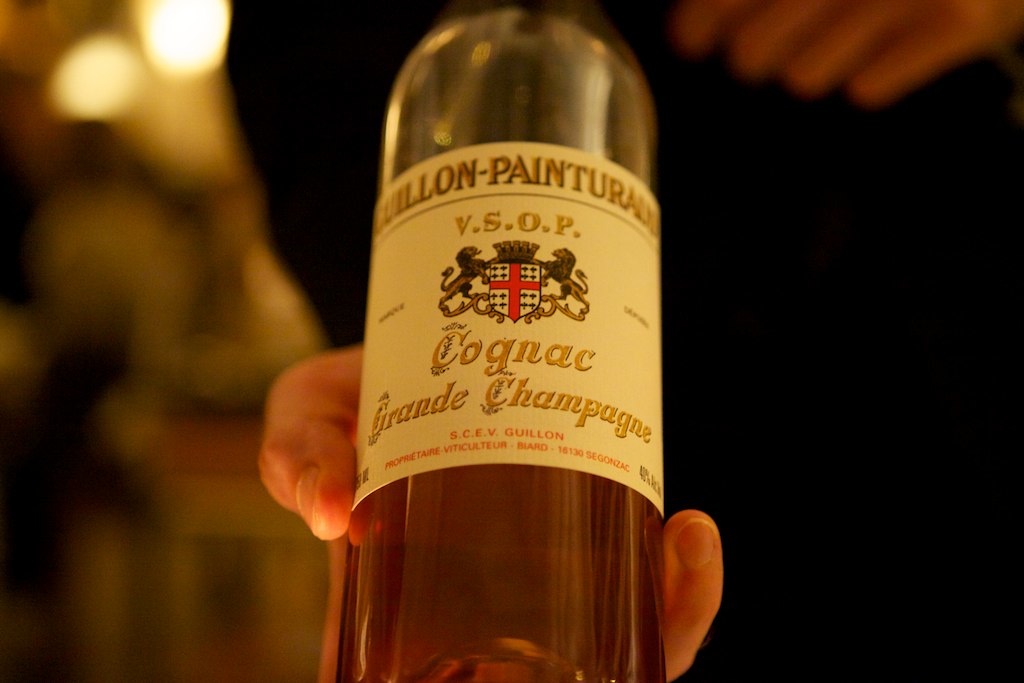 Finally, they brought us little boxes of jellies ("fancy Cluckles!," as AEJ called them) to take home.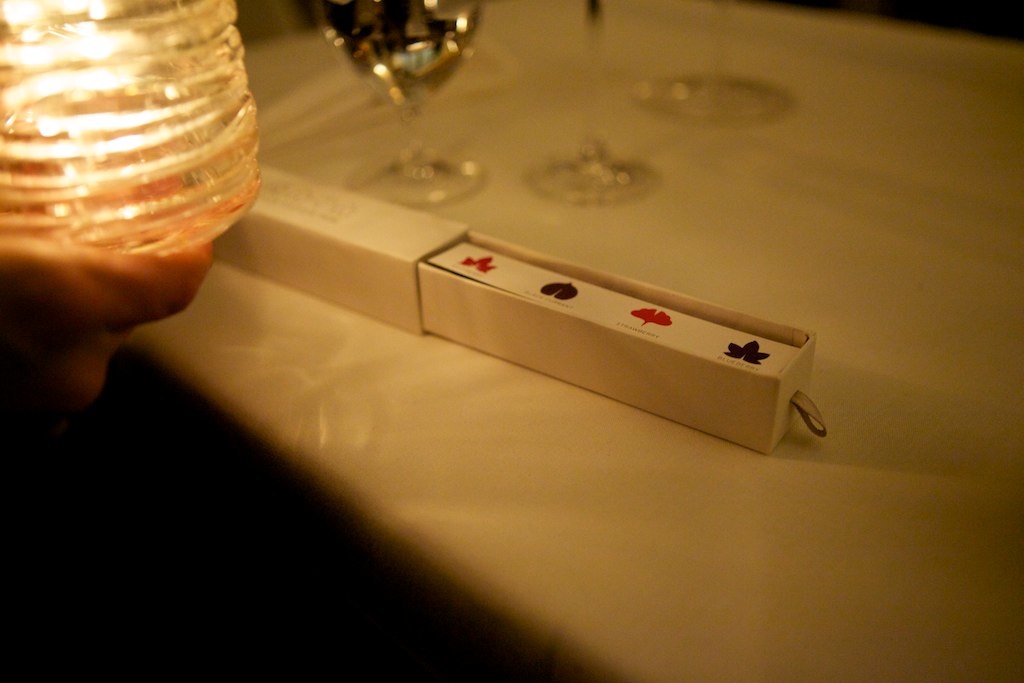 We also got a private tour of the kitchen (which is huge, bustling — and spotless). They don't encourage photography in there, though — which was fine with me. I don't want people taking my picture when I'm working, either.
We also met the chef, Daniel Humm, who is even younger than I am, and I hate him for that.  Very nice guy, too. (If I were as talented as he is, I'd be an ass. Er, more of an ass.)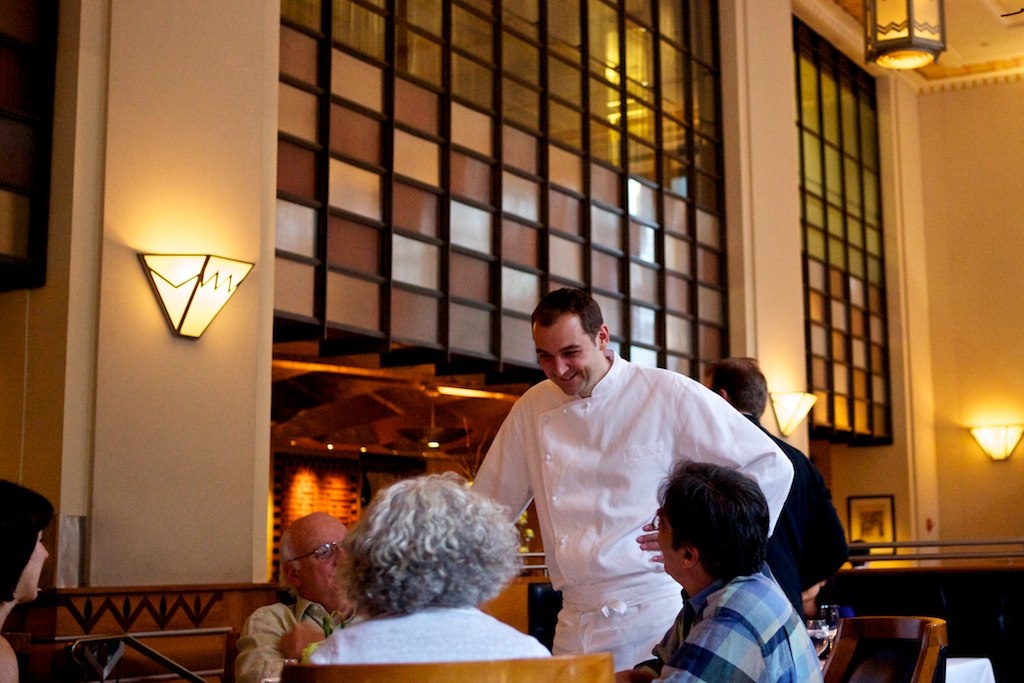 We had an amazing night — and it was a full night. We got there at 6pm and left around 11pm. (You can tell from the pictures that it got darker… and darker…) I'd rank it up there with Alinea (still my favorite restaurant), but maybe just a little lower in overall creativity.  (It's going to be tough for any restaurant to ever beat the wintertime campfire dish at Alinea.)
My sampling of restaurants is small, but Eleven Madison Park is definitely the best meal I've ever had in New York.  I loved it.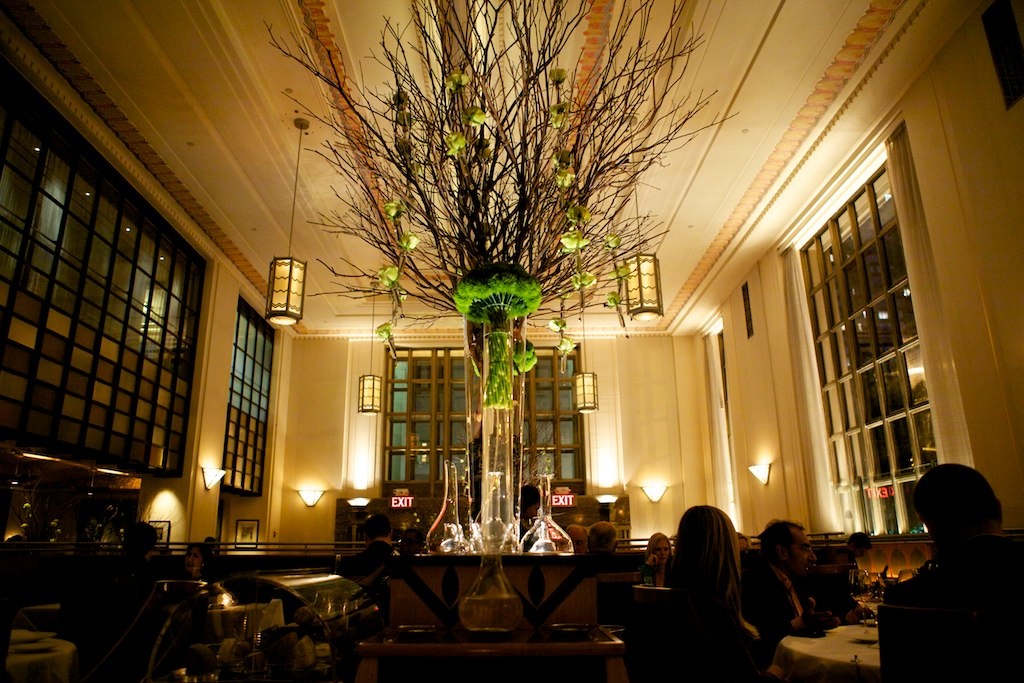 Up next, Blue Hill on Monday night…