June 25, 2010
WD-50
Our NYC foodie tour continued last night at WD-50, Wylie Dufresne's restaurant on the Lower East Side of Manhattan.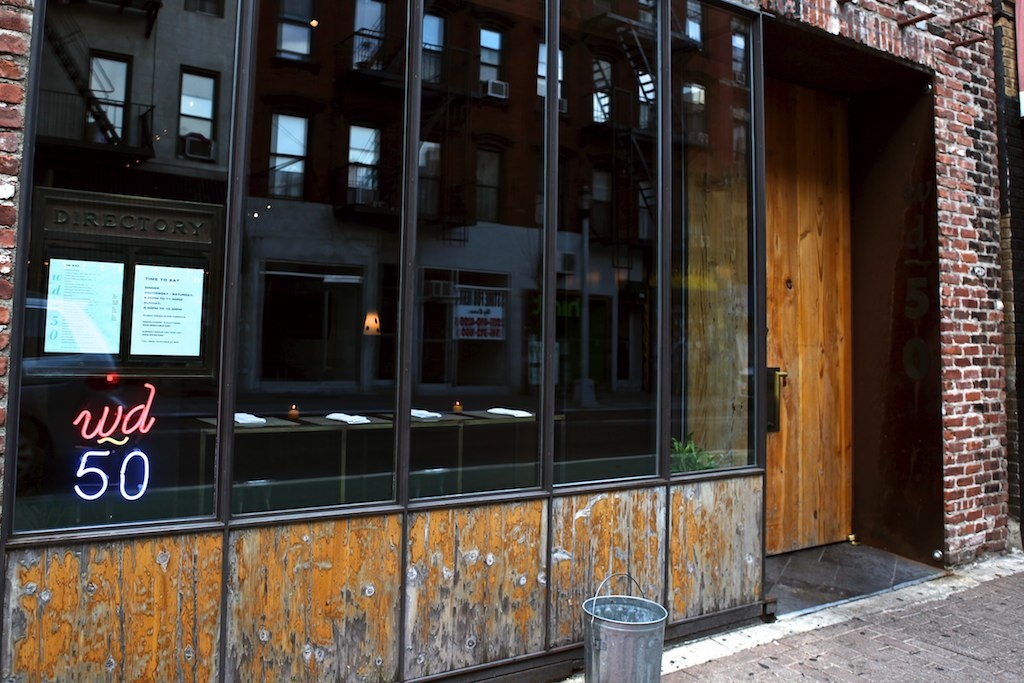 Dufresne is one of the big American "molecular gastronomy" chefs (along with Grant Achatz, chef at Alinea in Chicago — where I had the best meal ever).  Molecular gastronomy adds a scientific approach to the processes of cooking, leading to fun things like foods that are served as a liquid when they'd normally be a solid.  Or, something might look like bread, but actually be ice cream.  In my limited experience with this kind of food, it seems to be the most successful when the chef is not only creative, but has a sense of humor.  (There were courses at our dinner at Alinea that had us in tears we were laughing so hard.)  Molecular gastronomy is serious cooking, but it ain't stuffy (and at WD-50, the dress is casual, which I appreciate — especially when it's 85 degrees outside).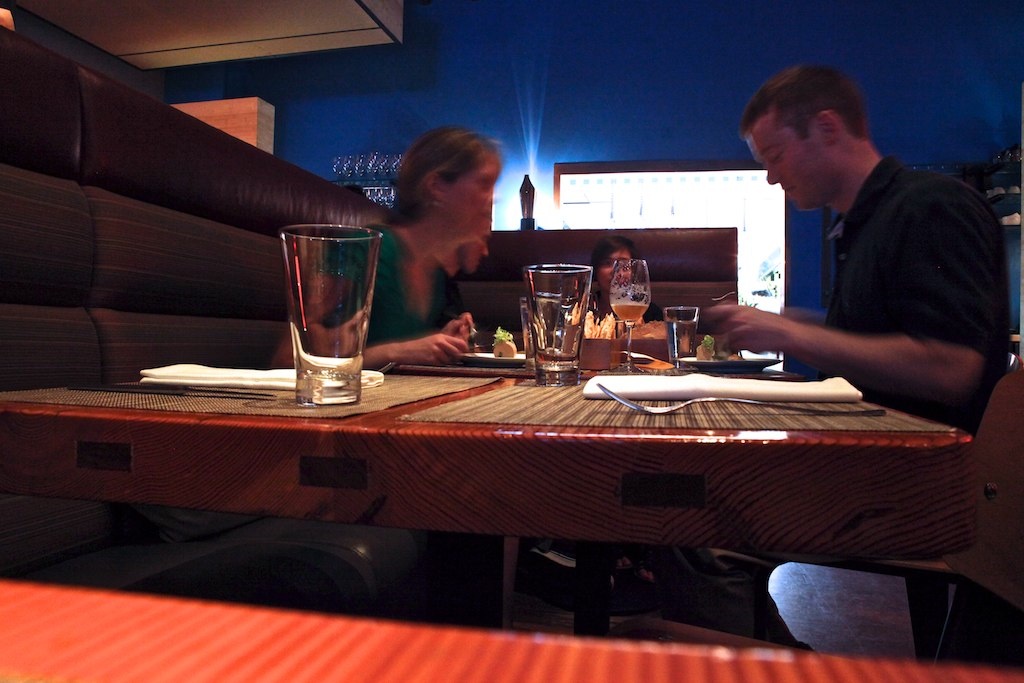 As we usually do, we started our evening with cocktails. AEJ's, the pH (rose, lychee, and vodka), was interesting (it tasted like fruit punch), but mine, the Lupita, was bat-shit crazy — a surprising-with-each-sip take on a margarita, with yuzu (the delicious citrus I mentioned in my write-up of Morimoto the other day), tequila, green apple, and — seriously — green tabasco. This was one spicy pucker.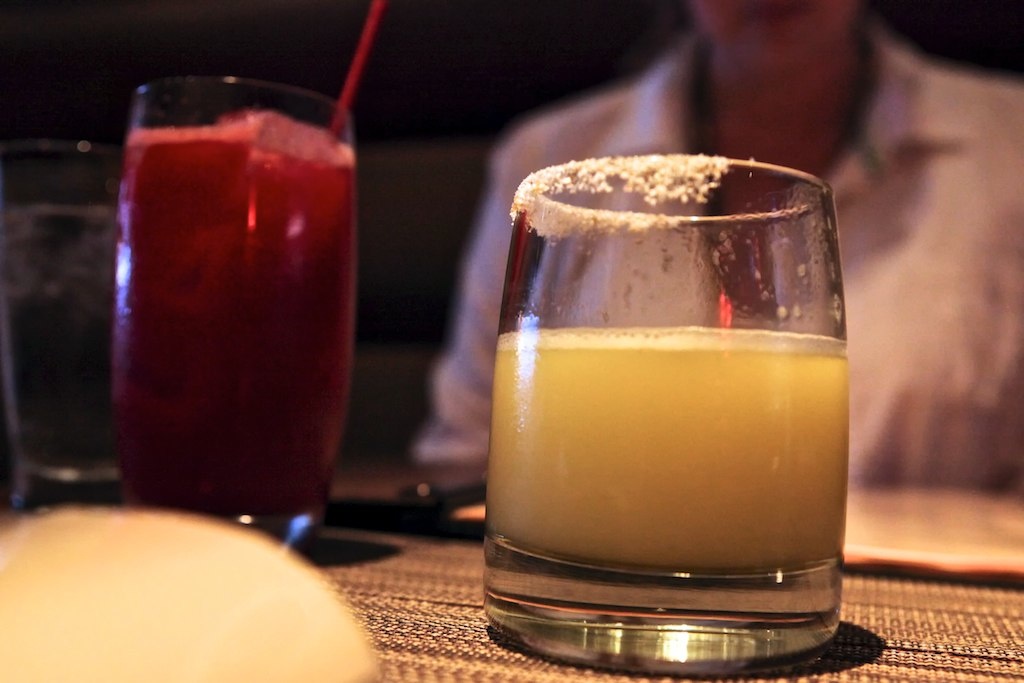 They also provided sesame flatbread, which was the freakishly flattest flatbread I've ever seen.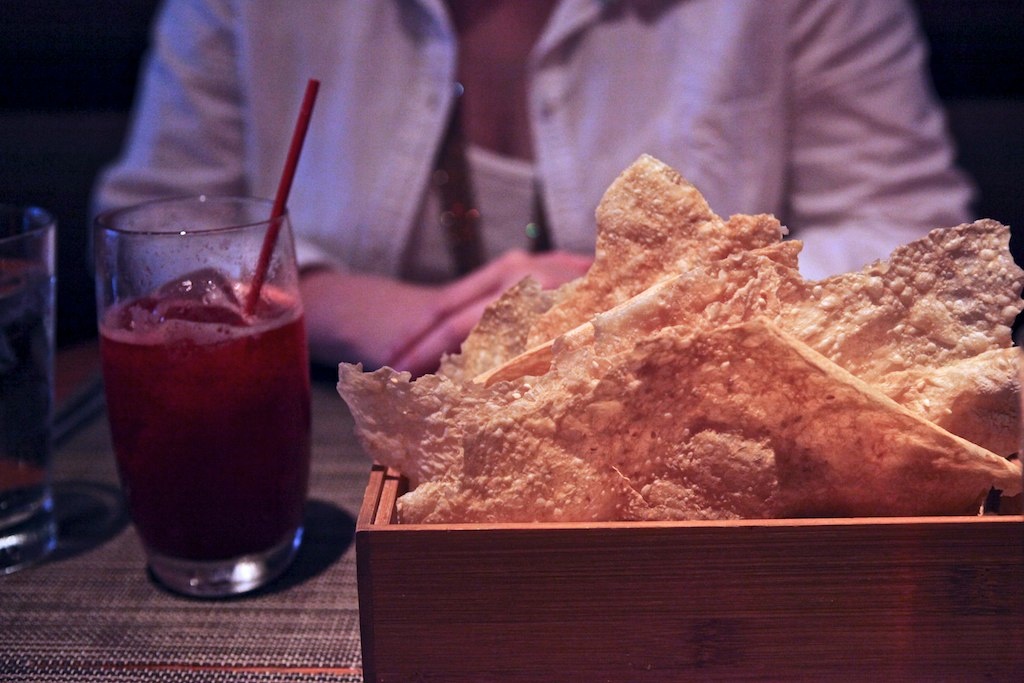 We ordered the tasting menu with wine & sake pairings. AEJ is allergic to shellfish, so the first course — normally a scallop dish — was substituted with this dish, featuring an incredible broth, dried seaweed, chickpea cubes (they felt like tofu but were made from chickpeas), and I-don't-know-what-else.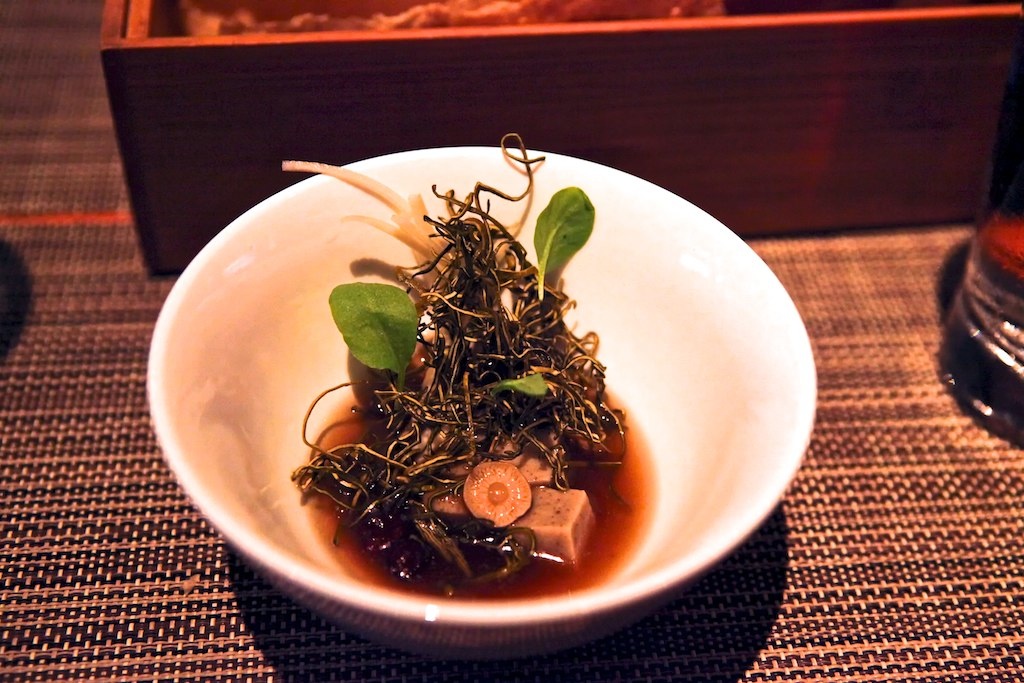 Next up: one of WD-50's most famous dishes, the "everything bagel with smoked salmon threads and crispy cream cheese." This was a lot of fun. No idea how salmon was transformed into that crazy powder that you see under the "bagel," and the bagel isn't a bagel at all, but is actually ice cream.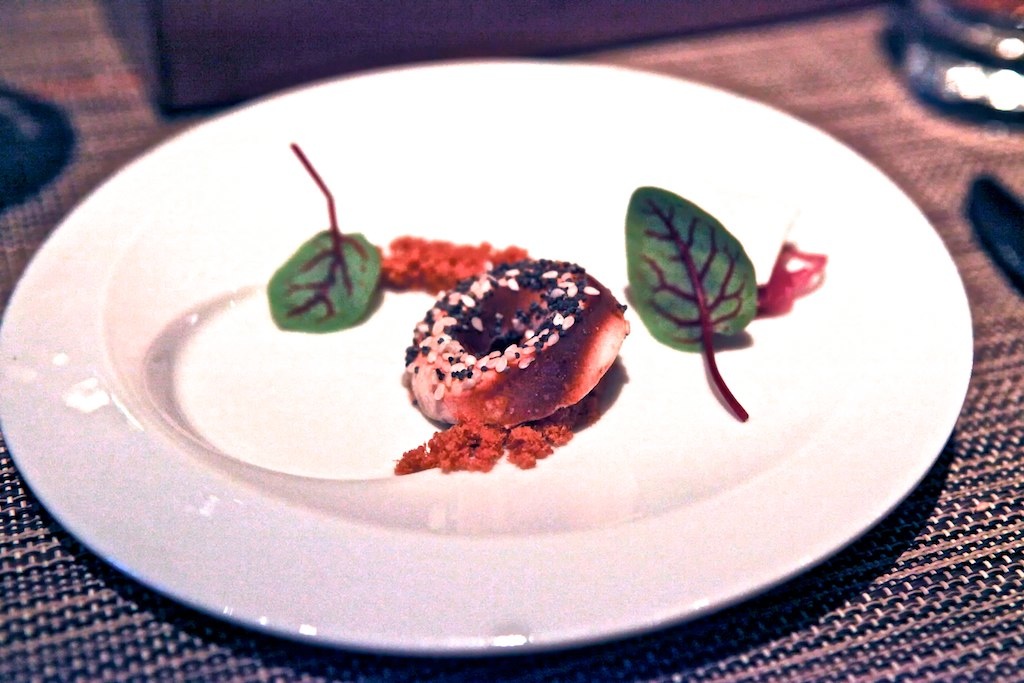 This is foie gras, passionfruit, and Chinese celery. Somehow the fois gras was formed into a perfect circle that honestly resembled a Vienna sausage.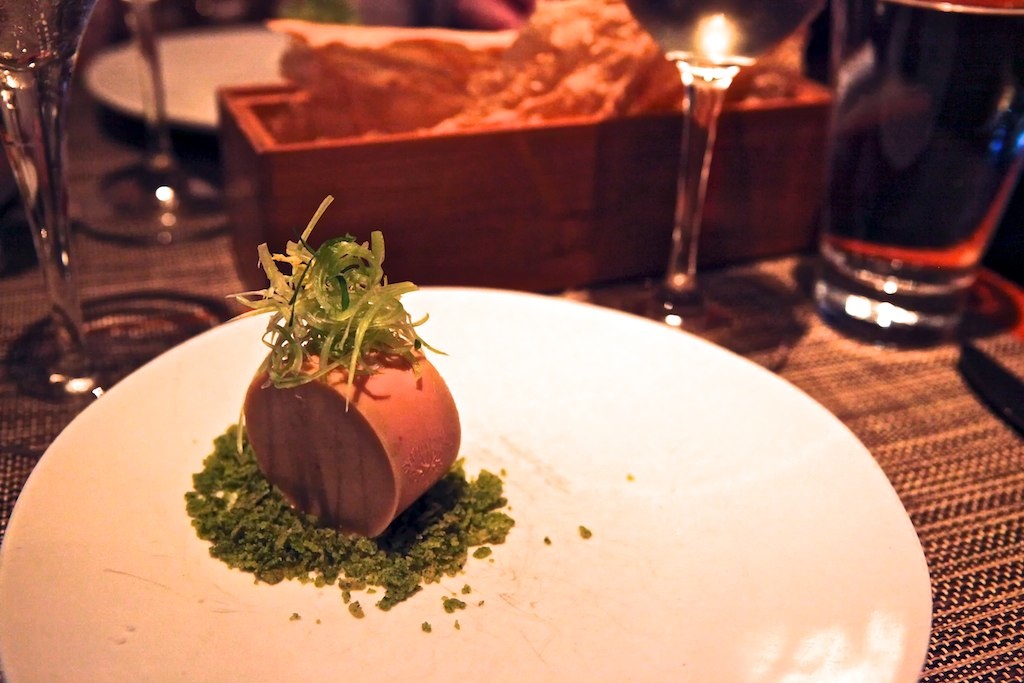 Where's the passionfruit? Somehow, it was stuffed inside of that sausage-looking fois gras. I'm not normally so big on fois gras, nor passionfruit, but I learned last night that together, they're amazing, with the intense richness of the fois gras cut by the bright passionfruit flavor.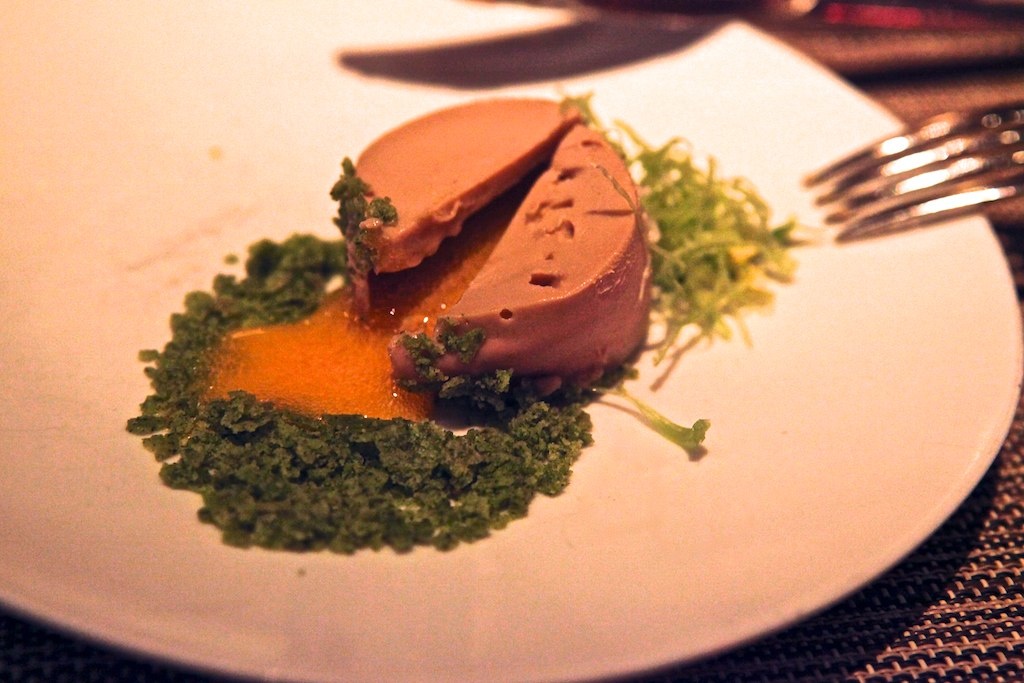 This looks like a slab of butter, some sushi, a pickle, and some breadcrumbs. It's actually scrambled egg ravioli, charred avocado, kindai kampachi, and potato crumbs.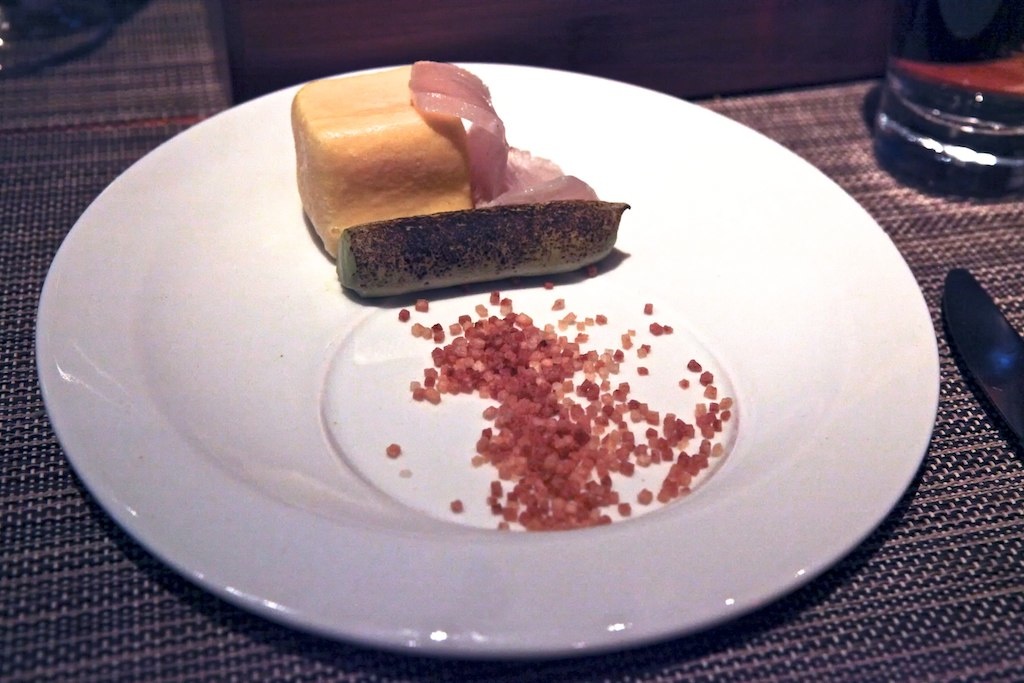 This is another trademark Dufresne dish: cold fried chicken, buttermilk-ricotta, tabasco, and caviar. Think "fanciest-ever leftovers."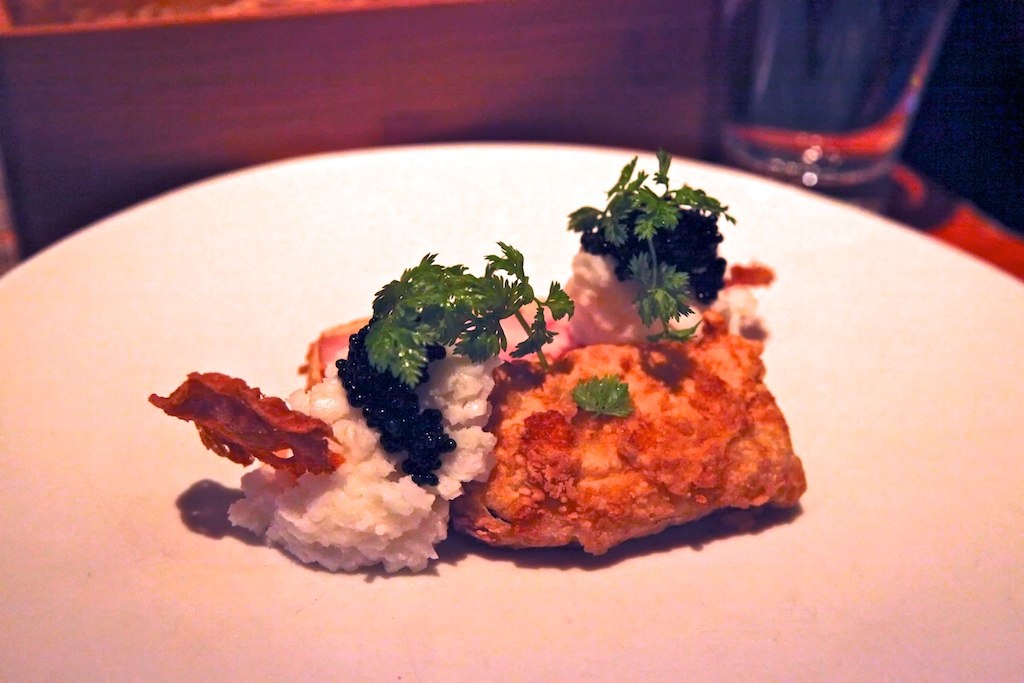 This was another shellfish substitution. Normally, this course would be the sweet shrimp. This was perch with potatoes and curry sauce.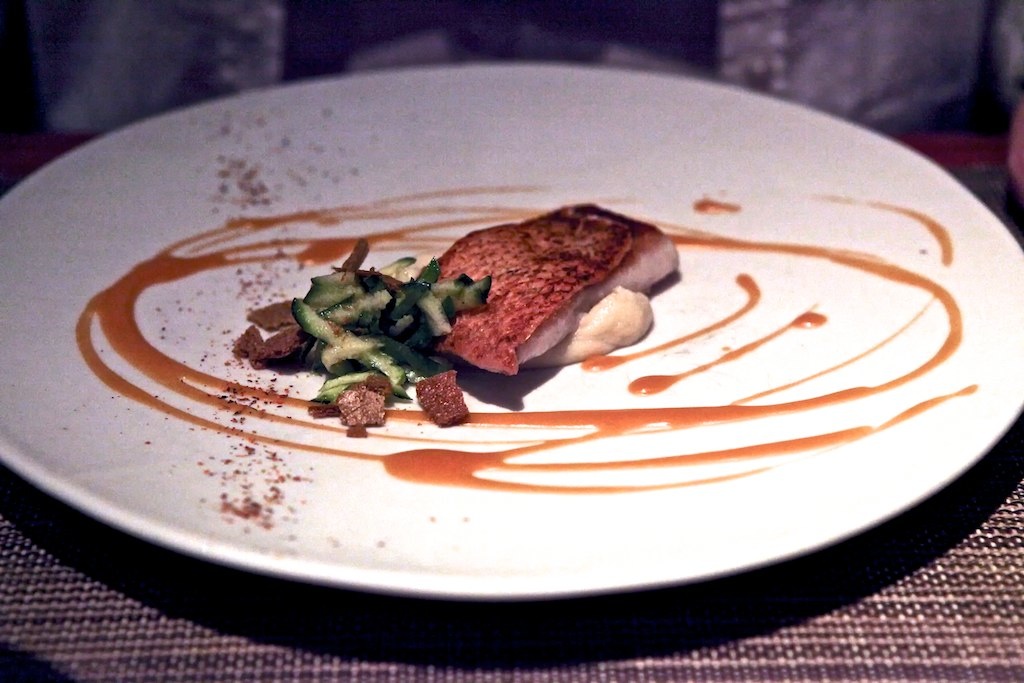 Here is the best course of the night: beef and bearnaise. Traditionally, the beef would be, well, beef, and the bearnaise is a broth. This flips it, with the normally solid beef becoming intense beef broth, and the bearnaise becoming solid, like a gnocchi. We wouldn't change anything about this dish.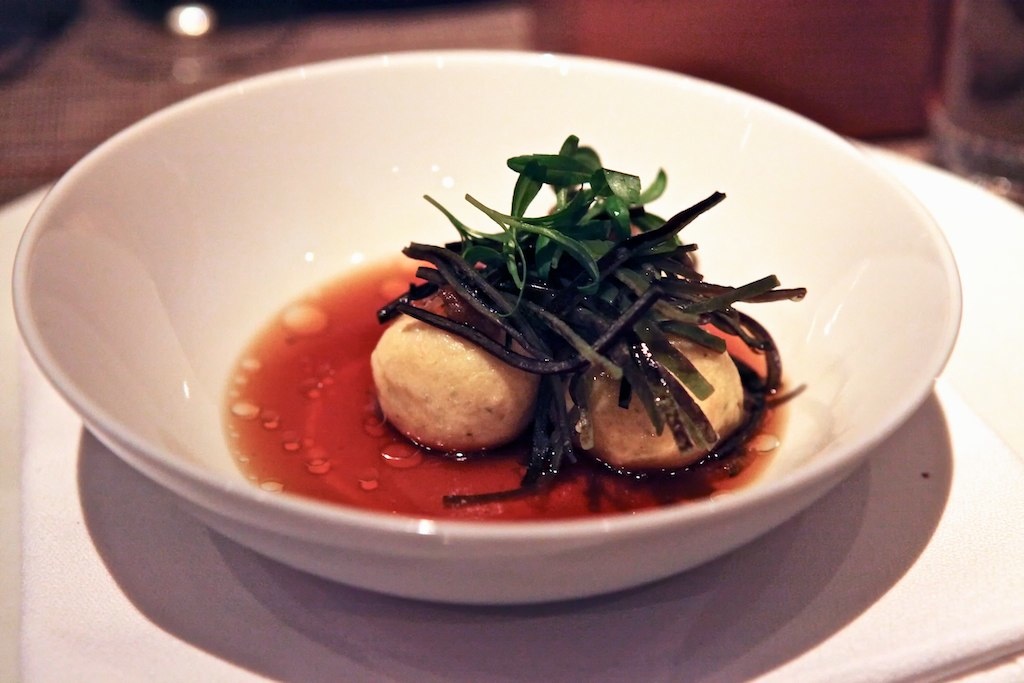 (I had the new iPhone 4 with me, and I wondered how it would do as a low-light food camera. Here's what I captured with the iPhone. Not bad for as dim as it was in the room, but it can't replace the normal camera setup.)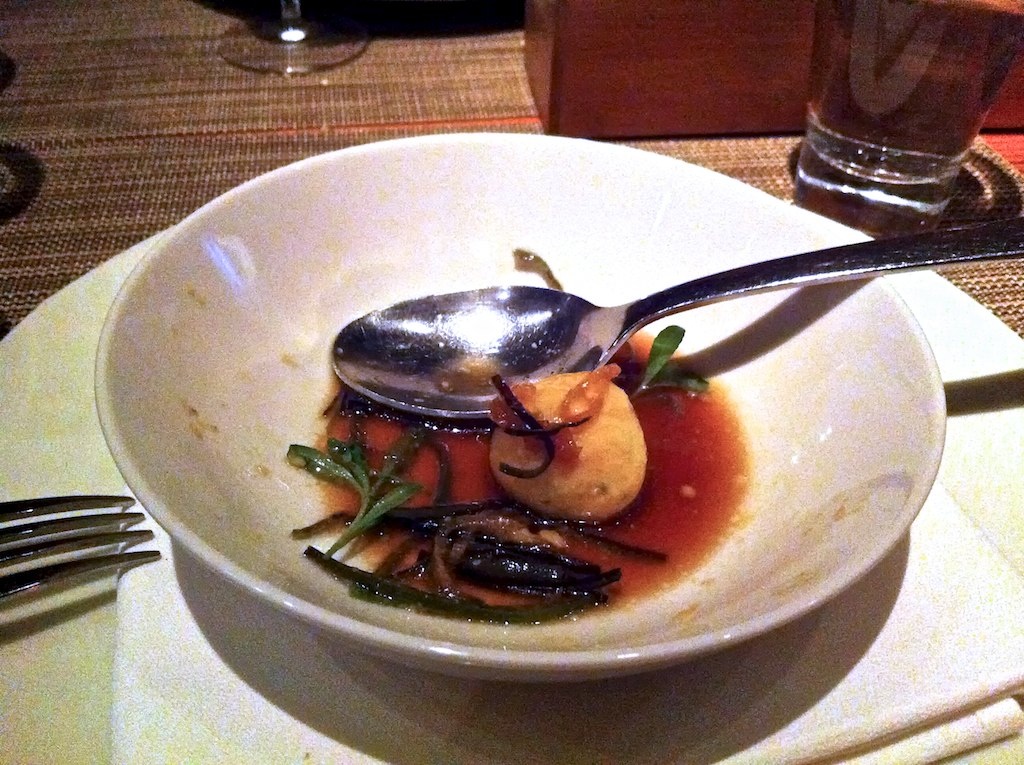 The final pre-dessert dish was the lamb loin with black garlic romesco, soybean, and pickled garlic chive. The lamb had a nice flavor, but it seemed to have been cooked sous vide and not seared after, resulting in an excessively chewy texture, not unlike lamb gum.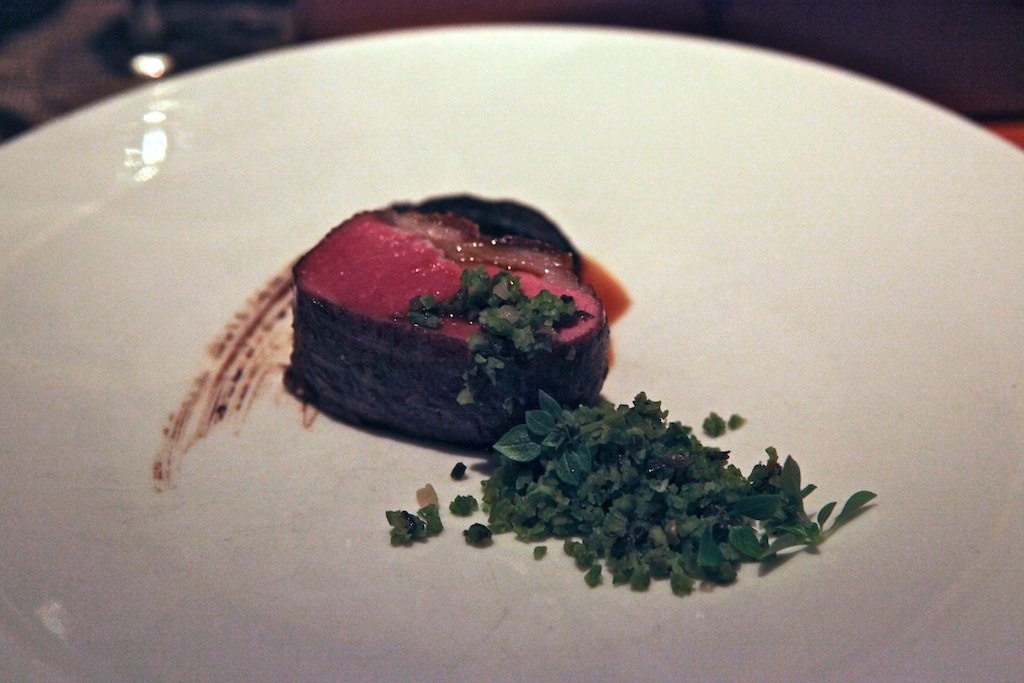 Did I mention that we had the wine/sake pairing? That results in a lot of, um, drinking. By the time dessert rolled around (which also included dessert wines), we were hammered.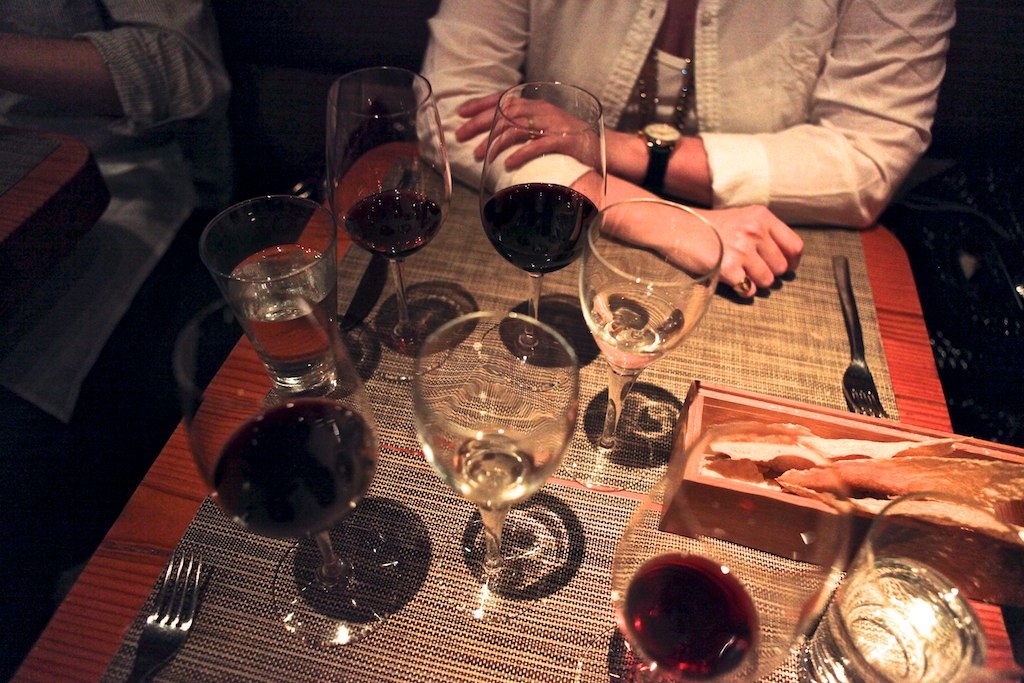 The people at the next table may have been hammered, too. Broken wine glasses = now it's a party.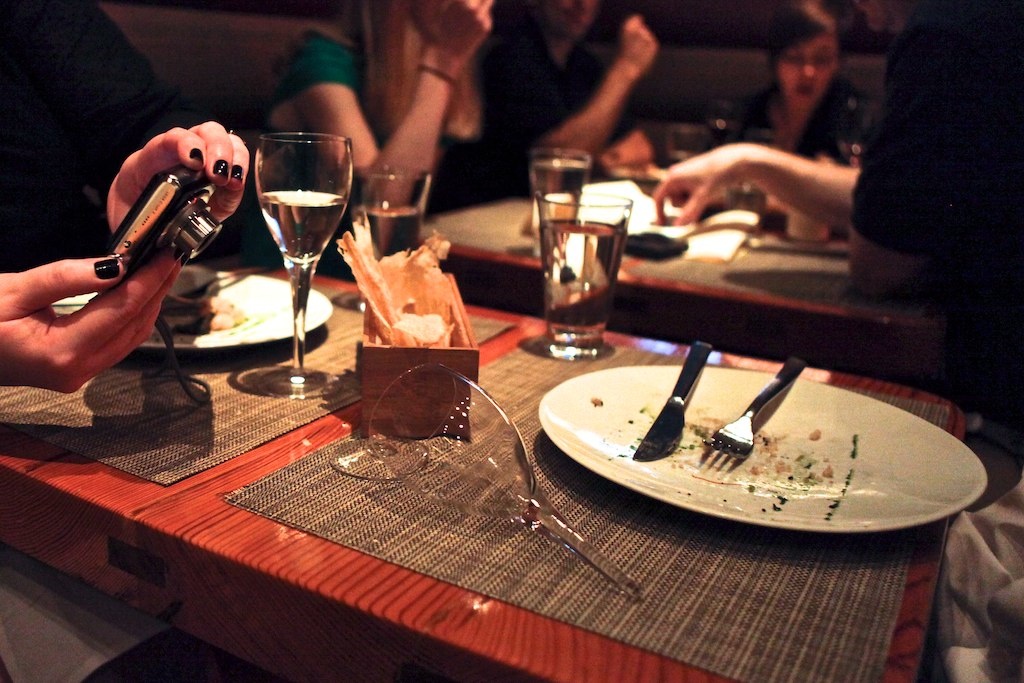 Dessert time! First up: chewy lychee sorbet with pistachio, lemon, and celery. (The pistachios were underneath that perfect white foam.)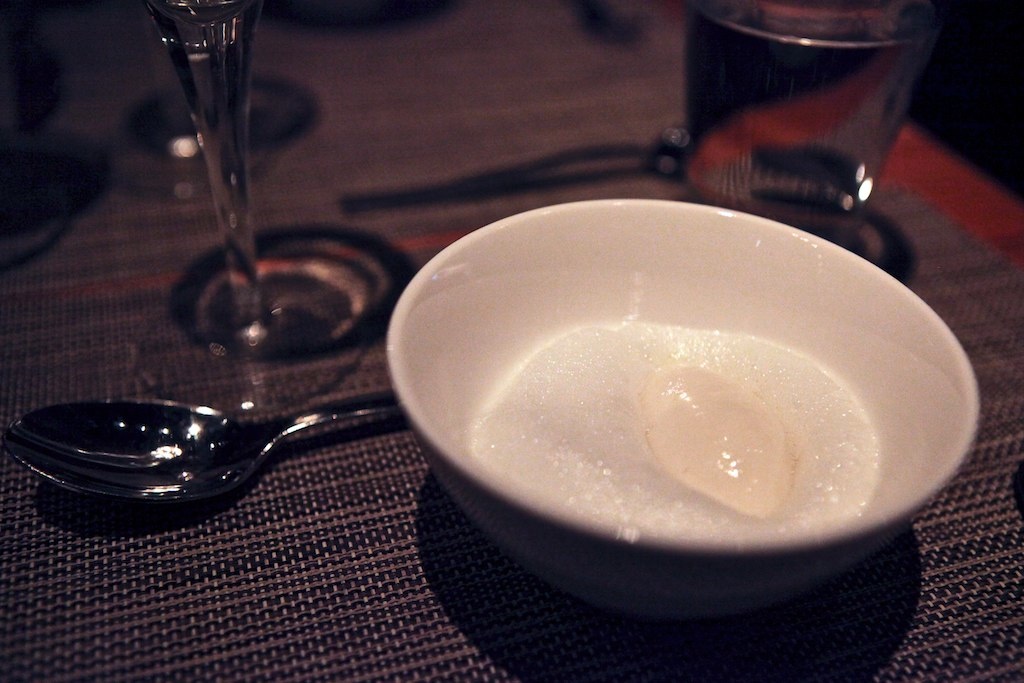 This is a hazelnut tart with coconut, chocolate, and chicory. Yum.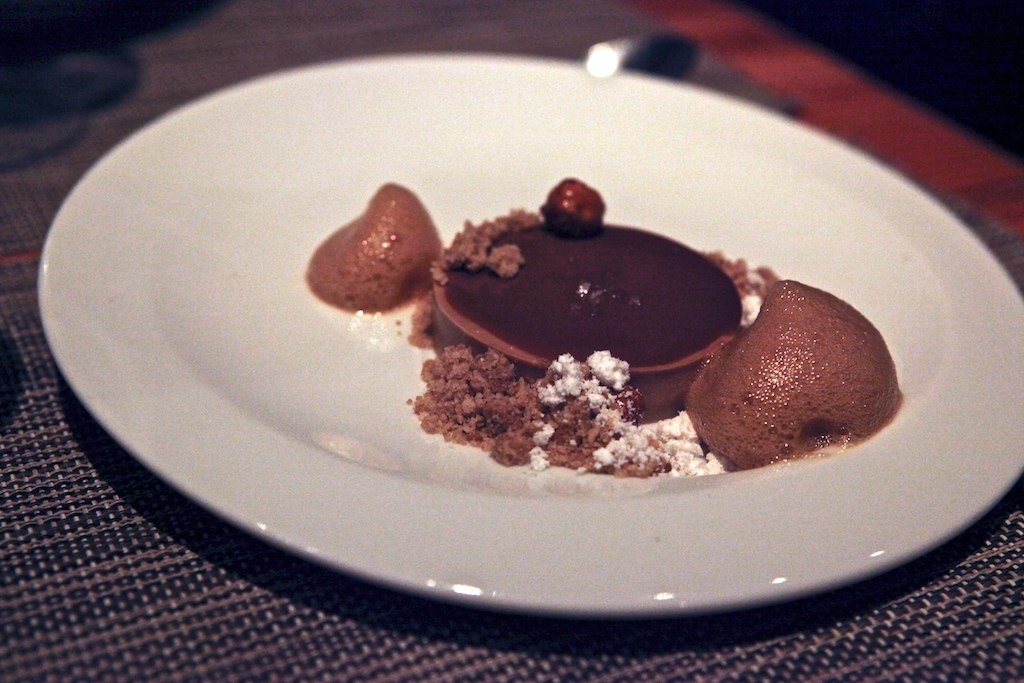 Caramelized brioche, apricot, buttercream, and lemon thyme. Nom.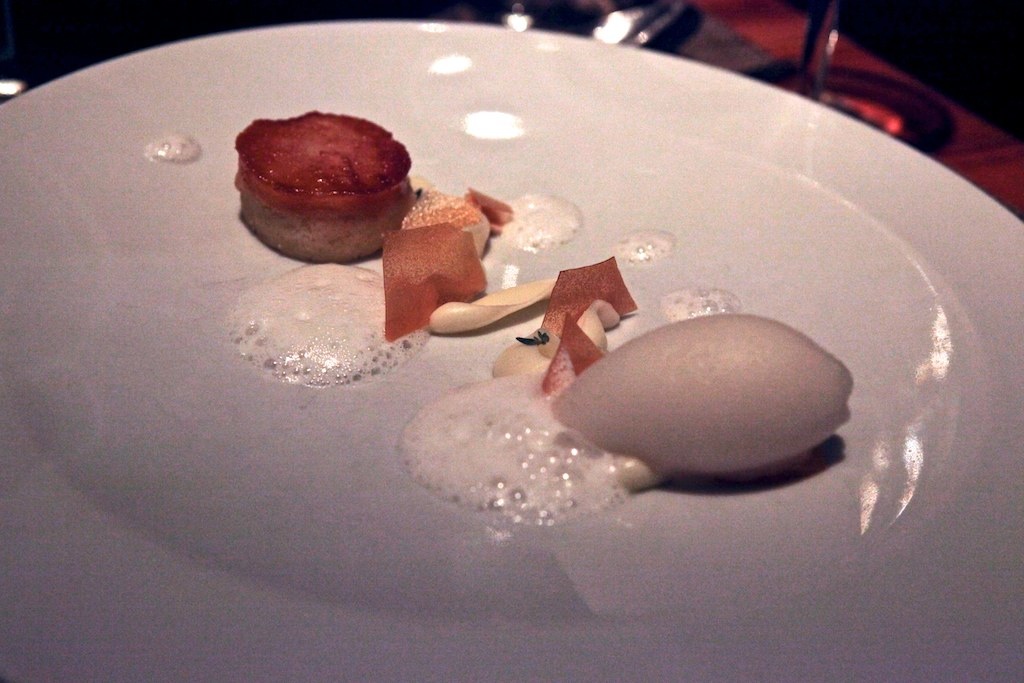 And lastly, chocolate shortbread with milk ice cream inside, and… cocoa packets. Those things on the left look like little rubber packets, but they're completely eatable — and delicious.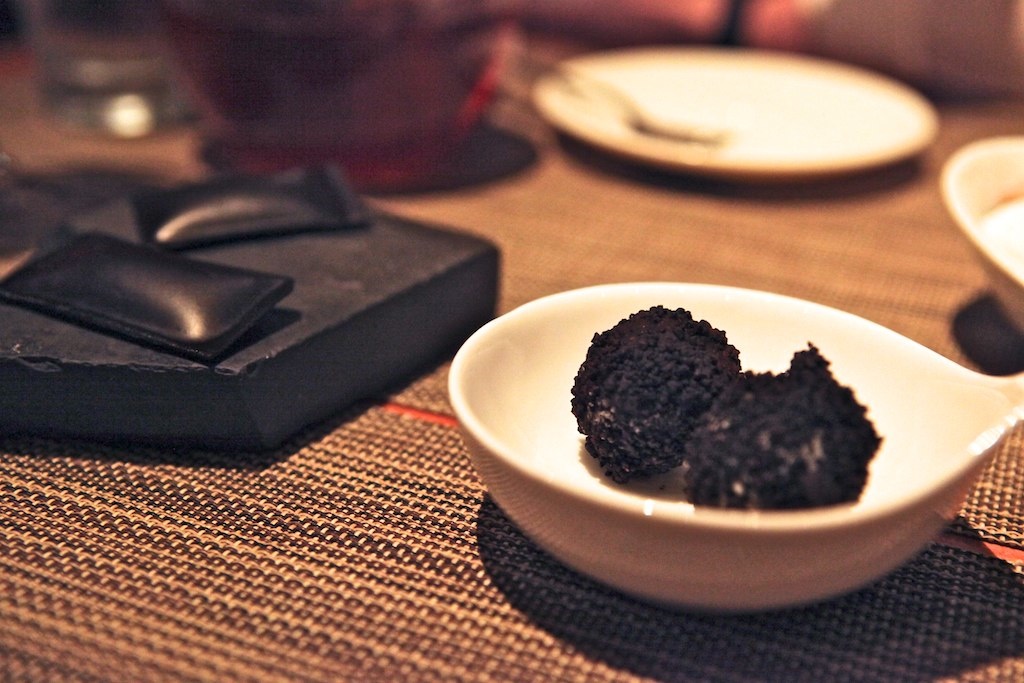 The meal took roughly four hours, and it was a blast. Flavor-wise, I think I enjoyed it more than AEJ, who thought the foie gras course was a little large, the dried seaweed was too fishy, the salmon powder was also too fishy, and there was too much caviar with the chicken dish. (She doesn't like much in the way of fish. I didn't have any complaint with any of the dishes except the texture of the lamb.) You figure, though, with twelve courses, not everything will be perfect, but even the occasional miss was entertaining. The vibe in the room is comfortable and relaxed, and not remotely stuffy. We got to see the kitchen after dinner, and we met Chef Dufresne, who was very pleasant, and he was awfully forgiving of my then-shitfaced self. ("I love you, man. You know that, right?") I had a much better time at WD-50 than I'd had at Morimoto the night before. I don't know that I'll be back at WD-50 anytime soon (since half the fun of a meal like this is the surprise of each dish), but I'd recommend it to anybody who is looking for an entertaining and memorable four-hour dinner. Oh — and be sure to order the wine/sake pairing, 'cause… damn.