June 24, 2010
NYC part 1 – Morimoto
AEJ and I had dinner at Morimoto last night.  Morimoto is the NYC restaurant of Masaharu Morimoto, better known as Iron Chef Morimoto on the Food Network show "Iron Chef America."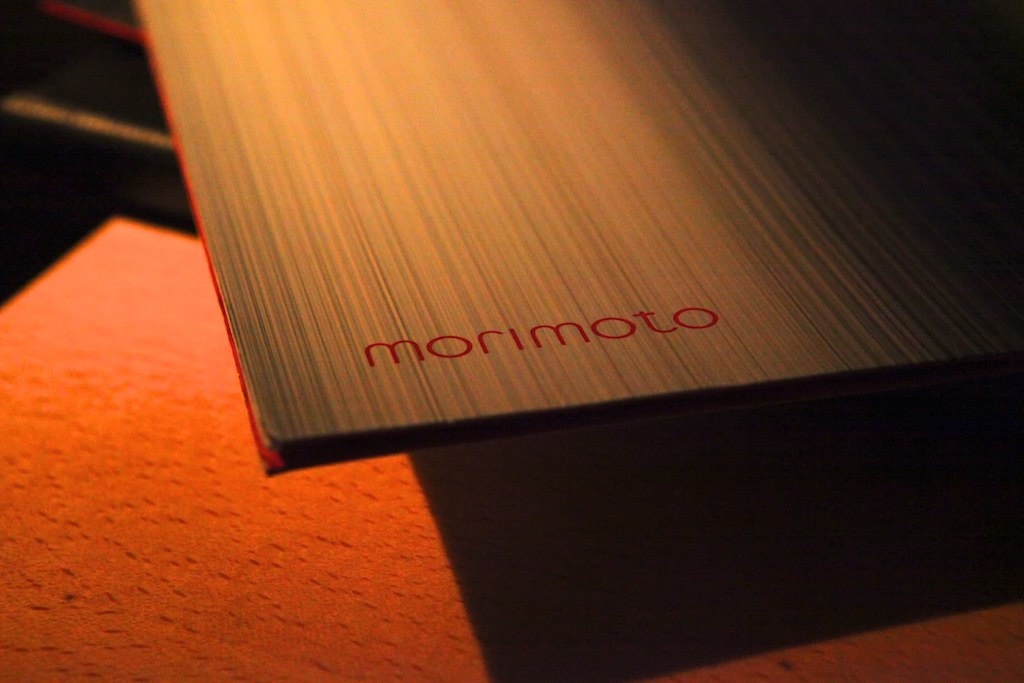 We started with cocktails. This one was delicious — the "white lily" — made with yuzu juice, lemon juice, and some other goodies. I love yuzu (it's a bright citrus flavor), and this was the first time I'd had yuzu in a cocktail. A delicious cocktail, but not very strong.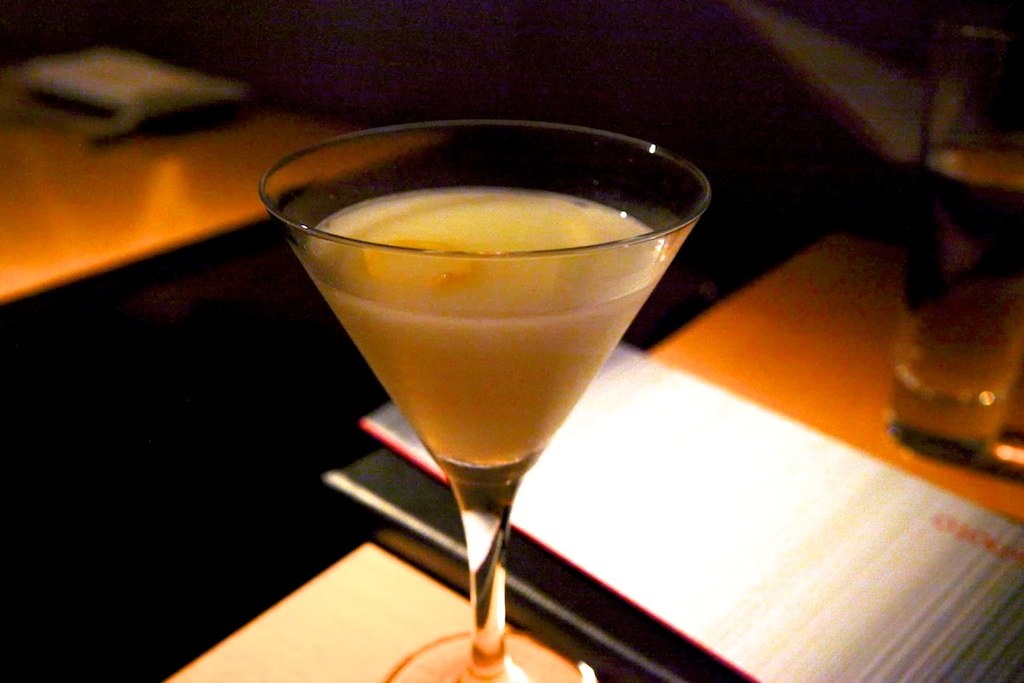 The chopsticks at Morimoto are clear acrylic. (I wasn't trying to make them look like a cross; I've just been spending a lot of time driving past enormous crosses along the southern freeways. Must have stuck in my subconscious.)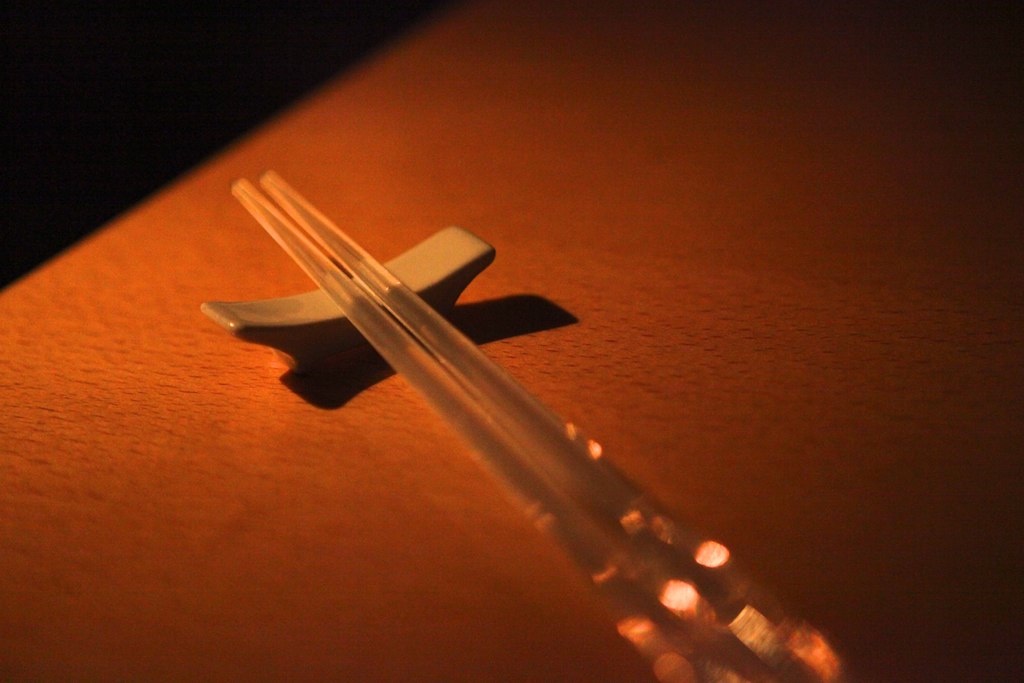 We had two appetizers. The first was the best part of the entire evening — a wagyu beef carpaccio with (more) yuzu, soy, ginger, and sweet garlic — but the picture didn't turn out. (The restaurant was very, very dark. There were halogen spotlights aimed at most tables, but as luck would have it, our light was aimed between our table and the adjacent table. I was tempted to stand on the table and adjust the light.) The other appetizer was this yellowtail "pastrami" with togarashi, gin greme craiche, and candied olive. The yellowtail somehow actually tasted like, well, pastrami. It was delicious (although there was too much dill on top). The candied olives were crazy. They were like the olive equivalent of cat food. I mean that in a good way. My dad once told me that a single cat food kibble tastes like a thousand fish exploding in your mouth. (He used to smoke a lot of pot.) These candied olives were like, well, a thousand delicious olives exploding in your mouth. Crazy, and delicious.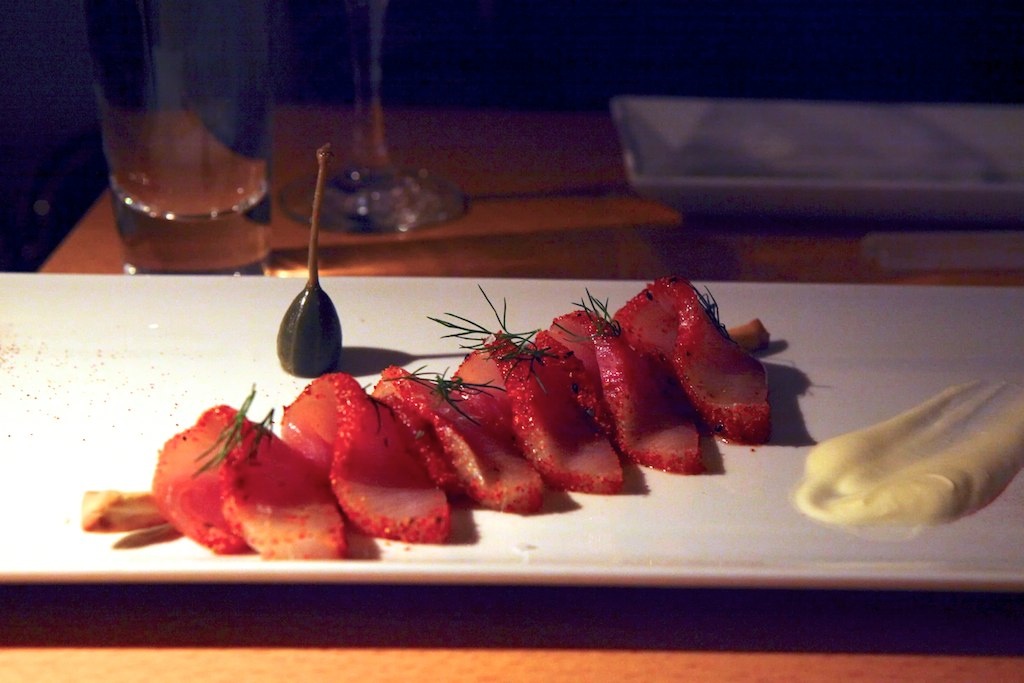 Here's our hot appetizer — pork gyoza with garlic chives, tomato, and creme fraiche. (Morimoto seems to like creme fraiche.) Underneath that shell were a half-dozen individual dumplings. Very good, and it was nice to eat an Asian dumpling without worrying at all about the quality of the meat (I've had some funky, gristly bits in pork dumplings in the past), but I wished there'd been a more traditional gyoza dipping sauce. The tomato sauce was good, but pork + tomato isn't my favorite.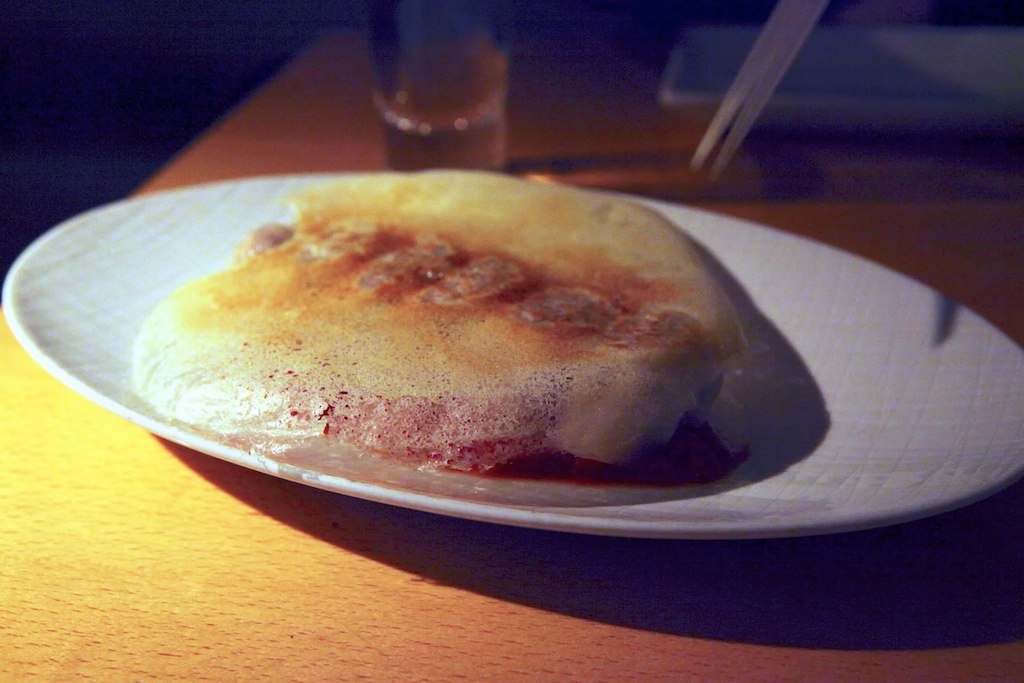 This is our sushi course — (counter-clockwise, from bottom-left): scallops, salmon, eel, yellowtail, and tuna. The fish quality was first rate (as you'd expect, particularly when a single scallop is $7), but the rice wasn't nearly as good as we've had at Jinpachi in Los Angeles. This rice didn't stick together at all, and it was fairly cold. I prefer lukewarm rice with colder fish on top, and I want the rice to hold together if I bite the sushi in half. Maybe the restaurant just does too large of volume to accomplish that. (Fish on warm rice has to be served pretty damn quickly.)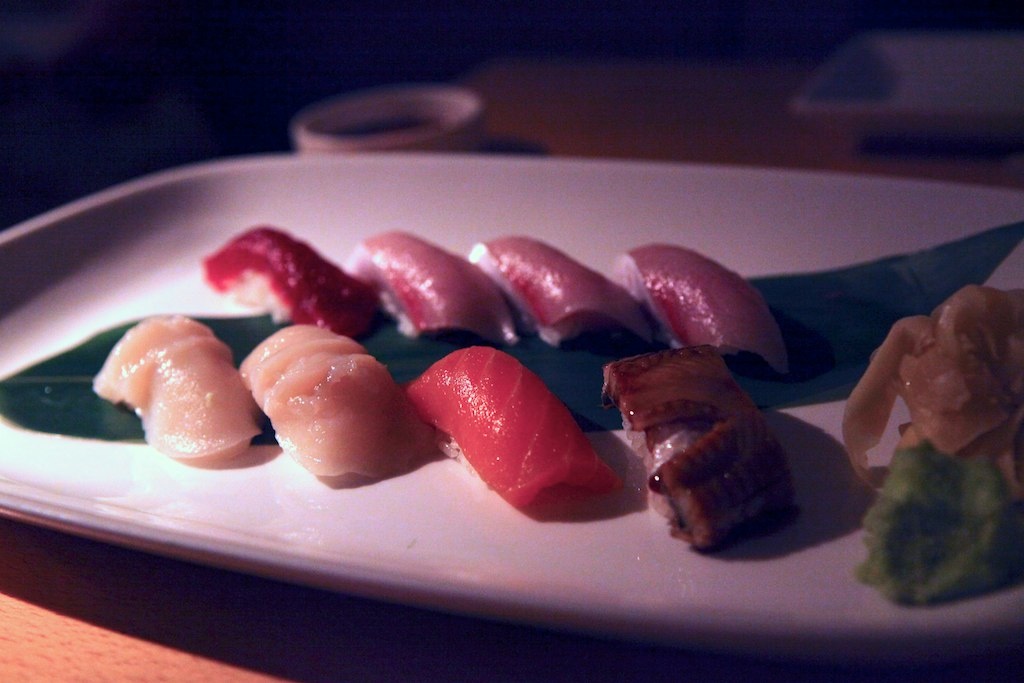 We had two entrees. One was "ishi yaki buri bop" : yellowtail on rice, cooked at the table in a hot stone bowl. I thought it was delicious, but AEJ found that the yellowtail took on a fishy note once it had been seared. It wasn't much to look at, so there's no picture of this one. The other dish was "angry chicken," which we had to order based on the name alone. (Plus, who doesn't love the iPhone game Angry Birds?!) This was a marinated organic half chicken, roasted finger peppers, and spiced chicken jus. It has a nice kick, and a great flavor.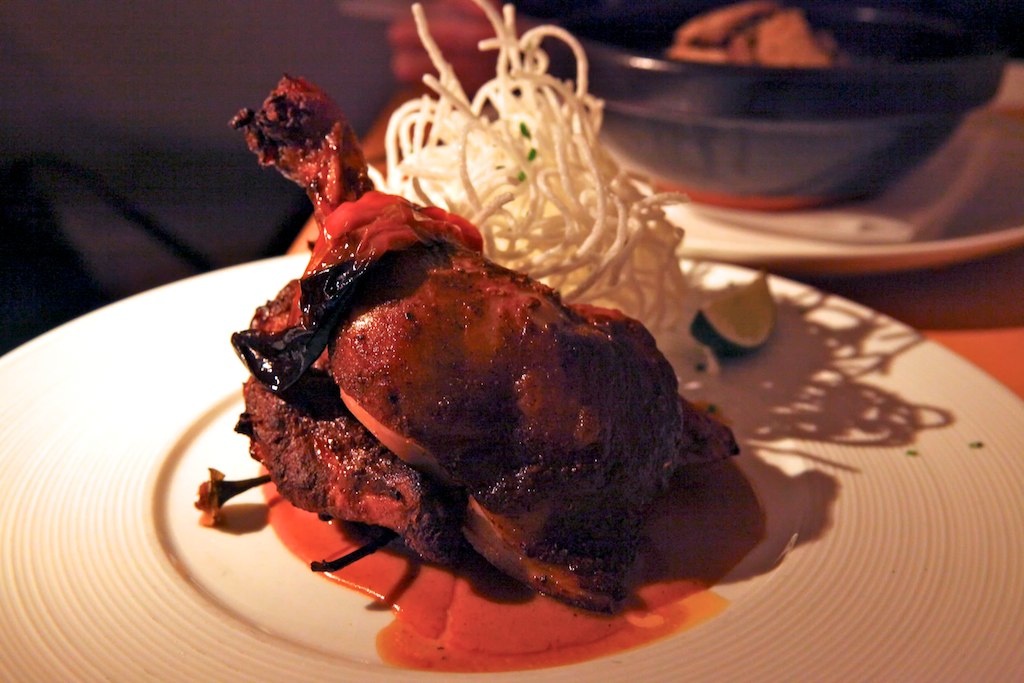 My dessert was the "apple turban" — apple, pineapple, apple-cider vanilla sauce, and cinnamon ice cream. It was tasty, but felt out-of-place on a hot night in June.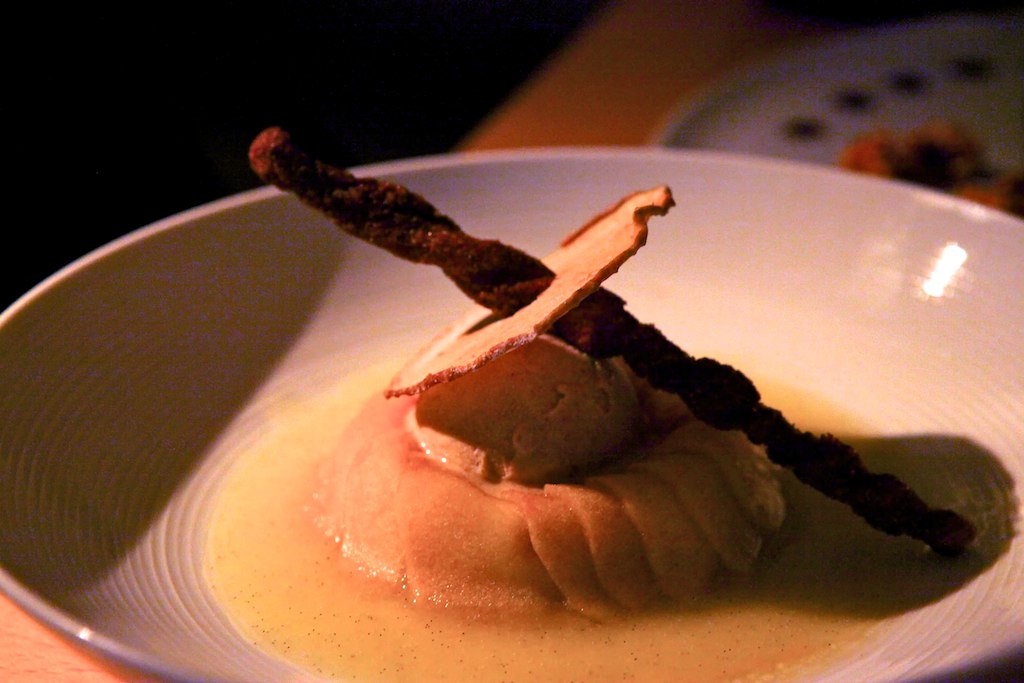 AEJ's dessert was the warm chocolate cake with caramel popcorn, rhubarb sauce, and corn ice cream. She loved it, but I don't recommend tasting corn ice cream after just tasting cinnamon ice cream.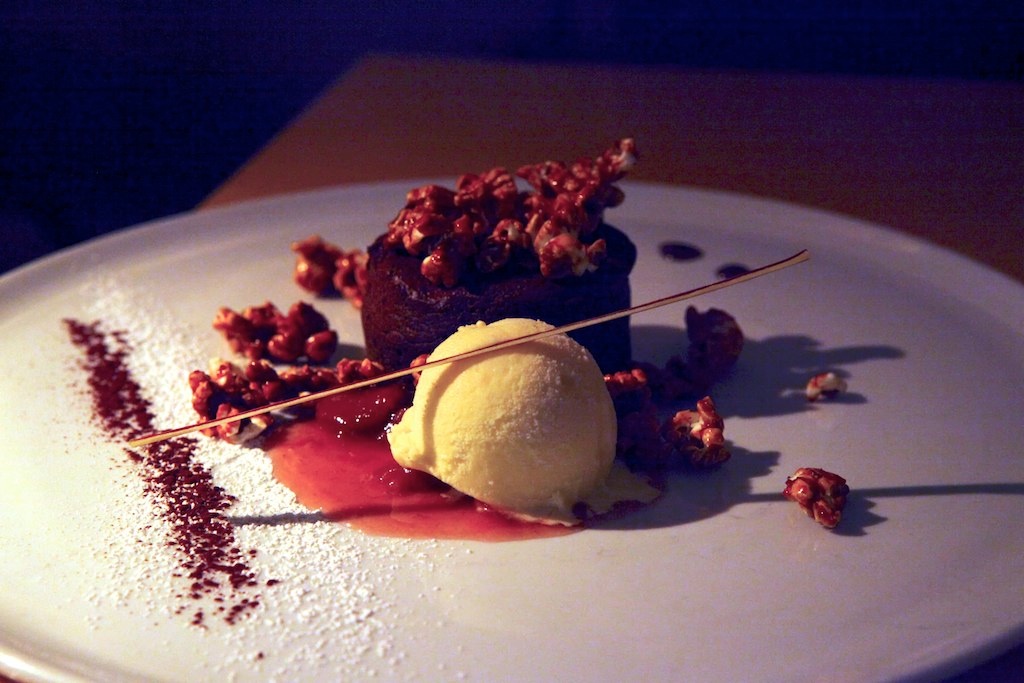 It was a fun meal, and the setting was pretty slick.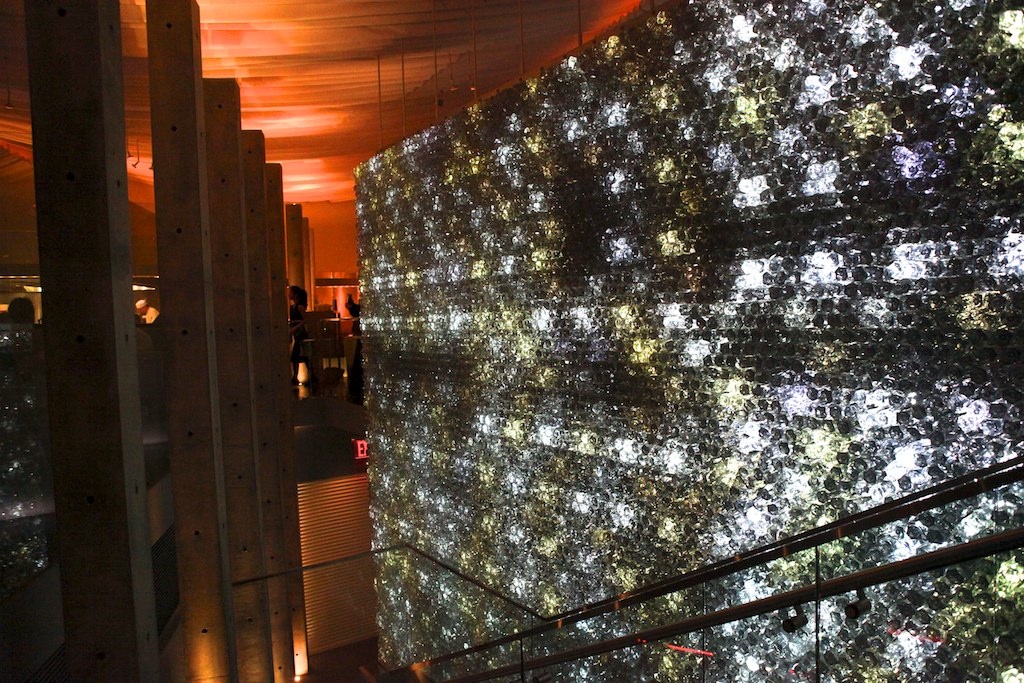 After dinner, we walked along the west side bike path, back to our apartment. Totally made me want to rent a bike for the summer…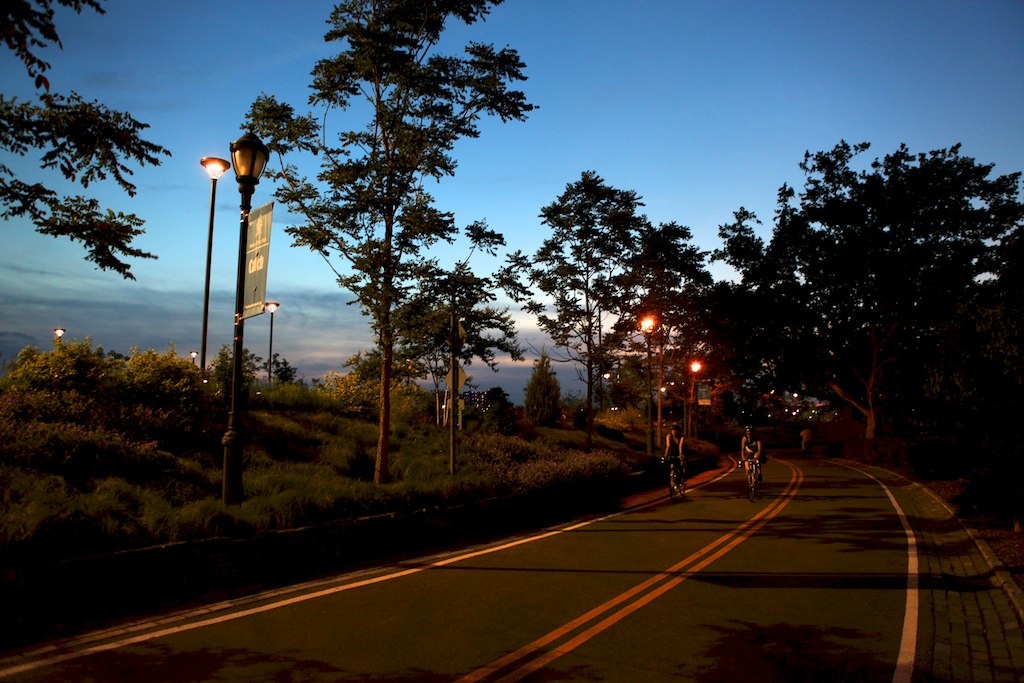 Tonight, we're off to wd-50 for dinner. This should be a fun one, too…