July 3, 2010
Scarpetta
Summer is the time when there's nothing on TV but reality shows, and there are a few shows that we rarely miss. There's "Top Chef." There's "Work of Art: The Next Great Artist" — sort of like "Top Chef," but with art and artists instead of food and chefs. (That sounds like a terrible idea for a show, right?  That's what we thought.   Insufferable, you'd think.  But we watched it — and it's surprisingly good. And one of the artists on the show, Miles, is the real deal.)  There's the terrible-but-we-watch-it-anyway "Design Star" on HGTV, a show that has nothing to do with design, but everything to do with asinine team challenges under ridiculous time constraints.  (Seriously, who designs a kitchen by committee, and executes the whole thing in 24 hours?  The more I think about "Design Star," the more I hate it.  But still, we watch it.)
One of our favorite reality shows — and it runs year-around — is Chopped, on the Food Network.  (We also watch "Next Food Network Star," even though the only "star" to ever come from any past season of that series is Guy Fieri, and the last thing anybody needs is another Guy Fieri.
Also, does Bobby Flay ever cook anymore if it's not filmed?  I like Bobby Flay on TV, and the first couple of times I ate at Mesa Grill back in the late '90s, I thought it was damn good, but in the years that followed, it was less polished with each visit.  (Maybe it's good again; I haven't been back for probably five years.)  But does Bobby still cook there?  He's on TV All.  The.  Time.  Rumor has it that he lives in the building where we're staying this summer, so I'm going to refrain from knocking him any further, in case he Googles himself, finds this entry, then sees me in the elevator.  Unlikely we'll cross paths, though, because I think he spends most of his time in LA now, helping drunken damsels in distress.)
Sorry.  Back to Chopped.  If you haven't seen this show, the basic idea is that there are four "up and coming" chefs from various restaurants, and they compete through three rounds of competition.  (The rounds are courses — the appetizer, main course, and dessert.)  For each course, there's a "mystery basket" that has several ingredients that all have to be incorporated into that course.  For example, the appetizer basket might include gummi bears, fresh mozzarella, tomatoes, and canned fish, and the chefs are judged on their ability to make a coherent dish that uses all of the items in the basket (and other ingredients from the on-set pantry), all within a set time limit of 20 or 30 minutes, depending on the course.
The poor judges have to then taste all of these dishes, and at the end of each round, one chef is eliminated — or, "chopped."  The combination of three judges is different every week, but one of the judges who frequently appears on the show is Scott Conant.  My assumption was that if a professional chef was moonlighting as a judge on "Chopped," they weren't necessarily top-tier chefs.  I assumed this to be especially true if judging on "Chopped," where he has to taste dishes containing lima beans and Snickers.  How good a chef could these guest judges really be?
If Scott Conant is any indication, they can be f-ing spectacular.  Until seeing him on Chopped, I hadn't heard of him, but it turns out that his NYC restaurants are highly regarded (3-star reviews in the NY Times, one of the "Best New Restaurants in America" by Esquire magazine in 2008, etc.).  I foolishly thought he was just the guy on Chopped who never liked anybody else's pasta.  Well, now we know better, thanks to a last-minute reservation at his restaurant Scarpetta in NY's Meatpacking District (far west 14th Street).
Lots of restaurants bring bread to the table when you arrive.  Lots of places make the bread in-house.  But bread this good is almost unheard of as a freebie.  There were several kinds to choose from, but the show stopper was the warm bread stuffed with cheese and cured meats.  It was like a free sandwich as an appetizer — and it was damn good.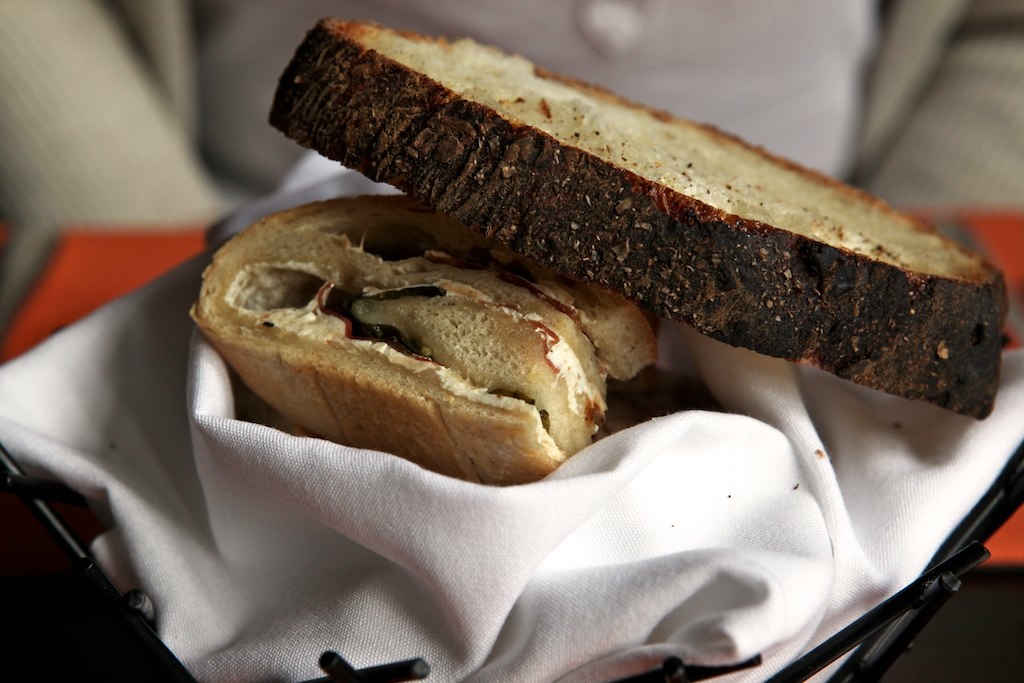 The bread basket comes with these condiments — butter blended with some sort of creamy cheese, an eggplant spread (I hate eggplant, so I didn't pay much attention to that one), and a citrus-infused olive oil. The olive oil was some of the best I've tasted.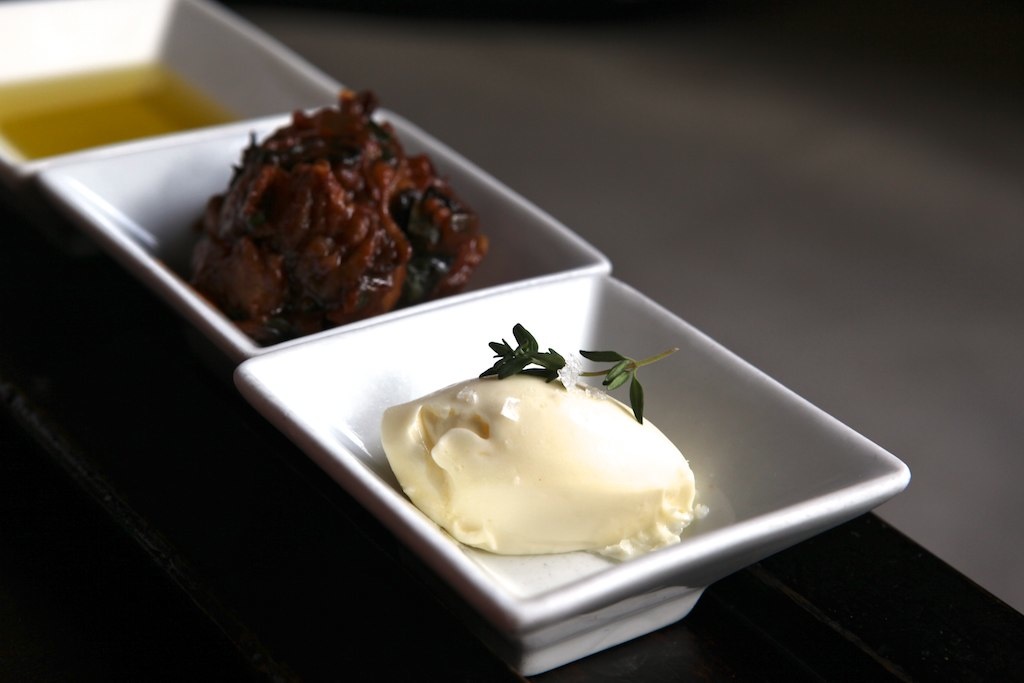 Appetizer time! AEJ started with the burrata — homemade fresh mozzarella with fresh tomatoes and mixed greens. It was bright and tasted like summer.  It's tough to beat a real, farm-grown tomato in the middle of summer.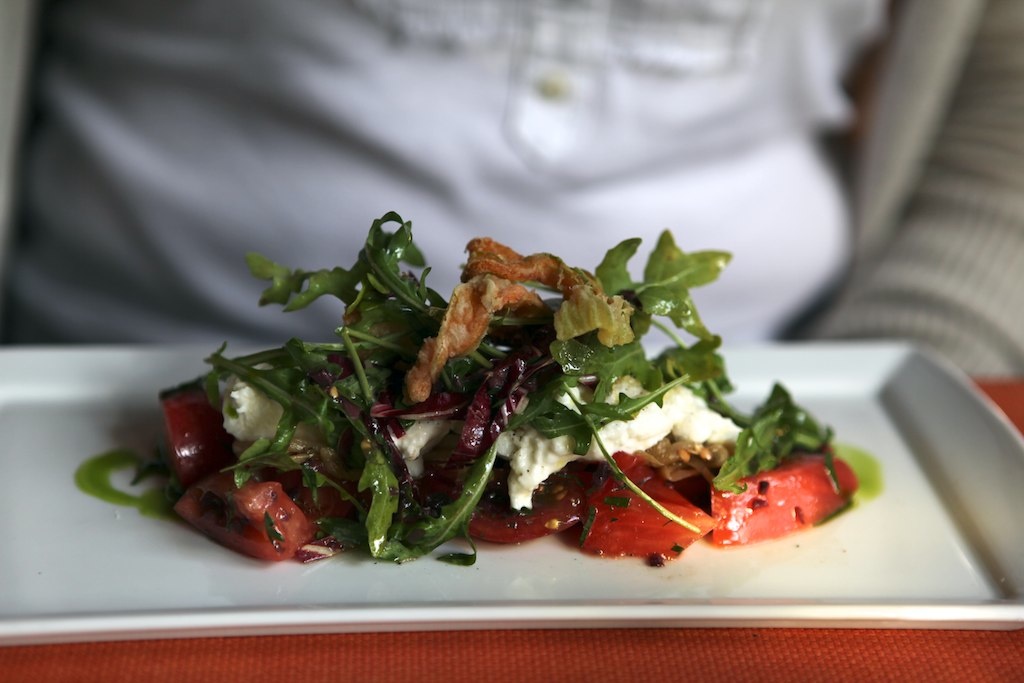 I had the equally stellar raw yellowtail with "Olio di Zenzero" and flaked sea salt. I loved it. I haven't had yellowtail this tasty since Jinpachi.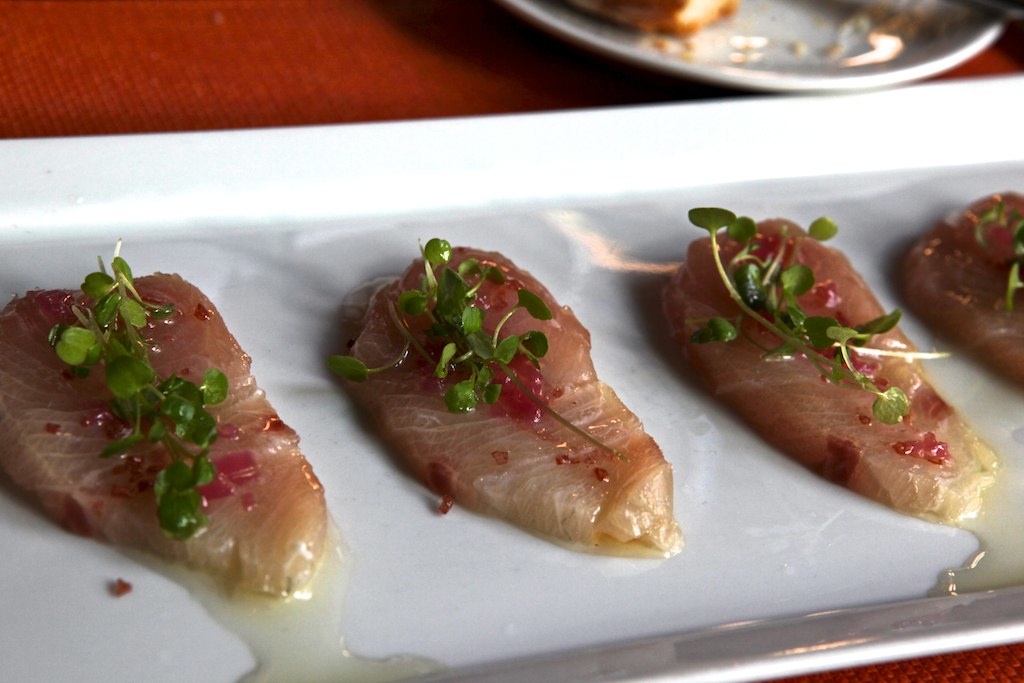 Next: the pasta course!  AEJ ordered beet ravioli topped with crushed pistachio. The flavor was surprising (in a good way) because the ravioli looked like they were filled with a rare-cooked meat, but it was, most definitely, beets. Just perfect. I could eat at this place every day.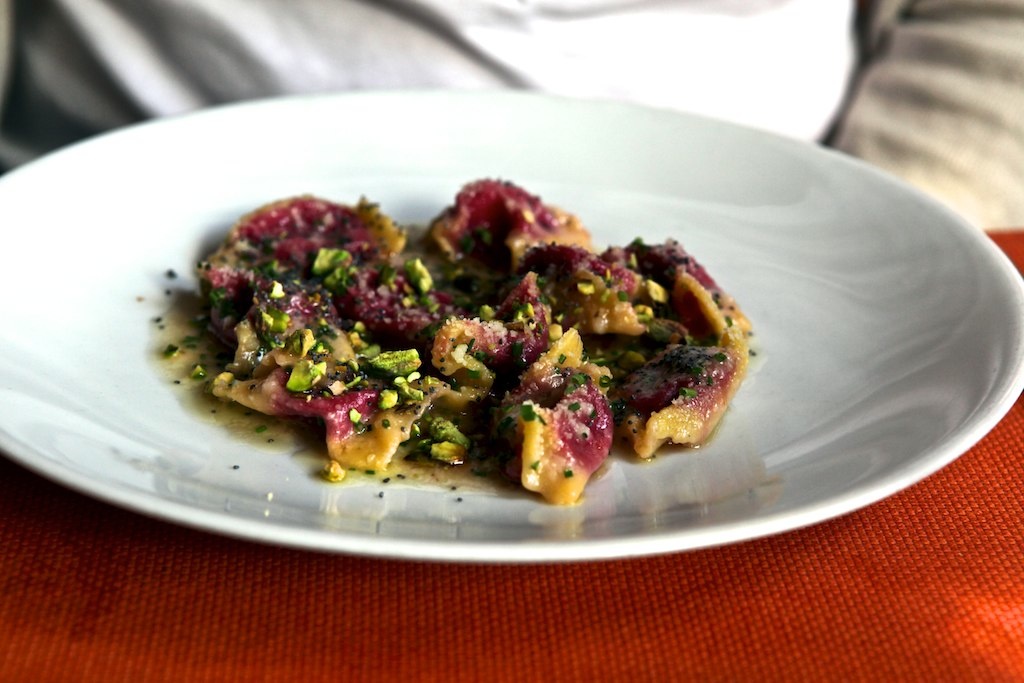 I ordered a special — the short rib ravioli with hazelnuts, brown butter, and horseradish. It was intensely rich — and, yum.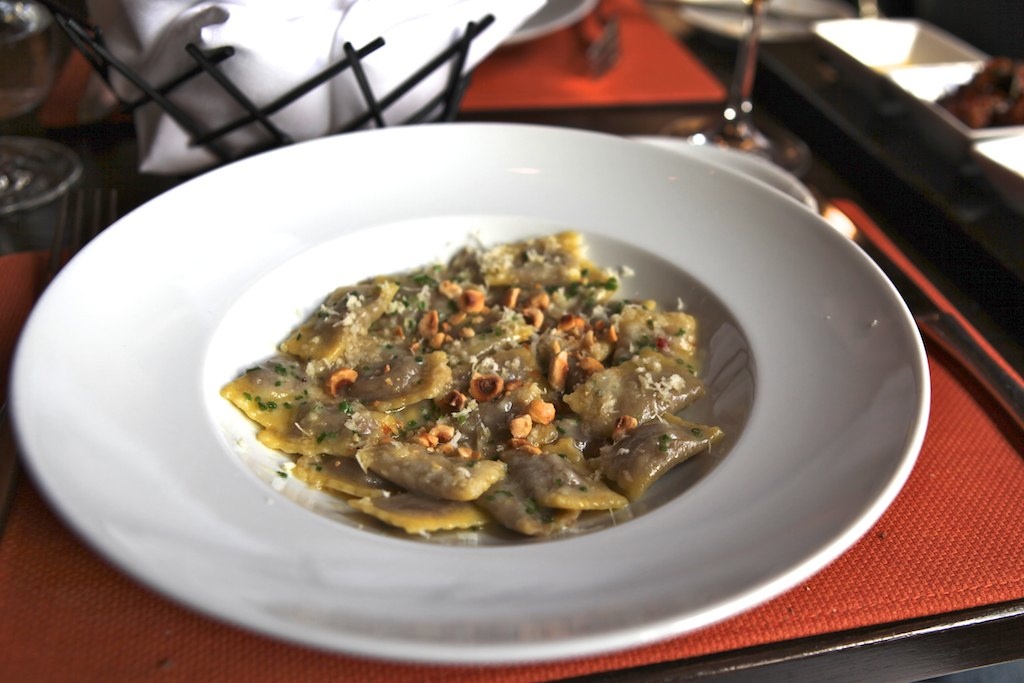 That should do it, right? An appetizer and a pasta — that should be plenty of food. Well, it was, but we'd ordered another course. (It's a good thing I'm running a lot here, in addition to walking a few miles a day, or I'd be huge.) This is AEJ's dish: the roasted chicken with parsnip puree, herbed spaetzle, fegato sauce, and vegetables. Chicken doesn't get much better than it was here, with the rich sauce and perfectly-crisped skin.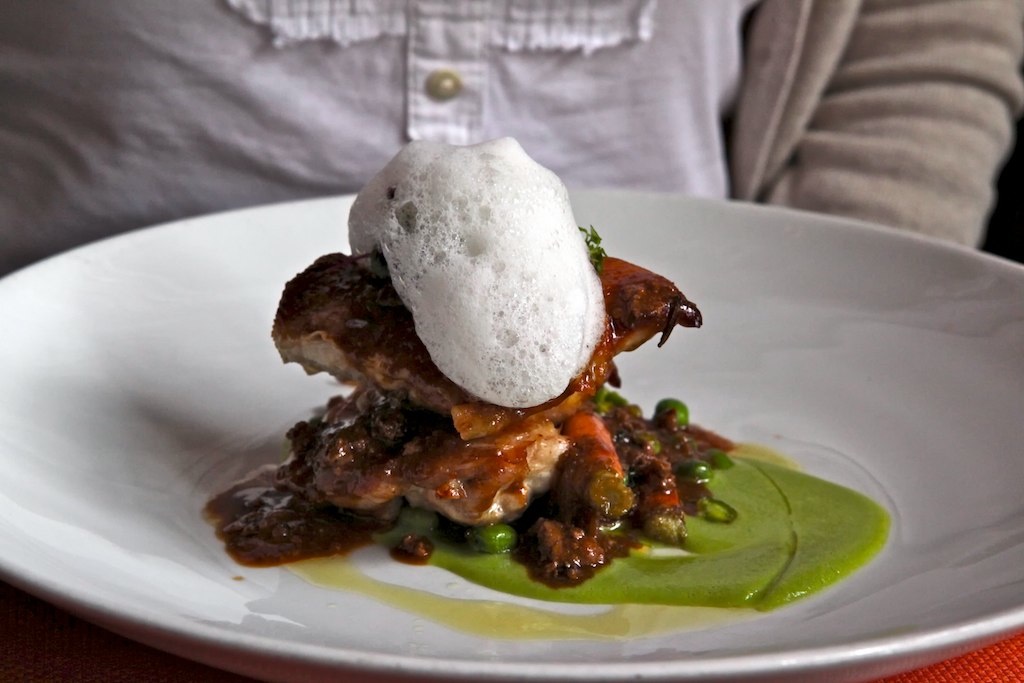 I had the lardo-wrapped halibut with morels, asparagus, and roasted potatoes. "Lardo" is just what you'd think it is. I've had bacon-wrapped fish before, and it was terrible in the past, with the bacon and fish both ending up overcooked, dry, and tough. Somehow, this was just right. These vegetables, though — and I can't believe I'm saying this — may have been the best thing of the evening, or at the very least, had the most concentrated flavor per bite. As a bonus, this is just about the prettiest food picture I've ever taken, so thank you for that, Scott Conant.  (A suggestion to anybody taking pictures of food in a restaurant: sit near natural light and never, never, never, ever, ever use a flash.  I'd asked to be seated against the window that evening, and we're old, so we eat early, so the light was very good.)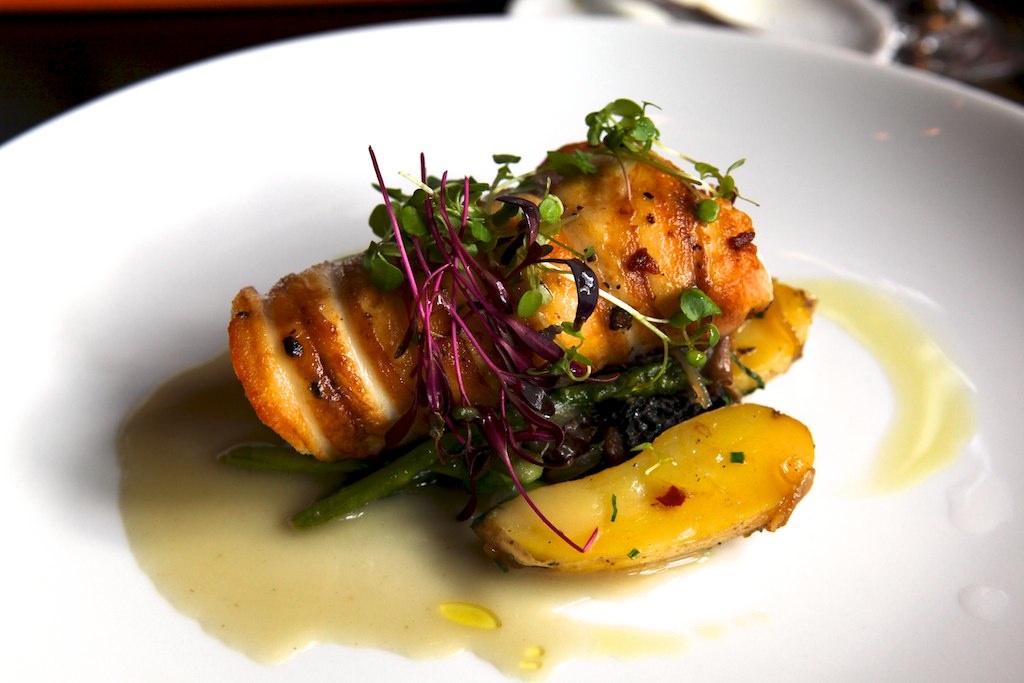 At last, it was time for dessert. AEJ went with the surprising choice of ordering the olive oil cake with lemon ice cream and orange mascarpone cream. It was a bright and light way to end the meal.  Who knew that olive oil cake was a good idea?!  (AEJ, apparently.  Oh, and Scott Conant.)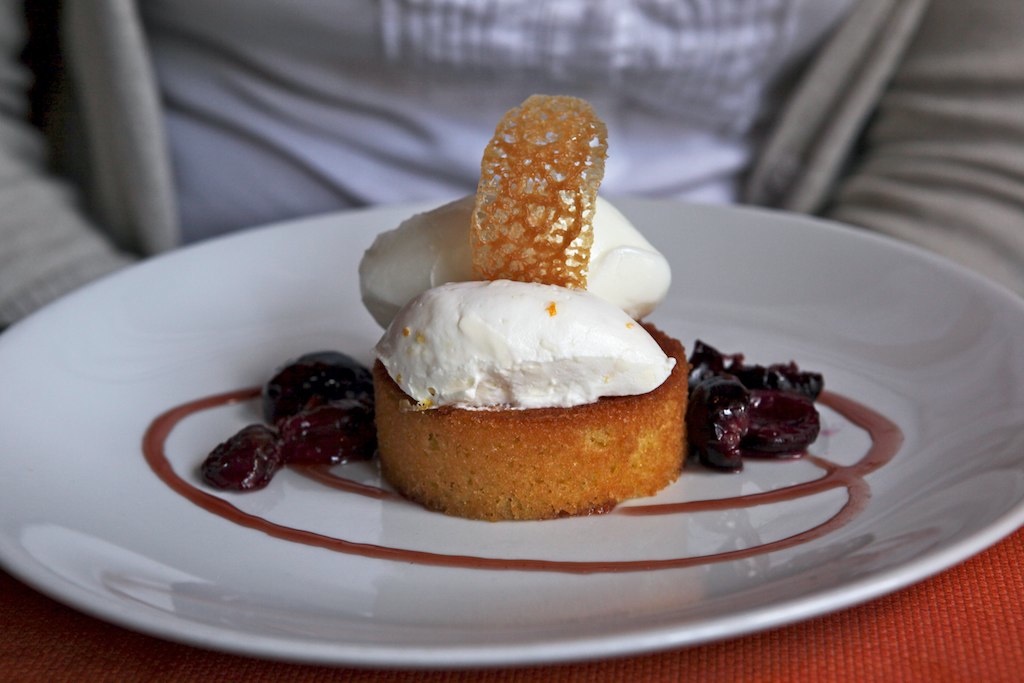 I, on the other hand, ordered the not-so-light closer: banana budino with pecan gelato and oat tuile. Rich — but delicious. I never turn down a banana dessert, and heavy as this was, it was worth it.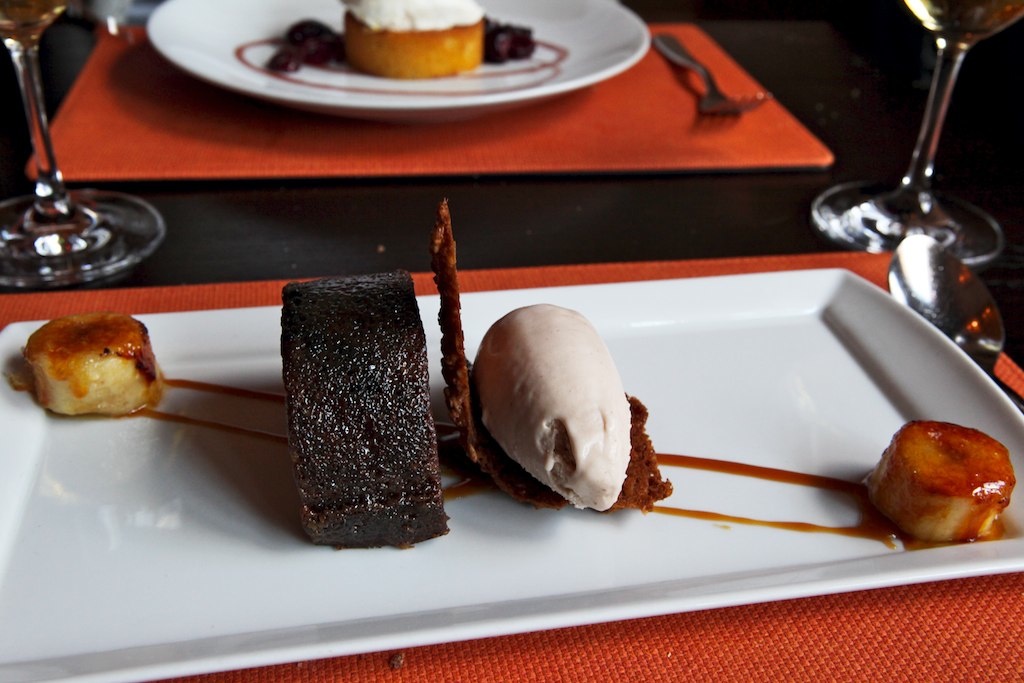 Here is a shot of one of the caramelized bananas.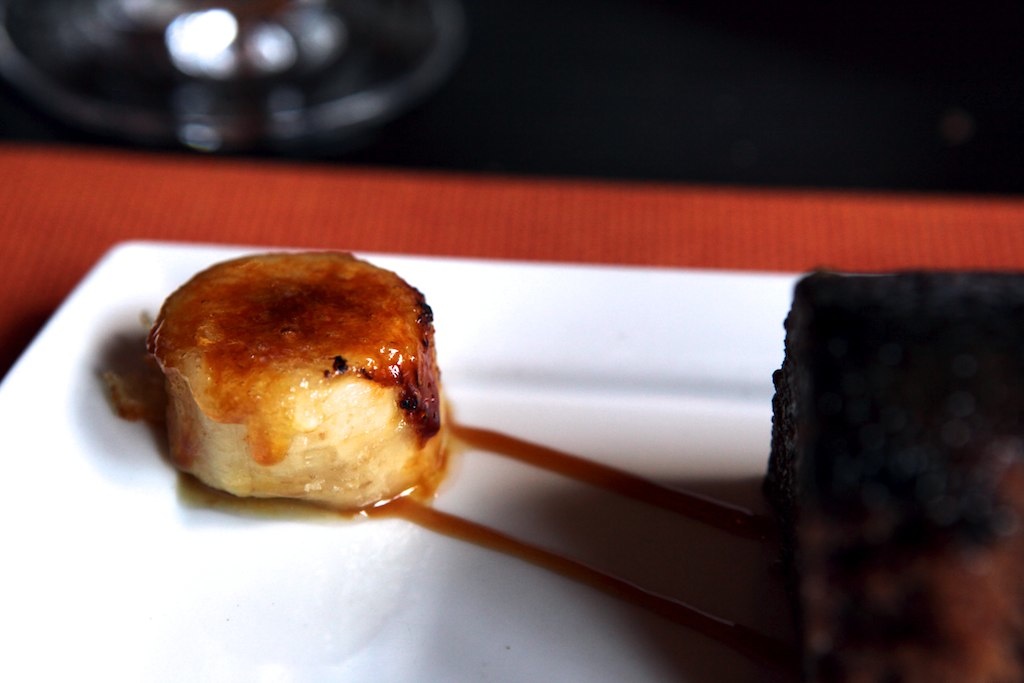 After dinner, I called for our car.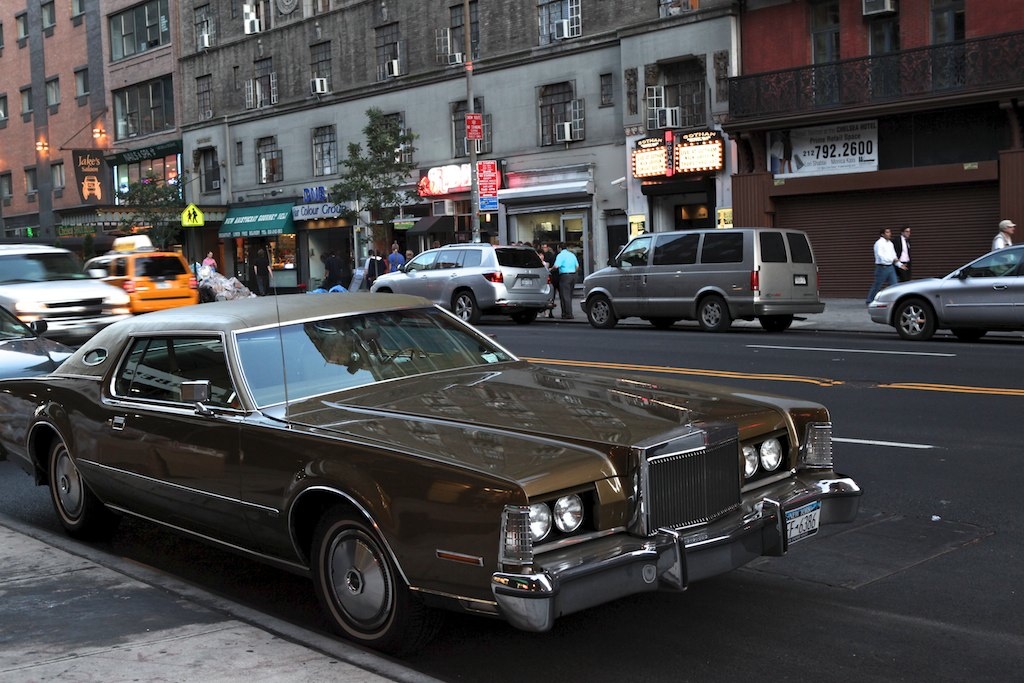 Okay, not really. We walked back to our apartment, via the Highline Park — a new park on the west side of Manhattan, built along the former elevated railroad tracks. The area had become overgrown with wildflowers, and when it was turned into a park, the landscape design was made to reflect that history. It's a beautiful park, right in the middle of the city.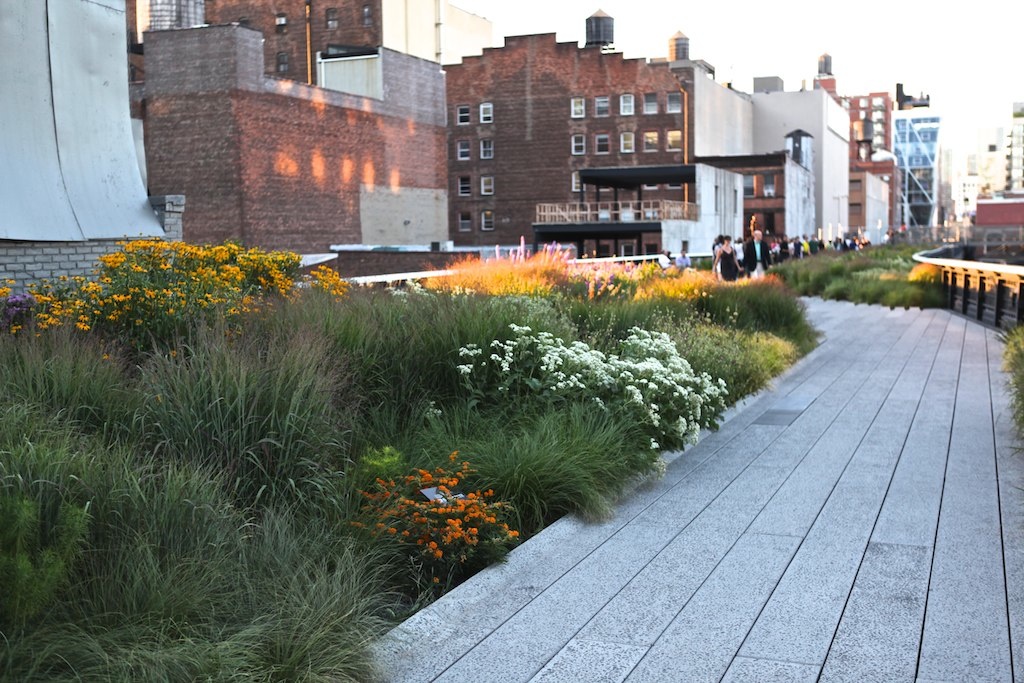 The flowers are pretty.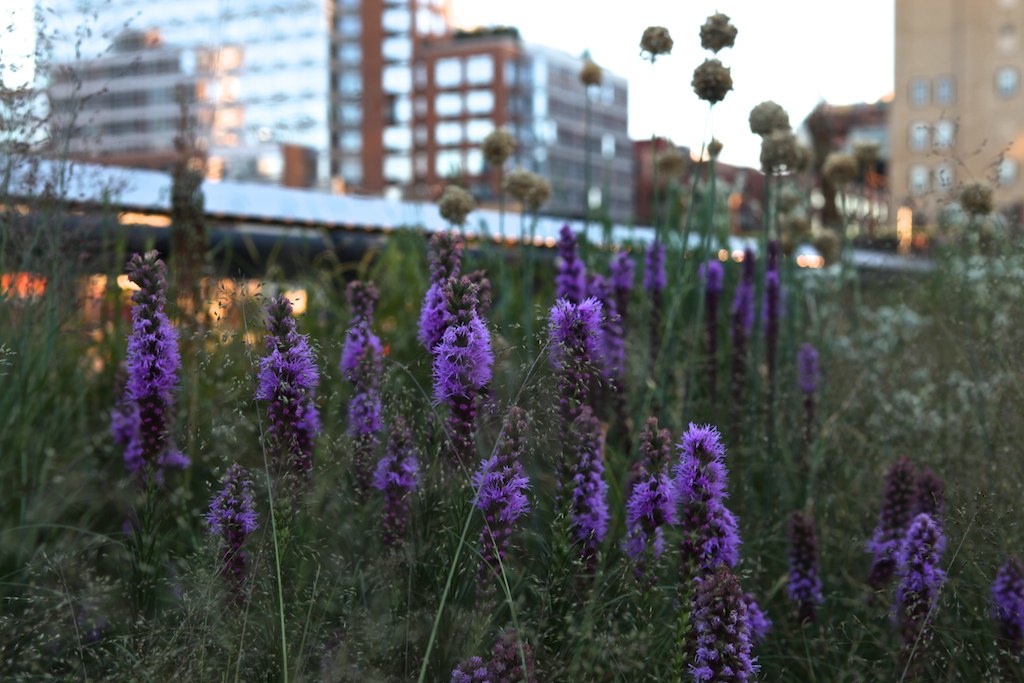 I can't even imagine what this park has done to the real estate values of the neighboring buildings. Nobody wants to live pressed against a train track, but everybody wants to live overlooking a park.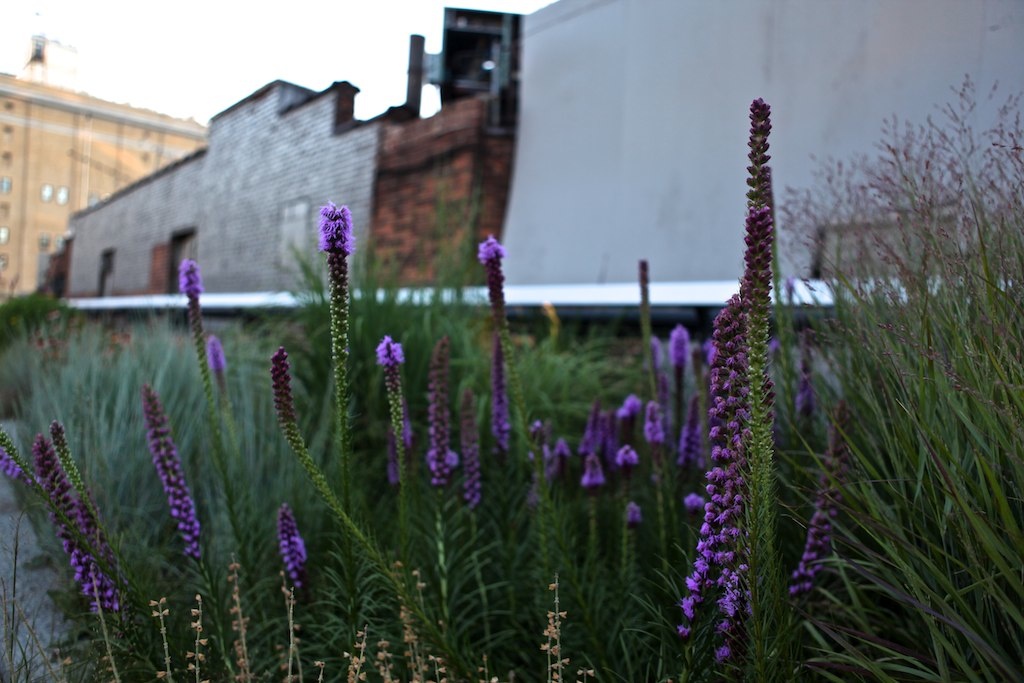 It's an awfully nice place for an evening walk.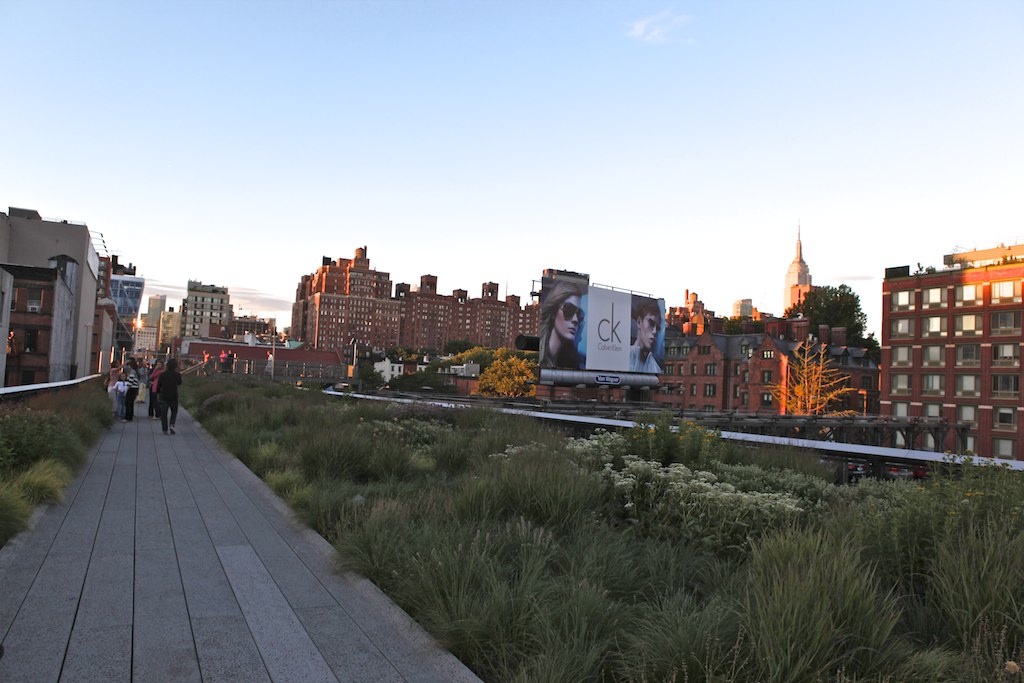 It was another great night here in New York. I can't recommend Scarpetta highly enough. (And I will never again negatively pre-judge a chef simply because I saw him first as a judge on a reality show.) Up next, tomorrow night — dinner at Eleven Madison Park. I hope my camera is welcome…