January 11, 2005
Best. Dinner. Ever.
As promised, here are pictures from last week's birthday dinner with AEJ at Jean-Georges.
Dinner started with — what else? — some tasty bread. Don't worry; we're just warming up…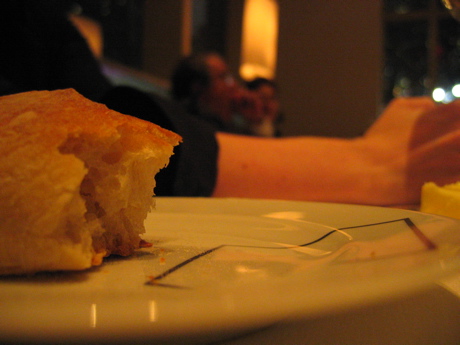 Our first course — a pre-course, really (the "amuse-bouche," I think it's called) — was this little trio. You're supposed to eat it from right to left. The one on the right is pineapple and white chocolate, the one in the middle is a shrimp with celery-root sauce and caviar, and the one on the left was a white bean puree with chile foam! NOW we're cookin'!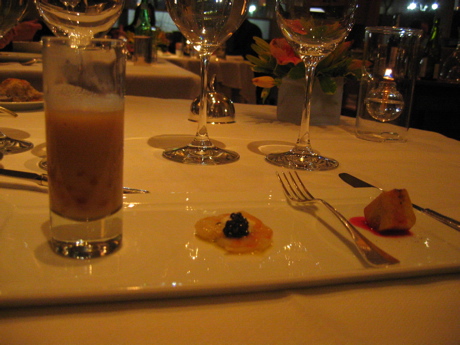 Next up was, maybe, my favorite dish. Slivers of Nantucket Bay scallops, fresh wasabi, yuzu, and green apple. Holy wow, it was amazing. The scallops were raw, like civichi.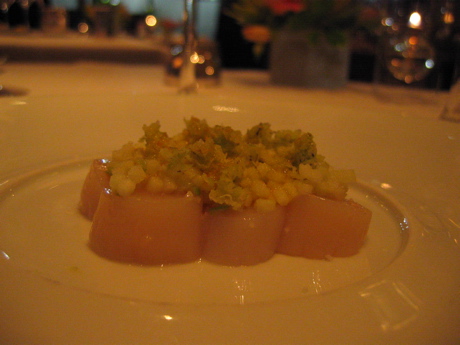 AEJ is allergic to shell fish, so she had some substitutions in her meal. Instead of the scallops, they prepared a simple salad for her. They tossed it at the table, of course…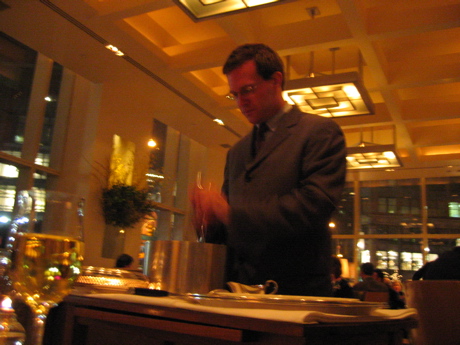 The dressing was pretty amazing.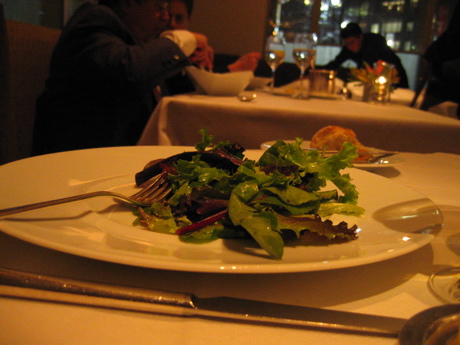 Up next: our "adventure" course. Two things that AEJ and I thought sounded like personal risks, but we figured that if we were ever going to like these things, this was the place to have them.

My risky dish was warm Kumamoto oysters, crispy bacon, and a creamy mignonette.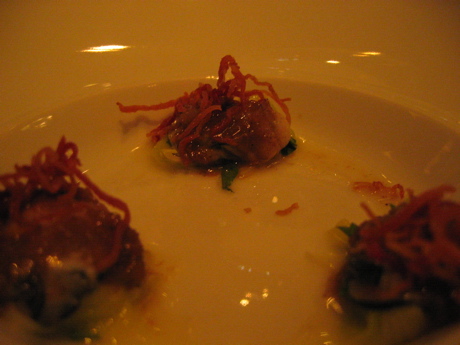 Each bite started off pretty fantastically. There was the oyster texture, which I don't mind, and it was combined with the crunch of the bacon. Pretty cool. At first, it was delicious. Then, though, after about 10 seconds, instead of the mignonette and bacon, I could suddenly taste the oysters. Turns out I officially don't like oysters. Still, I'm glad I tried it.
AEJ's risky dish was young garlic soup with thyme and sauteed frog legs.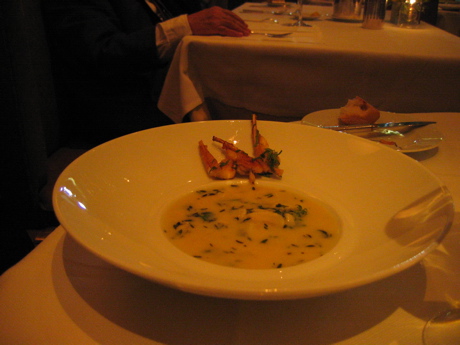 AEJ loved it. She'd never had frog legs — I still haven't — so she was a little nervous, but true to legend, frog legs really do taste like chicken. She swears it's true. I tried the broth for the soup, and it was good (holy garlic!), but it didn't go well at all with my oyster dish.
Next up: Comedy! No, not Paula Poundstone comedy (thank god), but gourmet food comedy! Jean-Georges always seems to have one course on the tasting menu that's just absurd. In this case: char-grilled foie gras ravioli, chestnuts, cinnamon, and brandy.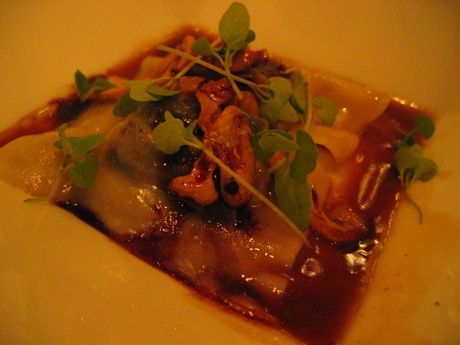 A tiny bit of foie gras goes a very long way. The smell of this dish was pretty spectacular, but I have to admit that I could have done with slightly less fois gras itself.
Course 4: the best thing at Jean-Georges. Black sea bass crusted with nuts and seeds over a sweet and sour jus.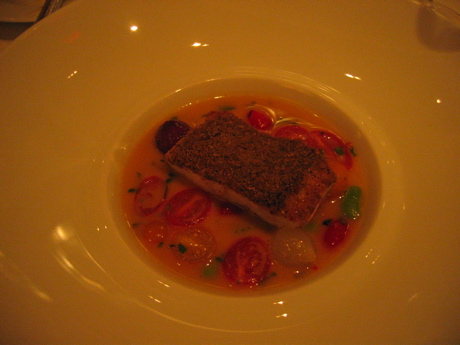 There's really no way to describe this dish. Hopefully AEJ will post a comment to this blog entry and try to put into words how amazing it is. This dish alone is worth the price of admission. Sadly, a photograph doesn't remotely do it justice.
Course 5 (for me, at least) : Olive oil poached lobster, sweet lemon puree, and black trumpet "cracking."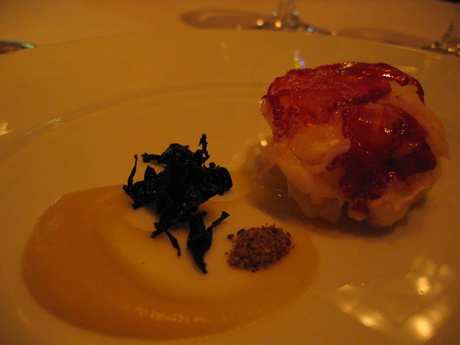 I don't mind lobster, but whenever I have it, I feel like I don't like it enough to justify the expense. This was the exception. It was amazing.
As I mentioned, AEJ is allergic to lobster, so for her fifth course, she had another substitution.

AEJ's Course #5: Turbot with chateau Chalon sauce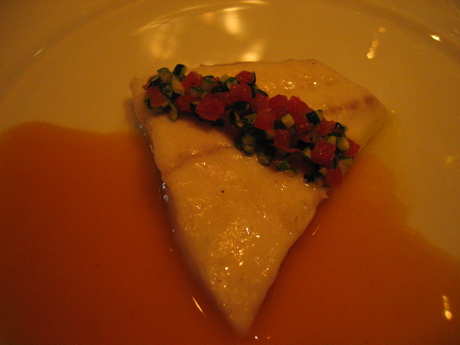 Sadly, there was only one more pre-dessert dish left. AEJ had:

Roasted venison, quince-madeira condiment, broccoli rabe, and cabrales foam.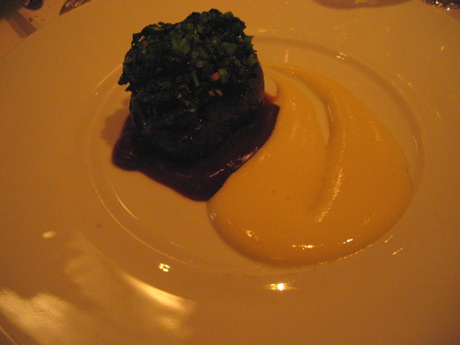 I had only had venison once before, and I didn't like it. It was too gamey for me. (I don't like lamb, either.) For that reason, I avoided this course and requested a substitution. What I had (more in a moment) was fantastic, but wow — this venison was unbelievable. So, in addition to learning that I truly don't like oysters, this meal showed me that I can, in fact, enjoy venison.
My substitution: Broiled squab, onion compote, corn pancake with foie gras.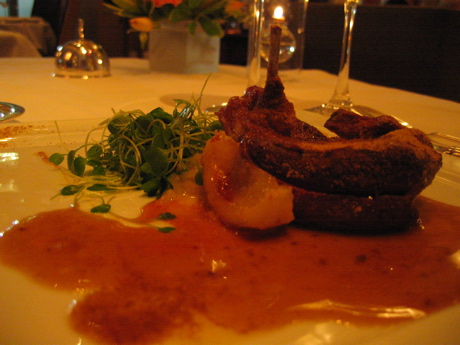 Enough with the foie gras already! I avoided that, but the rest of this dish was great. I'd never had squab before. Very tasty. The onion compote on top of the corn pancake was the highlight of this entree.
Wow! I'm full! I guess it's time to go. Oh wait — it's time for dessert!!!
Jean-Georges offers a choice of four different "themes" for your dessert: Exotic, Winter, Apple, or Chocolate. I chose Winter, and AEJ chose Chocolate.

Her Chocolate dessert consisted of: Jean-Georges chocolate cake with vanilla bean ice cream; warm malted chocolate rice pudding with rice crisp; chocolate eggnog with Kahlua cream and grated nutmeg; and classic chestnut mont blanc, zacapa rum, and shaved chocolate. So, they had to shave the chocolate at the table: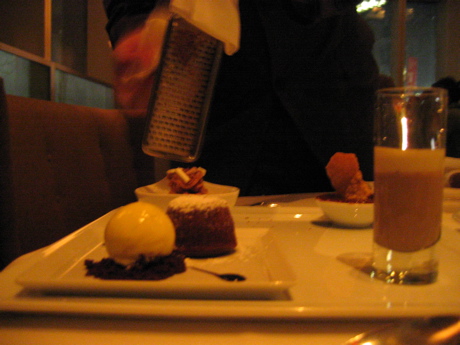 Here's a shot of the entire chocolate quartet: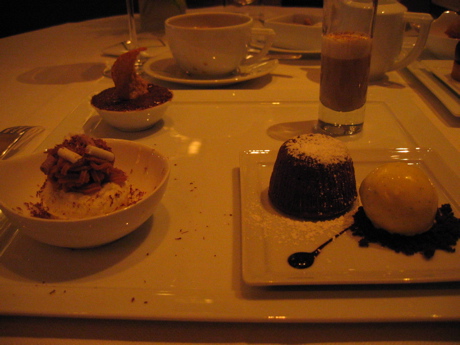 I had the Winter selection: chocolate peanut cake with salted peanut caramel; red wine tart, cassis poached pears, and prune-armagnac ice cream; sweet potato souffle, cranberries, and medjool dates (the best part of either dessert, I thought); and anise perfumed quince, westfield cheese, and pedro ximenez granite.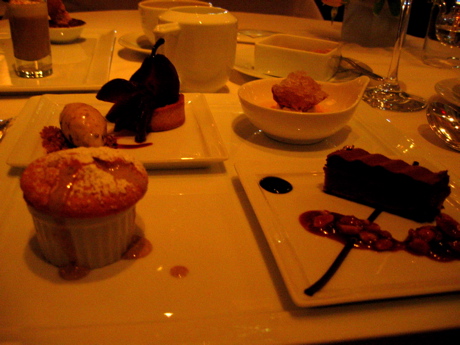 That's it! Oh wait — now it's time for the marshmallows! We each were given one coffee flavor, one cardamom, and one vanilla.

It's really the presentation that gets me. They have this great jar, and they hand-cut the marshmallows at your table.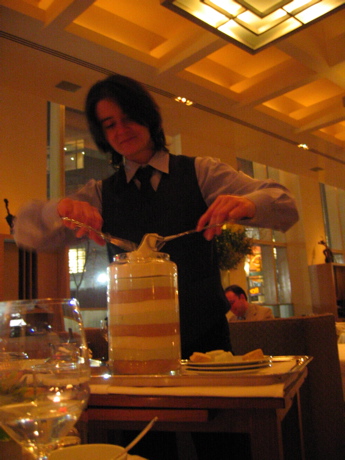 Well, now we really were done. We were so stuffed after eating for three hours that we couldn't even finish the chocolates…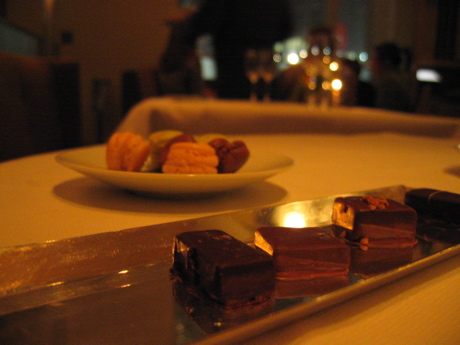 It was a spectacular meal. There's good reason why this is one of the few 4-star restaurants in New York. The food has these amazing layers, where each bite tastes different as it progresses. The service is like nowhere else, as evidenced by the fact that the waiter saw me taking a picture of the menu so I could get the names of the dishes right for this blog entry, and he offered to bring me a free menu to take home.
It was so good, I didn't even mind having to wear my suit. Now I just need to win MegaMillions so I can go back…