May 5, 2007
Tawaraya
Perhaps the highlight of our trip to Japan in March was our night at Tawaraya, a 300 year old Japanese-style inn (ryokan) in Kyoto. Here's a brief description from Concierge.com :
If you've heard rumors of Tawaraya, you've heard that it's a favorite of heads of state, movie stars, and obsessive Japanophiles. You may have also heard that it's devastatingly expensive. All true. Tawaraya, the three-centuries-old ryokan located in the heart of town, is Kyoto's über-inn—perhaps one of the finest in the world. Its wabi-sabi elegance and attention to even the tiniest details will make the aesthete in you swoon: the wetting-down each morning of the stone path in the garden; the perfectly aligned slippers inside the front entrance; the candle lamps in the hallway; the deft intermingling of mid-century Danish pieces among the Japanese furnishings; the sublime service performed by maids whose kimonos reflect, in design theme and color, the season. There are only 18 rooms (and a staff of 60!), and they're almost always full (though, as one visitor remarked, you feel as if you're the only guest). If you want to experience traditional Japan in all of its excruciatingly understated splendor, call—way, way in advance—for a reservation at Tawaraya.
We hadn't heard of Tawaraya until a few weeks before our trip to Japan. Our friend Wataru came over for dinner to give us some tips about the upcoming trip, and he recommended Tawaraya, if we wanted to completely splurge. Since we had no idea when (or if) we might ever be back to Japan, we figured what the hell. We had Wataru call Tawaraya to reserve a suite for us (which would have been difficult for us to do, with the fairly intense language barrier), I faxed them our information, and we were all set.
The night before our arrival, we had stayed at another hotel in Kyoto (we couldn't possibly afford more than one night at Tawaraya), so we took a taxi to the ryokan that afternoon. When the taxi arrived, the driver got out of the car, asked us to wait there, and he ran inside. Somebody came out of the inn to escort us from the car and take us into the front entrance. Our bags had somehow already been taken out of the trunk of the taxi and brought upstairs to our room; we never saw it happen. Once inside, we were offered house slippers to change into, leaving our street shoes behind.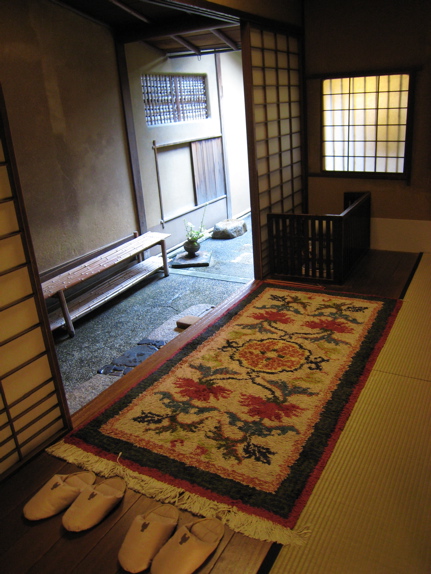 We were then escorted up to our room — Kujaku (the Japanese word for peacock, and also a type of koi).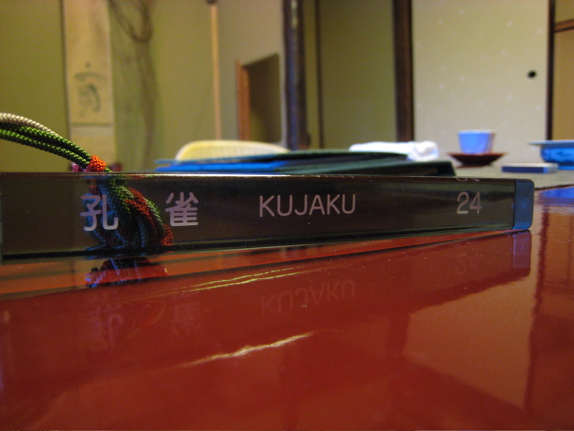 Most hotels would have a directory to show you where to find the gym, the vending machines, and whatever else, and it would be the same for every room. Our "directory" at Tawaraya was hand-painted with watercolors. On the left is a painting and floor plan of our room, and on the right are paintings of the public spaces such as the library.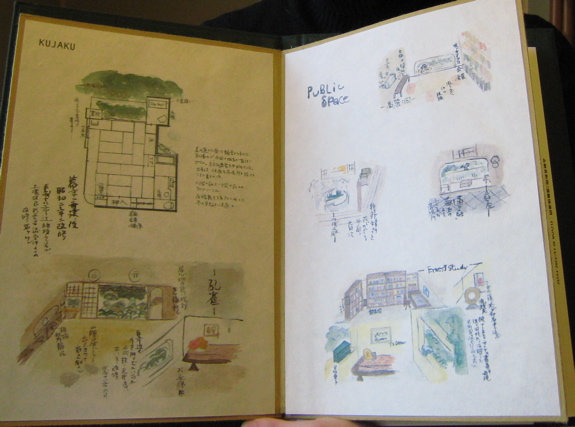 Some fancy-pants people have stayed at Tawaraya in the past, including Bernstein, Alfred Hitchcock, Walter Cronkite, and Brando. (I later read that more recent guests have included Steven Speilberg and Keanu Reeves, though presumably not at the same time.)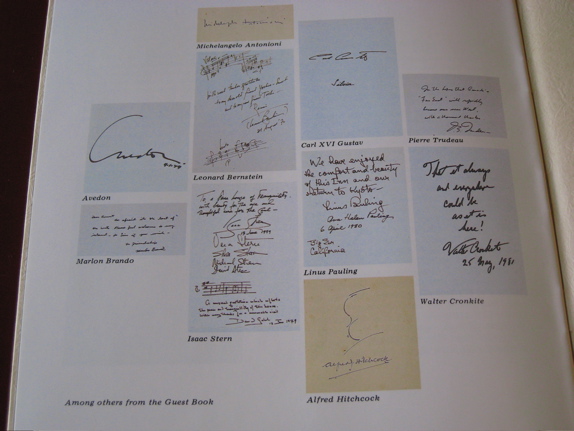 And here's the main room of our suite. The suite had a bedroom (to the right), this living/dining area, and (to the left) a small room with a daybed.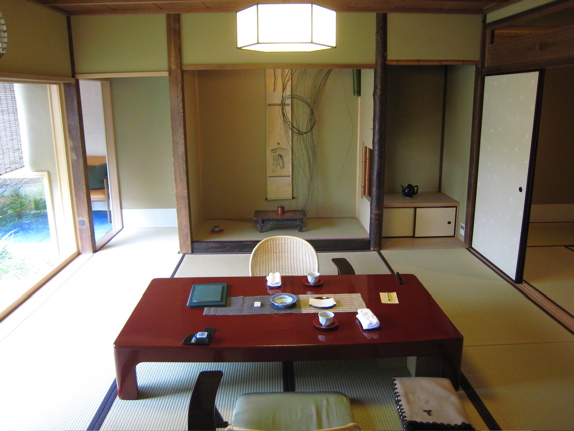 Before I could take many pictures, our kimono-ed attendant came into the room to talk to us about dinner. She brought us green tea…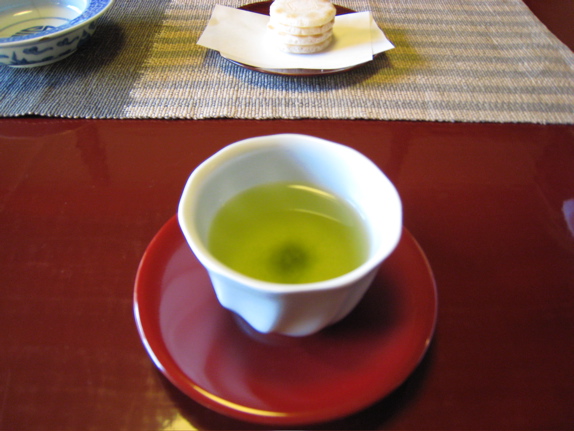 … and little rice cookies.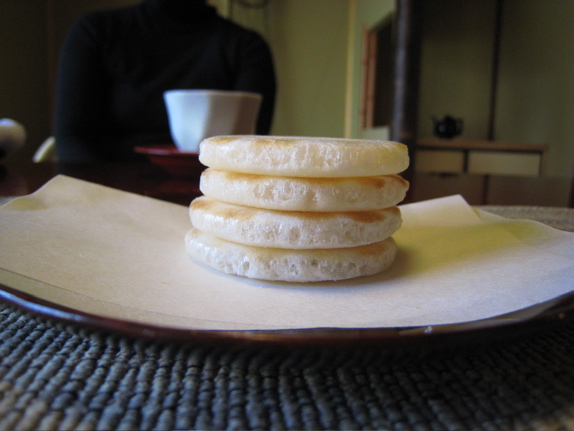 There was a little issue with language — AEJ is allergic to shellfish, but Wataru had written that information down for us in Japanese, so we could be sure that none of her nine courses at dinner would kill her. We thought we had requested a "beef grill" dinner for her, but that wasn't what she got. You'll see what we ate soon enough, though. We requested an early dinner time, knowing it would last several hours. With that, our attendant left us to make dinner preparations.
The entire inn is designed to bring the feeling of the outside gardens into the rooms. Here's a shot of our garden, with the remote-controlled blinds raised.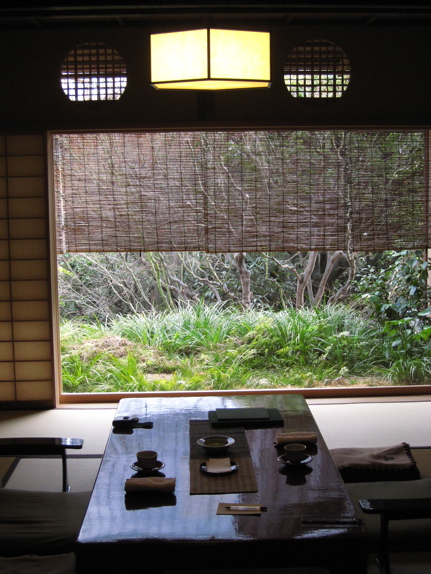 Here's a picture taken from that daybed.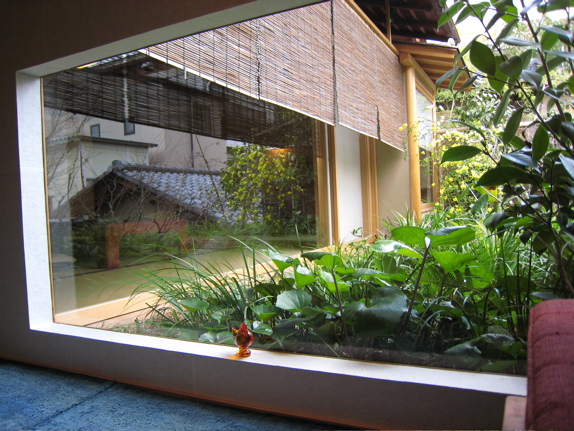 Here I am at the little work area. There was a sort of well area sunken into the floor so that I could bend my legs and sit normally, even though it appears that I'm sitting flat on the floor.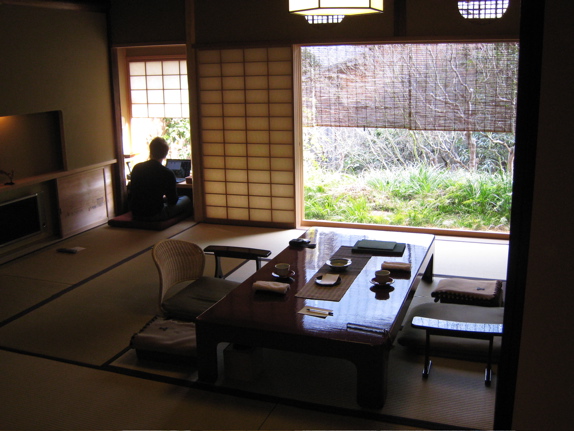 This is the "view" from the desk. Not an unpleasant place to work. The red box on the left contained materials for calligraphy. The little green leather thing is a notepad.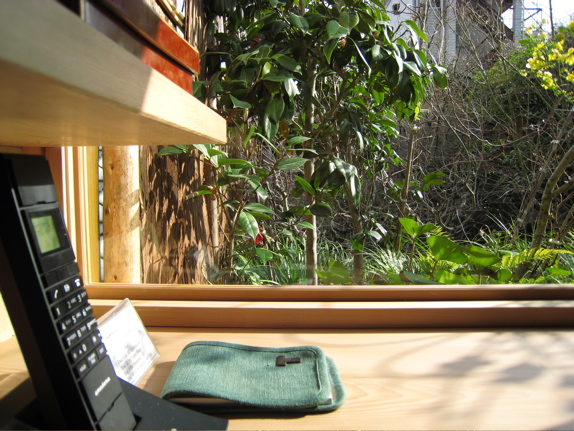 The wallpaper in the closet — covered with calligraphy. I wondered if it was somebody's crazy manifesto.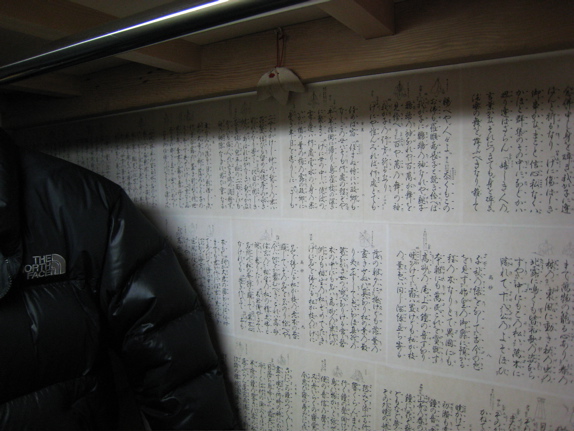 Here, again, is the garden area, our dining table, and in the back, the "nap room."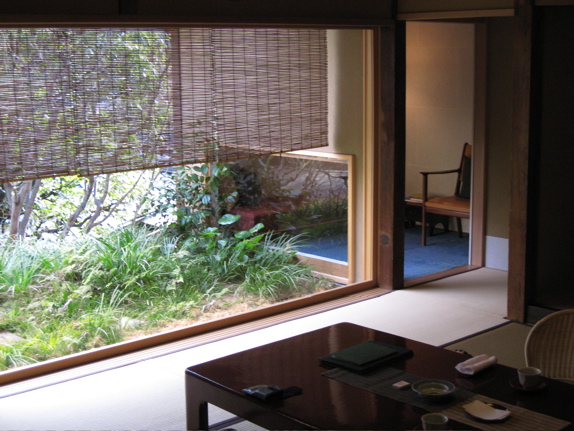 And here's the living/dining room, with the bedroom area in back, as taken from the work desk.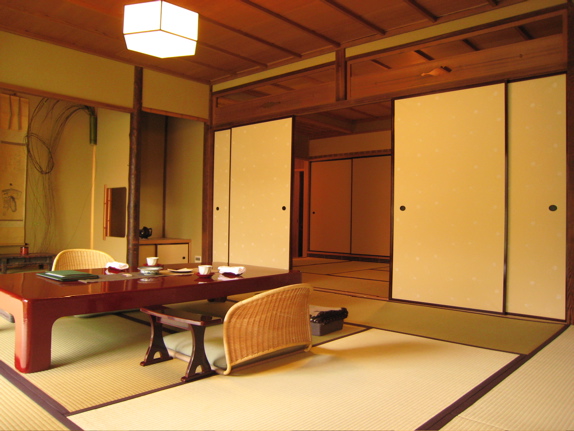 The bathroom at Tawaraya was pretty spectacular. It had, as expected, a Japanese-style bath, although this was private, not public of course. The tradition is that you don't wash in the bathtub — you shower first, and then get into the hot, cedar bath simply to relax — kind of like a hot tub, but scented with oils, and without jets. Here's the shower area with the covered (pre-drawn) tub. That's a thermometer on the floor. We didn't take baths until after dinner, but man alive, they were amazing. The water was so hot it was almost uncomfortable, but not quite. I got a little dizzy in the tub, but I think it was simply from being fully relaxed for the first time in, like, 16 years.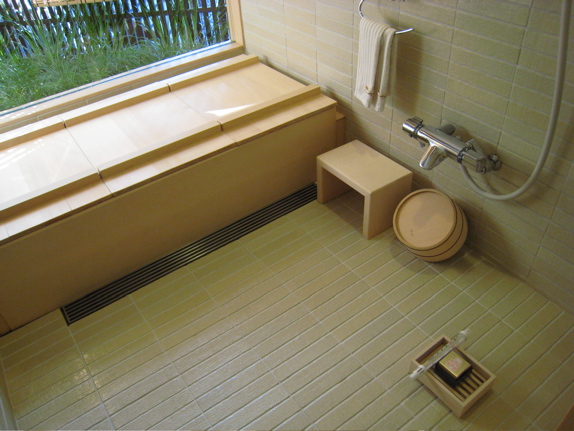 The sink, complete with every amenity we could wish for — from individual shampoos to a shaving brush.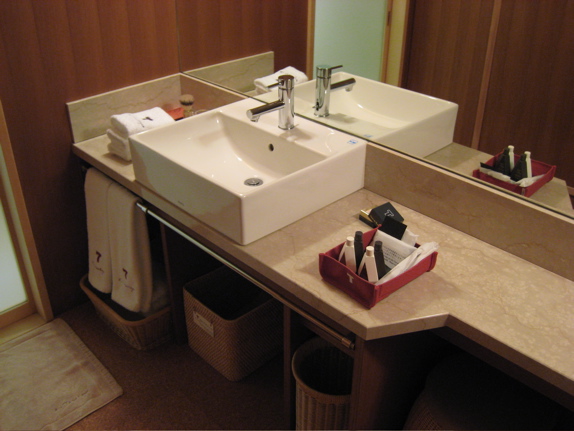 And everything was beautifully packaged.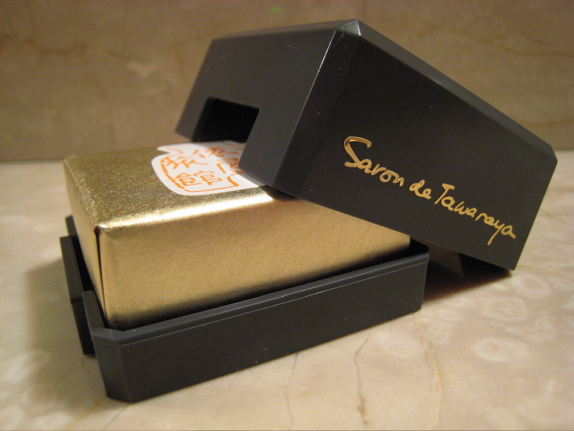 Here's the water closet. Nothing in there but a sink and a Super Toilet. Oh, and those "bathroom" slippers that you're supposed to change into before going inside. (You don't want to wear the same shoes in the water closet that you'd wear in the bedroom.) The toilet was sweet — well, as sweet as a toilet can be. When you walk into the room, the lid raises up automatically. Want to raise the seat? Push a button on the wall. No need to touch anything you don't want to touch. The seat, by the way, is heated. The thing also had all sorts of different water jets, but that's, uh, not my style. I totally want a $6000 toilet.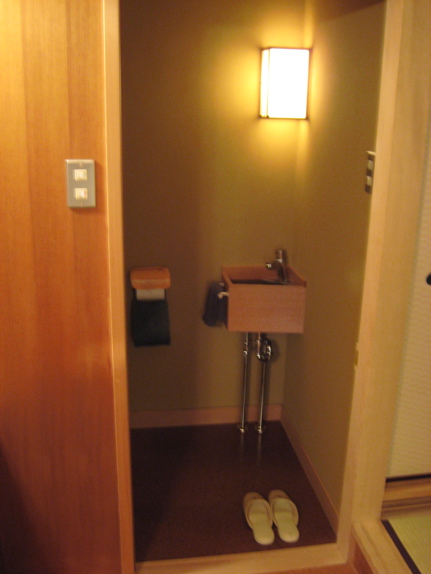 Next we decided to snoop around the public spaces of the inn. There are lots of these little inside/outside blurring spaces — like this blossoming cherry tree indoors.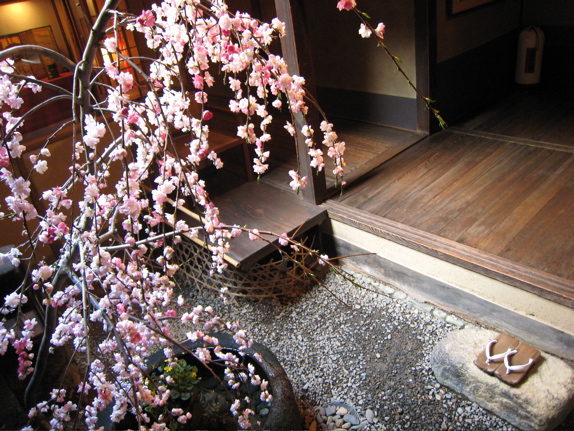 Here's the souvenir shop.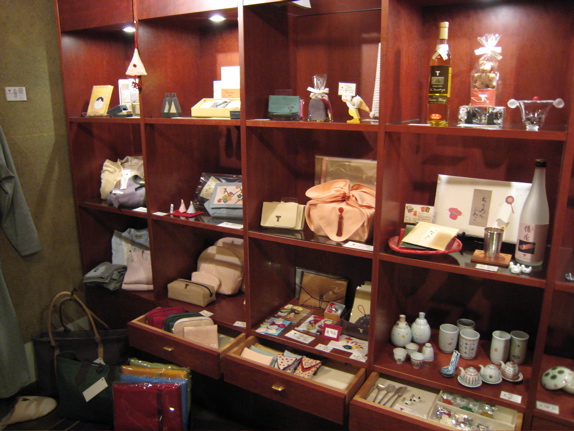 This is the library, again overlooking a garden.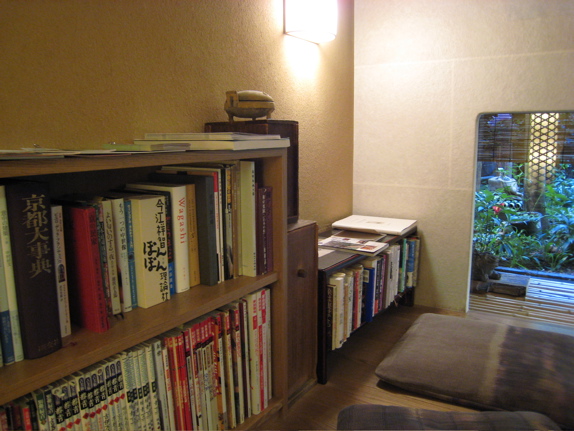 The entire place was beautiful — and we didn't see a single other guest while we were walking around.
Then it was time for dinner. Oh boy. Get ready for some crazy, authentic nine courses of kaiseki ryoti — the Kyoto haute cuisine. Course #1 : tofu with vegetables (left), grilled eel (right), and river fish (top center).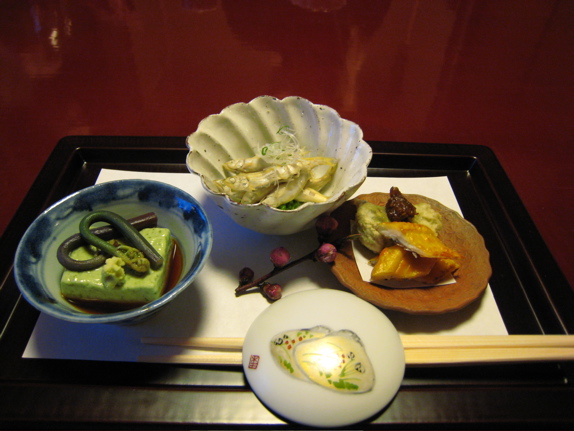 A close-up of the green tofu (tofu is a specialty in Kyoto), with a vegetable on top. The vegetable looked like a scary green dragon.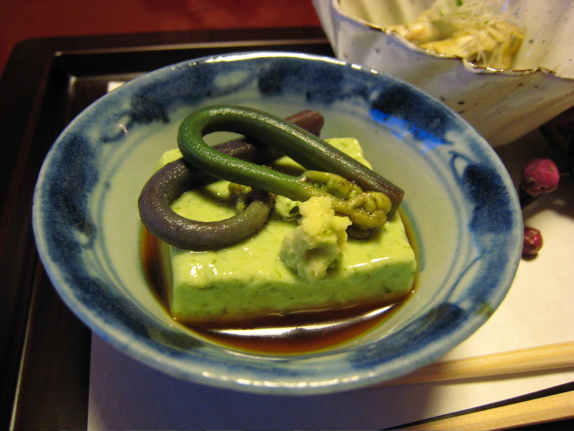 Here's the eel.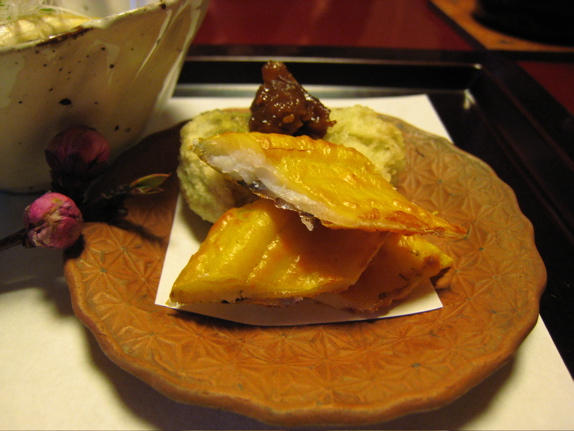 And did I mention the river fish? Hello, river fish.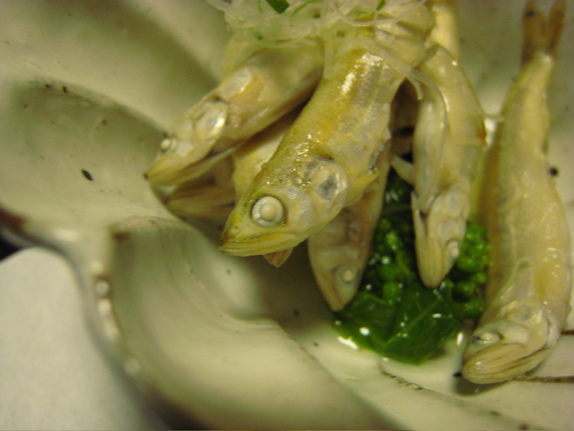 Course #2 : for me, sashimi.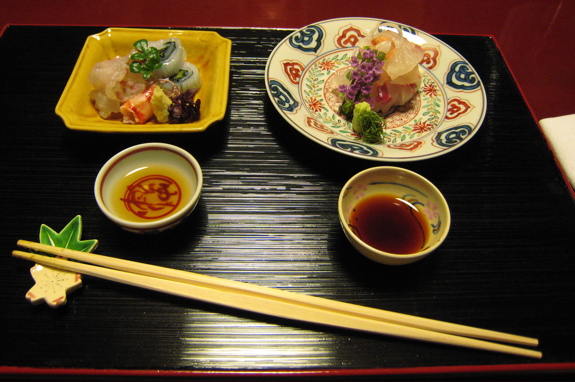 For AEJ (because of the shellfish allergy), cuttlefish, salmon, and vegetables.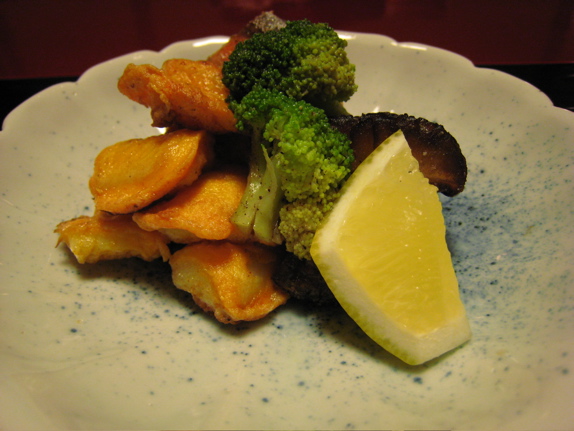 A close-up of my sashimi, with our attendant in the background. Check out the beautiful presentation, with the tiny purple flowers.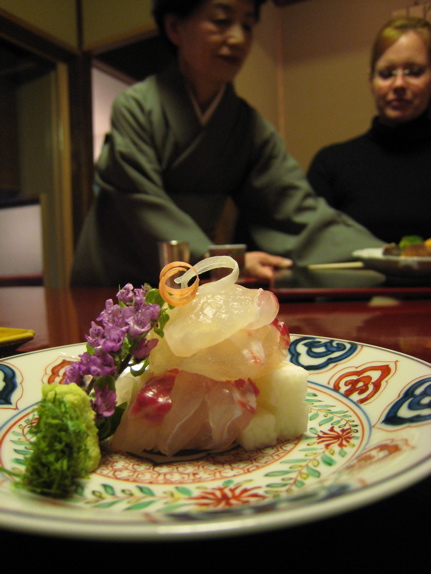 And a close-up of my other sashimi — shrimp with squid. (Squid is, admittedly, a little difficult for me to chew.)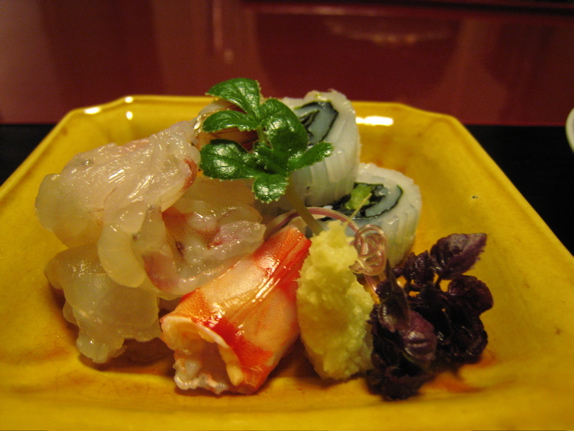 Here's a bowl of white miso soup with a fish ball.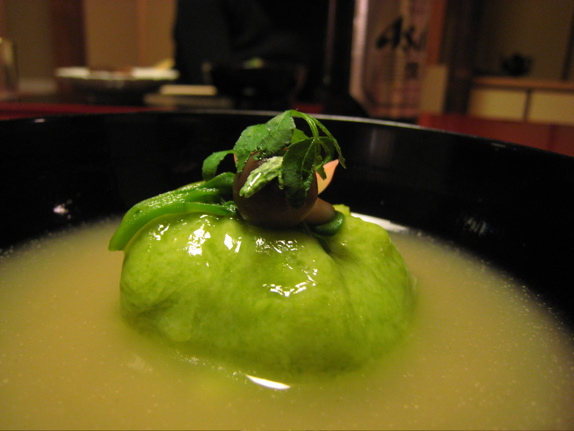 We were a little scared to open up said fish ball, but inside was some lovely whitefish.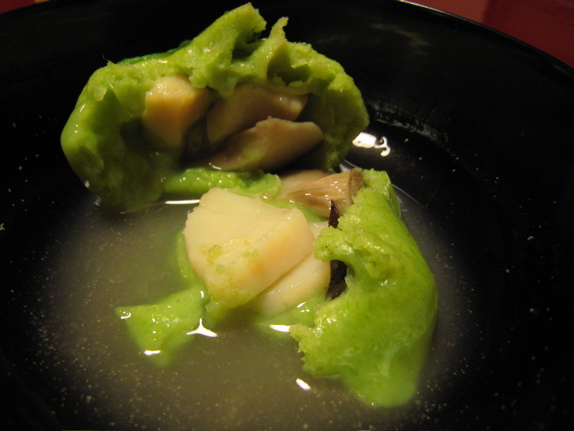 Course 3…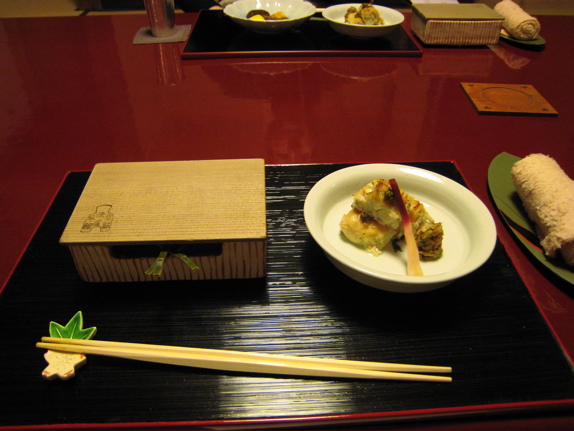 Fish-wrapped tofu…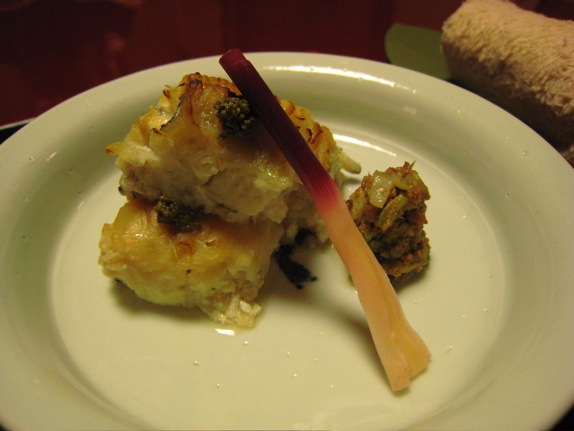 … and three little bread-based things with different sauces.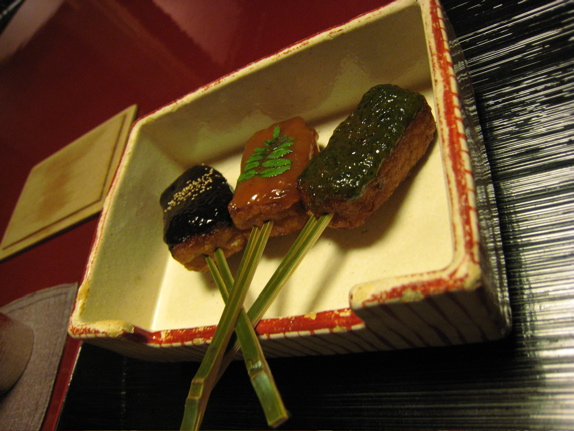 Course 4 consisted of "special sushi" for the festival occurring at the time. That's rice, seaweed, egg, and shrimp.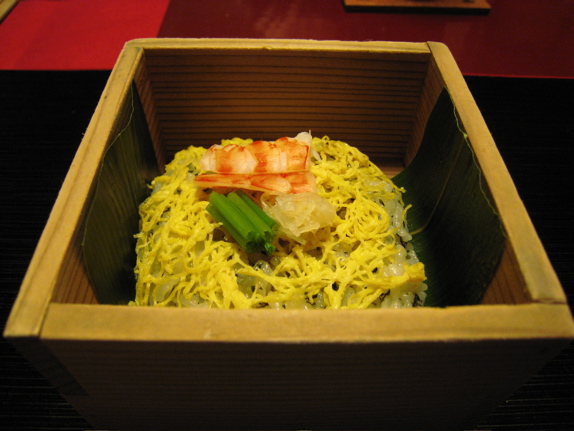 Course 5: a fish soup with bamboo shoots and seaweed.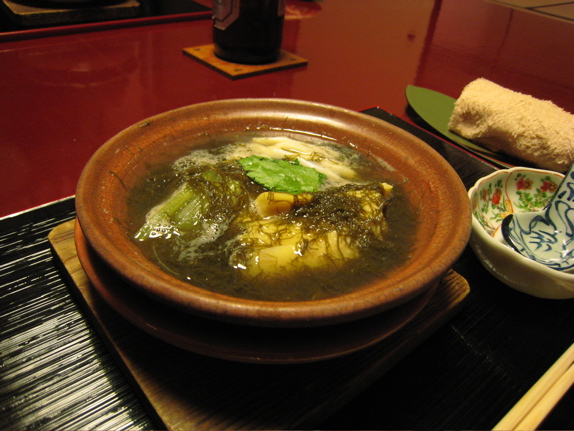 Okay, here's where things get a little out of hand. I mean, it looks beautiful…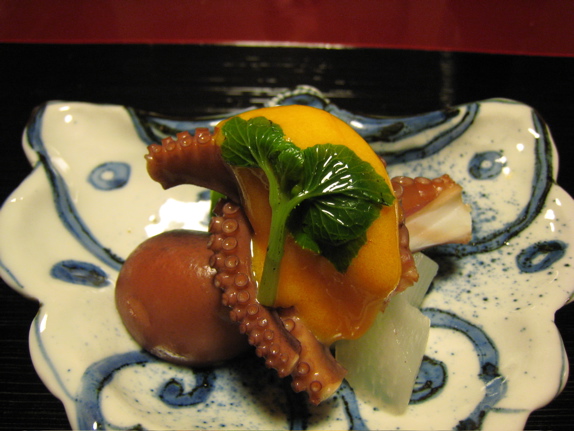 … but it was pretty challenging. That's octopus. Have you ever tried to bite raw octopus? Well, you can't. It's like biting a fish-flavored eraser. You mouth just bounces open — assuming your tongue hasn't become stuck to one of the leg's suction cups. And that thing on the left? I was like, oh look! A new potato! Or maybe a huge grape! No, that's half of an octopus head. The other half went to AEJ. Enjoy, darling.
Course 7: pickled vegetables and rice…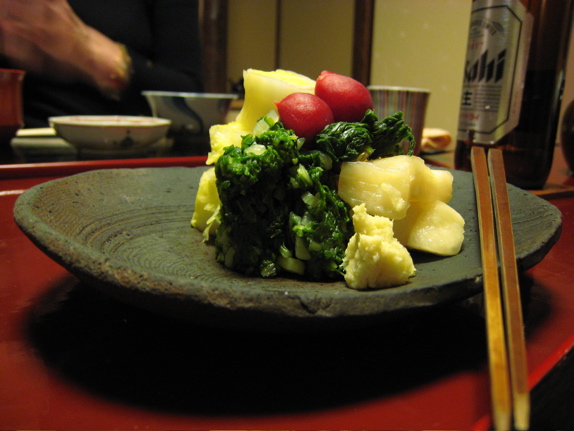 … and red miso soup.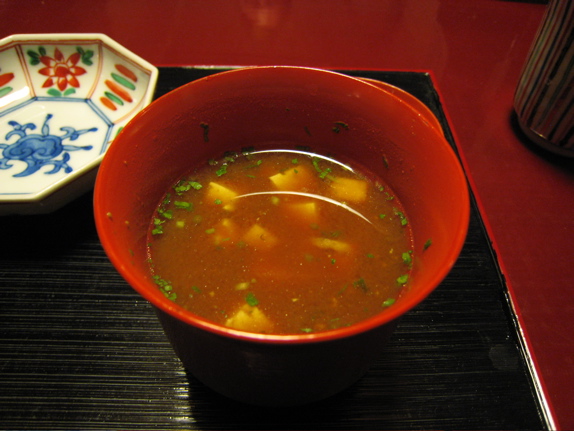 Dessert was delicious — even though it contained no fish! It's a hollowed-out orange, filled with a fresh orange Jello-like yumminess.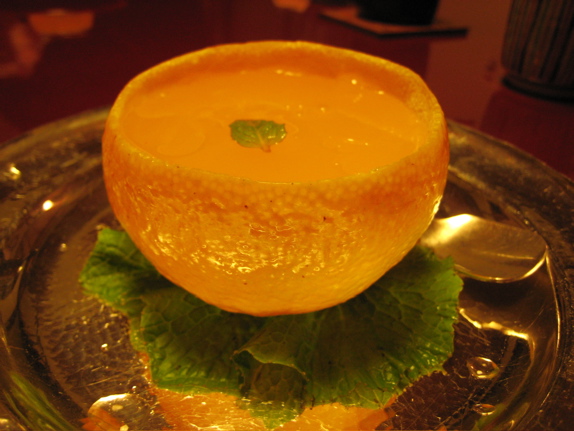 Lastly, we received tea and cookies.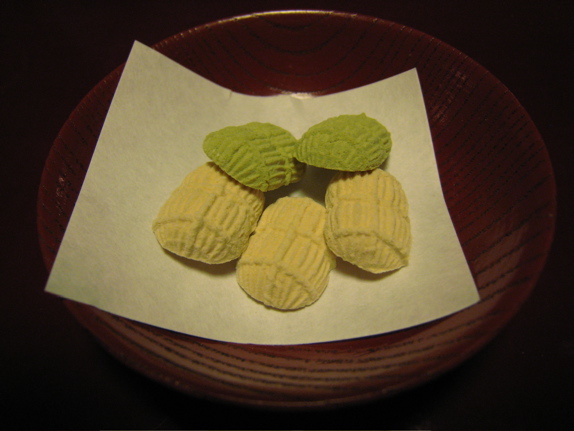 After dinner, we were escorted to the study, where I checked email and tried to reply, although it was a bit tricky with the English/Japanese hybrid keyboard.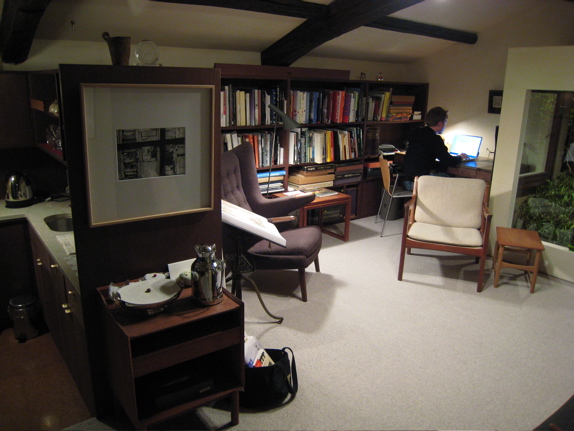 We returned to our room to find our beds made, and with pajamas for each of us.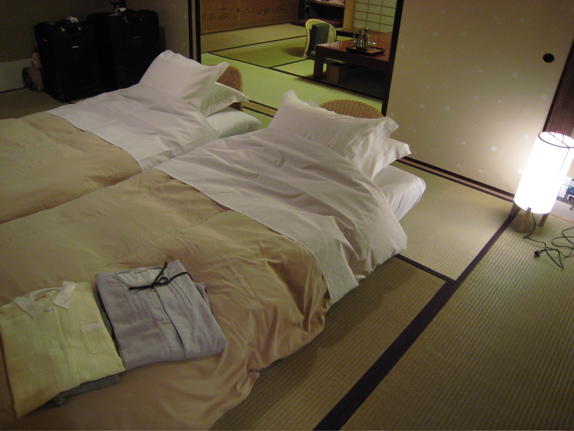 And here's our garden at night.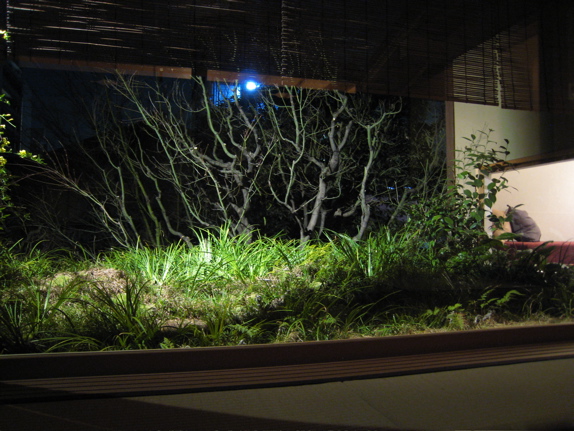 That was the best night's sleep I had through the entire trip. I can't tell you how comfy those beds were — and the bedding was silly-soft and cozy. The next morning, our attendant brought us breakfast — Western-style. No fish, rice, pickled vegetables, and miso soup for us. No, first up, coffee —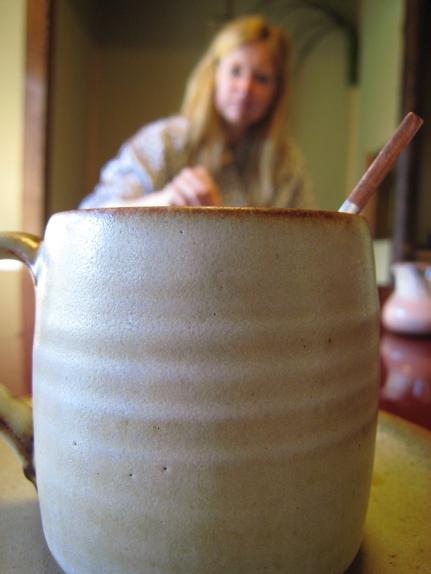 — and then plain ol' bacon, eggs, and croissants, and the yummiest yogurt drink I've ever had. Delicious.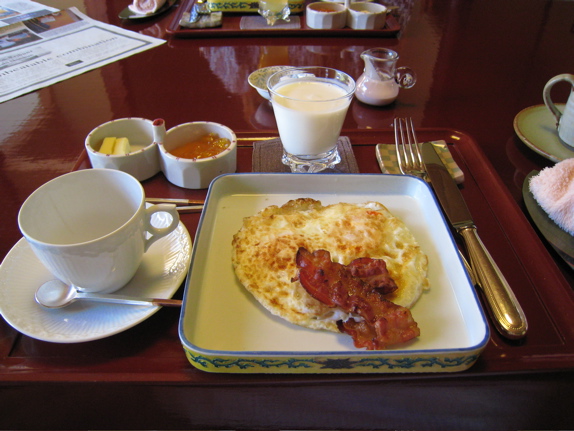 Tawaraya was an incredible experience. The setting, the service, the food — everything. Some of the food was a little foreign from what I'd normally eat, but that was the whole idea. If we can ever afford to stay there again (which would mean that we would have won the lottery), we definitely would. I'd just first have Wataru translate "beef grill" for me.