March 19, 2007
Kobe beef
AEJ and I have been in Japan since Thursday (Japan time — which is Wednesday-ish in America), and a whole lot has happened. Kind of an amazing amount, considering how long we've been here. And every minute has been incredible. I'll write a lot more over the next few weeks — it's going to take at least that long to get these blog entries out — but I wanted to write a short one tonight, just about tonight, because this was a special evening that I'll remember for a long, long time.
Tonight, AEJ and I were dinner guests of Mr. Kohtai Yoh, one of the consortium members of my new piece, "Kingfishers Catch Fire." (The work premiered here in Japan on Saturday — that's why we're here — but more on that another time.) Yoh-san conducted a wonderful performance of "Redline Tango" with the Kannonji Daiichi High School band — also on Saturday. Yoh-san lives in Kobe — the birthplace of Kobe beef. I think you know where this is going.
So Yoh-san invited AEJ and I — as well as his friend, Toshiya Iwata, another consortium member of "Kingfishers Catch Fire" — to join him for Kobe beef dinner tonight. Kobe beef is… well, here's one definition I just found:
"Kobe Beef is a legendary delicacy of Japan, a type of beef that is so well marbled that it goes right off the charts for Prime grading in any other country. The meat ends up looking like it has been left out in the snow because of the intensiveness of the white fat marbling, rivals foie gras for richness and caloric content, and costs an obscene amount, often $300 a pound or more for the real thing from Japan."
This was, to state the obvious, the most "real thing" this real thing can be. We had it not just in Kobe, but at the steak house that created what Americans know as the "Japanese Steak House" — Kobe Misano, the first Teppanyaki-style steak house. Think Benihana — but with Kobe beef, and with a mastery of cooking, rather than the mastery of flipping flaming shrimp tails into your shirt pocket.
So the trip started by taking the Shinkansen (the Japanese "bullet train") from Kyoto, where we're now staying, to Kobe, about a 30-minute ride. (Sorry — it's really difficult to get a picture of the Shinkansen in focus.)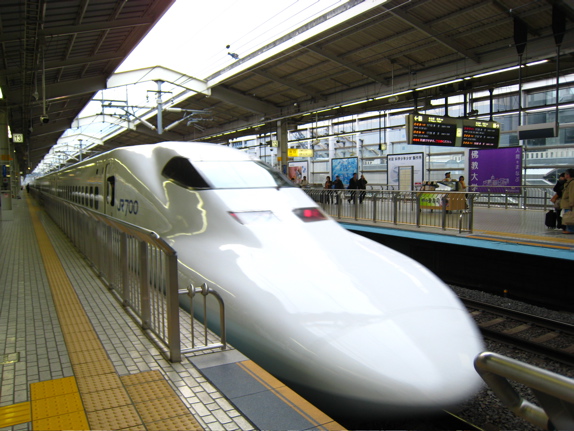 Kobe is a lovely city. The area where the restaurant is located is bright, cheerful, bustling, and like every other part of Japan we've seen — immaculately clean.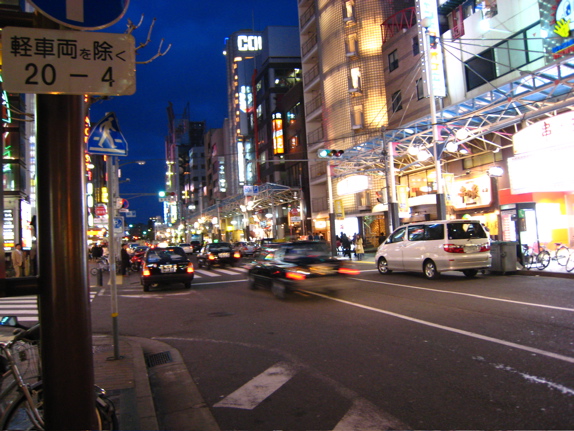 And this is Kobe beef. This is probably over a pound of it. I've no idea what it actually costs in Kobe — typical of Japanese tradition, Yoh-san would not let us pay, or even see the bill — but in the US, I've seen "Kobe" beef for $30 an ounce. This, in America, would have easily been $400 worth of steak. And worth every penny, I have to say.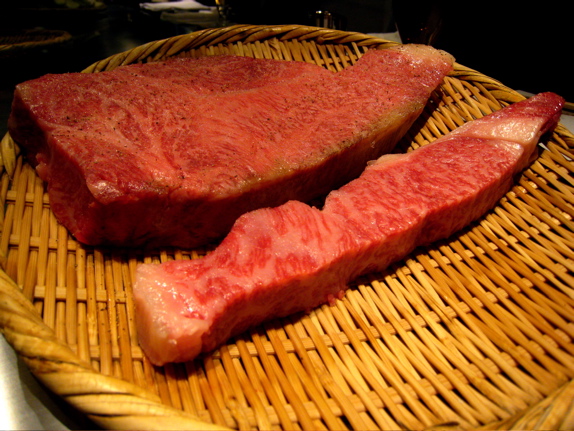 But that was just to look at — for now. And I wasn't the only one who wanted to photograph the beautiful pieces of beef. Iwata-san took a picture with his camera phone.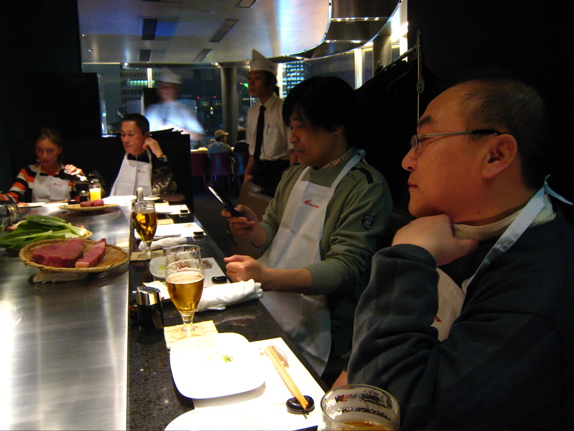 Our first course was this incredible appetizer, which I believe was a cured ham. Mmm…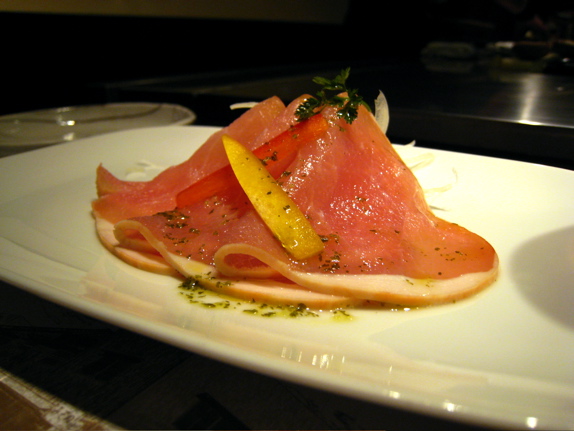 And then something I wouldn't have expected — and would never have thought of trying had I been anywhere else : Kobe beef sashimi. Completely raw, fresh Kobe beef, served just with wasabi and a little dish of soy sauce.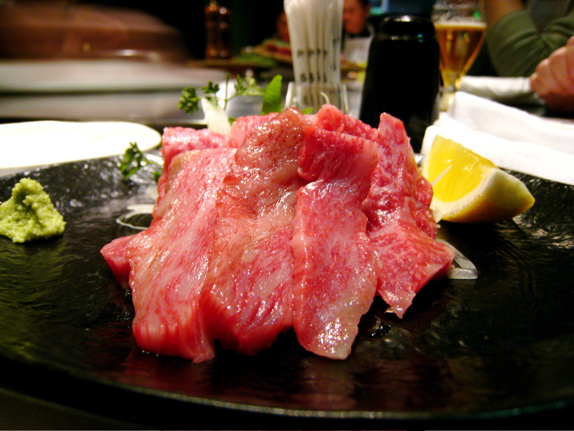 This was the first chance I had to taste it. Oh. My. God. Even served sashimi-style, it melted in my mouth. You'd expect, with all of that marbling, that it would be fatty, but it didn't "read" fatty at all. It had the texture of incredible fish sashimi. And the flavor was amazing. I loved that we were given the opportunity to experience the beef completely pure like this.
Other things were cooked, of course. Here is the onion, mushroom, and Japanese eggplant. I have to say that it was the first time I'd had eggplant and actually liked it.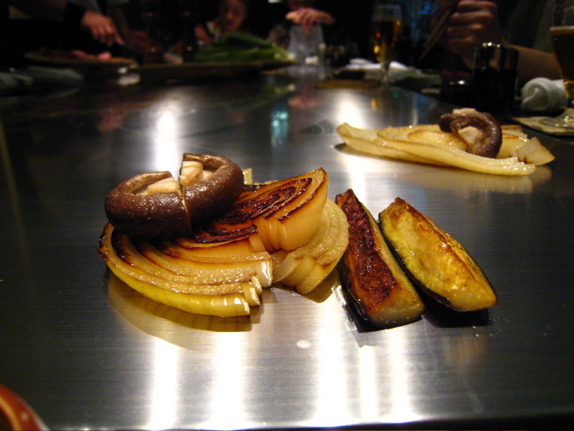 Remember our lovely steaks from the beginning? Here they are, finally cooking — just on sliced garlic. They're cooked not in oil, but only in their own fat, rendered from the previously cooked steaks.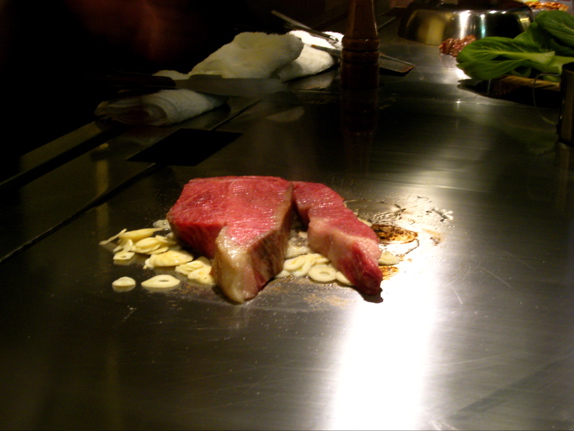 And there was this nice, simple salad.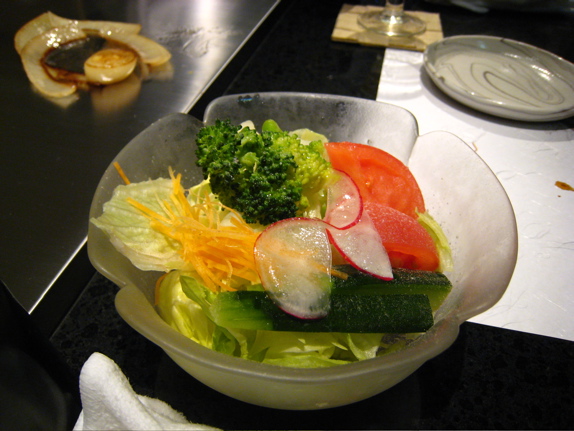 Things are getting going on the steaks now…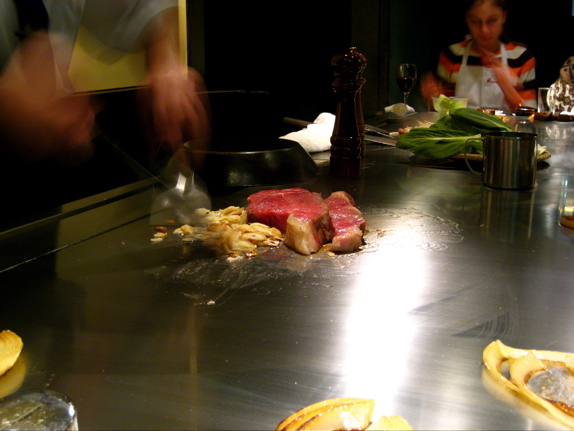 And here was the first serving. (It just kept coming, but the chef only prepared a little at a time so we always had hot steak to eat.)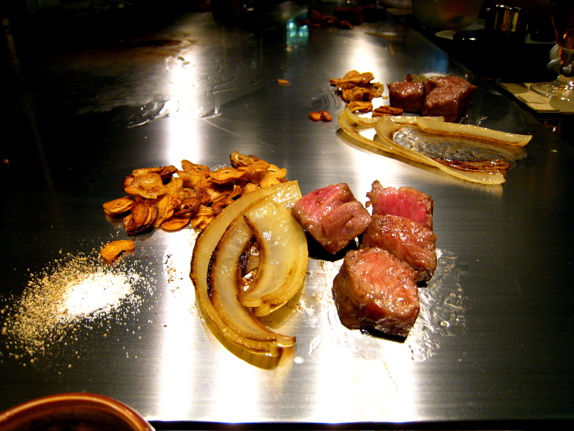 Even the sprouts were incredible. Sprouts! Who the hell loves sprouts?! Not me, normally — but tonight, the secret was that they were cooked in Kobe beef fat. I had thought things were delicious when cooked in bacon fat, but this was worlds beyond that. I've honestly never had such delicious (and rich) vegetables in my life. From now on, I want all of my veggies cooked in the fat of the most prized beef in the world.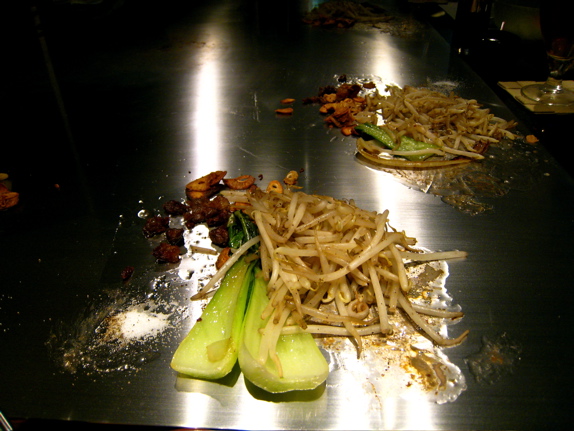 Also cooked in the Kobe beef fat: fried rice. Just simple rice, garlic, and beef flavoring. Good lord, would the deliciousness ever stop?!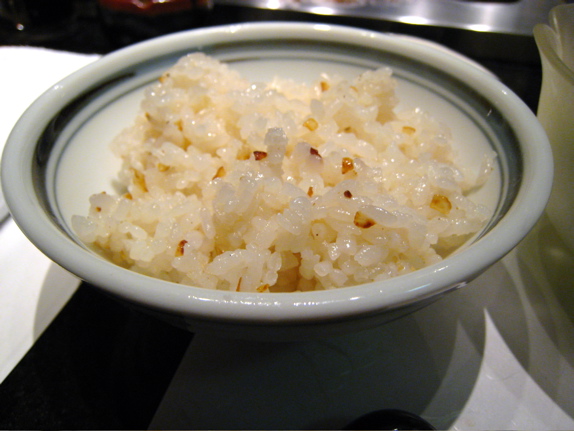 Japanese pickled vegetables.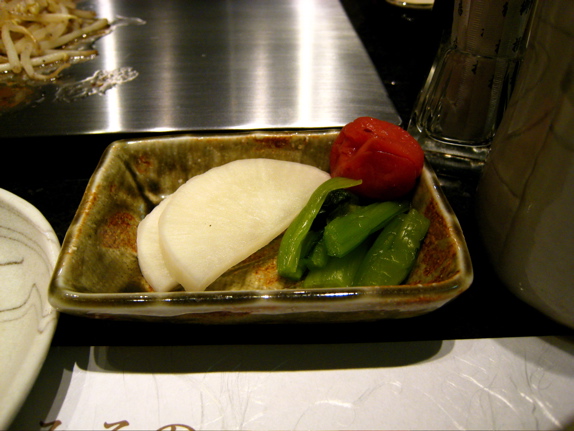 And at last, after two hours of incredibly decadent food, a lovely, light dessert. The raspberry sorbet totally hit the spot after all of that beefy goodness. (Sadly, the other ice cream was simply vanilla — not beef flavored. The only mis-step in an otherwise fantastically beefy meal!)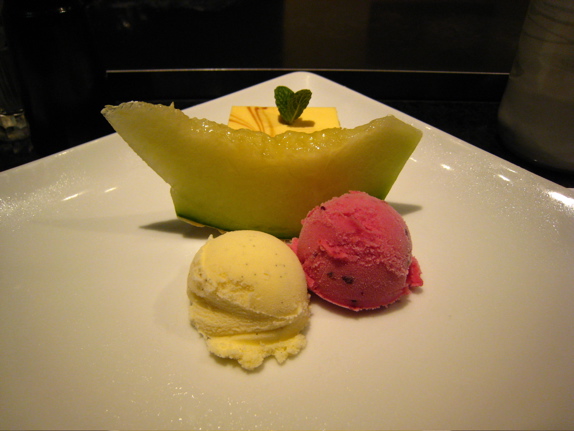 And here I am, back at the train station in Kobe, with two of the kindest people I've ever met — Toshiya Iwata (left — holding an autographed score of "Kingfishers Catch Fire") and Kohtai Yoh (right).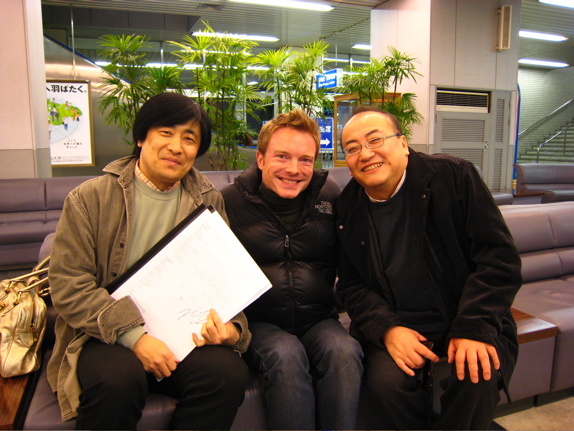 This was one of the most incredible meals of my life. How many people have Kobe beef — in Kobe, Japan, at the steak house that invented the Japanese steak house?!?! I hate the word "blessed" and all of the baggage that goes along with it, but tonight, I sincerely felt blessed. As I've felt every day in Japan, there aren't words to thank Yoh-san — and everybody we've met — for their generosity.
Japan has the loveliest people I've ever met.