May 28, 2009
Kitchen remodel – update 4: Close, but no cigar
The kitchen is moving along at a good clip, particularly considering that we were out of town for 4 days last week, followed immediately by a holiday weekend.  Even losing 6 days for that, we're in good shape for only 4 weeks since demolition.  If we hadn't left town, we'd be damn near done now.  But we aren't.  You'll see…
At the time of our last update, we were about to get floors. Our house is on a slab, so underneath the old ugly tile, there was just concrete. We couldn't walk on that, because we'd be tracking dust all over the rest of the house. We had the entire kitchen blocked with tarp, primarily to keep Loki out of the kitchen and getting construction dust on his paws (and then eating it). Floor installation was pretty friggin' exciting.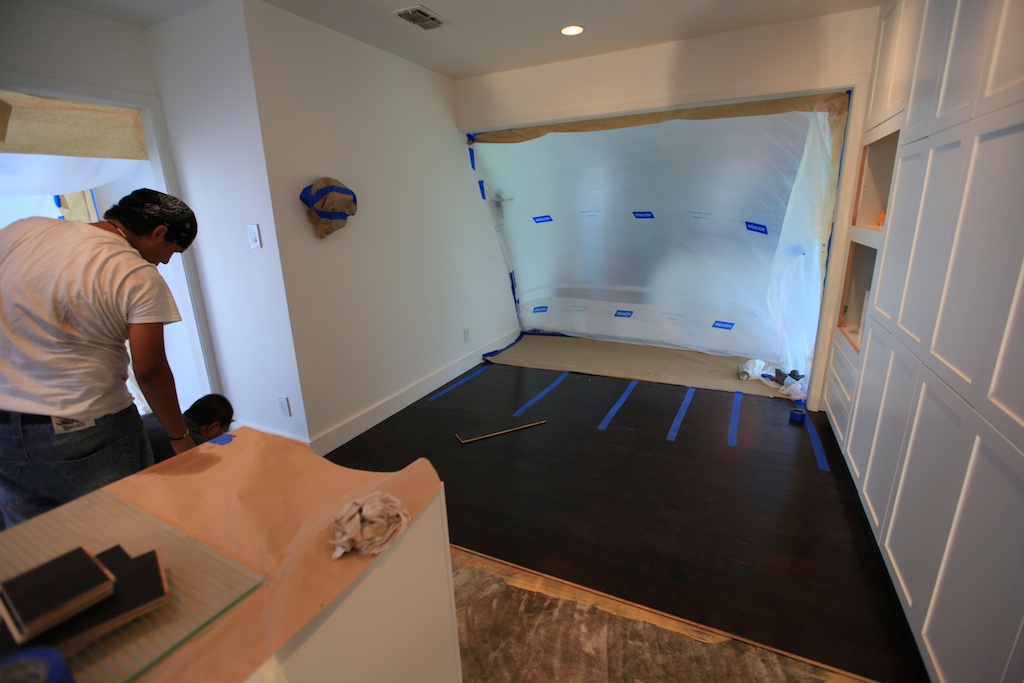 It took two days, but eventually… floors!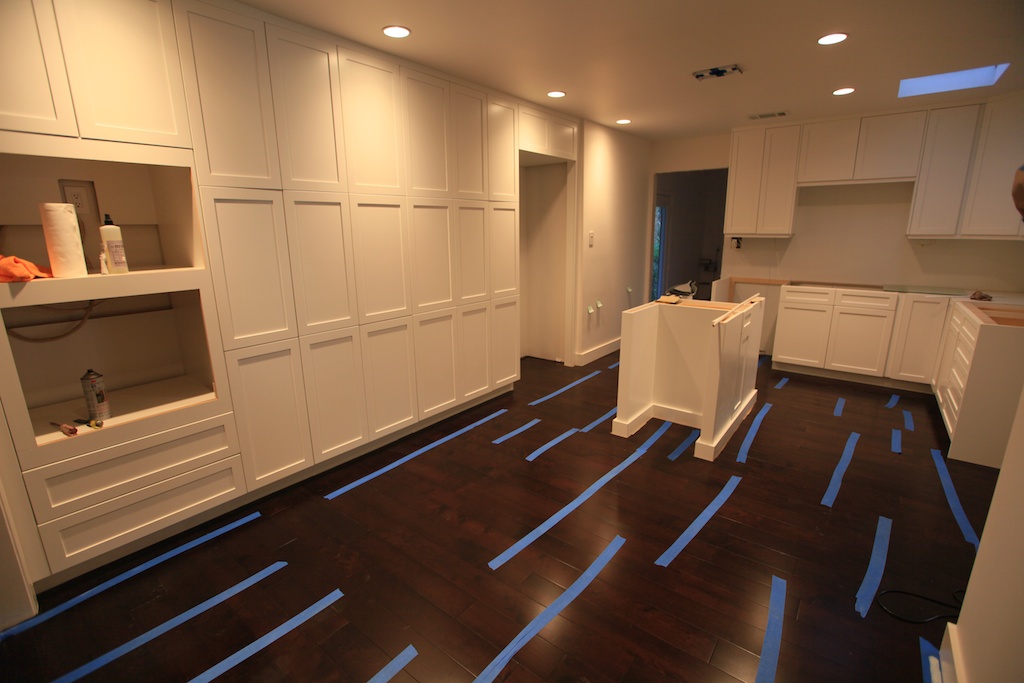 Next up: the countertop installation. I won't say much about these guys, except that they were f-ing idiots. We got double-thick squared-edge quartz countertops, and they'd never installed those before. The installation took 8 hours, they never glued down the counter on the island, they damaged one of our new drawers, they damaged one of our newly-installed thresholds, the didn't seal the sink, and they banged a wall so hard trying to get their countertop to fit that they knocked one of our new doors — the door to the garage — out of square, so that will have to be rehung. And did I mention that the countertop still doesn't fit perfectly? Absolute crap, these guys at Renaissance Stoneworks in Austin. If you ever get a chance to use them, run. That was a shitty day.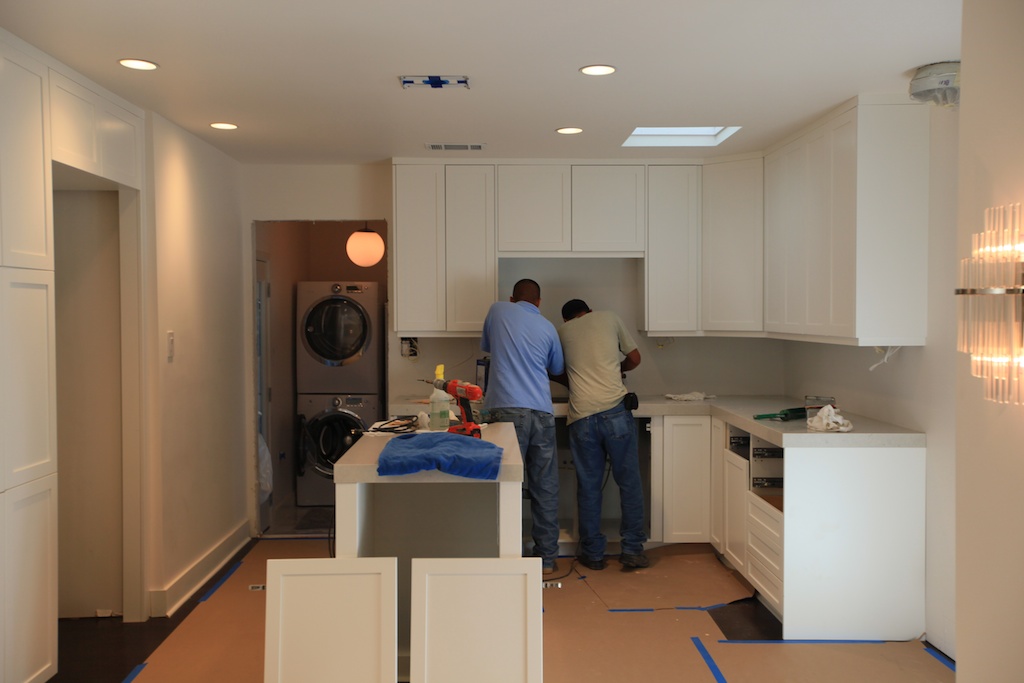 Then we left town. When we got back, I spent a few days sick. (Are we getting too old for marathon NYC trips? Maybe.) But then, on Tuesday morning, the appliances arrived! Here's the new refrigerator, boxed, in front of our old refrigerator.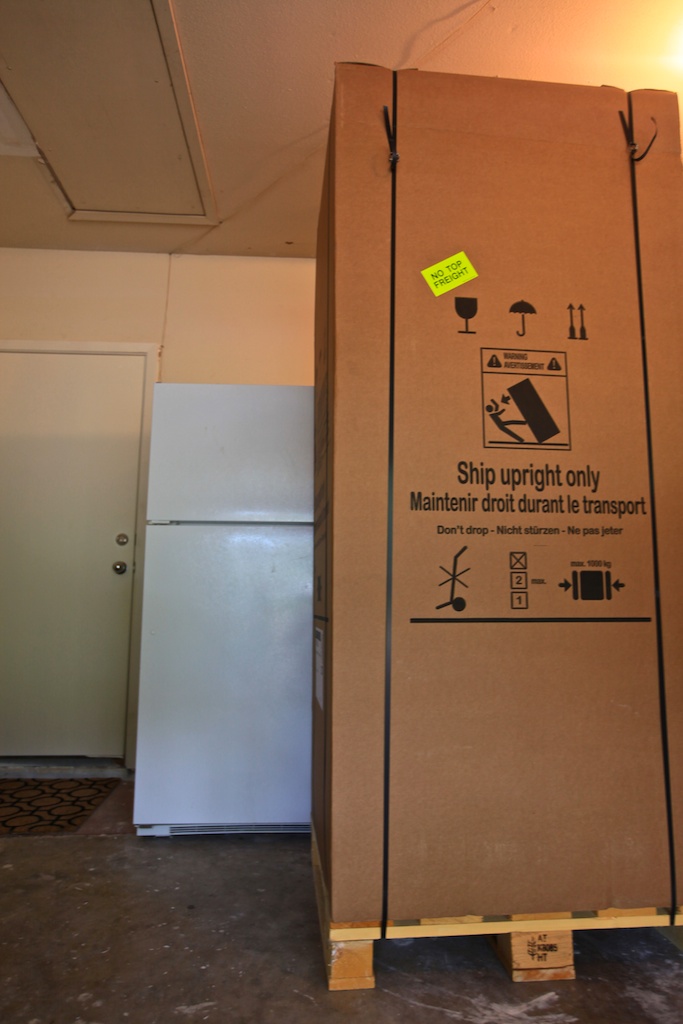 Appliance day was a fun day. They delivered the appliances at 8am, but the installation didn't start until around 3:30, so that gave me lots of time to look at the big boxes.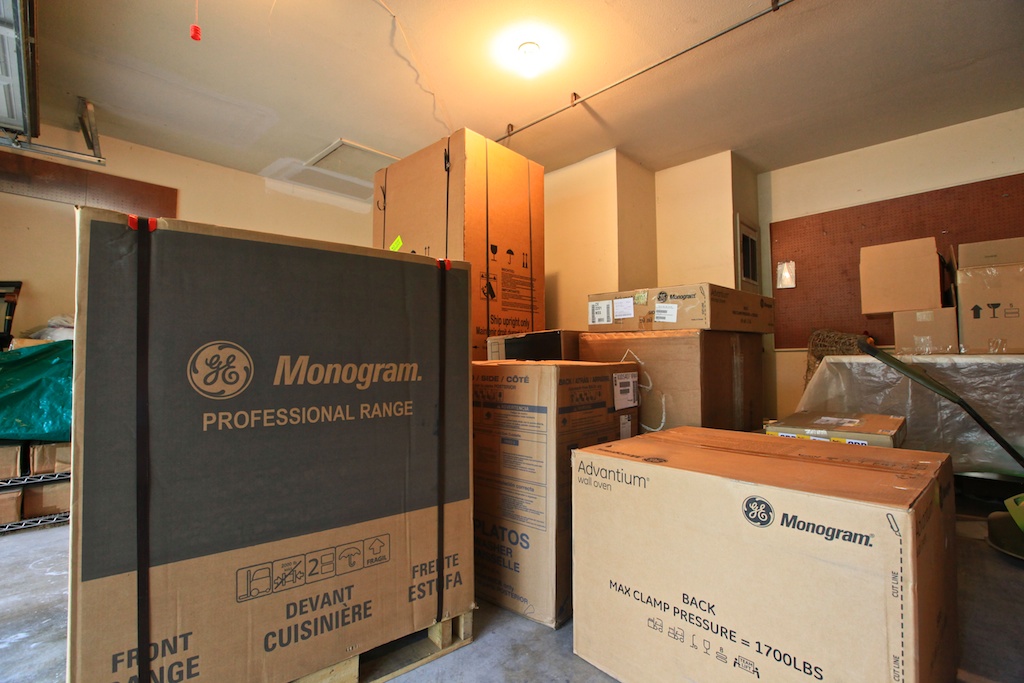 The Prius seemed to be a little jealous of the new refrigerator. Stop trying to sneak up on the fridge, Prius. Japanese cars and German refrigerators should be allies! Just think what Germany and Japan can accomplish when you work together!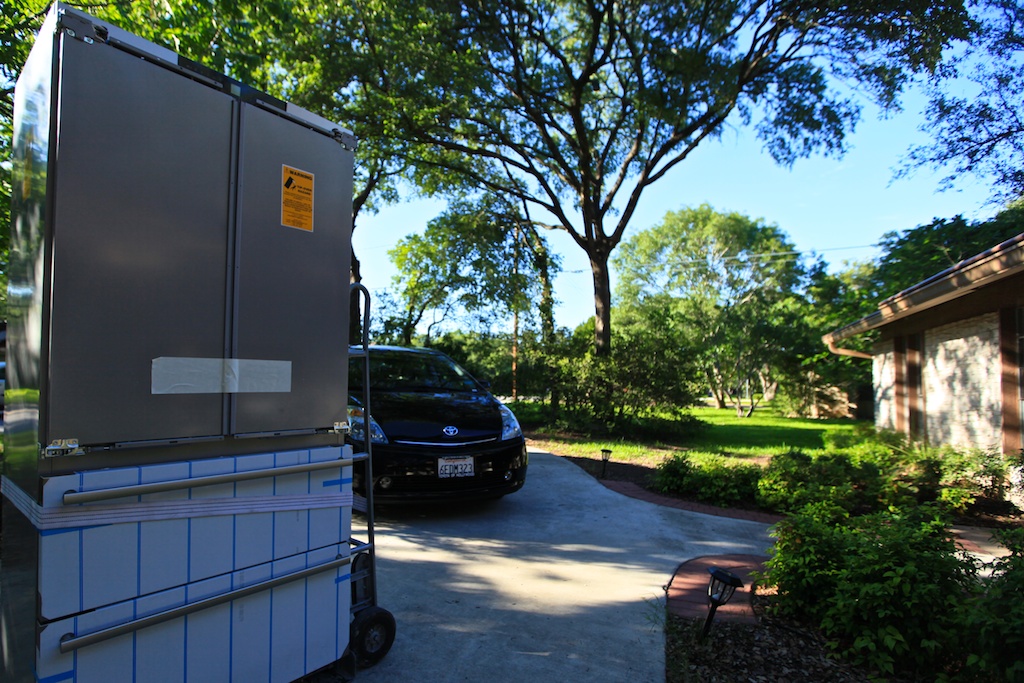 The installers — who were great — worked straight until 10pm. They encountered some problems along the way, but for the most part, they made things work. Unfortunately, we received the wrong trim kit for the coffee machine, so that's not fully installed yet, and we didn't receive the trim kit that goes above the range hood, so that couldn't be installed at all. As a result, the kitchen is in this very weird state, where it almost looks great — until you look closely. It's sooooo not done yet. Here are some examples…
The refrigerator (minus the not-yet-installed wood trim piece that goes at the top) looks pretty great, and it's awfully nice to have a working refrigerator inside the house again.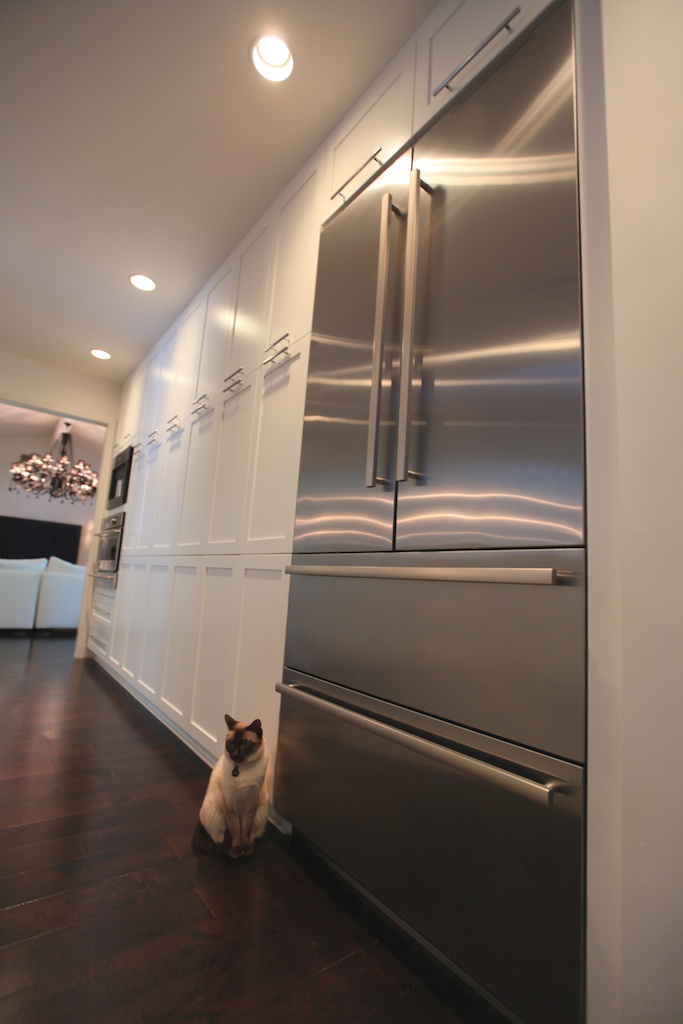 But make your way down that same wall, and you come to the coffee maker. Looks pretty nice from one angle…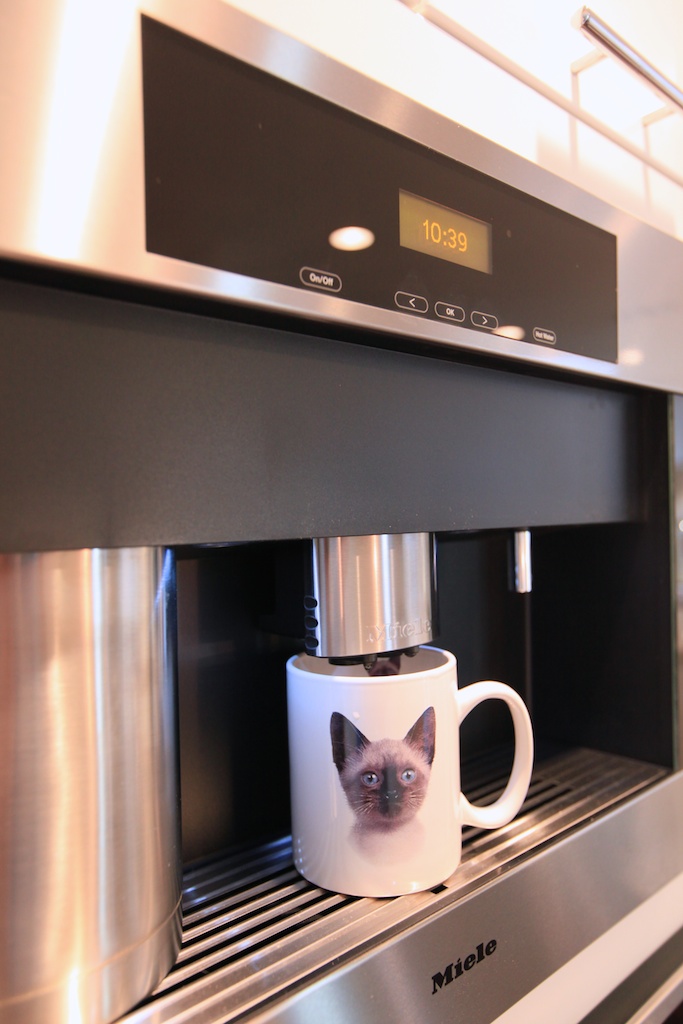 … but not so much from another angle. That trim kit will help quite a bit.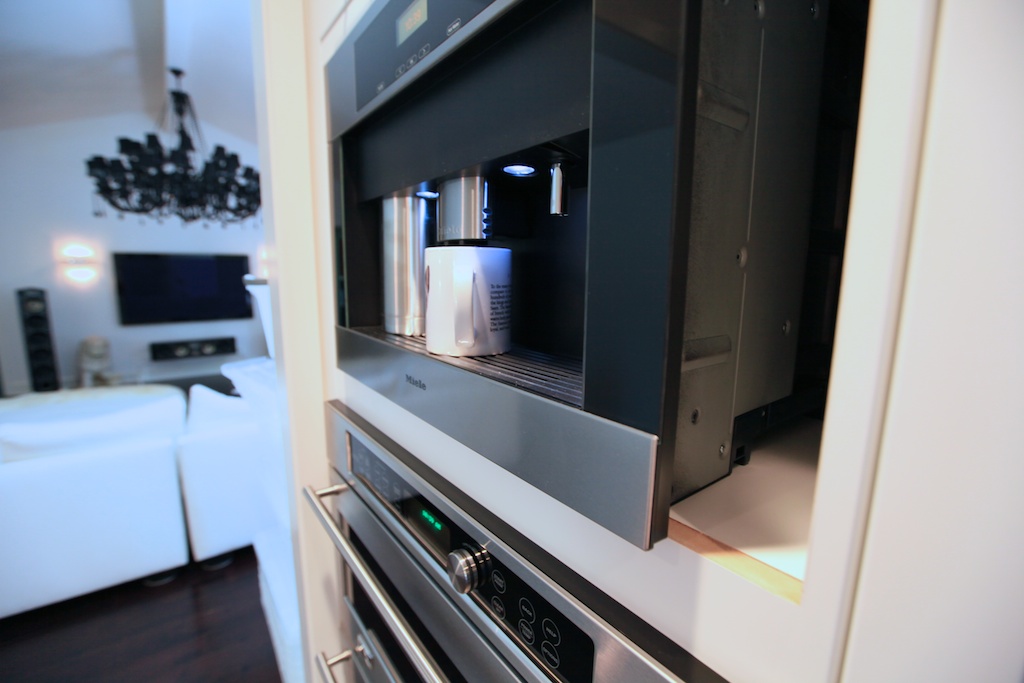 The range in sweet. 36-inch dual fuel with 18000 BTU burners. I don't know what that means, but whatever — it sounds fancy.  Totally the real deal, and it looks fantastic.  From this angle.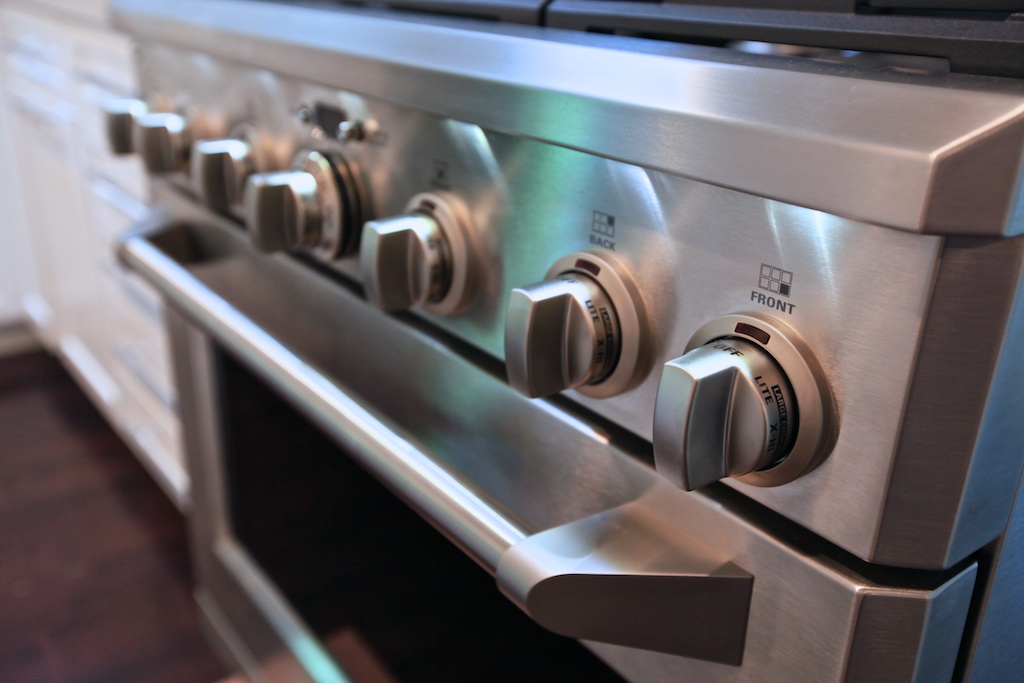 Step back a bit, though, and you see the truth. It's on sheets of masonite because they're going to have to pull it away from the wall again when they install the hood vent, which they can't do until that piece of trim arrives. That means we also currently have a big electrical wire sticking out of the wall for the vent, and a 10″ vent duct covered with a piece of plastic.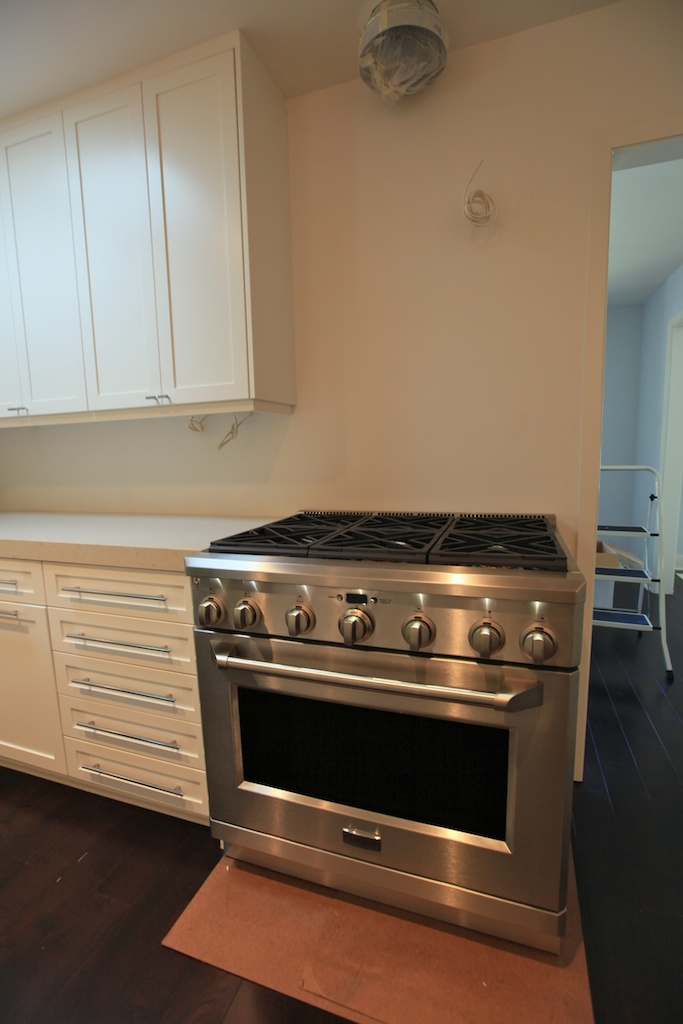 The super deep sink and faucet are definitely pretty, and they work great. But there's no backsplash yet…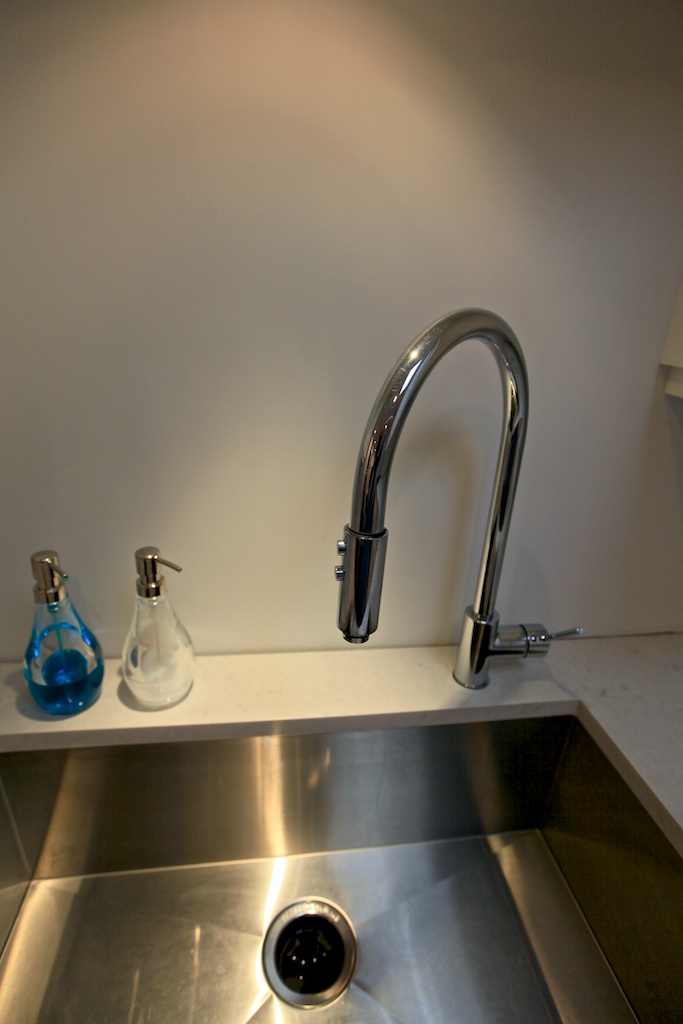 … and if you step 4 feet to the left, you see this. Exposed wiring, and the inside of a wall where there will eventually be a door.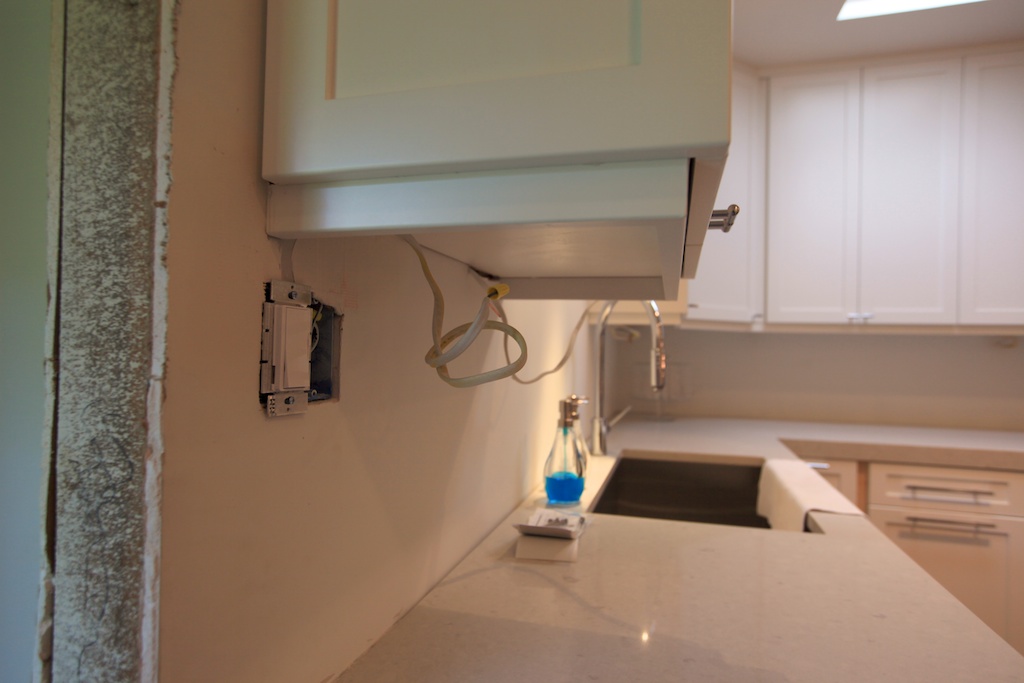 The island is looking pretty great…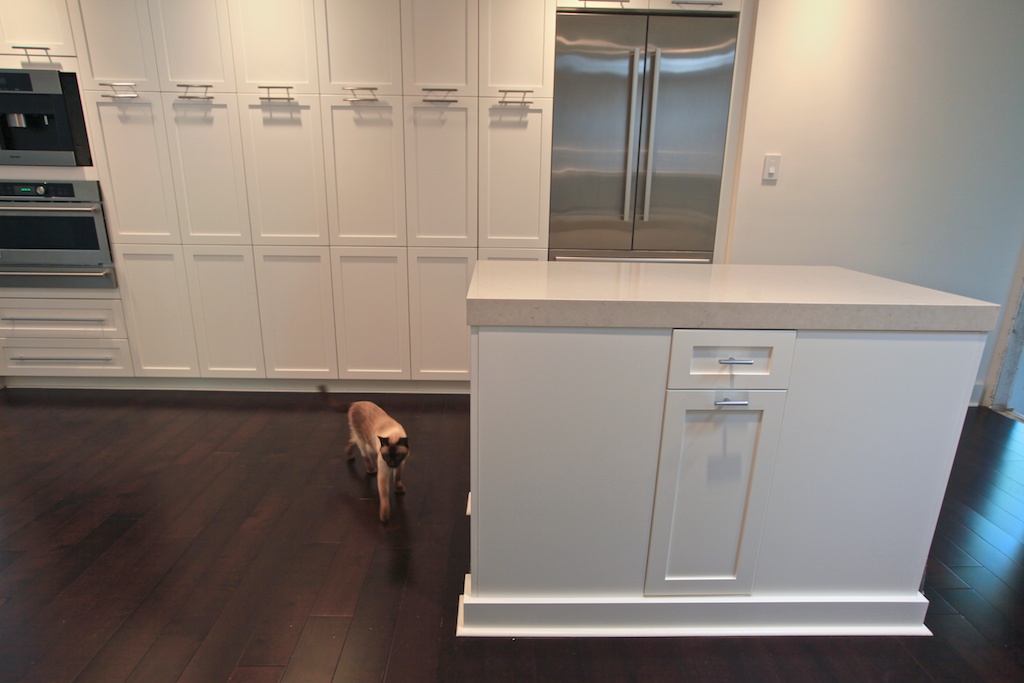 … but we haven't finished the stools that go underneath. AEJ found a place in Pflugerville that will sandblast these and then we'll have them powdercoated in a custom, shiny color. She thought that industrial stools, painted in a custom gloss would look pretty cool. I'm positive she's right (good lord, look at what she's done with the rest of the kitchen, and the rest of the house), but it's another small detail that isn't quite there yet.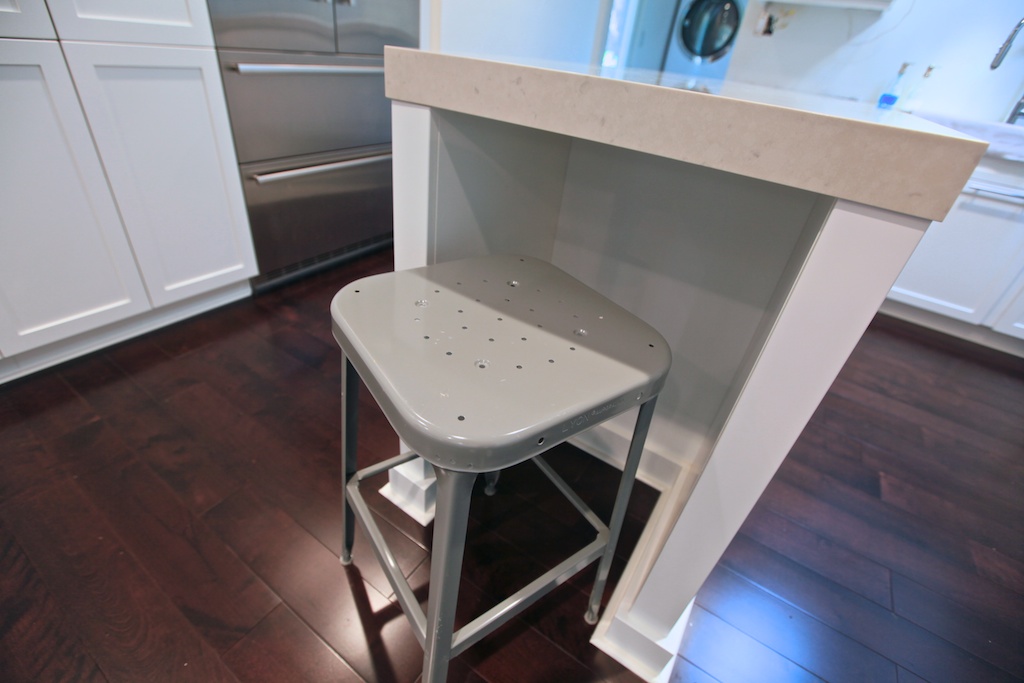 The kitchen already has some spectacular lighting…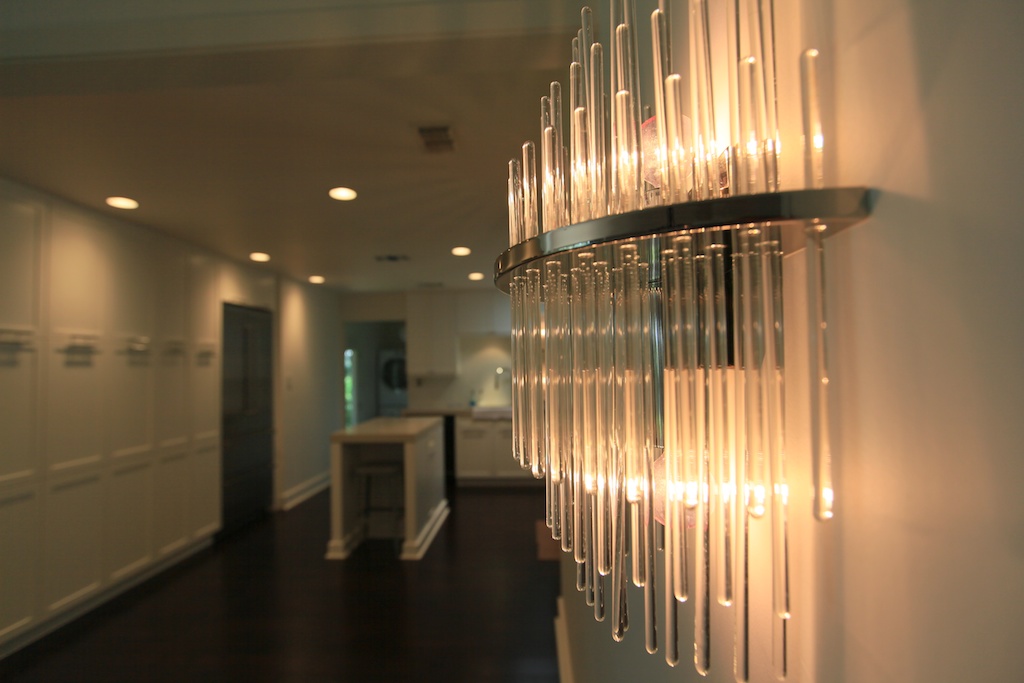 … but it isn't all in yet.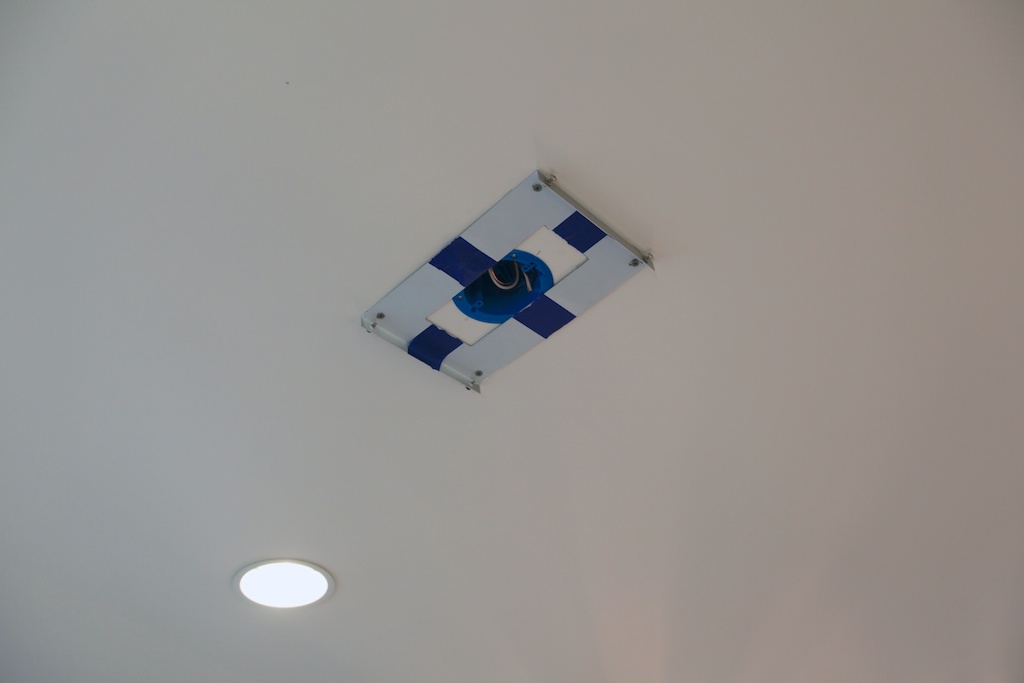 Eventually, all of the cabinets and drawers will match…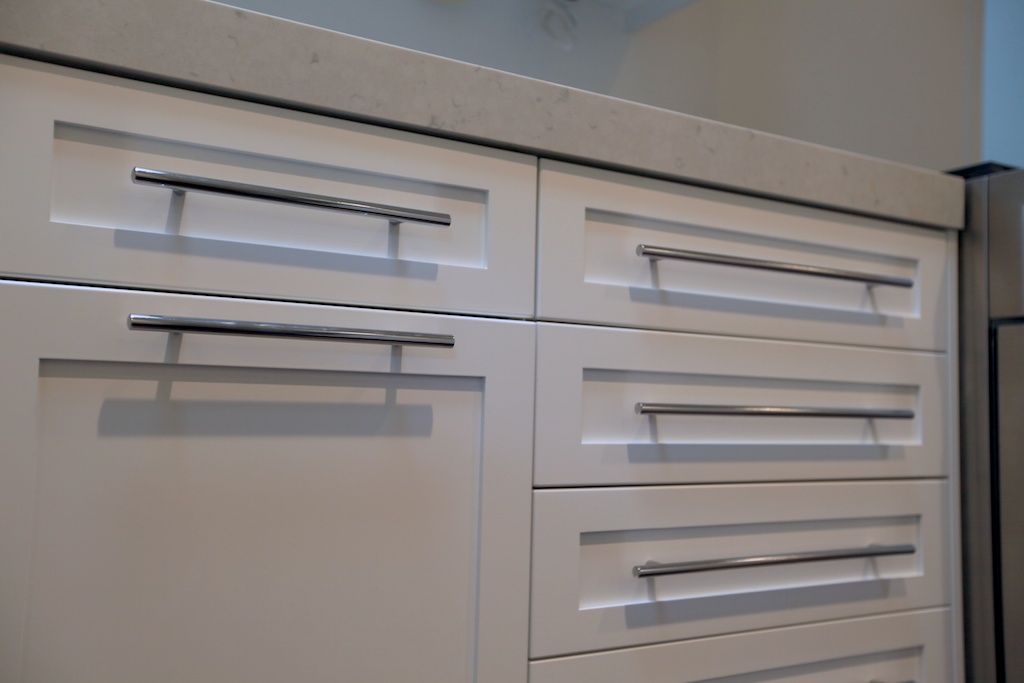 … but we don't have the custom panel for the dishwasher yet, so it looks instead like we made the very edgy decision to have a solid black dishwasher in an otherwise completely white kitchen.  At least we have a working dishwasher, although opening it without a true handle is kind of a bitch.  We have to put on rubber gloves to get enough friction.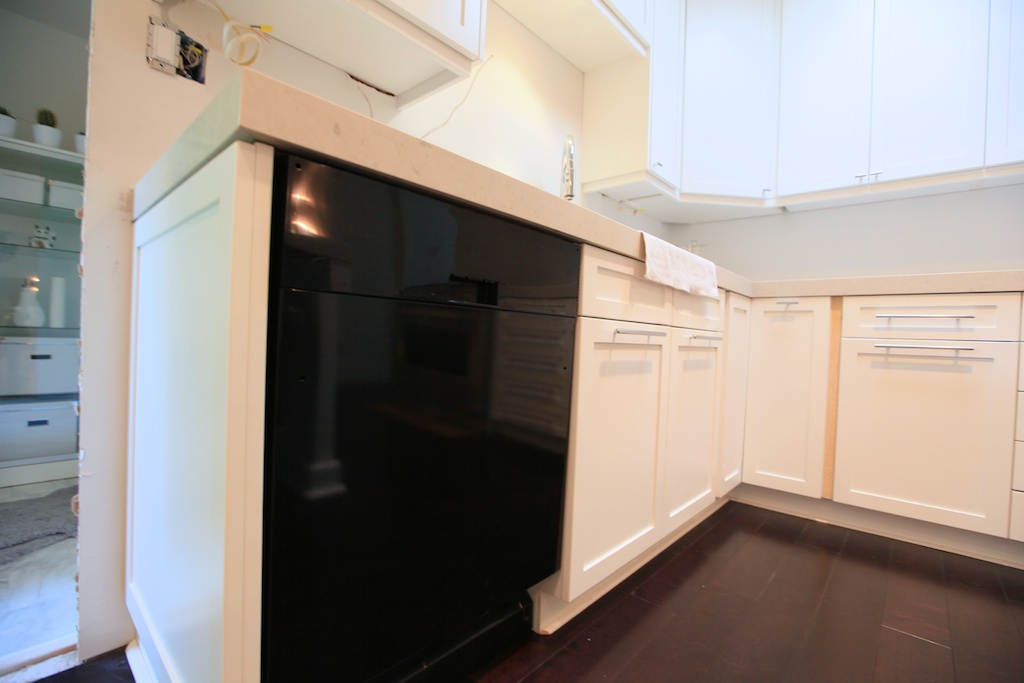 I hope I don't sound like I'm complaining, because I couldn't be more excited about the state of the kitchen right now. It's infinitely nicer than any kitchen I've ever used, even with all of these things left to do. Now the frustration is just being sooooo close to being completely done. I'm sure it makes AEJ crazy when people see it right now. It's like when I play somebody a not-quite-final draft of a piece, and the whole time I'm saying, "oh, that'll change… and that'll be like that… and I'm totally going to fix that part, too." The kitchen works now, so it's kind of like there's something happening in every measure, but there's still some pretty rockin' orchestration yet to come.  (I realized that's lame, but this is supposed to be a music blog, after all.)  I mean, in 4 weeks, we've gone from this…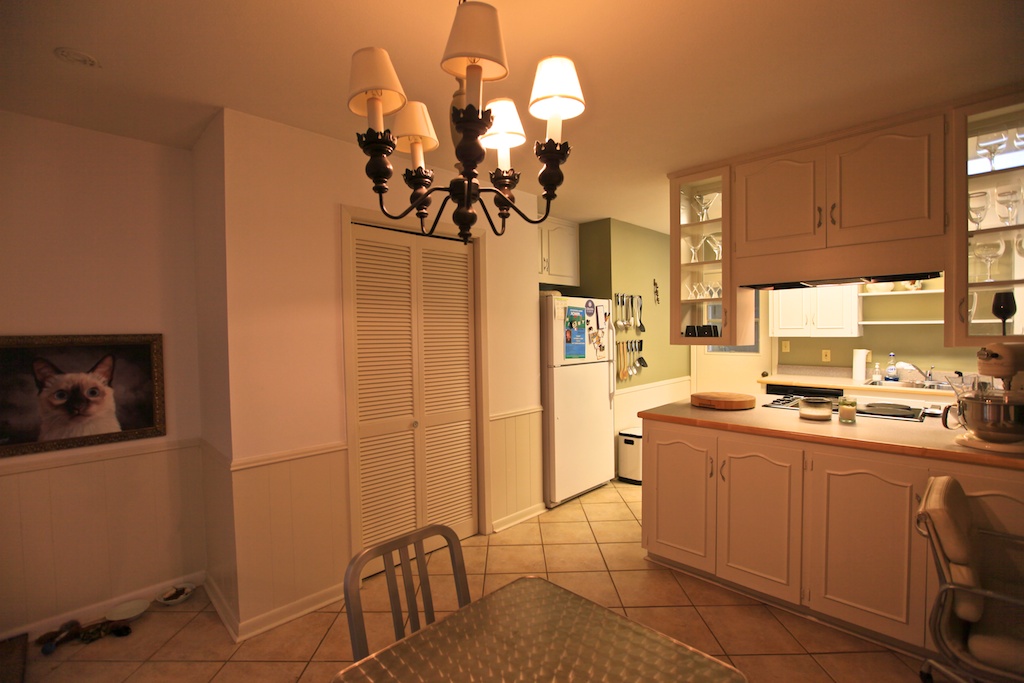 … to this.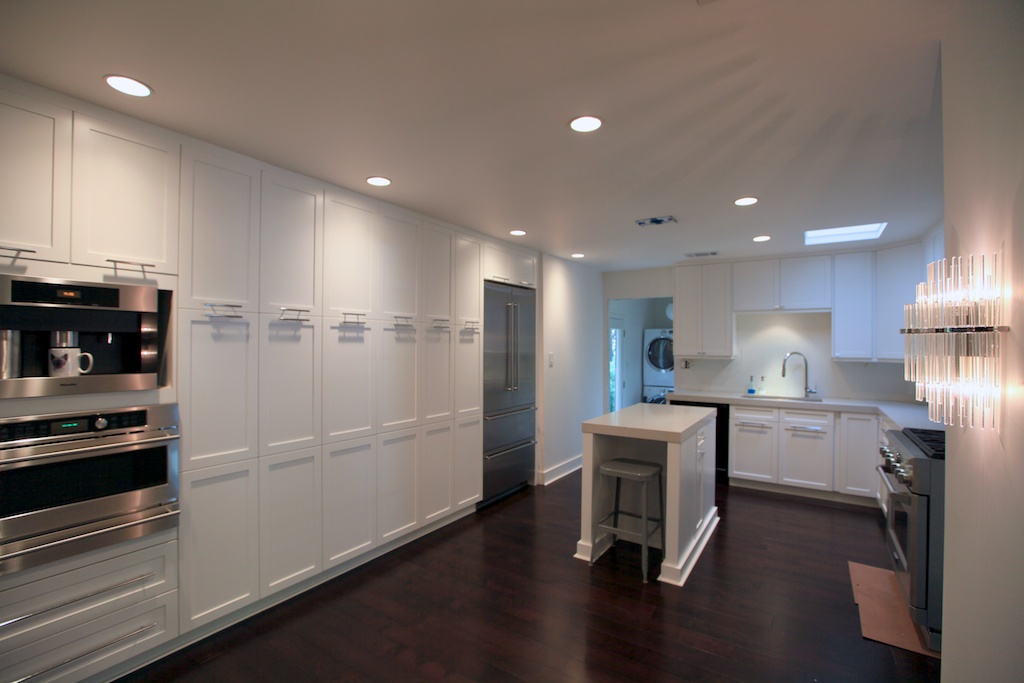 But I think the next update will be worth the wait.