September 23, 2013
We're buying a house!
As of this afternoon – roughly 2 minutes ago! – we're in contract on a new house here in Cambridge! Okay, not new. Not new at all. It's 127 years old. It needs all of the work. ALL of it. But when it's done, man alive, it's going to be amazing. Please excuse the resolution of these pictures.  I haven't been in the house with my camera yet, so these pics are all from the listing.  Here's the outside: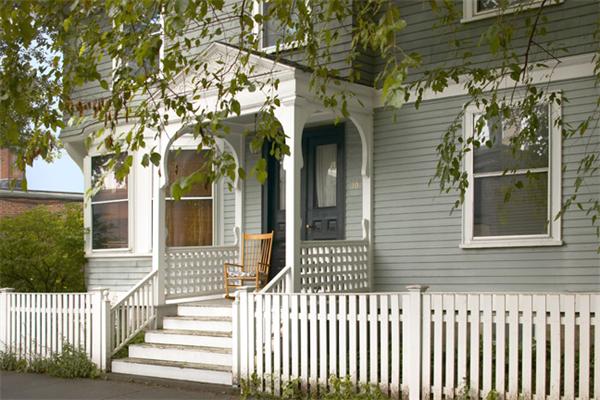 Here's the description from the listing:
Handsome gabled Victorian with cutaway bays in sought-after Radcliffe neighborhood. This significant house, with (a bunch of) square feet of living space on 3 floors, plus finished space in lower level, has an abundance of uniquely beautiful features: two sets of 8 ft high double doors with beveled glass lead into the foyer with ceilings adorned by acanthus leaves, English oak paneling, built-in seating, built-in hat rack with mirror and umbrella stand; quarter-sawn oak flooring and beautifully turned spindles on the staircase; exquisite detail on the FP mantels, tiles and surrounds; and 3 sets of working pocket doors. There is a large cook's kitchen with gas stove, vented hood and island, which can be opened to the light-filled adjoining morning room, as well as (a bunch of) bedrooms, (several) baths, several flex rooms, an enclosed porch off the kitchen, and finished rooms in the lower level. Two-car garage, plus double driveway. Near Harvard Square, the Law School, the T and all amenities.
Doesn't that sound amazing?! Well, most of it does, at least. I changed the listing's number of bedrooms and bathrooms because when we're done, those numbers will be different. (There will be fewer bedrooms. This place used to be owned by a bunch of Jesuit priests, and it currently has more bedrooms than my uncle had fingers after the factory accident.) And do we really need a double driveway? No. We have one car, and we rarely drive that, so we're going to narrow the driveway and increase the amount of lawn.
So, what's the inside look like right now? Here's the view when you walk through the front door.  The ceilings on this floor are a little over 9 feet.  They're 10 feet on the second floor, and about 8 feet on the top floor.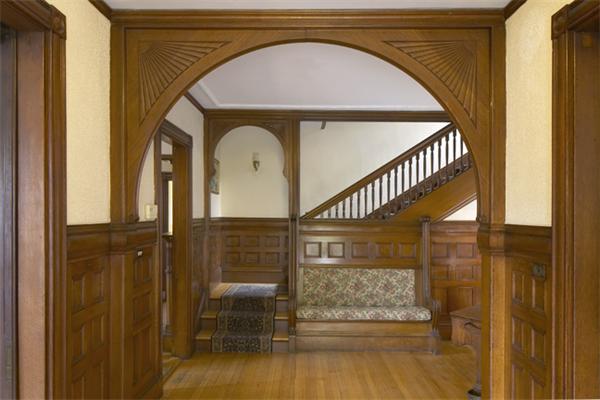 Holy crap! There's a friggin' seat by the stairs, so if I'm like "whoa, I am way too tired to make it up the stairs right now," I can sit down and rest. Or, I could sit there and stare at people as they walk through the front door.  But we're reupholstering that thing.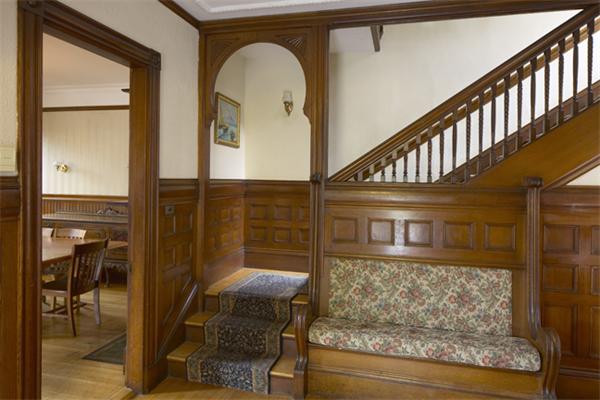 This is one of the parlors. (There's another one across the foyer, and that's where I'll put my piano and studio.) In the negative column: radiators. We'll be replacing those ducted central air and heat.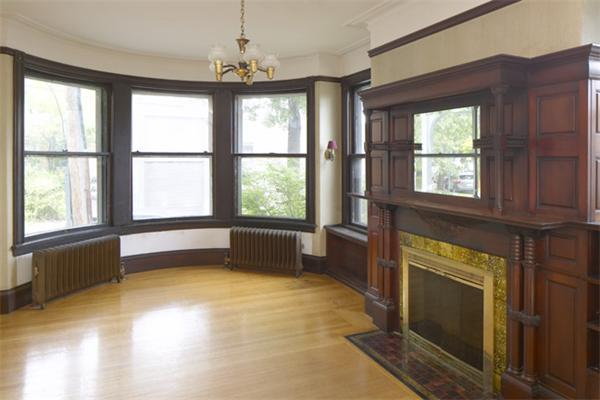 But in the positive column..  Holy hell, look at the detail on this fireplace! 127 years old, and nobody has messed it up yet!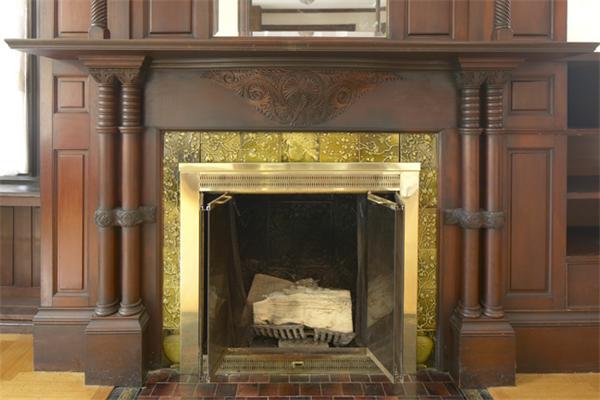 Here's the dining room, currently with a table big enough for a dozen Jesuit priests.  (Did I mention that there used to be a chapel in the basement?)  The stained glass in pretty crazy.  I'm all for wainscoting, but there is a bit too much brown in this room right now.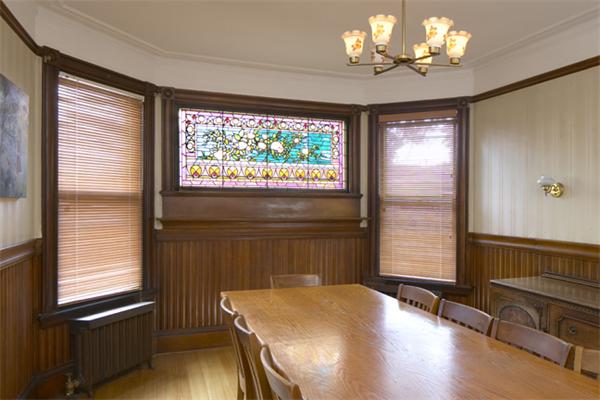 Here's the dining room's fireplace, looking out into the foyer. On the right of the foyer is that little built-in mirror and hat rack. I told AEJ that I was excited to hang all of my baseball hats there.  (GO SOX!!!) She told me that I could only hang top hats there, so I'm currently shopping for top hats.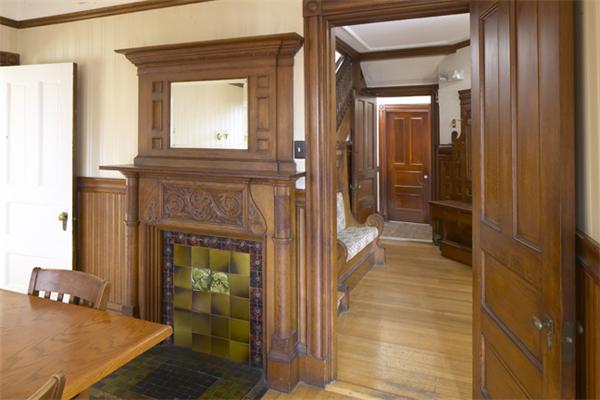 This is a detail shot of the dining room fireplace. Look at the happy couple!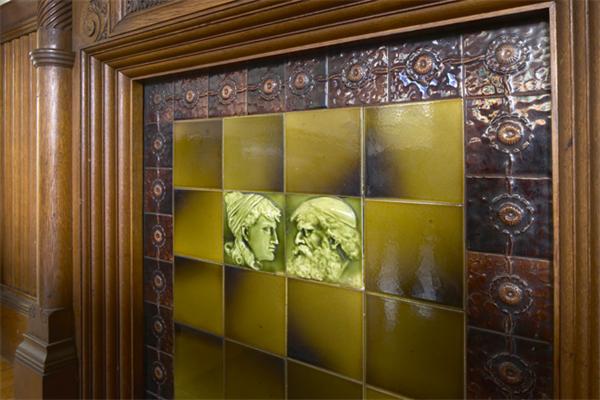 Here are the stairs on the second floor – and more stained glass.  But also: emergency lights.  It's good the priests were safe if the power went out, but we'll be removing the emergency lights.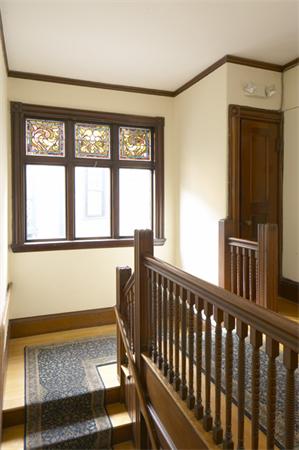 And this is the master bedroom. It's not much of a master yet, because there's no big closet and no attached bathroom, but we're going to change that.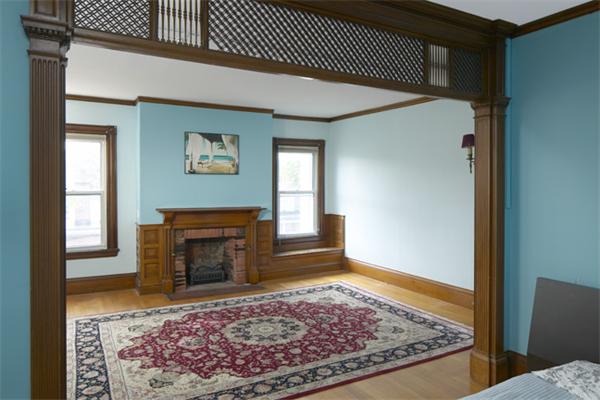 Then there's the kitchen. Sigh. Ugly cabinets that don't go to the ceiling. An island with seven sides. (Septagons are my favorite shape!)  Purple laminate countertops. An overmount sink. Bummer flooring. An unfortunate chandelier.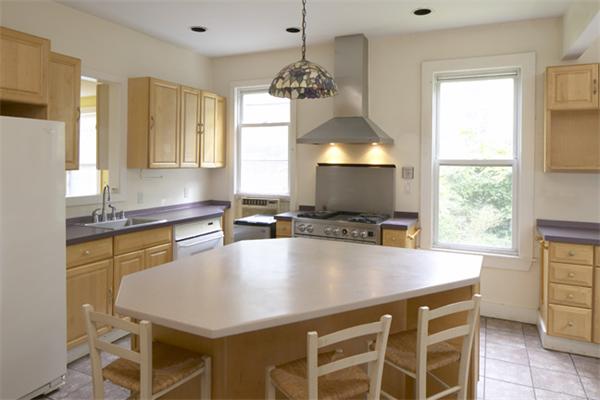 But we started with a worse kitchen at our last house in Austin, and when we were done, it looked like this: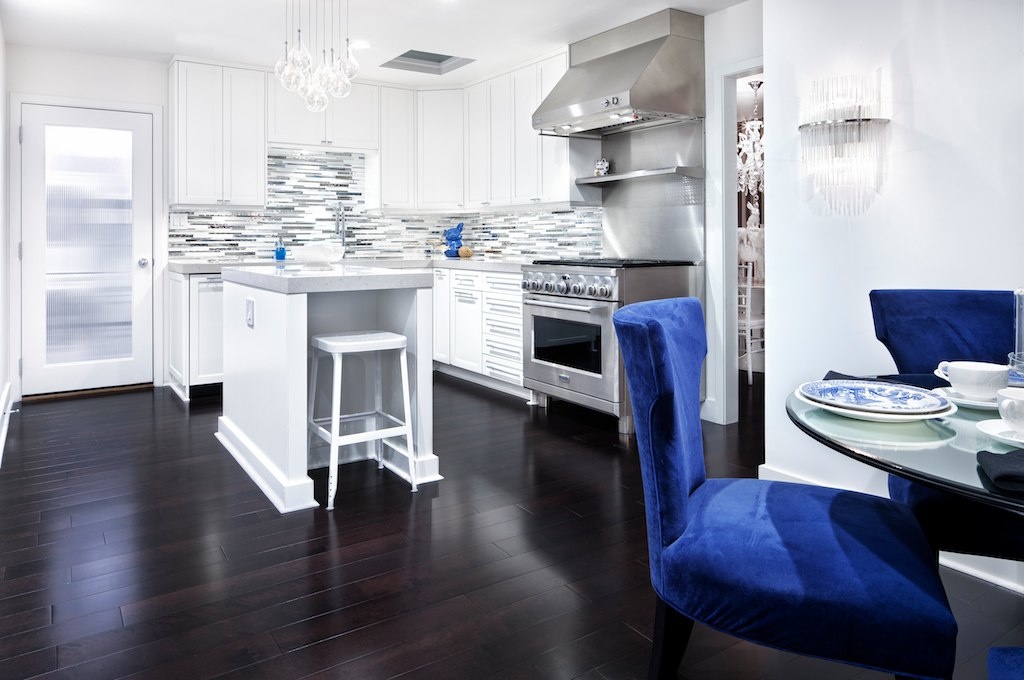 This place is going to be a project for years. We have to remove asbestos, replace the wiring, install a forced air furnace and central air conditioning (and do it without damaging the original trim woodwork), repair damaged wood on the outside of the house – and that's before we even start to consider the fun stuff, like the redesign of the kitchen (you would not believe what AEJ has planned – it is INCREDIBLE), new bathrooms, and on, and on. I'll post pictures throughout the process. We're excited. But please send money.