October 27, 2012
UT-Austin, part 1
I lived in Austin for three years – from August 2008 until June 2011 – and loved my time there *. We made a lot of good friends, ate a lot of good food, and gut-remodeled a house.  (Pictures of that finished product are here.)  We moved to Cambridge, Mass, last summer, and I hadn't been back to Austin until last week.  I was a guest of the University of Texas for five days, and it was a jam-packed trip that I can't fit into a single blog post, so this will be part 1.  Or: "UT Austin, Part 1: Sporty Day."  (And when you think "John Mackey," you really should think, "sporty.")
* not all time in Austin was loved. Any time spent outdoors between March and November: not loved.
It was Saturday, and most Saturdays during the fall in Texas are Game Day. This was a big one, with UT hosting Baylor. Fortunately, it was a night game. (Seriously, there's no humane reason to have a day game in Texas, ever. Even for this night game in October, it was 82 degrees when the game started. Have you seen my hair? I have bangs. You know what doesn't work well with bangs? Sweat. You know what happens when you take somebody who has been living in 54-degree-in-October New England and stick them in 84 degree, humid weather? THE BANGS GET SWEATY AND NASTY. Not cool, Texas. Literally not cool.)
Sorry. Had to get that out of the way.
So, it was a night game, leaving the morning free for other activities like… golf! I've never played golf on a course that didn't include a miniature windmill, but I went along as a spectator (which is both less stressful, and much, much cheaper) while Jerry Junkin (UT Director of Bands) and Steve Davis (UMKC Director of Bands, visiting for UT's concert) hit balls.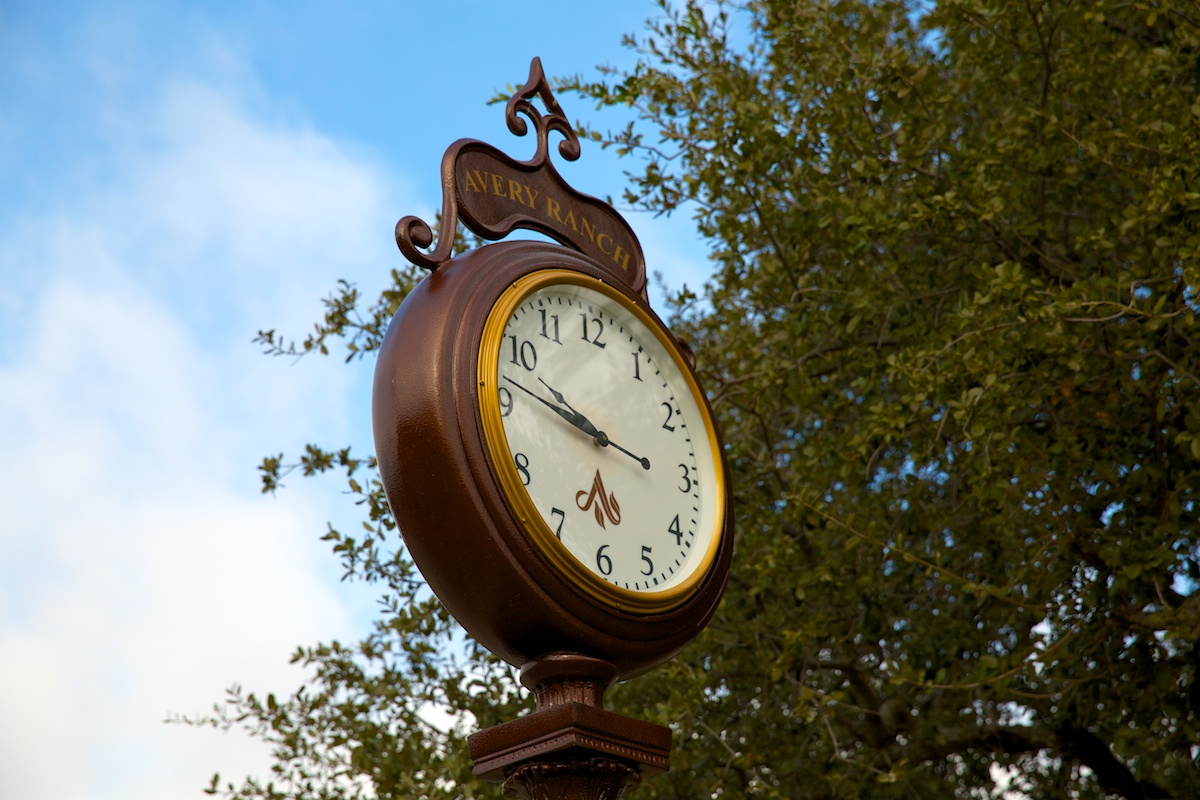 Fore! (Turns out nobody actually yells that in real life, and if you do, people get annoyed – especially if you yell it as a spectator while somebody is in mid-swing.)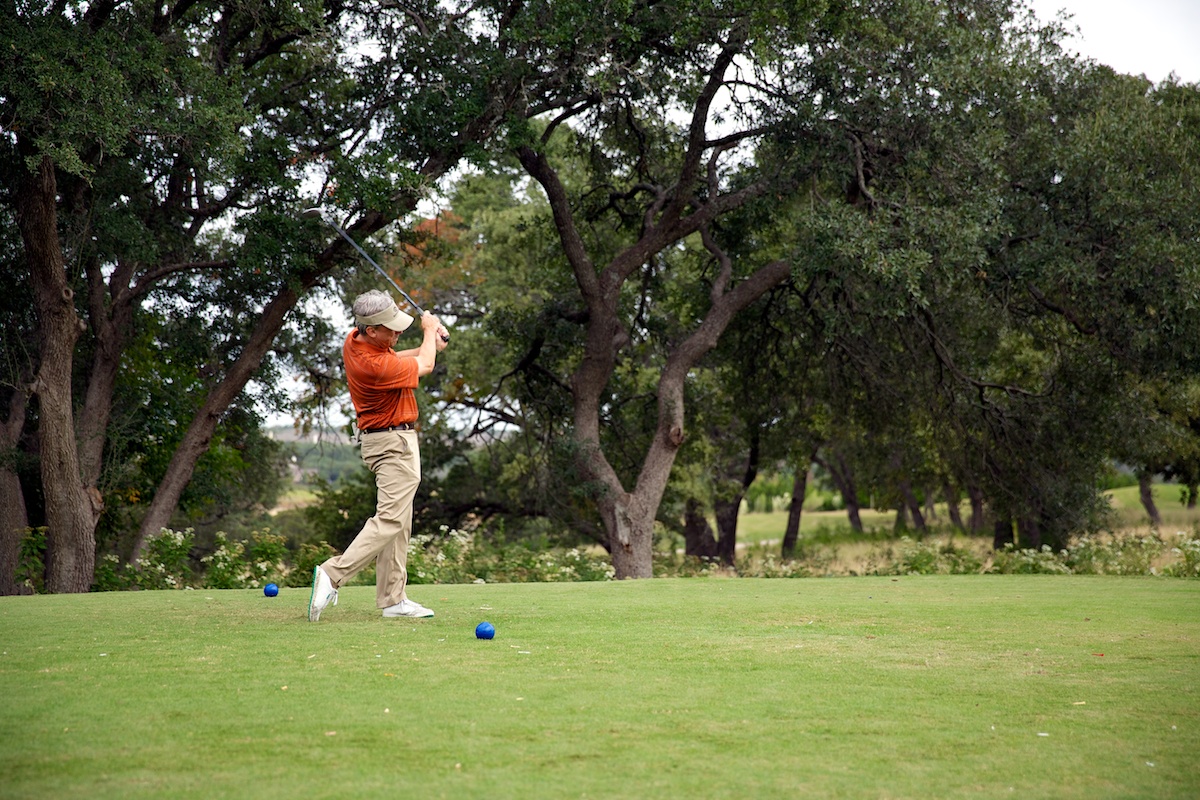 My favorite part about golf: the Golf Course Critters! (Why is there no cartoon called "Golf Course Critters," about animals who live and play on an exclusive golf course? There must be an audience for that. Or even "Jack Hanna's Golf Course Critters." I'd totally watch that. "Mitt Romney's Golf Course Critters" : somehow less cute.)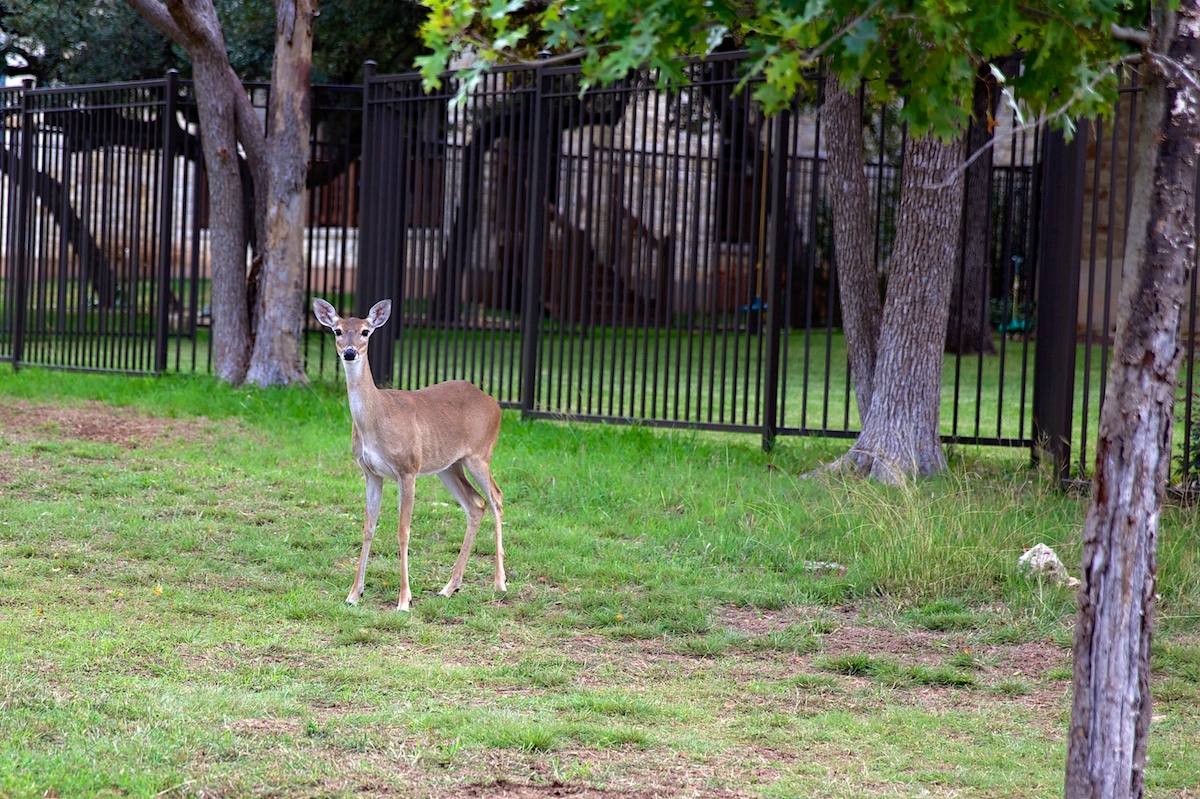 He looks so perfect, you might think he was stuffed, but no, this buck is actually alive.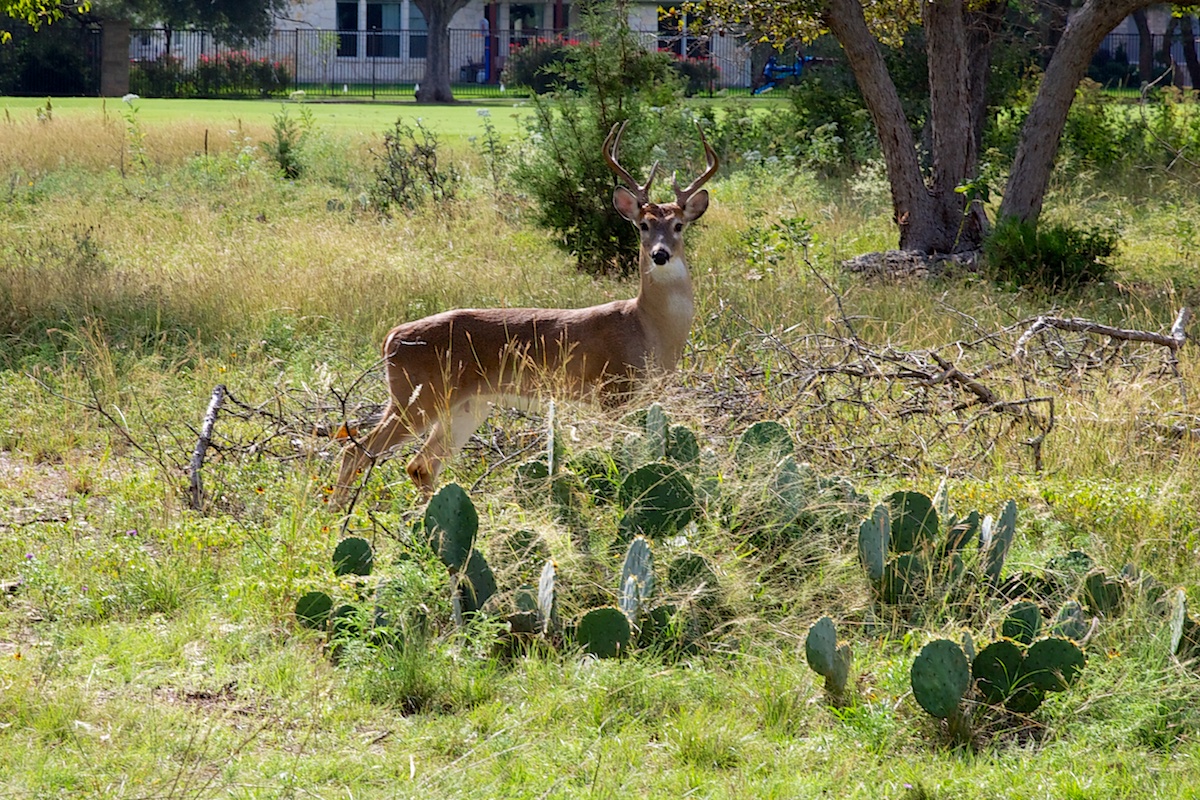 A river rat (AKA a coypu or nutria). I want him for a pet! Loki would love him! Loki could chase the nutria's thick, juicy, nasty tail!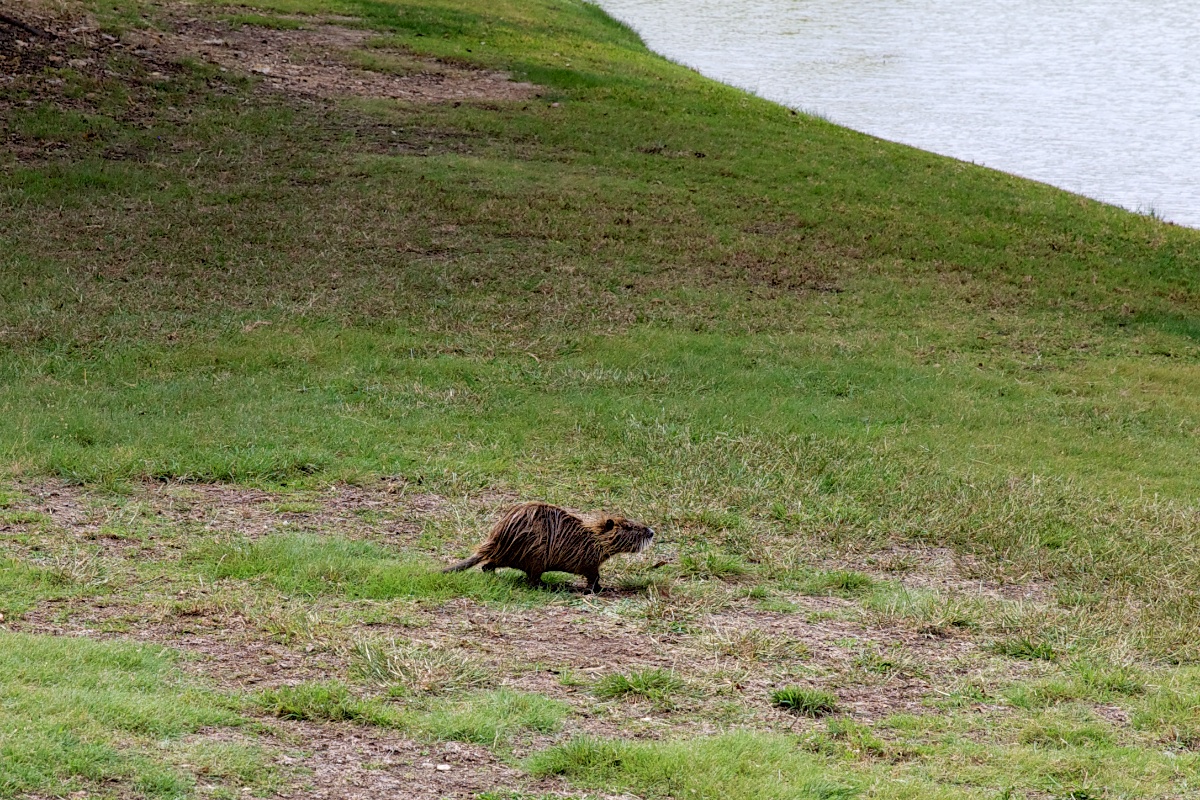 Later that day — off to campus! I traded in my hybrid for this huge truck, just for the game.  (Few people know that my nickname is "Gommy.")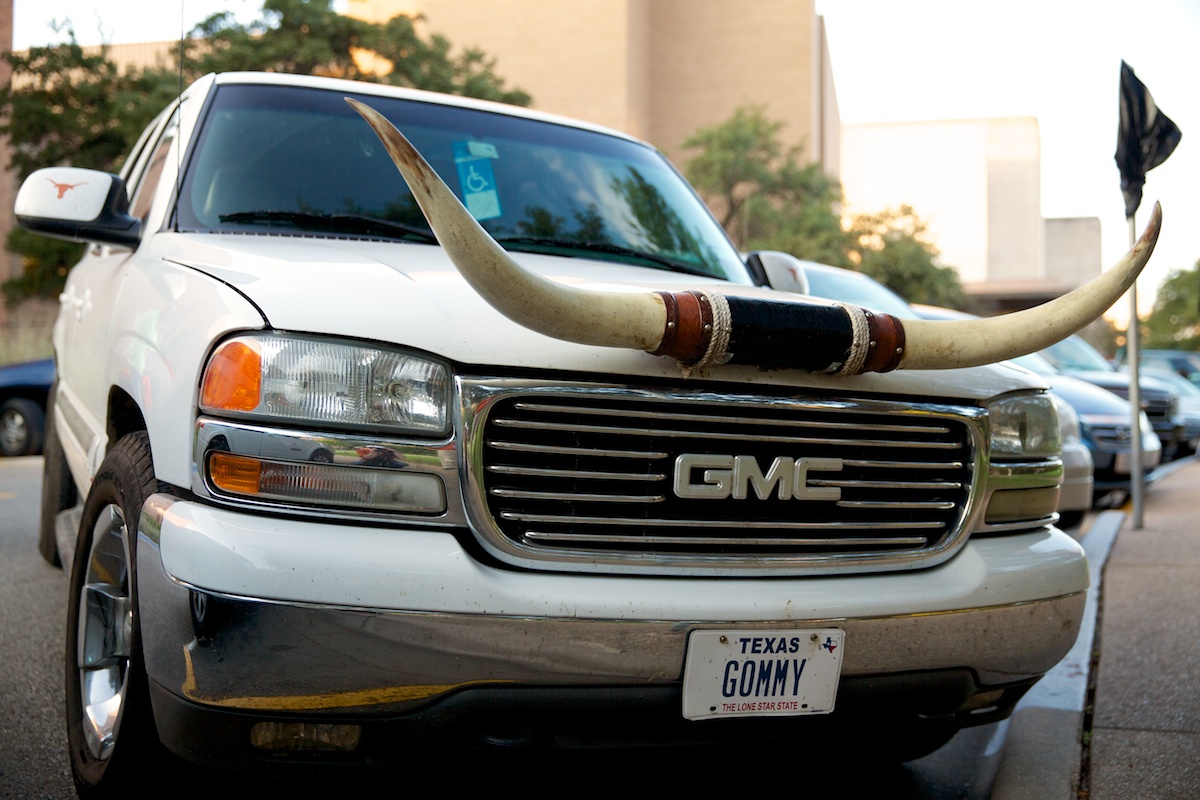 Big Bertha!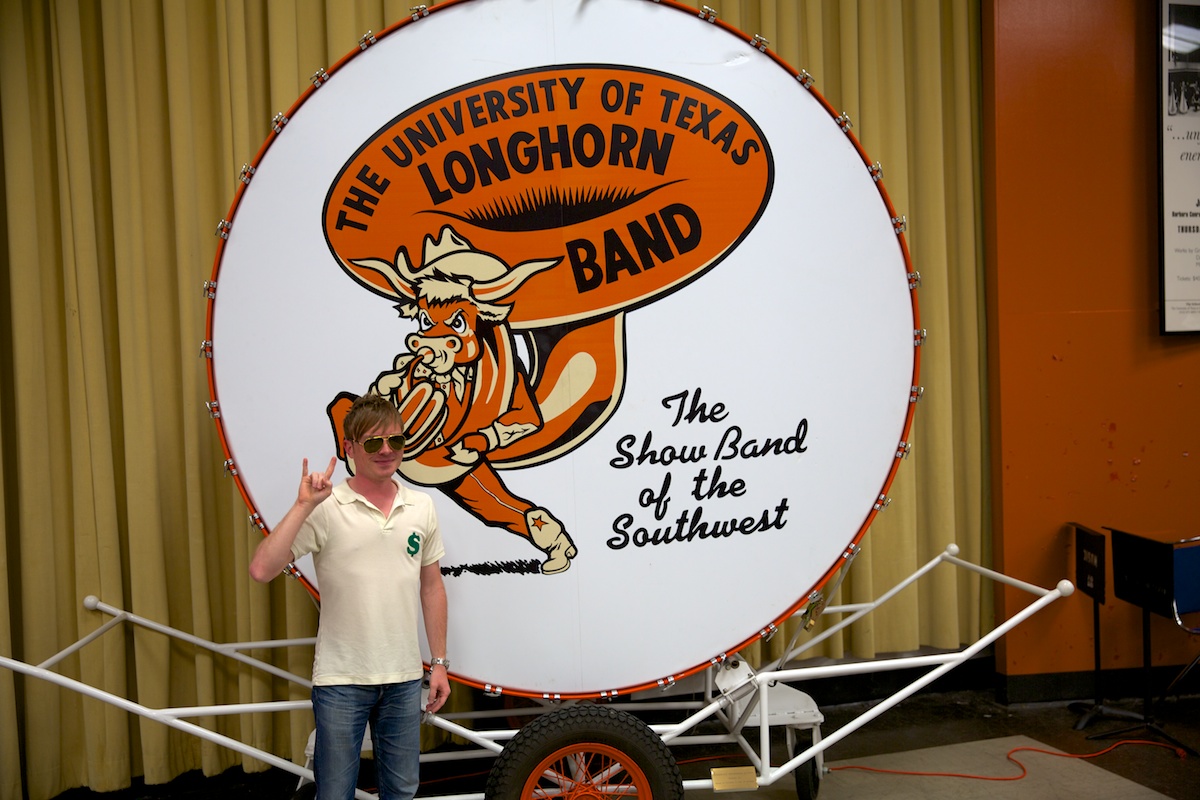 I was told that I really shouldn't be wearing a shirt with Baylor green on it. (I love my dollar-sign polo shirts — and the crazy thing is, when I put this shirt on that morning, it was blank, but the dollar sign magically appeared on my chest during the course of the day!) I was given a change of clothes.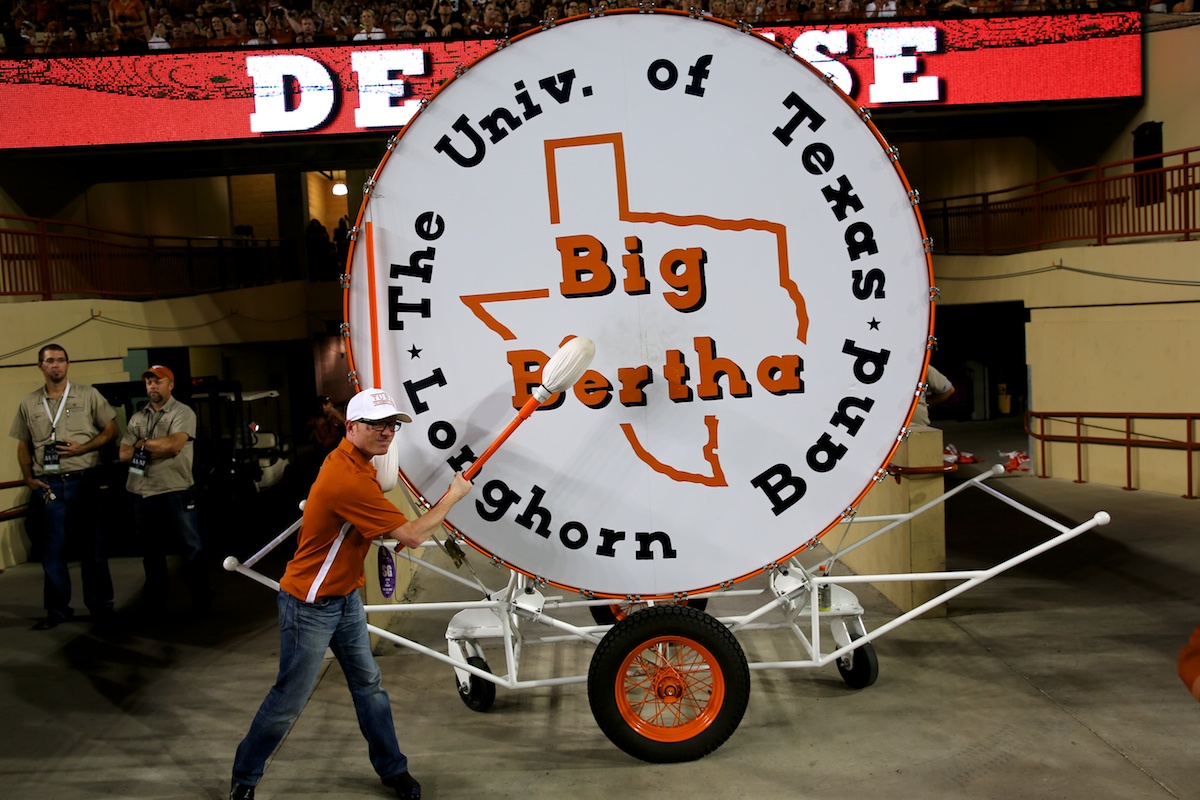 Before the game, Vincent DiNino — Director of Bands Emeritus, and conductor of the Longhorn Band from 1955-1975 — conducted the Longhorn Band in a warm-up. Vince is 94 years old. Dude is no joke.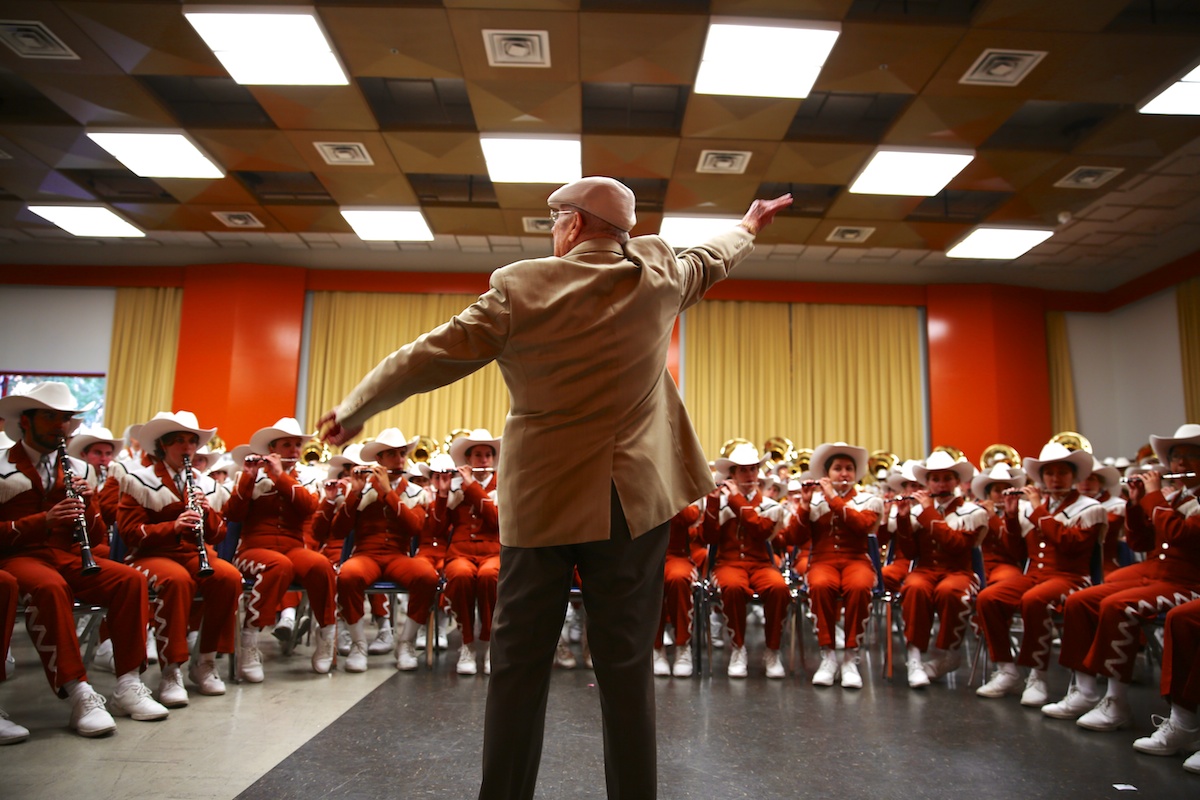 To the stadium!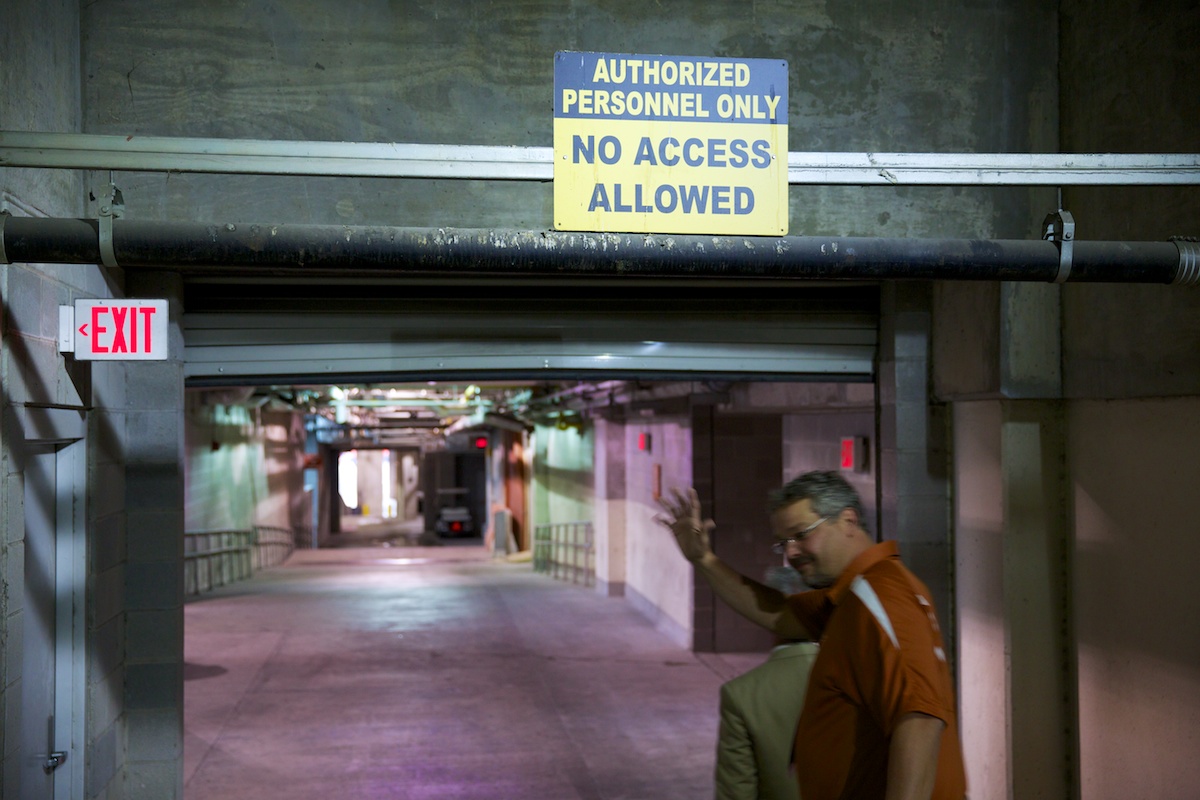 Here comes the band!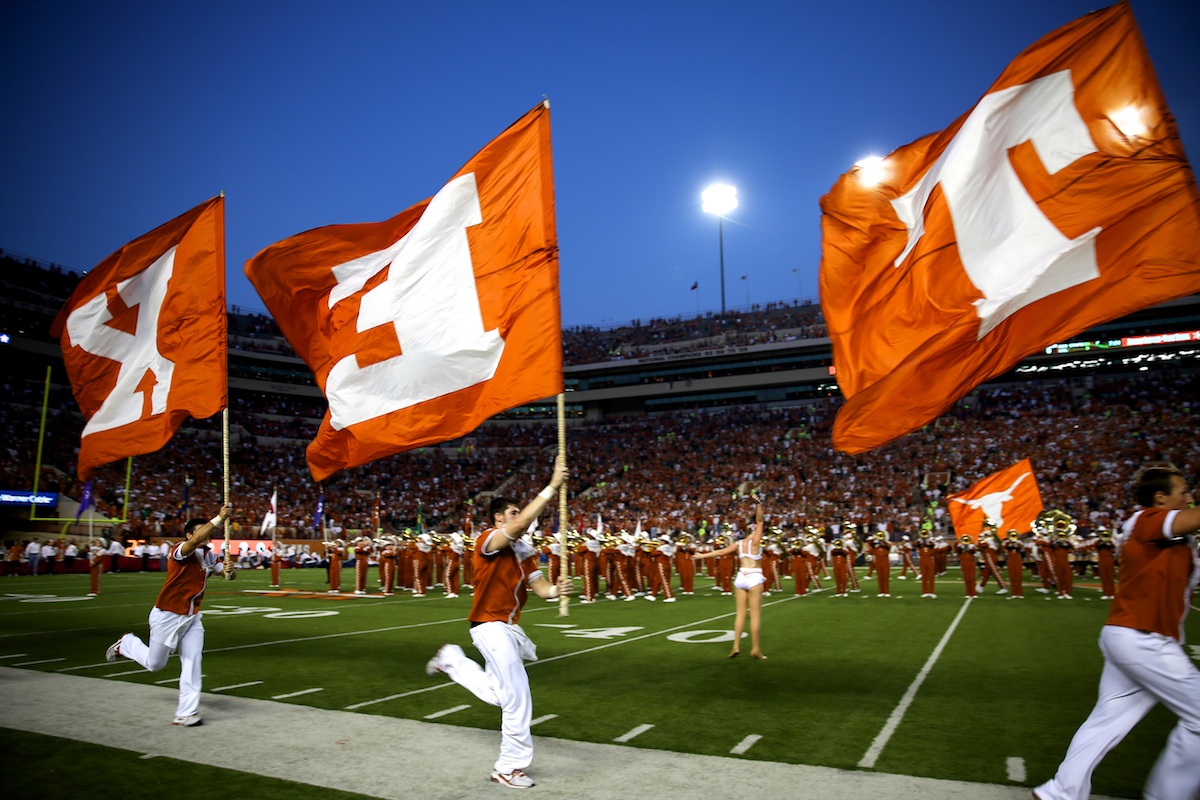 Sideline access is a pretty sweet perk of my "job."  Here's Rob Carnochan, conductor of the Longhorn Band.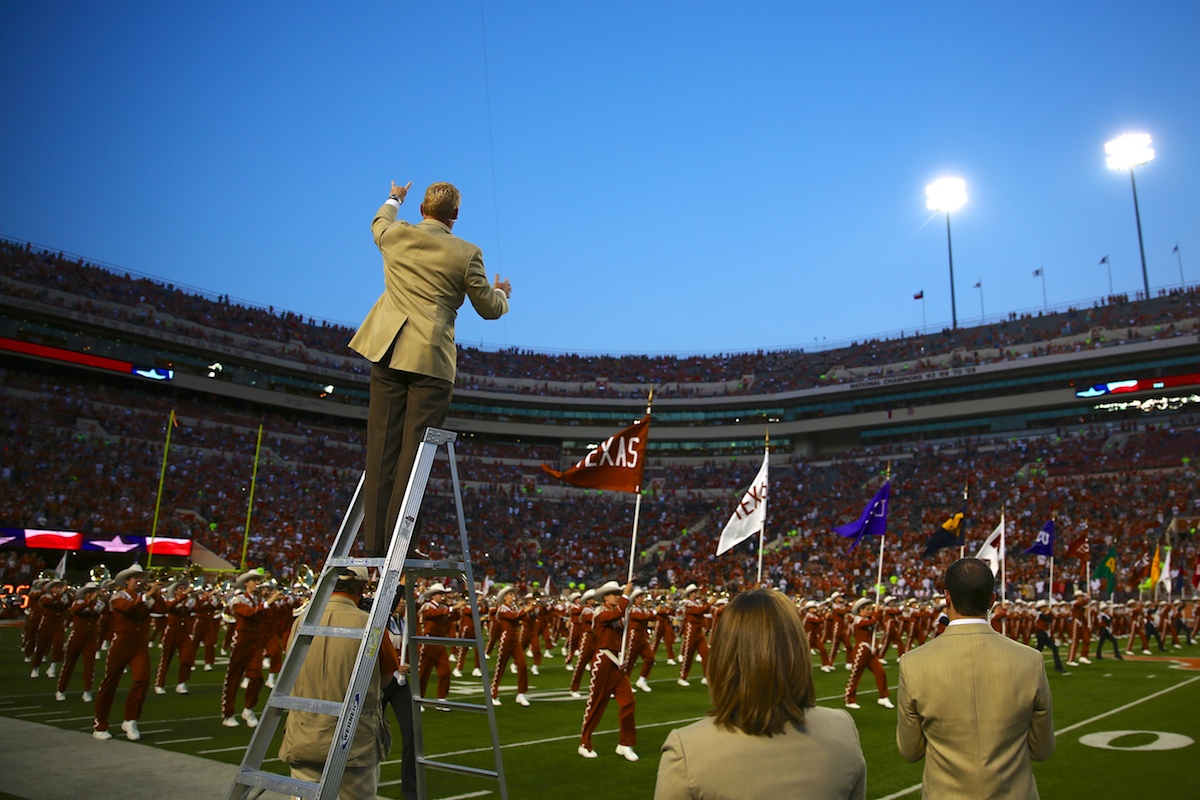 UT President Bill Powers with Vince DiNino on the sideline before the game.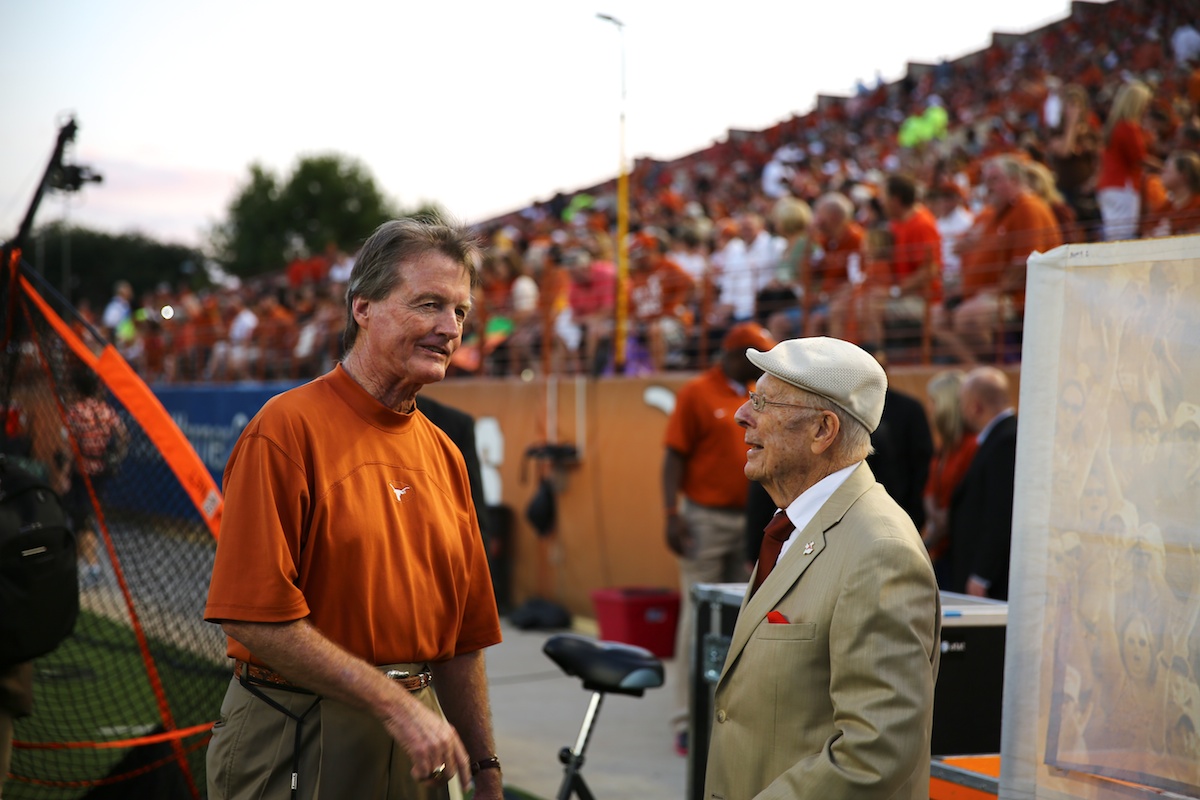 Here's Vince conducting the Longhorn Band in front of tens of thousands of people.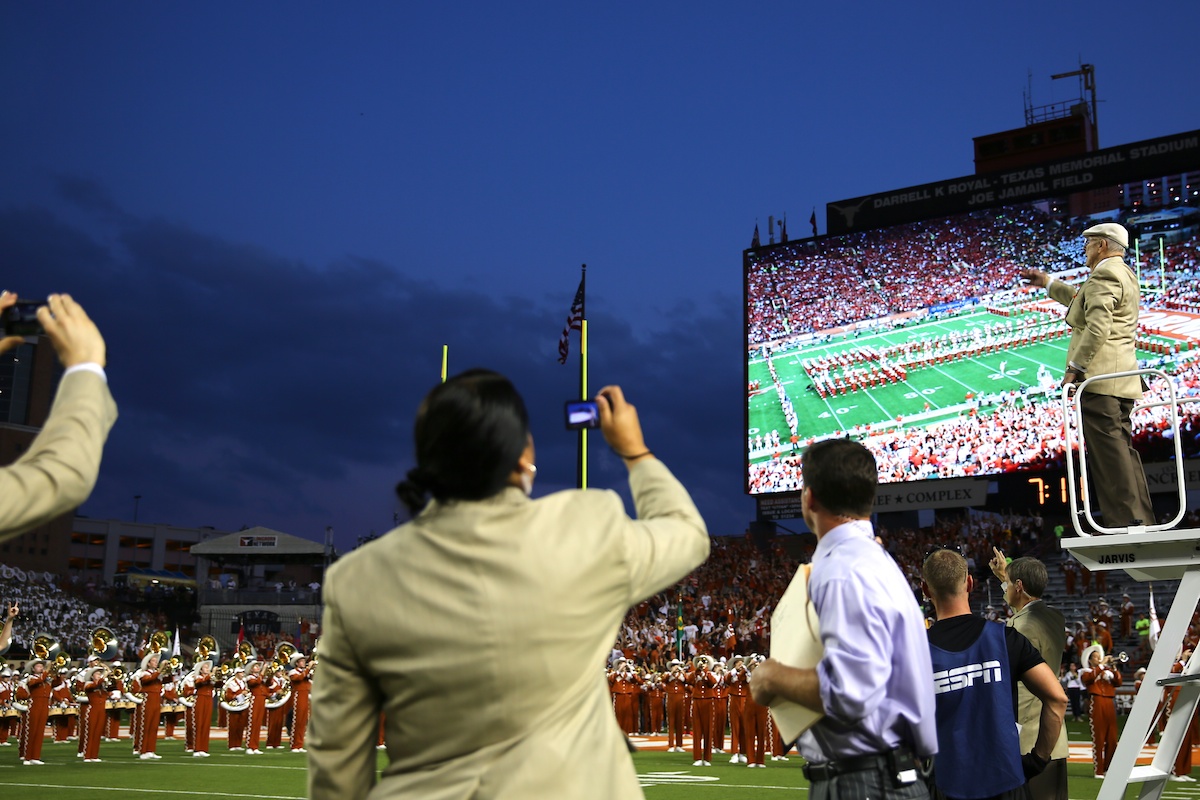 94. He's 94.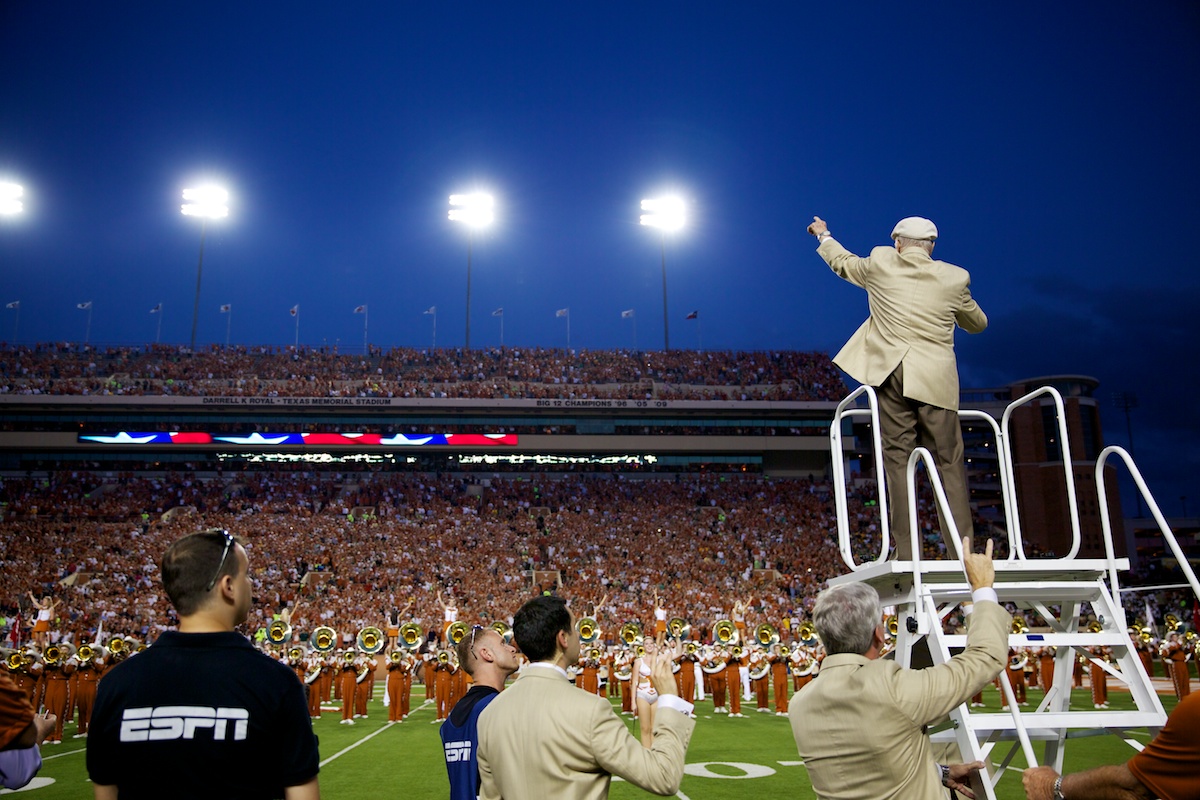 Jerry Junkin conducts the national anthem.  (As you can see, it was blue hour.  If only there were a piece of music about that time of day…)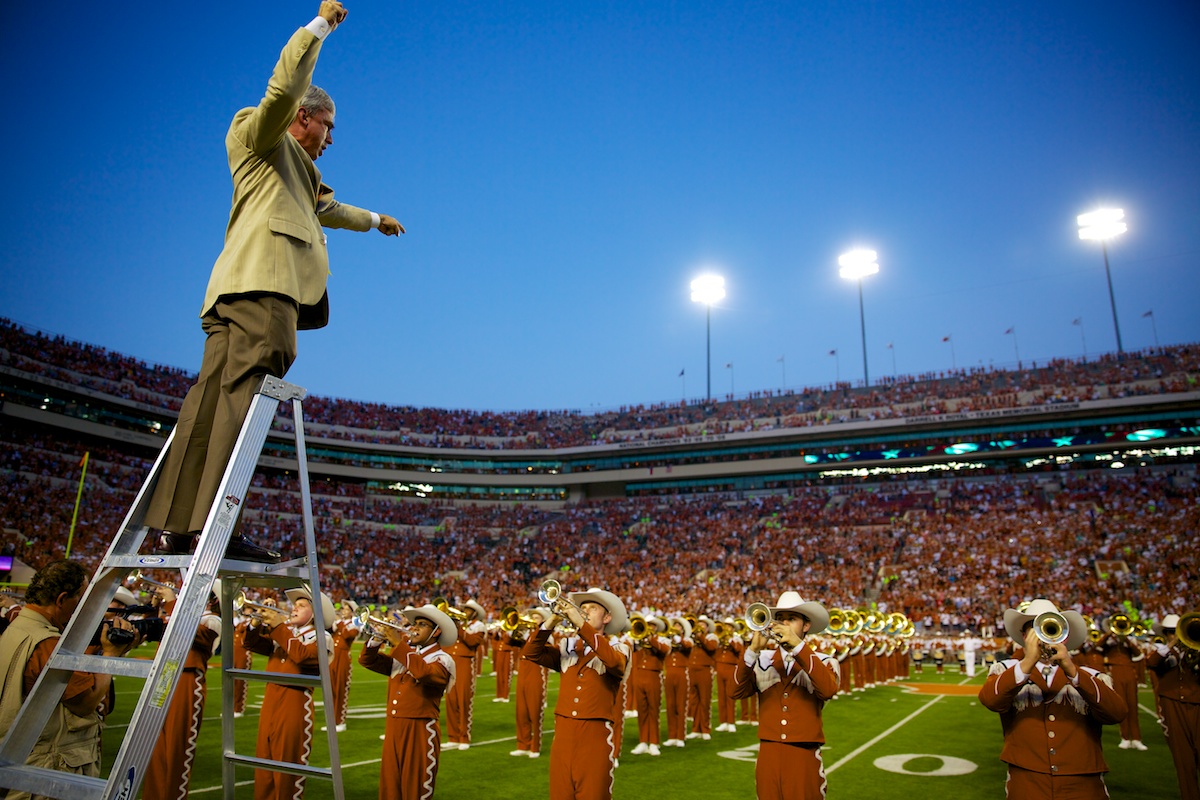 It's loud from here.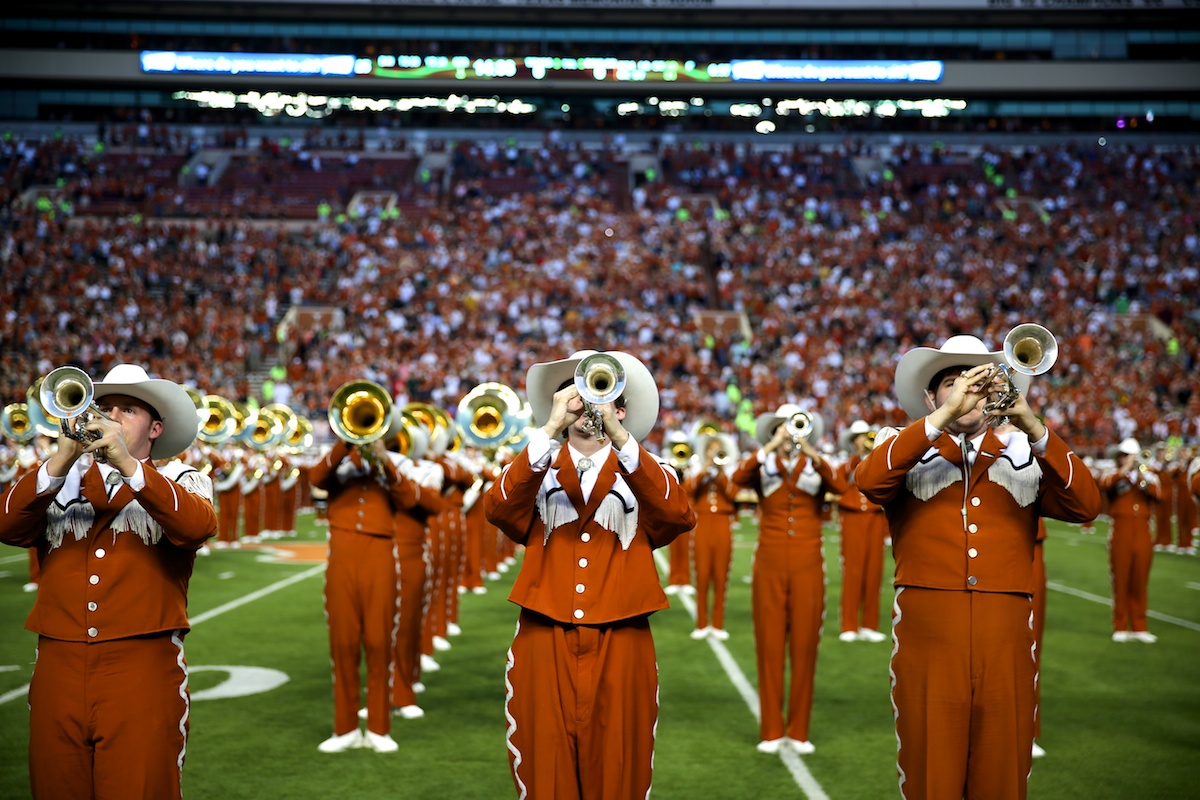 Speaking of loud… This canon is fired every time UT scores. With over 50 points scored, this became tiresome rather quickly. BOOM. BOOM.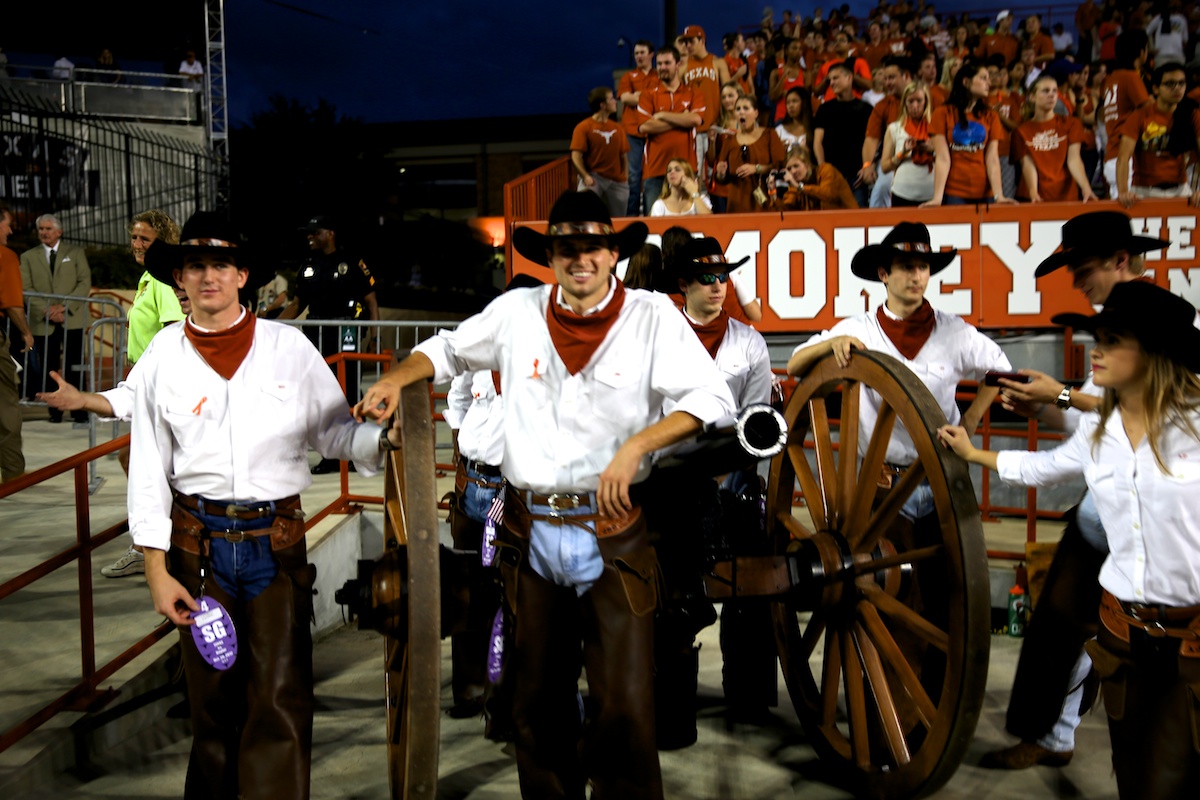 A Longhorn Non-Varsity Band member.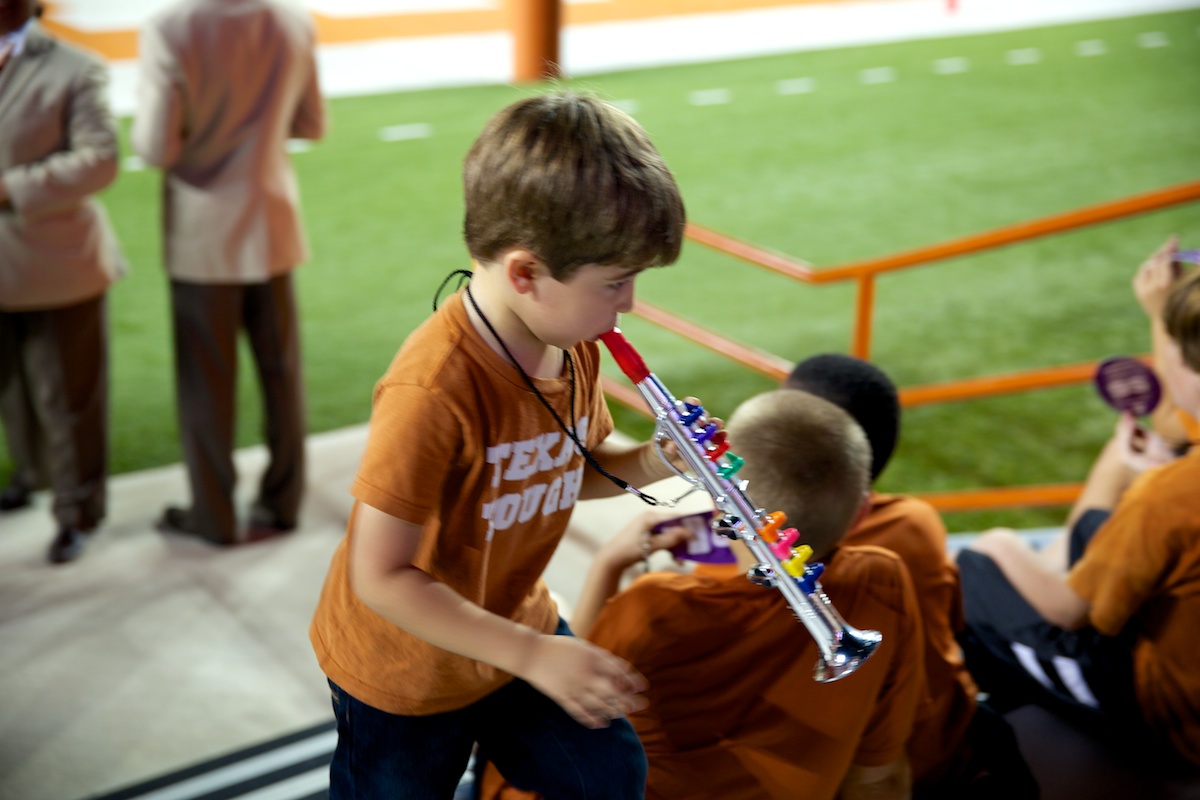 The Baylor Golden Wave Marching Band.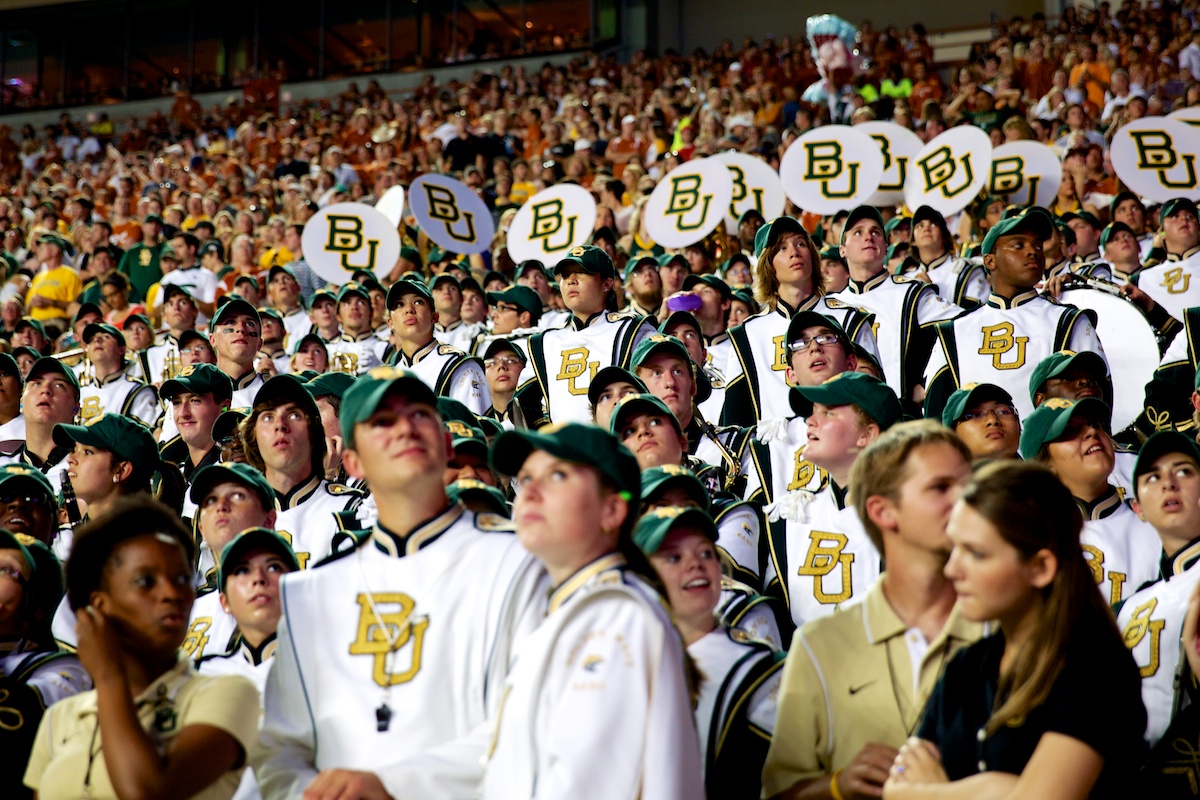 My friend Isaiah Odajima, Associate Director of Bands at Baylor. He'll be happy to have this photo when he records his first album, "God, Band, Murrica." (The American flag is the background is a nice touch, I think.)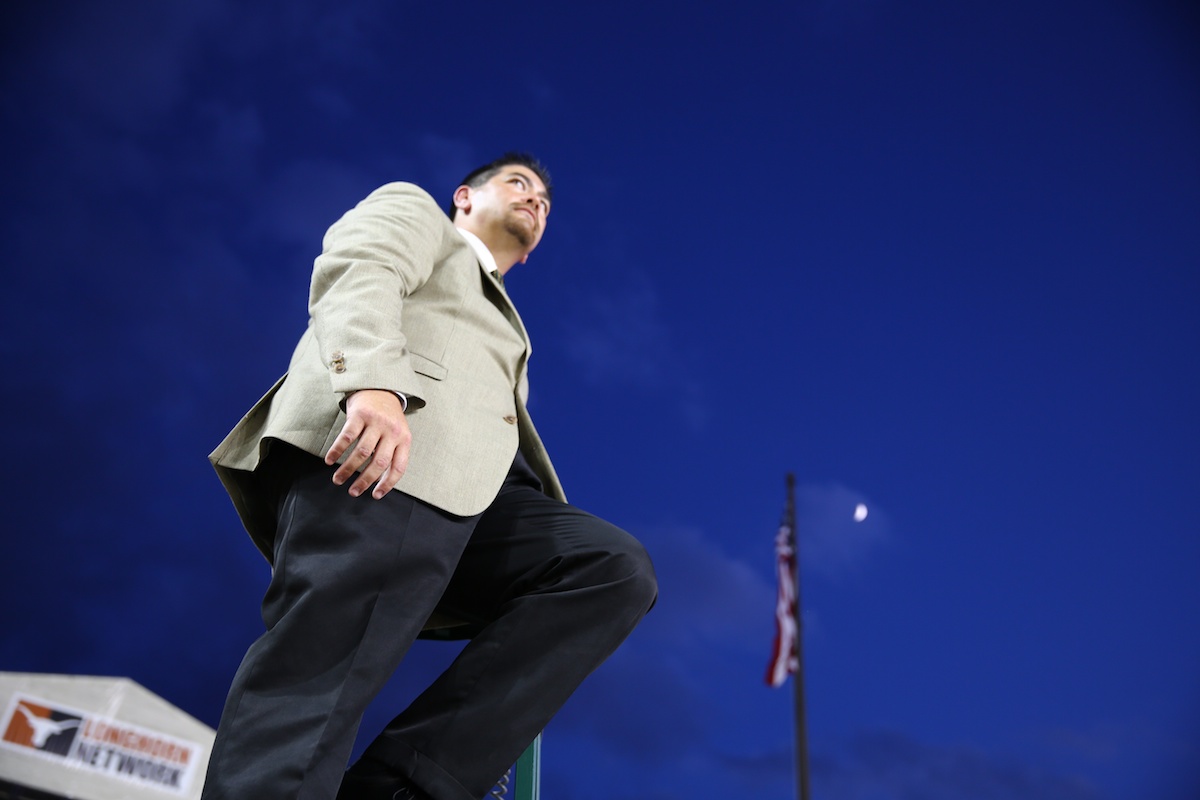 Three conductors: Jerry Junkin, Steve Davis, and the wonderful Eric Wilson (Director of Bands at Baylor). Their relative heights are inversely proportional to the number of times they've performed my music*.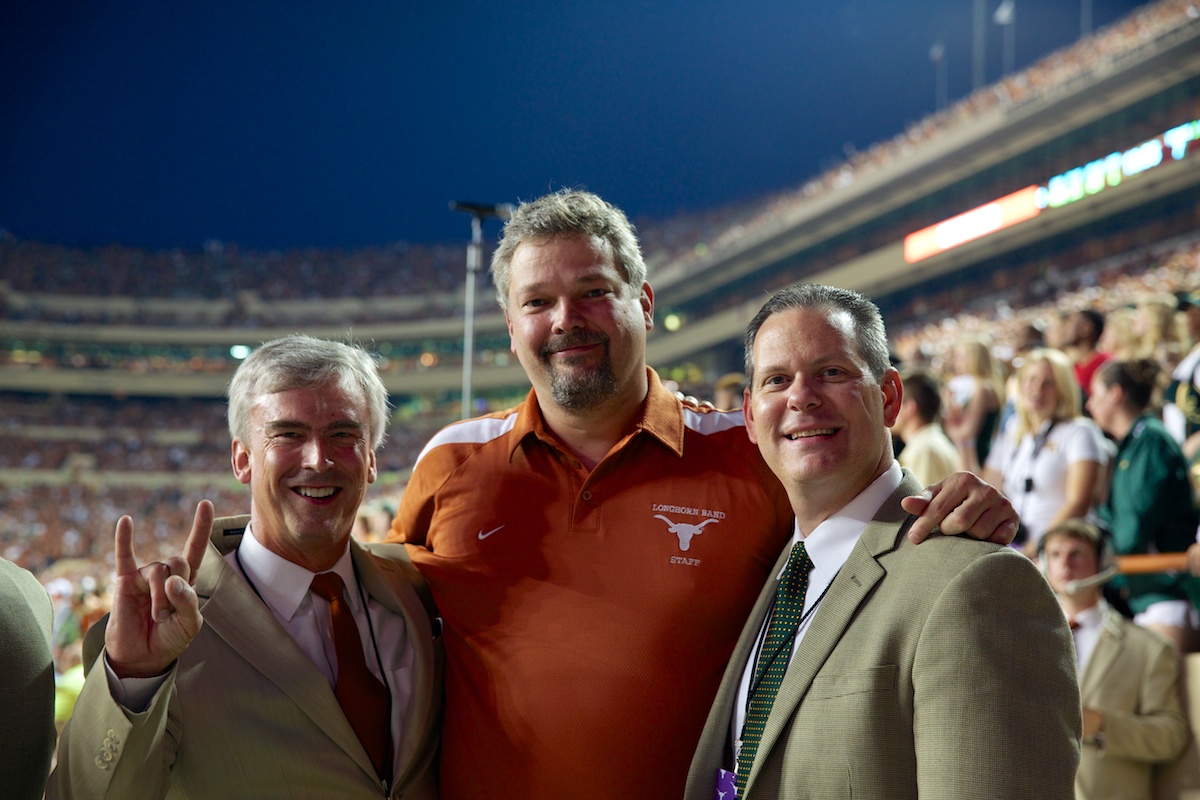 * not to scale
Friend and fellow photographer Christina — the official photographer of the Baylor Band.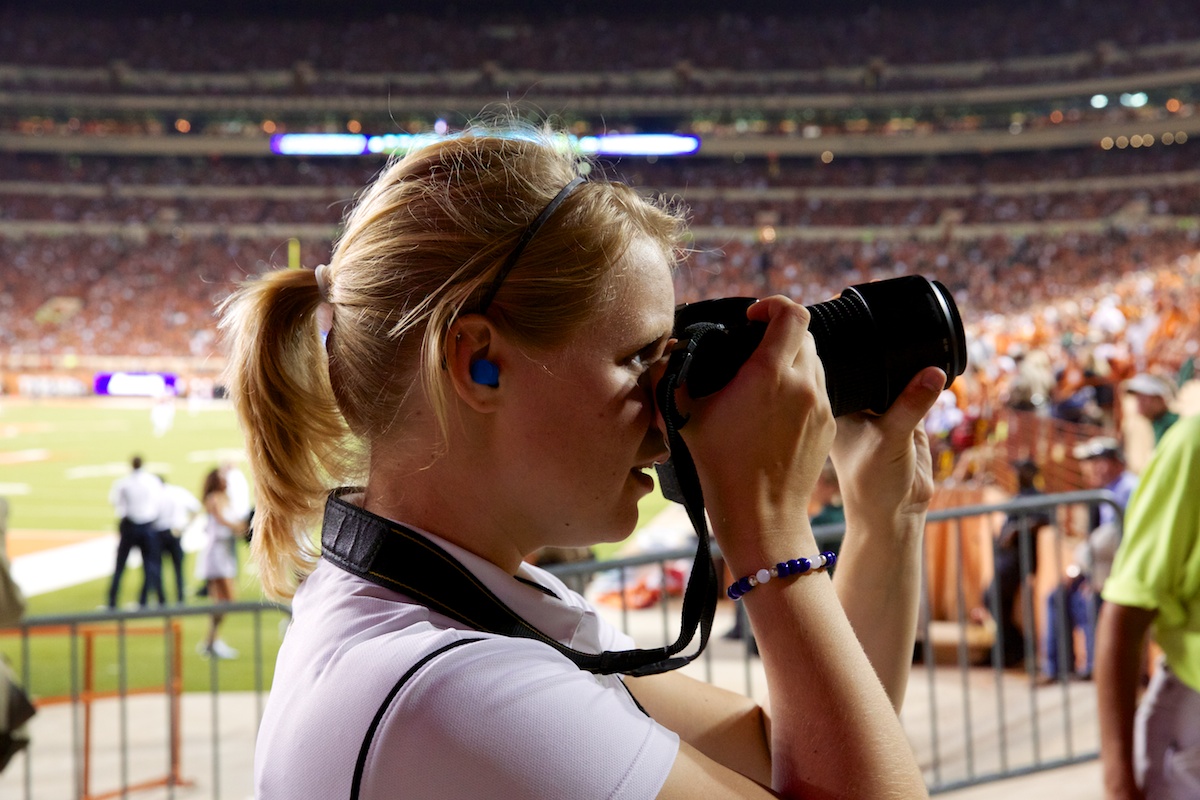 Christina taught me this fun backlighting trick, which I tried on this shot of Rick Espinosa, Assistant Director of Bands at Baylor. Rick can use this shot for the poster for his upcoming movie. In the film, Rick plays a football coach with the commitment to helping an underprivileged, mentally-challenged, young boy enjoy life and realize his potential.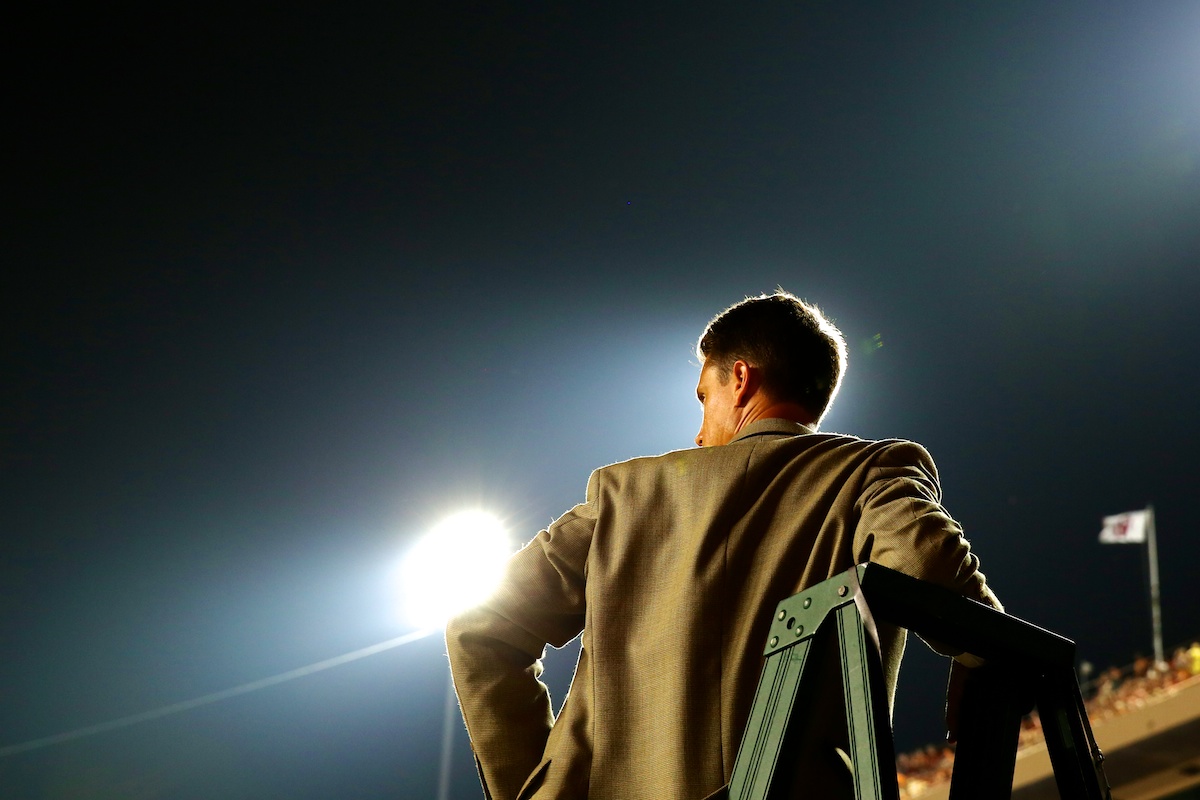 * Oops, that might be the plot for "Radio", starring Cuba Gooding, Jr.
The Baylor Band's halftime show.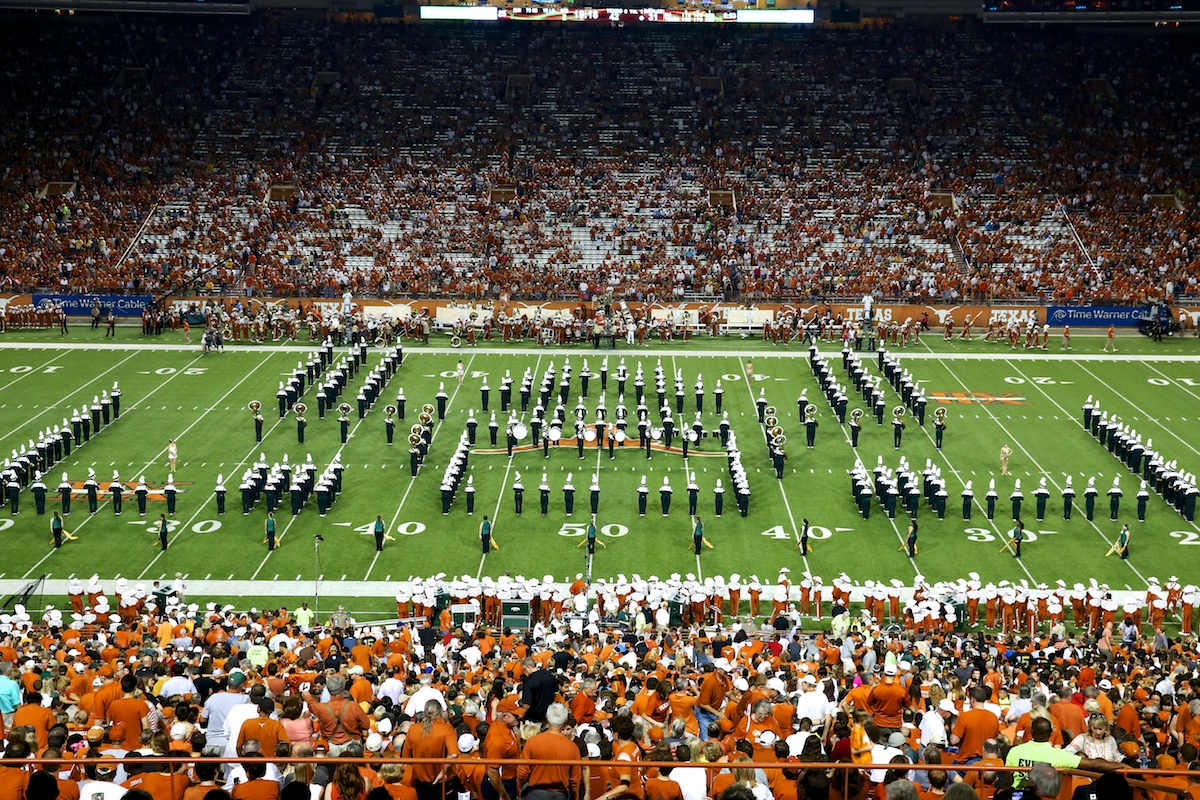 The Longhorn Band's halftime show.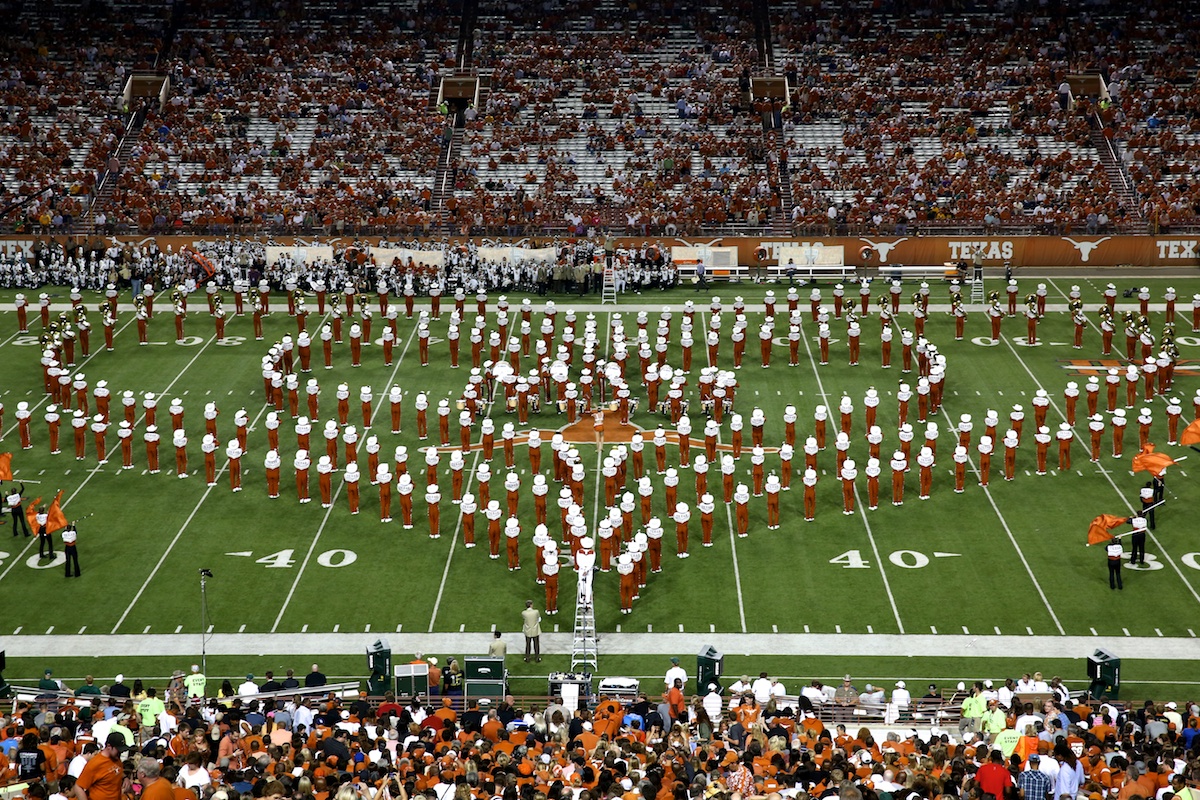 Me, Jerry, and Bevo!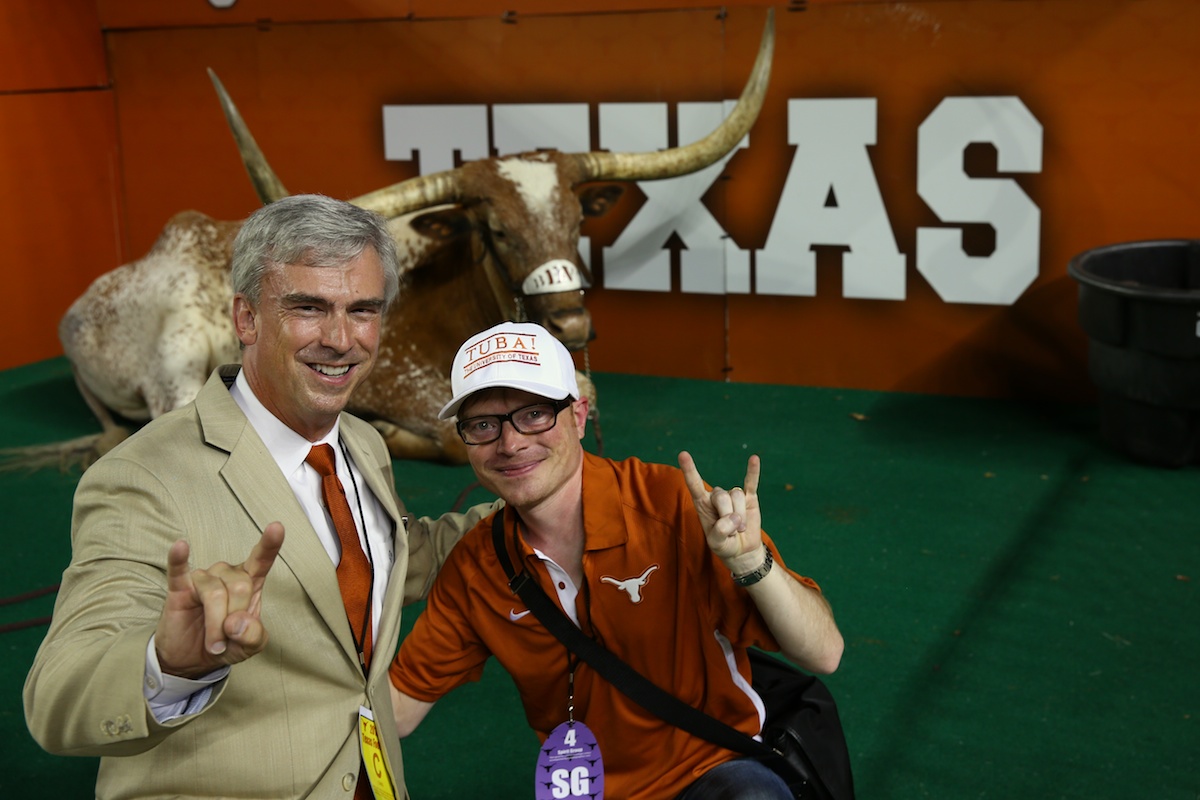 I have too many friends at both UT and Baylor to have had a "favorite" for the game, so I was mostly indifferent about the outcome, but I'll say that UT won. I think the lesson here is that I'm good luck! Fund my visit to your campus during a big game, and YOUR TEAM IS GUARANTEED* TO WIN.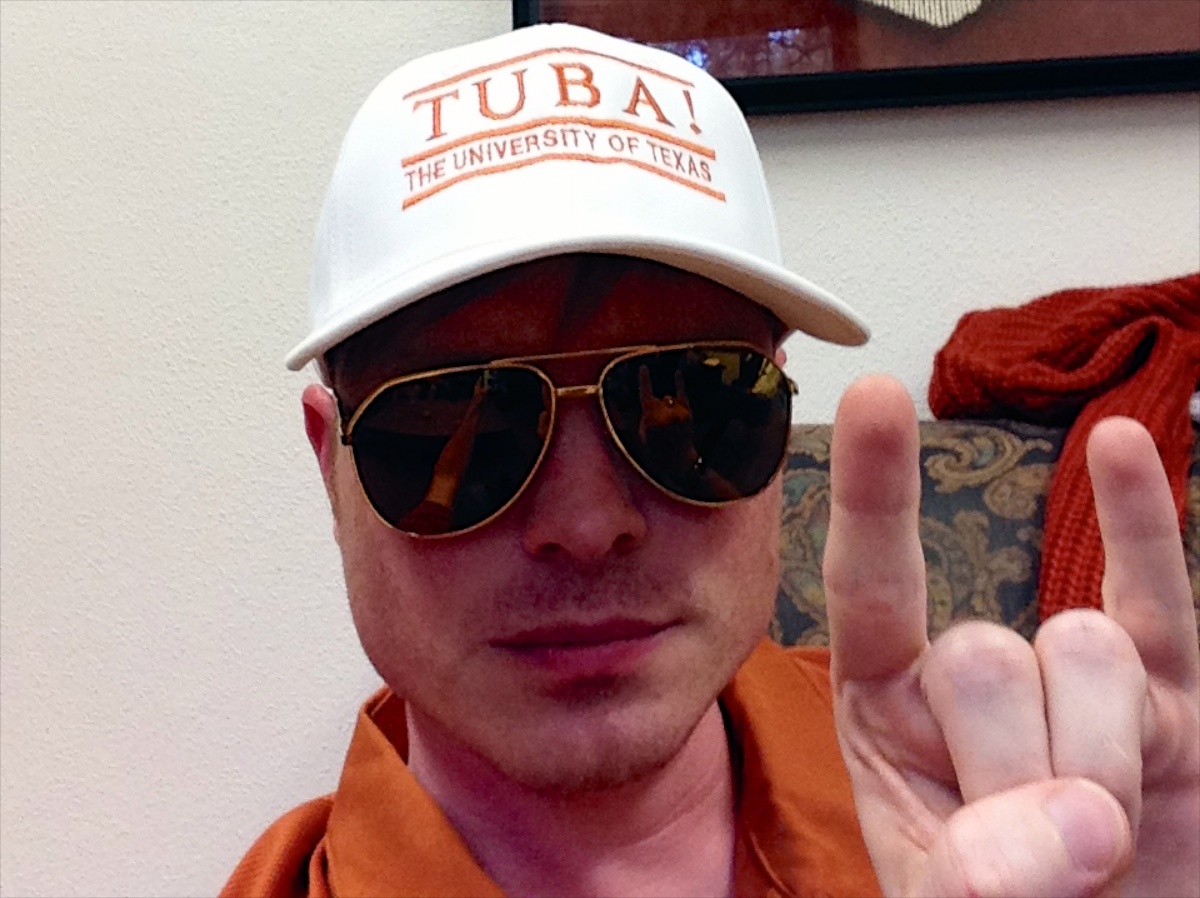 * not guaranteed