June 6, 2009
Quick NYC trip – and trombone master class
AEJ and I were in New York a few weeks ago for a quick work trip, courtesy of Distinguished Concert Artists New York. Their International Honors Wind Symphony, an ensemble of high school and college students around the country, performed "Kingfishers Catch Fire" at Avery Fisher Hall at Lincoln Center that Friday night. I don't think I've had my name on a poster at Lincoln Center before. As the poster says, there was music by me, Ticheli, Shostakovich, and "Others." That Others dude sucked.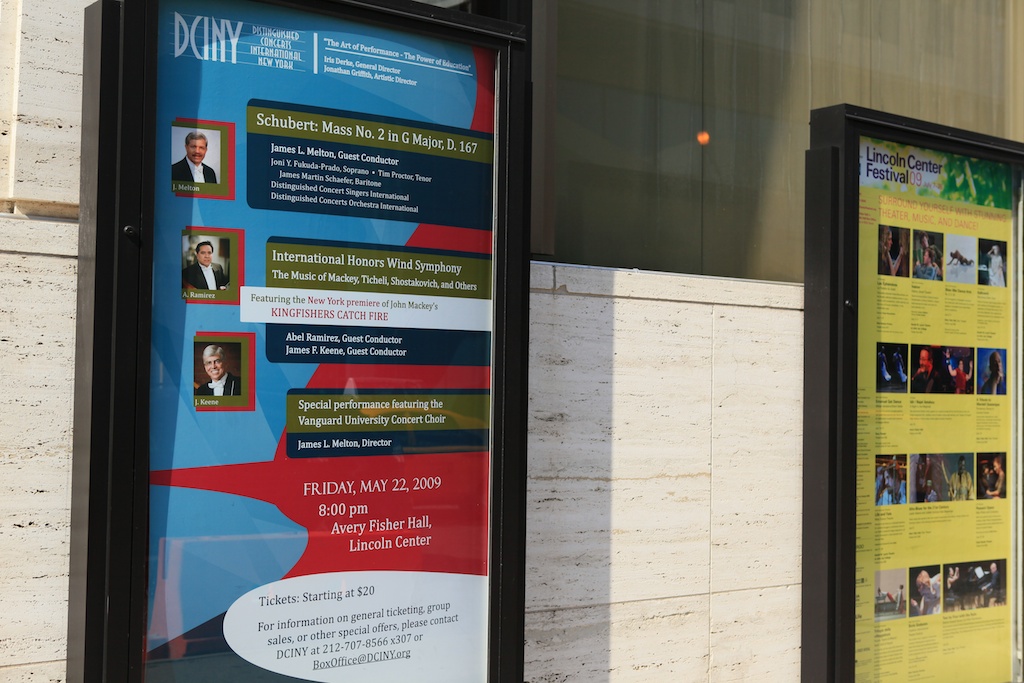 The rehearsals and the concert were great. Abel Ramirez conducted Kingfishers, and it went really, really well. All of the players we fantastic, but I think the highlight for me was the guy playing principal clarinet, David Malek, a Los Angeles-based clarinetist. I've heard Kingfishers a bunch of times now, and I thought David's playing on the solo in the first movement was the best I've heard. Often that solo can sound kind of cold, but David gave it beautiful line and just enough dynamic shape. And wow, what a tone. It was one of those "now that is what a clarinet should sound like" moments.
Speaking of Lincoln Center, they've made Juilliard look like a crazy starship. It was definitely not this cool looking when I went there. (When I went to school there, I lived in that tall white building on the left — that's the Juilliard dorm. It's still as boxy as it ever was.)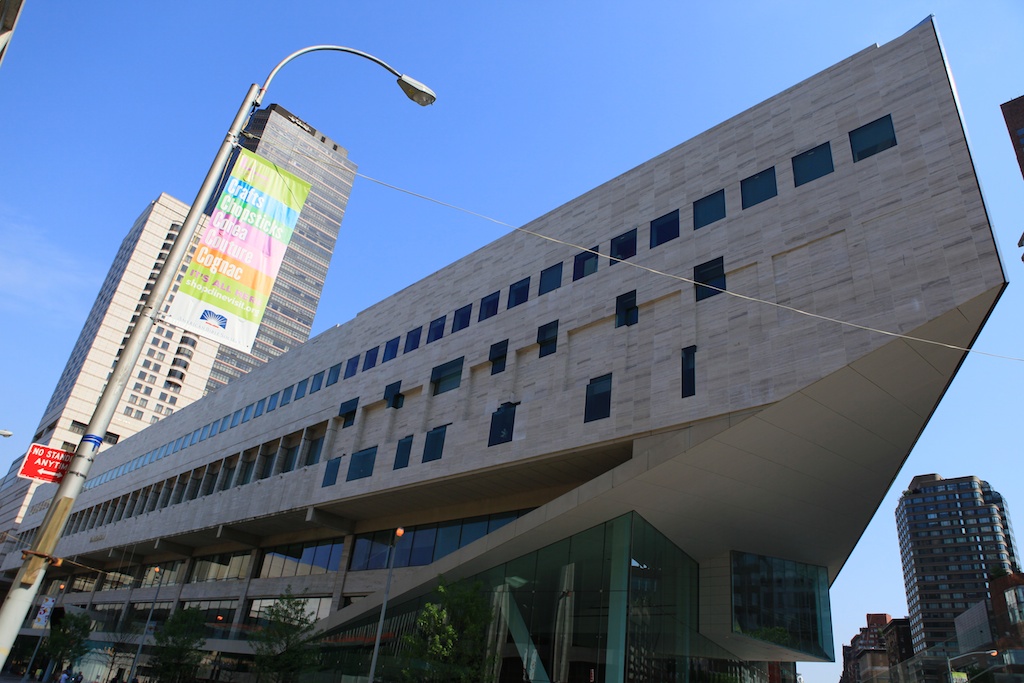 We had some time for some fun stuff, too, like a visit to MoMA, getting a replacement iPhone at 11:30 at night (gotta love the NY Apple Store, open 24 hours a day — oh, and a piece of advice: don't drop your iPhone onto a concrete slab floor. It will break.), some shopping at H&M (can we please get an H&M in Austin? Please?), and of course, food. We had brunch at our favorite breakfast place in NY, Sarabeth's.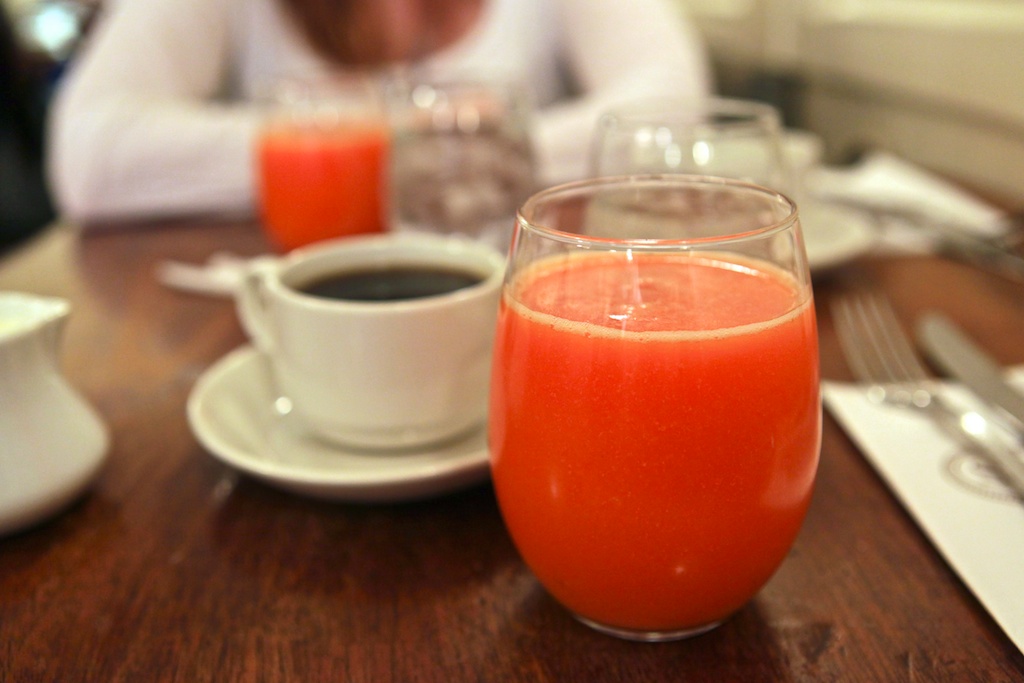 We had dinner with the NewSchlachtMans at what is becoming our NY visit tradition, Artisanal. Hooray for cheese fondue!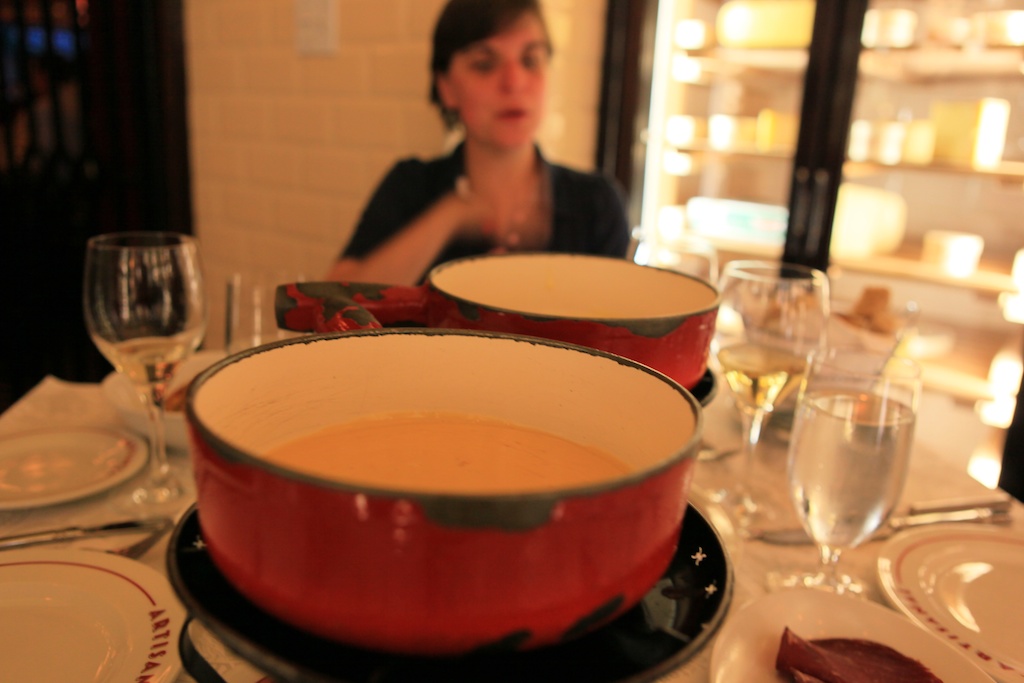 And not-greasy fish and chips!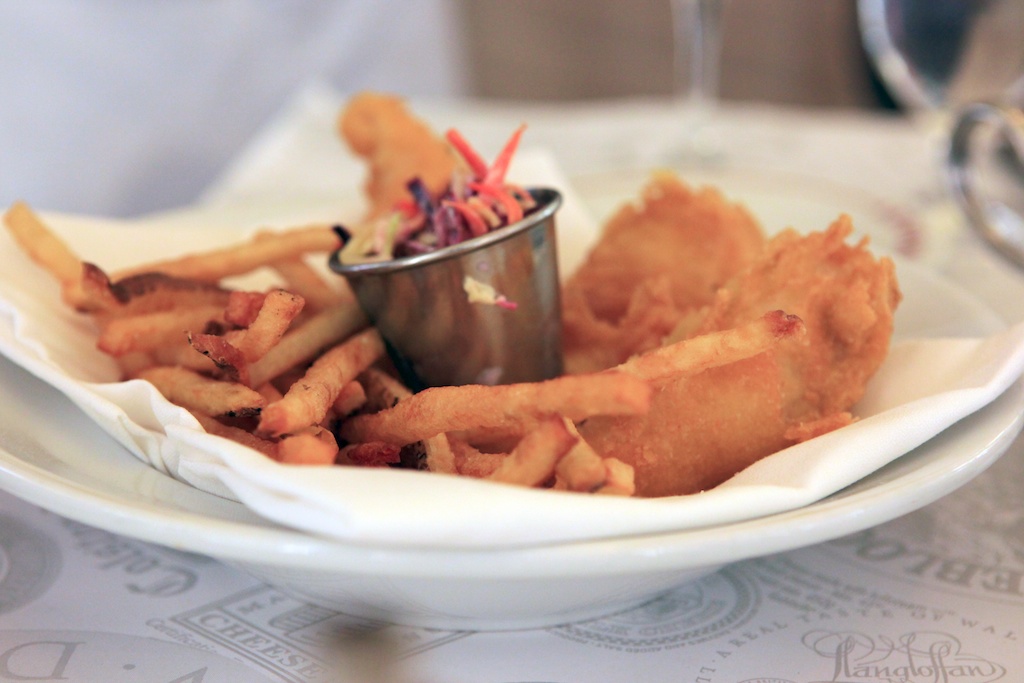 And chicken cooked under a brick! (Seriously, that's what it's called.) Is there anything better than a French wine sauce? I'm gonna go with "no."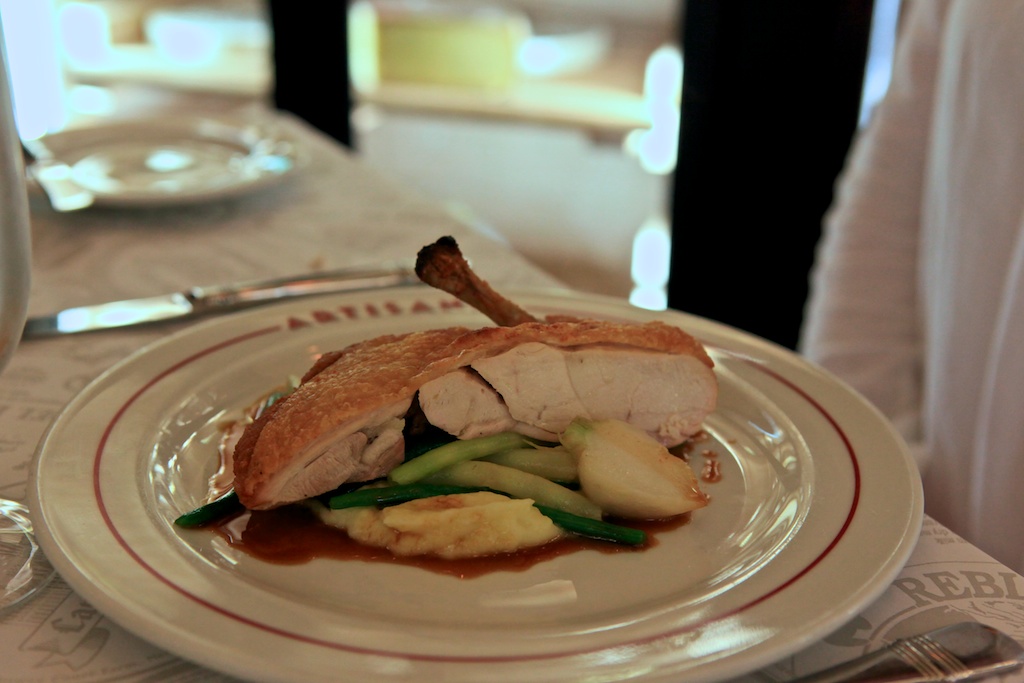 You can't very well go to Artisanal and not end the meal with chocolate fondue, with all of the tasty dippings.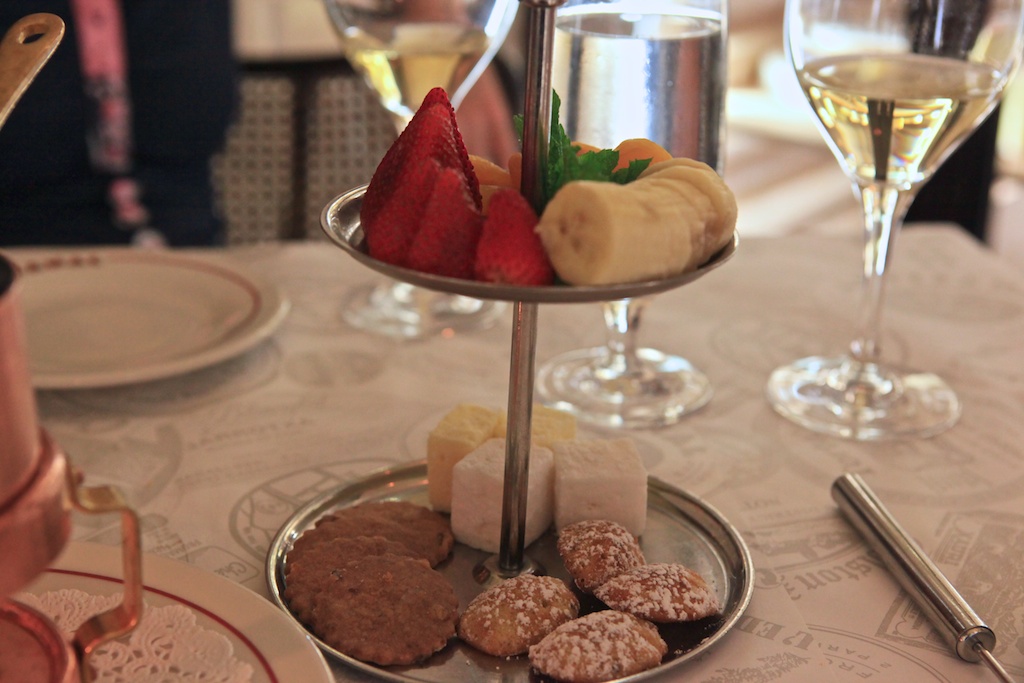 The morning that we left, I was on a panel with Abel Ramirez and Jim Keane (who had both conducted on the concert the night before), and also Joe Alessi, principal trombonist for the New York Philharmonic. My next big piece is a concerto for Joe. (How excited am I about that? Excited.) I had met Joe briefly back when I worked for the New York Phil right after college, but this was the first time we had a chance to chat in person since he asked for a trombone concerto. After the panel, Joe, AEJ and I had lunch in the Juilliard cafeteria and talked about what his piece might do. His trombone was on the table next to him, and he kept looking at it, clearly wanting to show me some of the cool tricks he could do, but he had to head to another appointment. Plus, we were in a cafeteria. With only about 5 minutes left before he had to leave, he couldn't take it anymore, and he took us outside, looking for a place where he could play his horn. The best place he could find? The alley next to Juilliard.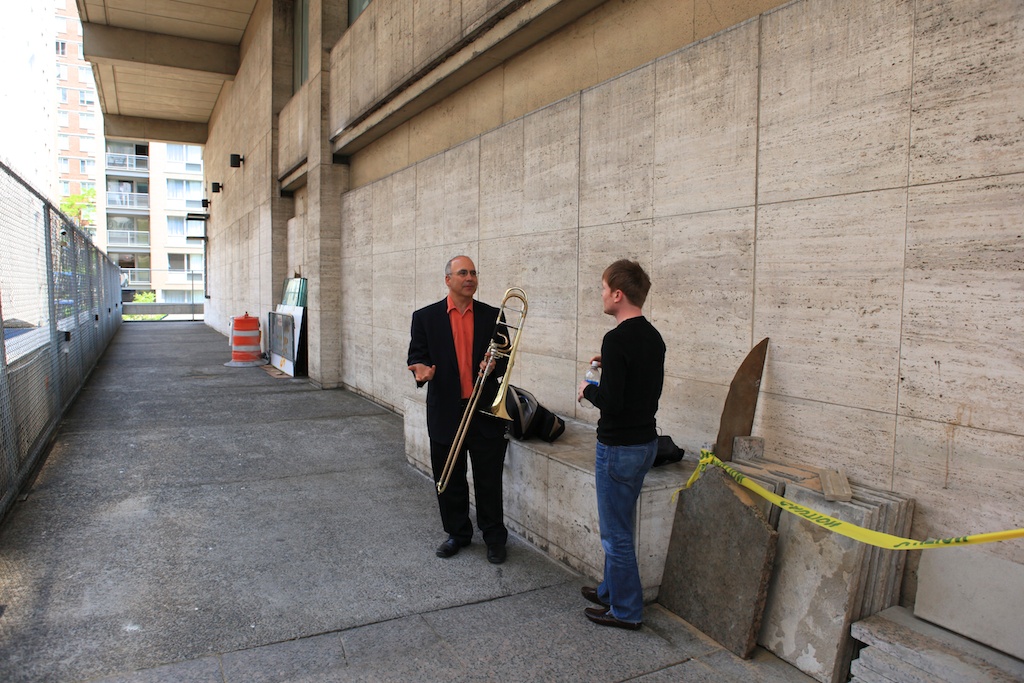 "Where's the sweet spot of your range" I asked. He played a long-lined excerpt that hovered around high Db, and his sound was amazing. Keep in mind that this was the first time he'd played his horn that day, and he'd just finished lunch moments before. Then he showed me some of his pedal notes, jumping from that high Db down to a low pedal E nearly 4 octaves lower. "Fast articulations can be kind of difficult," he said — as he proceeded to play tremendous leaps, staccato, at incredible speed, all perfectly. I love having somebody tell you how hard something is as they make it look like a piece of cake.
"What else is fun?" I asked him, and he showed me things I'd never heard like an "against-the-grain gliss," where he took his embouchure higher while pulling the slide out. "Gliss hits are fun," he said, and he popped out these huge trombone hits with immediate slides downward or upward. It was incredible — five minutes that I'll never forget. Here I was getting a personal master class on trombone technique from arguably the best trombone player in the world, and it was happening in a construction zone next to Juilliard.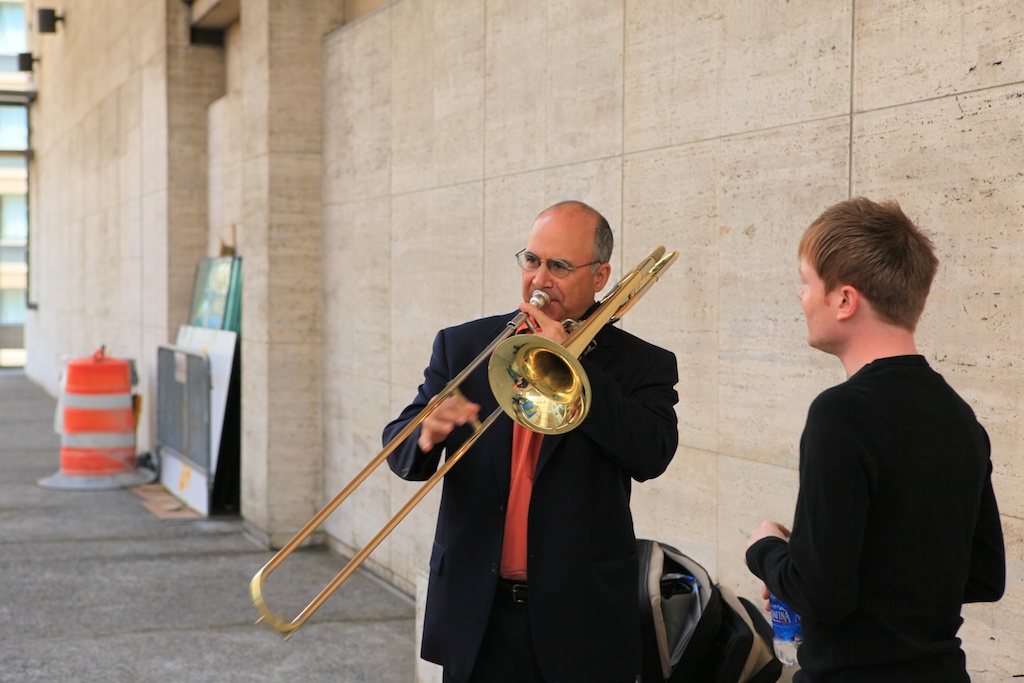 It was a great trip. We even made new friends who live right here in Austin — and we met them at the post-concert reception in New York. (Things like that only happen in New York.) The performance at DCINY really was fantastic. I'd highly encourage young players to consider playing with one of their groups in the future.
And now we're home — and enjoying our newly-functional kitchen. We have working appliances now, but we're still waiting on some trim pieces that are holding everything else up. Hopefully we'll get those installed on Monday, then get our backsplash installed a day or two after that. The backsplash is crazy-awesome. It would make Elvis proud. Stay tuned…