March 11, 2011
Moving again
After only three short years here in Austin, AEJ and I are picking up and moving once again.  AEJ is going to grad school for philosophy in the northeast, and she starts this fall.  We're sad to be leaving Austin — we have great friends here, and I can't say enough about how warmly Texas (and Texas bands) have embraced us.  I'll be back a lot, of course.  I'm the featured composer at TBA (Texas Bandmasters Association) in July, and I don't plan to ever miss a TMEA convention, so I'll be around for both of those.  I'm also planning to spend a few weeks in Texas every March, doing an extended stay in either Dallas or Houston and working during that time with high school groups who are preparing my music for UIL.  In other words, we're moving, but I'm not exactly leaving.
This means that we have to sell our house — the house we've been renovating non-stop for the past three years. A lot of this will read like an ad, so you might just want to look at the pictures. (A lot of these photos were shot by Allison Cartwright. Some are mine, but the best ones, honestly, are not.)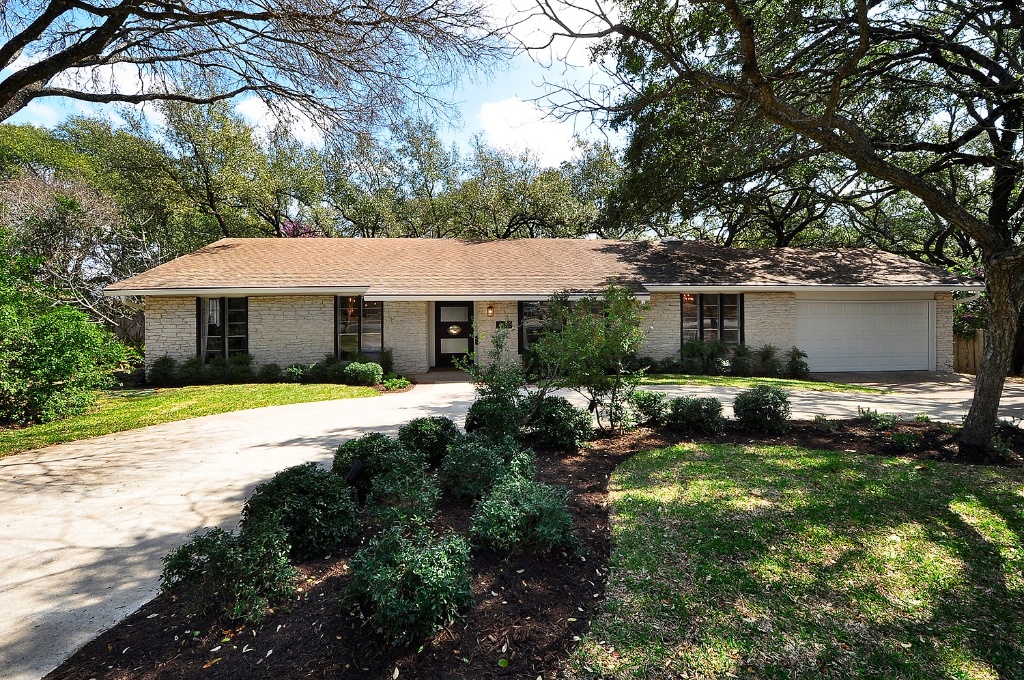 When we bought the place, it was in good shape, but it was all pretty much still in its original 1968 condition. We've changed just about everything — even the house numbers.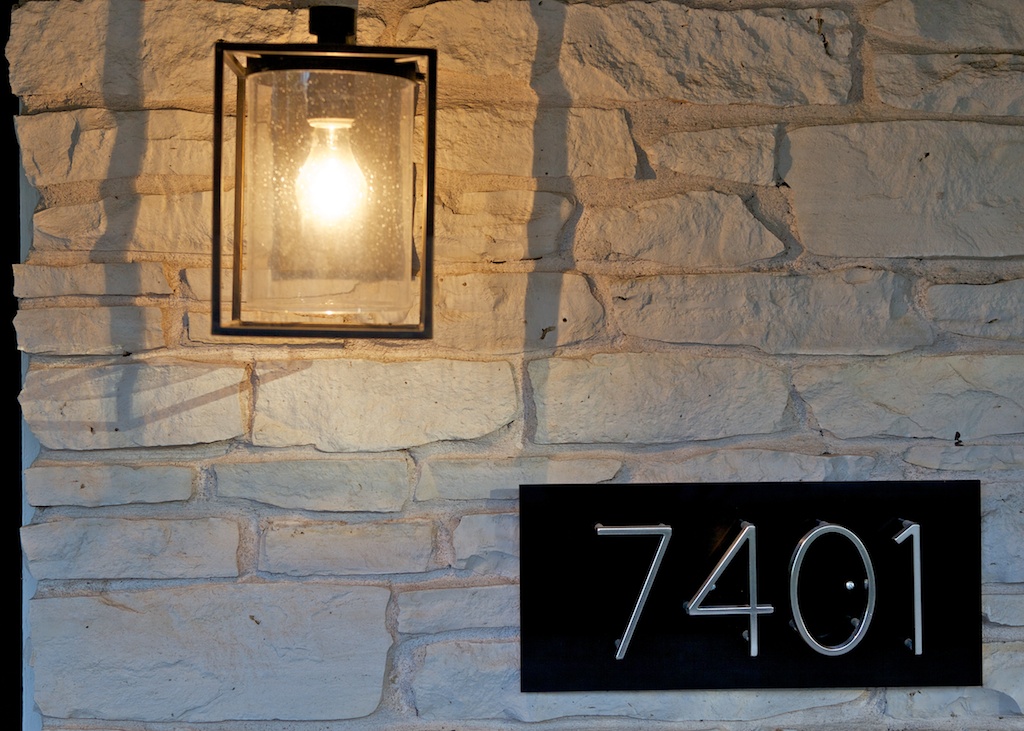 Here's the house at night — or actually, blue hour.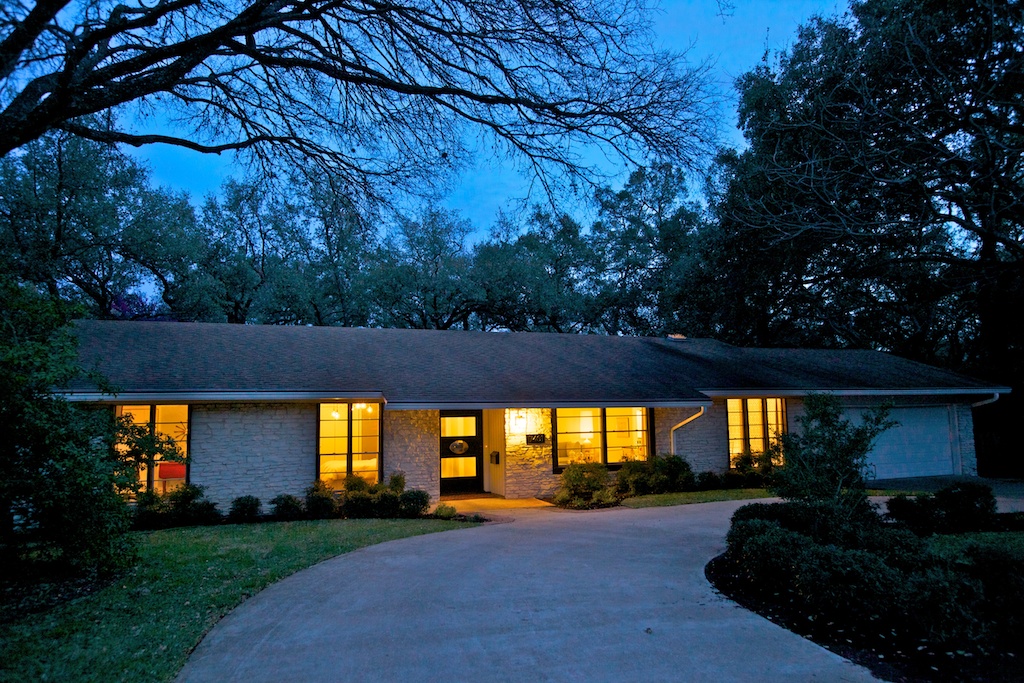 Every light is new.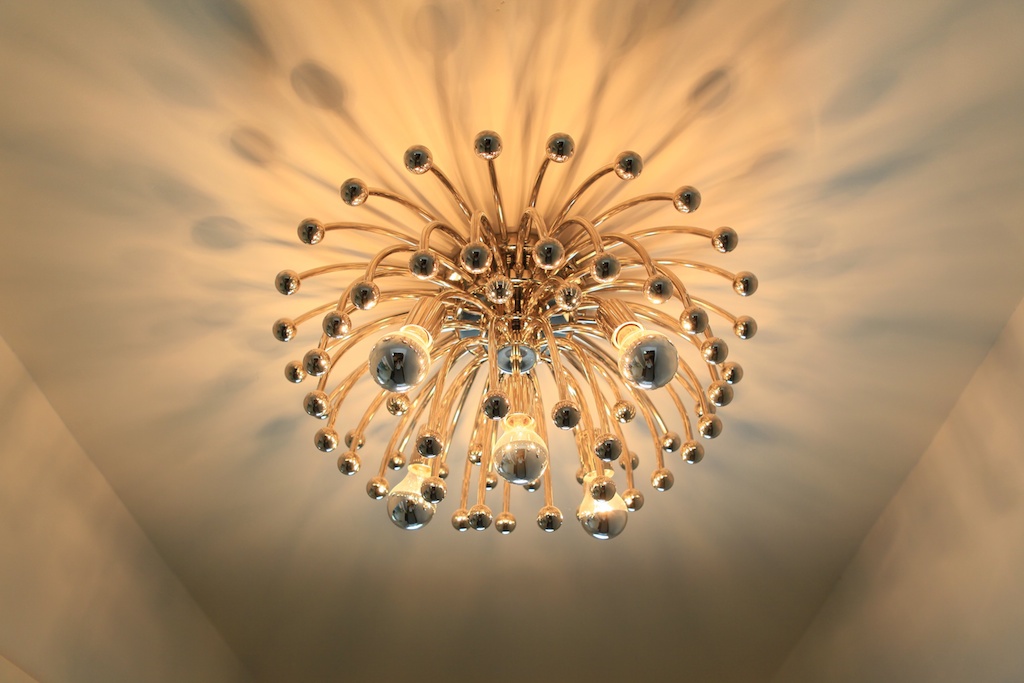 I don't think I've ever posted pictures of the guest bedroom. This light — the crazy spider light — is one of my favorites that AEJ found.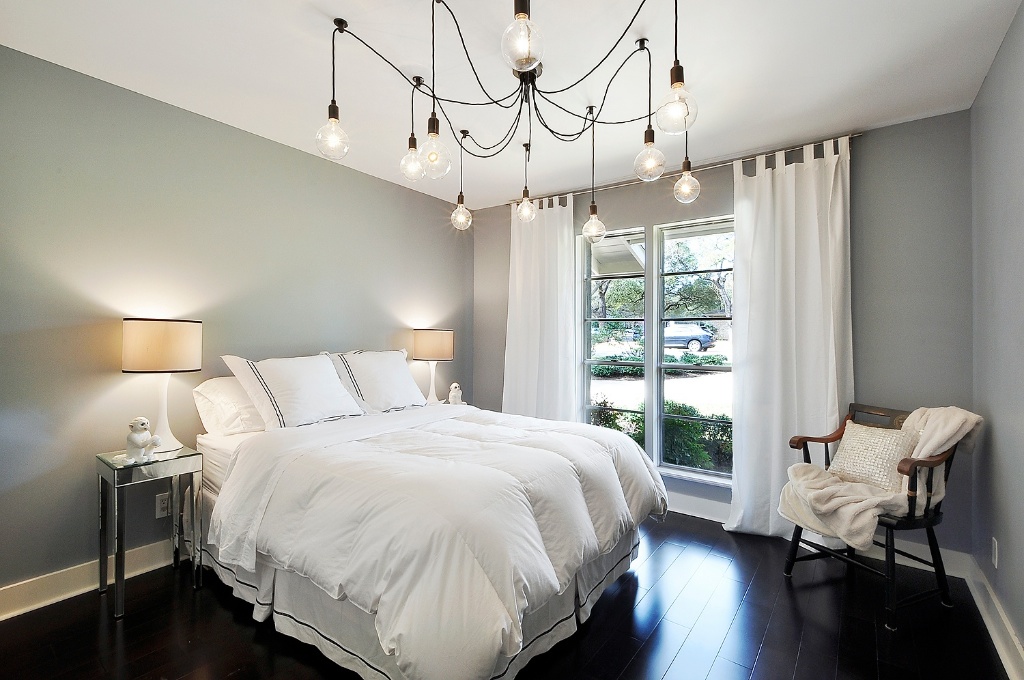 Here's the hallway into the guest bath, featuring a portrait of Loki.  (That portrait does not stay with the house!)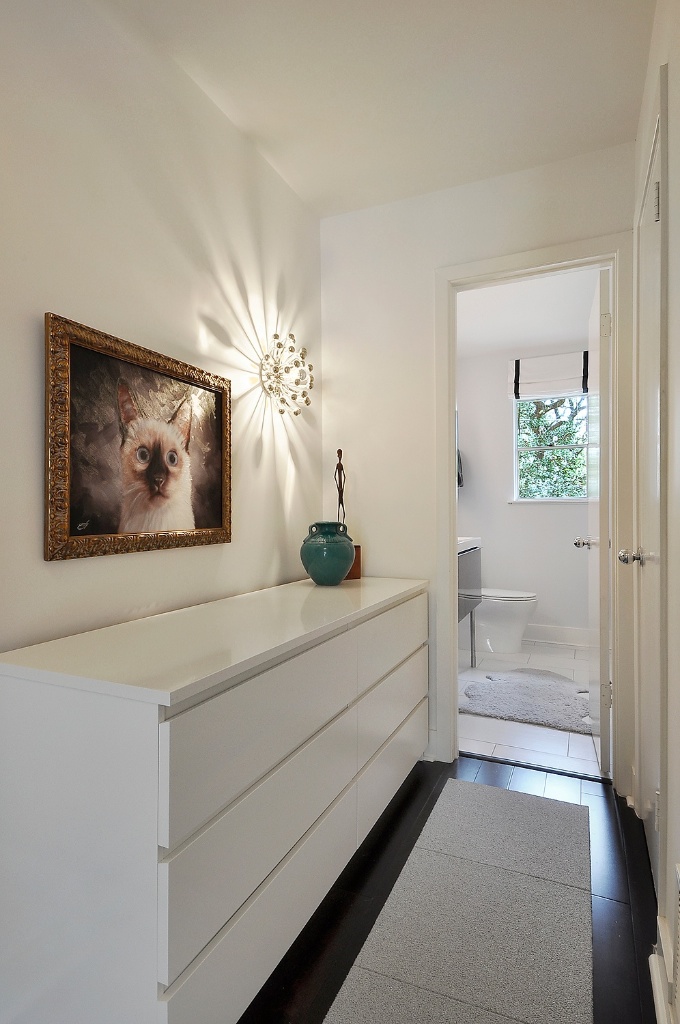 Here's that guest bath, with European vanity, shiny fixtures, and a Kohler full-skirted dual-flush WaterSense toilet. The floor tile is large 12×24 linen finish.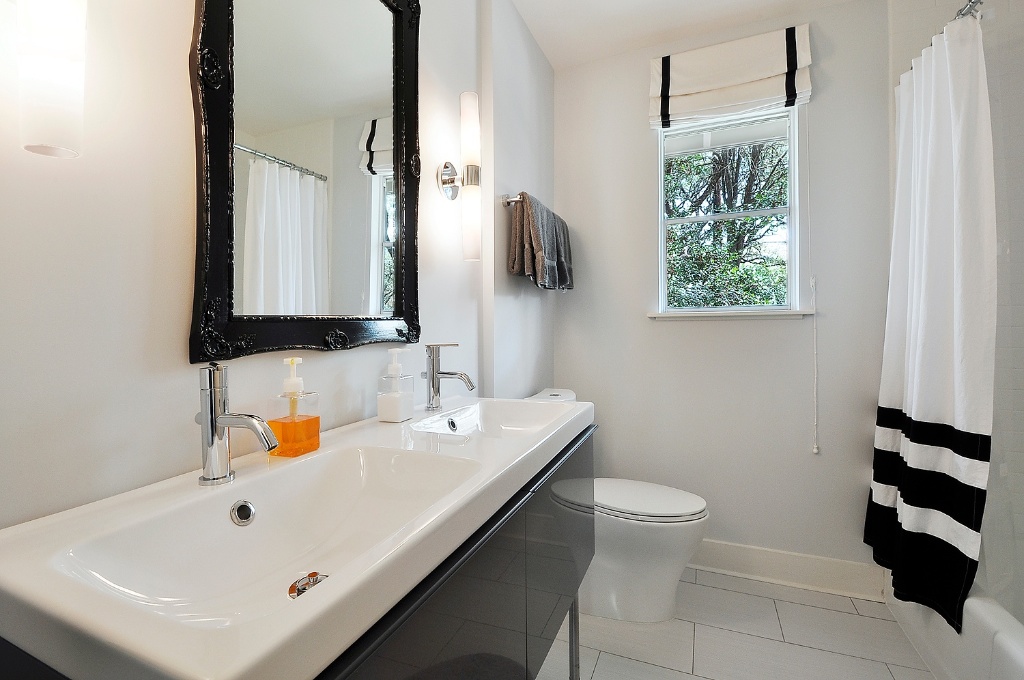 For selling, we staged one of the bedrooms as a nursery. If you know me, you'll know how ironic this is. (It's also funny because as our realtor said, "yours is not a… 'family' home." I guess all of the white rugs and sofas gave it away…)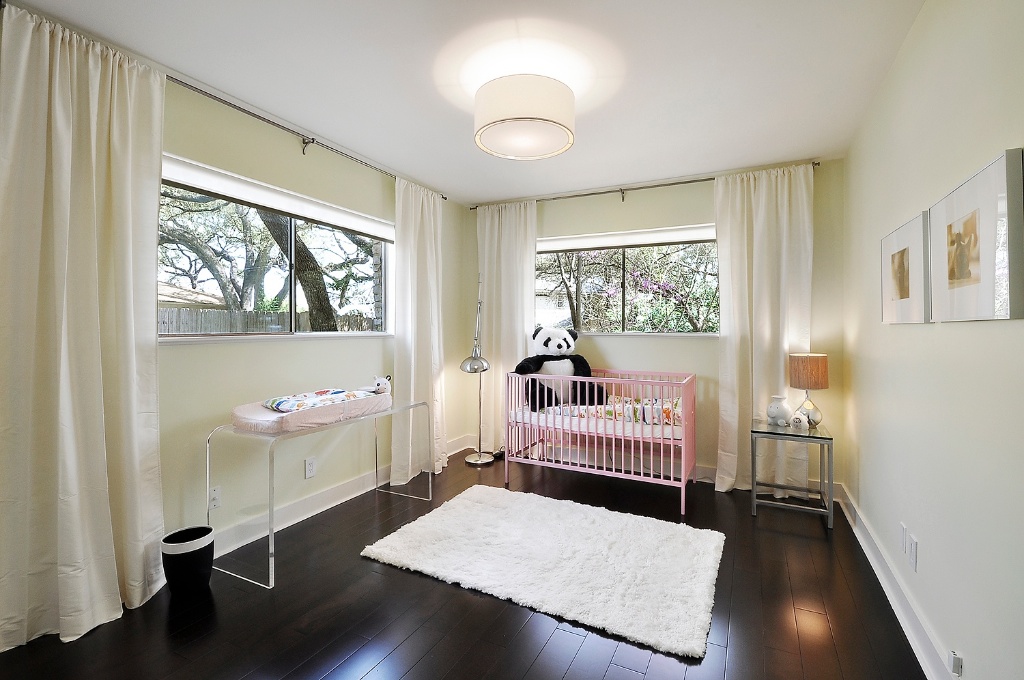 Speaking of those white rugs… Here's our living room, through to the dining room.  Note the bar cart in the corner – an essential accessory for any formal living room.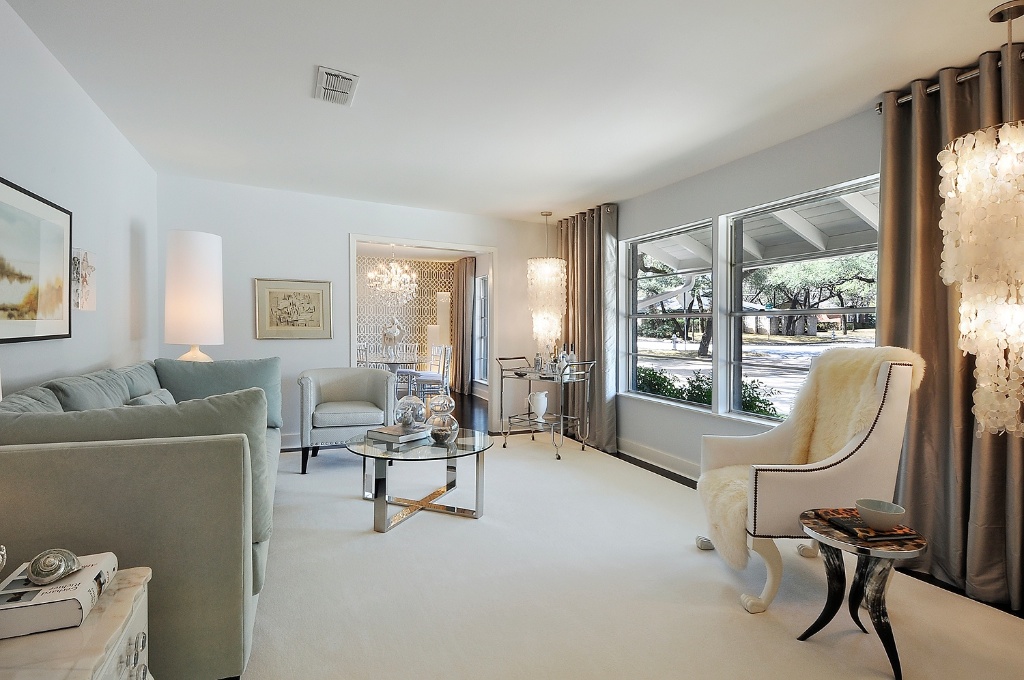 The dining room, with AEJ's custom-designed butterfly wall art. (Those are all real butterflies.)  The wallpaper is Kelly Wearstler's Imperial Trellis.  The dining table is a Saarinen 78″ oval in Arabescato marble.  We've sat 10 at this table.  (The dining room is a bit larger than it appears here.)  The crystal chandelier was our addition.  (The old thing was nasty.)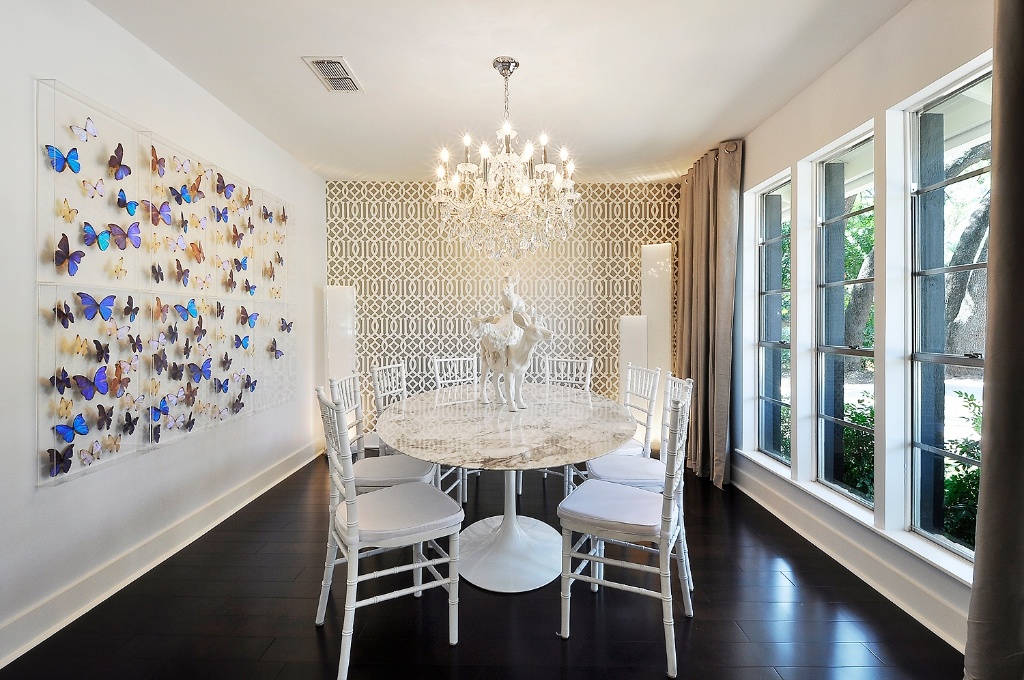 Turning the corner, here's the dining room heading into the kitchen.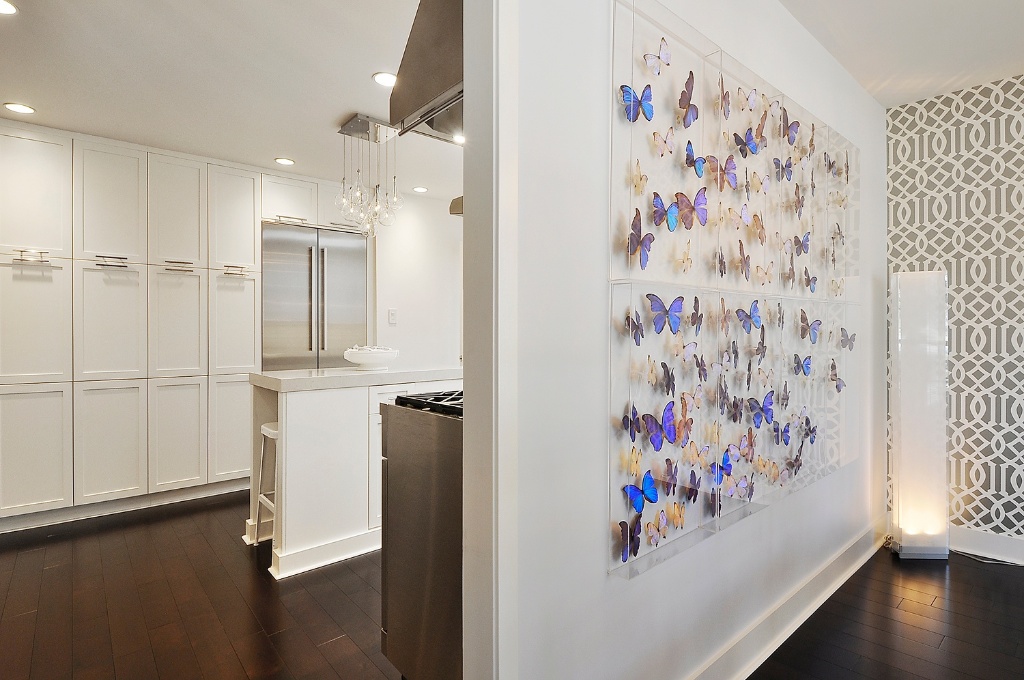 The highlight of the house is the kitchen.  The range is a GE Monogram (as seen on Top Chef!) dual-fuel 6-burner and convection oven with matching hood with shelf and infrared warming light.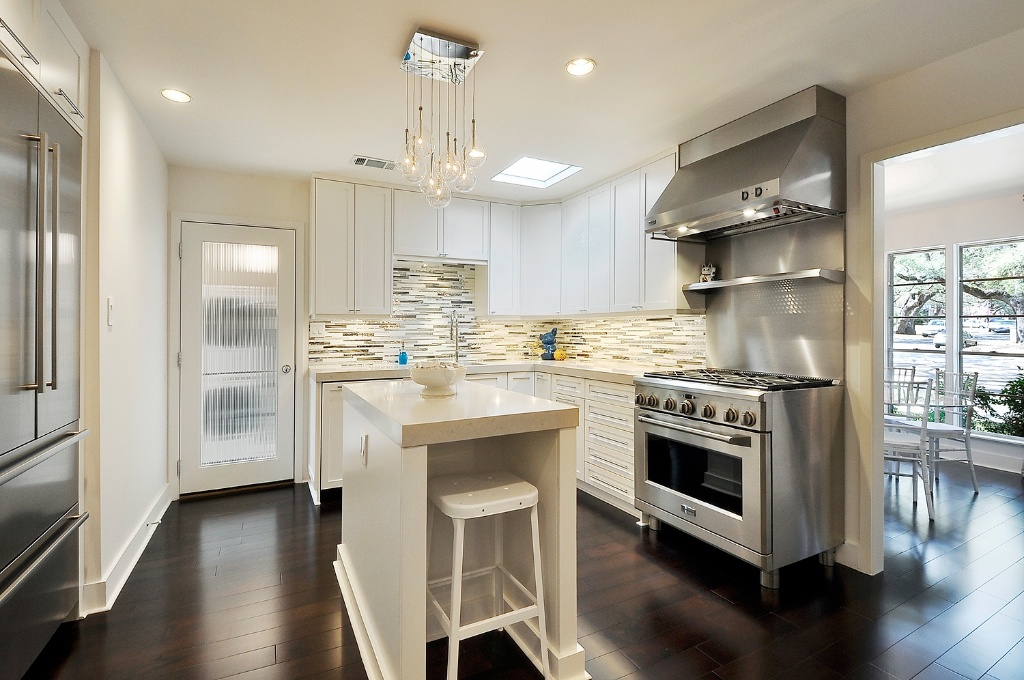 It's all very shiny.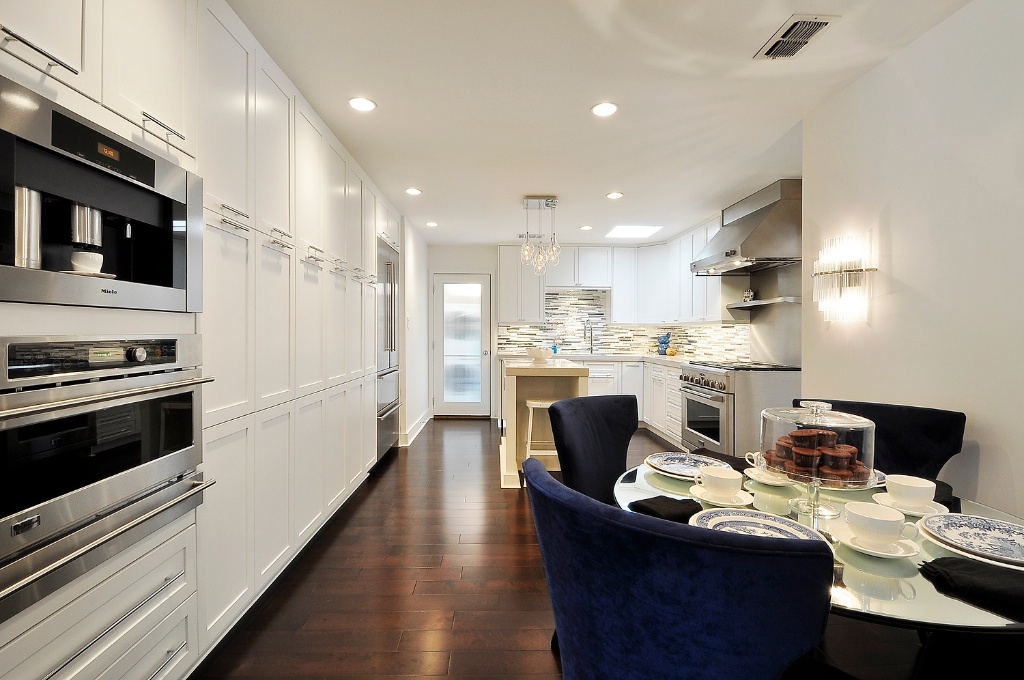 And it has a friggin' built-in espresso/coffee/cappuccino machine!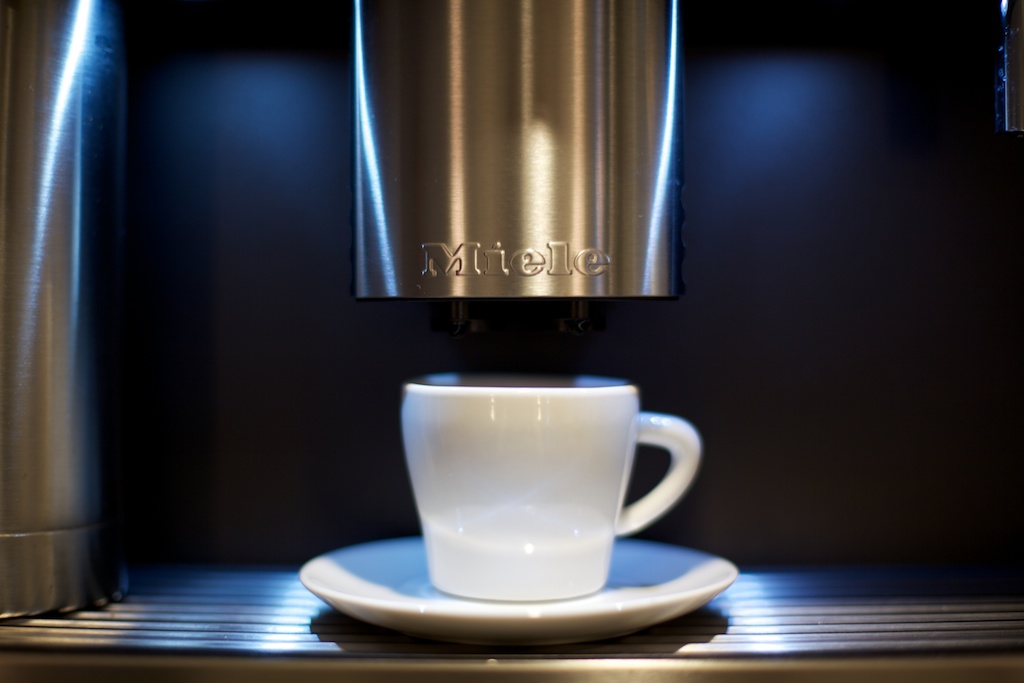 It's tough to photograph the backsplash, a hand-built custom mosaic from MUM New York.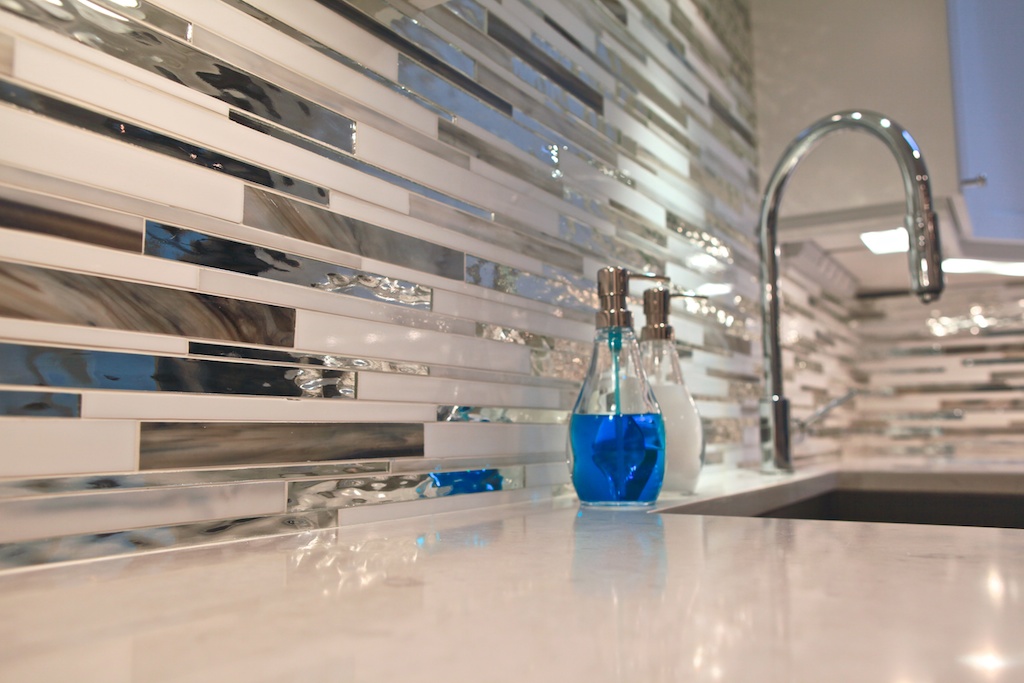 Looking from the kitchen through to the family room. (We removed the wall that used to separate the two rooms.)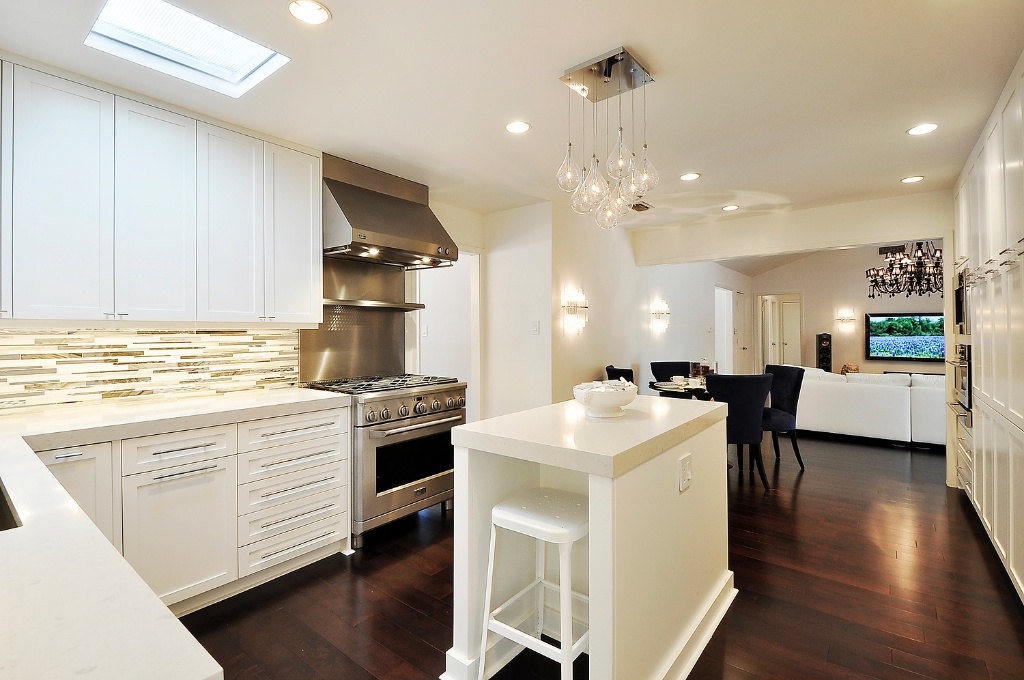 Did I mention the built-in espresso machine?!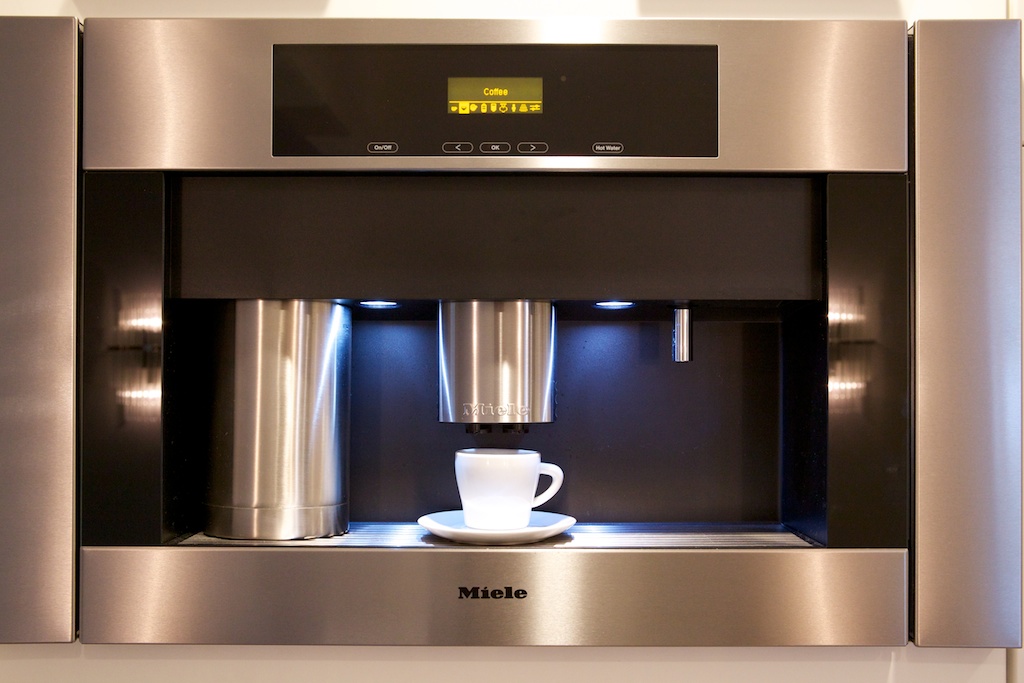 Another angle from the kitchen and breakfast area through to the family room.  (This table is a Saarinen table with a custom mirrored top.  Disco, baby.)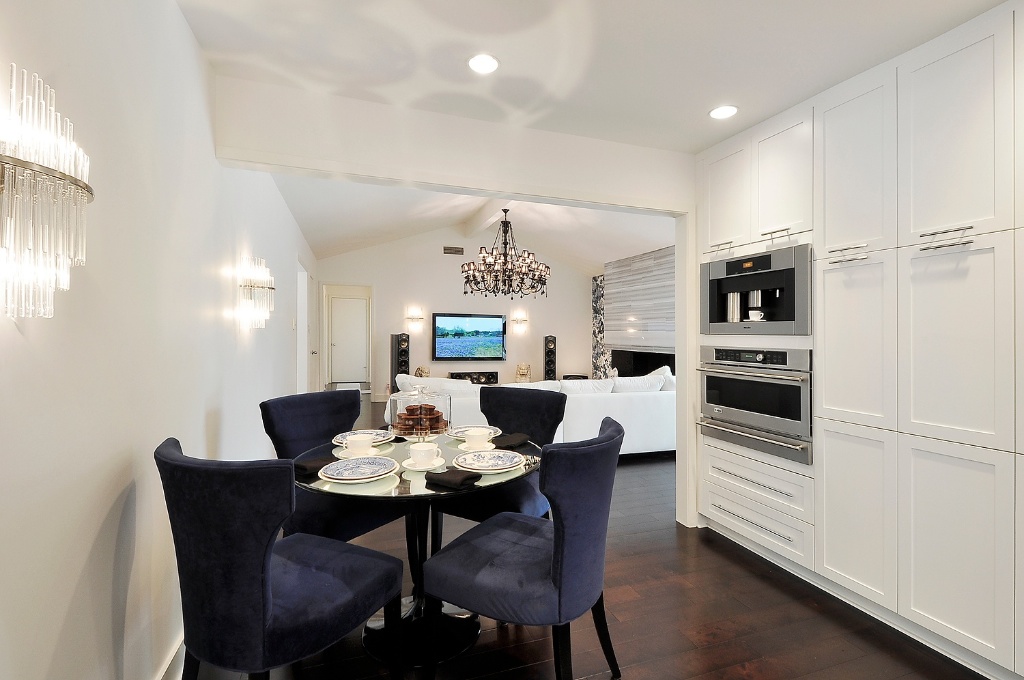 Looking from the family room back towards the kitchen.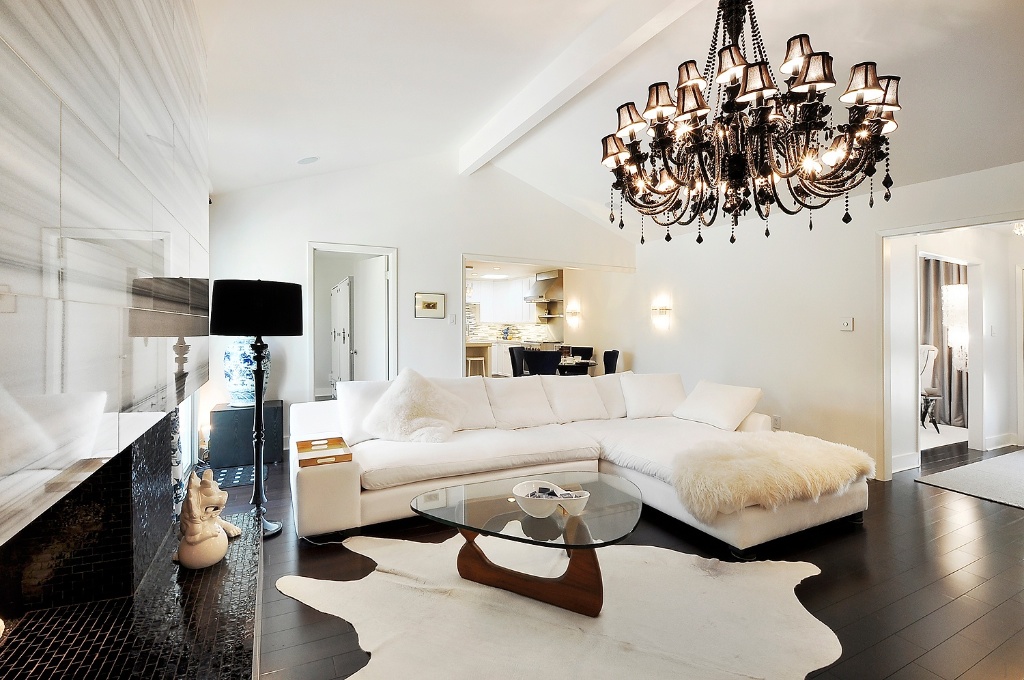 From the foyer looking into the family room.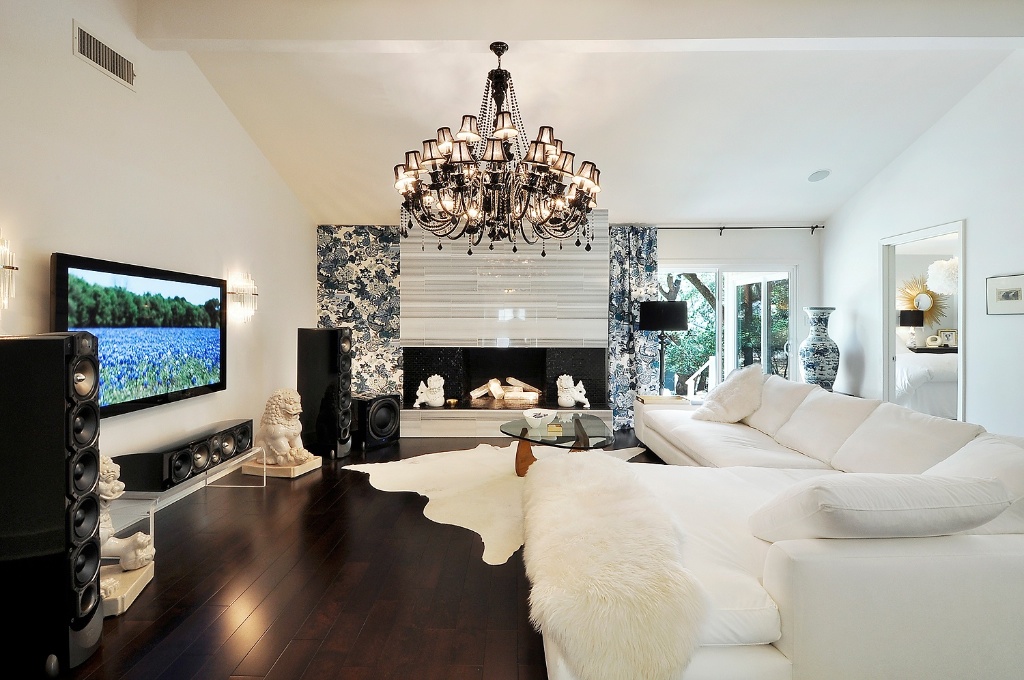 We reframed the old limestone fireplace and clad it instead in Equator Marmara striped marble (yes, marble) and a handmade black rippled glass mosaic. We also installed lighting (controlled by remote control) that lights the firebox, giving those logs the impression that they're glowing. It's very Fortress of Solitude. You can barely see them, but Paradigm surround speakers have been installed in the ceiling. There's also in-wall wiring going to a rear subwoofer.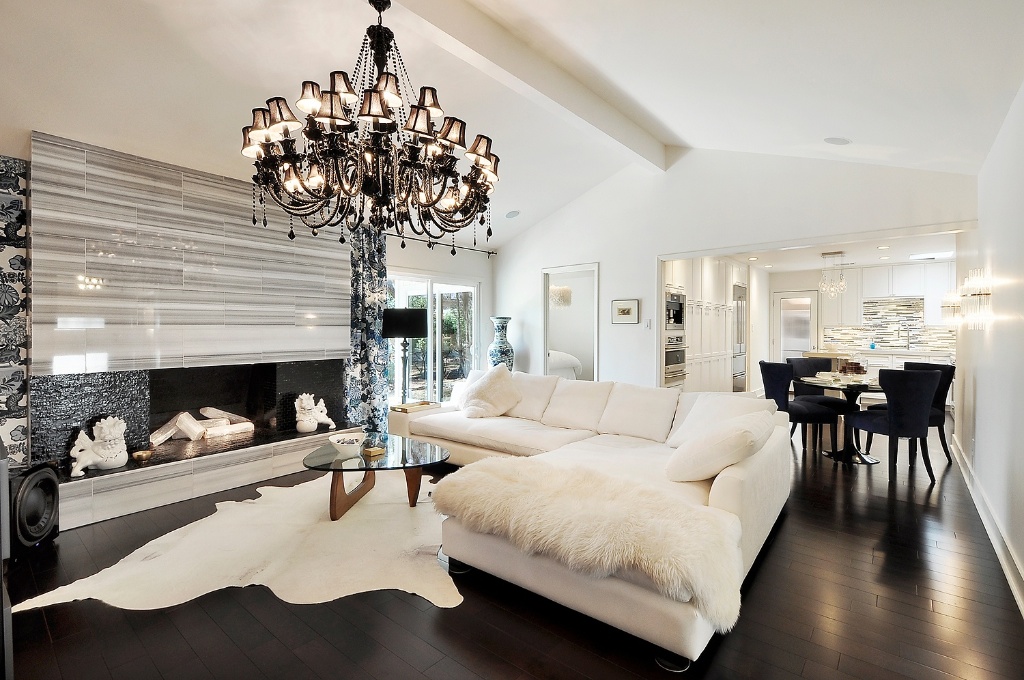 All speaker and A/V (HDMI, Ethernet, power, etc.) wires are hidden in the walls, and the components are hidden away in a closet, controlled by RF remote (which also controls all of the lighting in the room, so that if you press "watch movie" on the remote, all lights go off, except the sconces which dim to 5%, along with the subwoofer's backlight).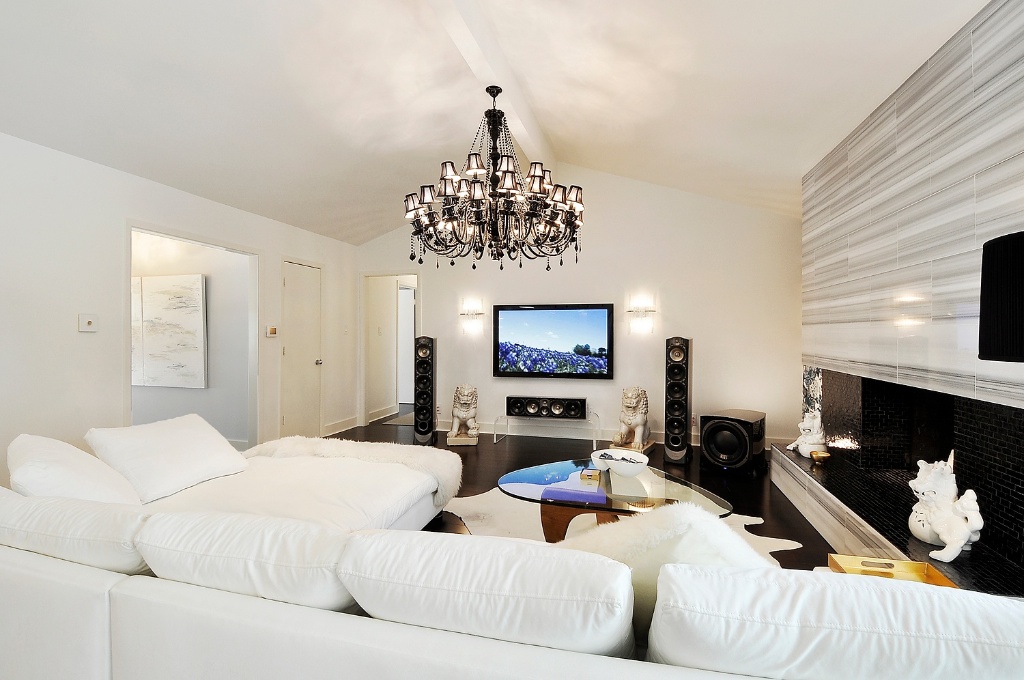 Here's that foyer I mentioned, with an AEJ-designed 48″ door.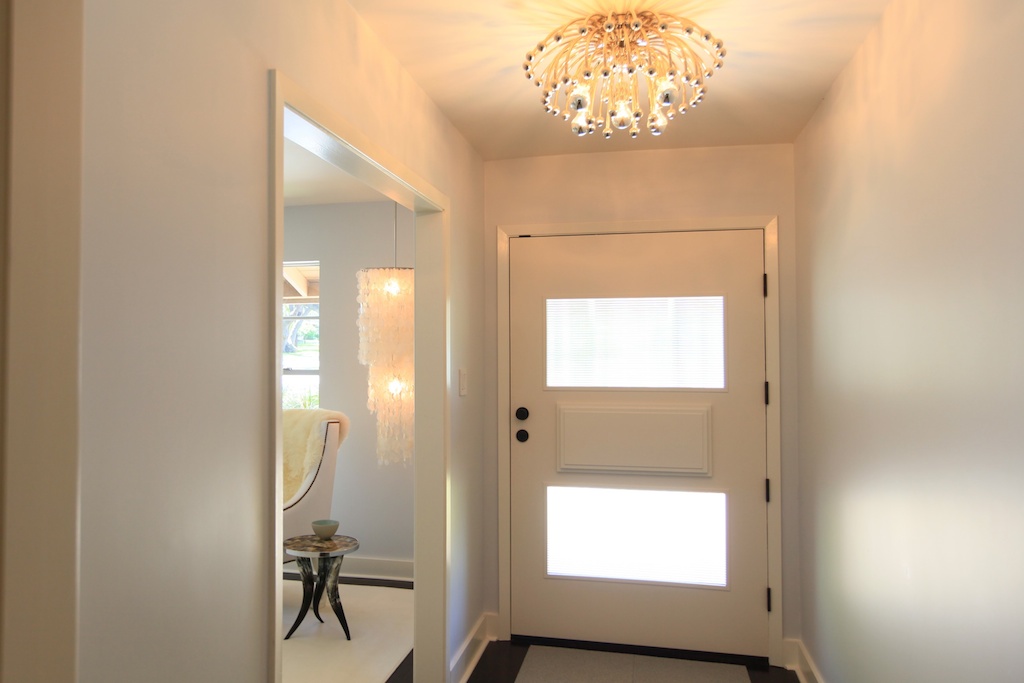 Here's the front door, from the other side (obviously).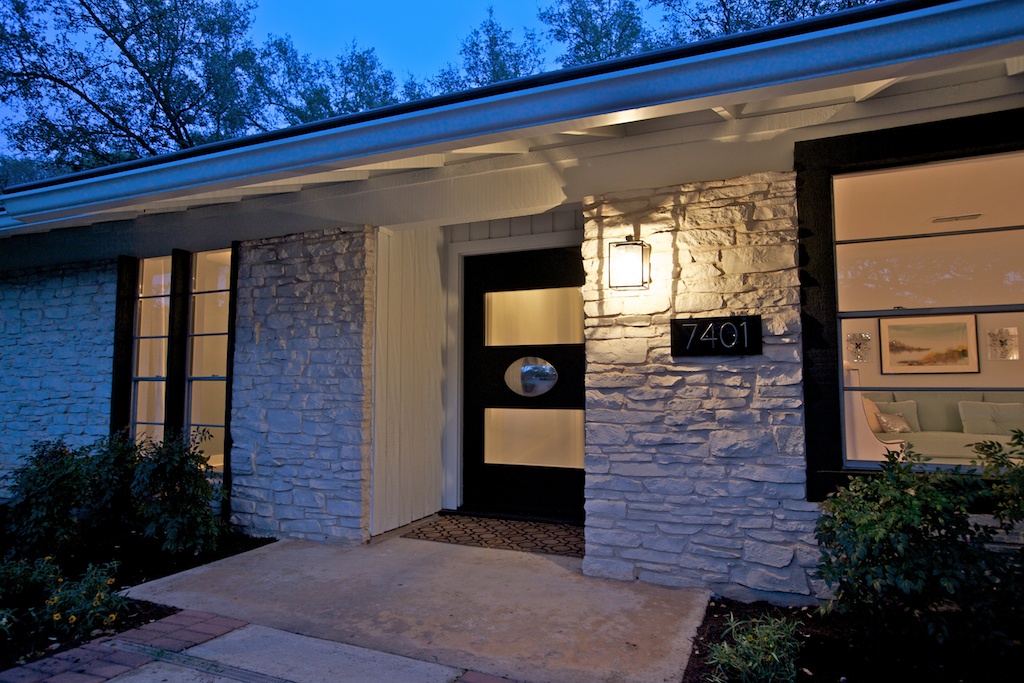 The laundry room used to look like this. Seriously.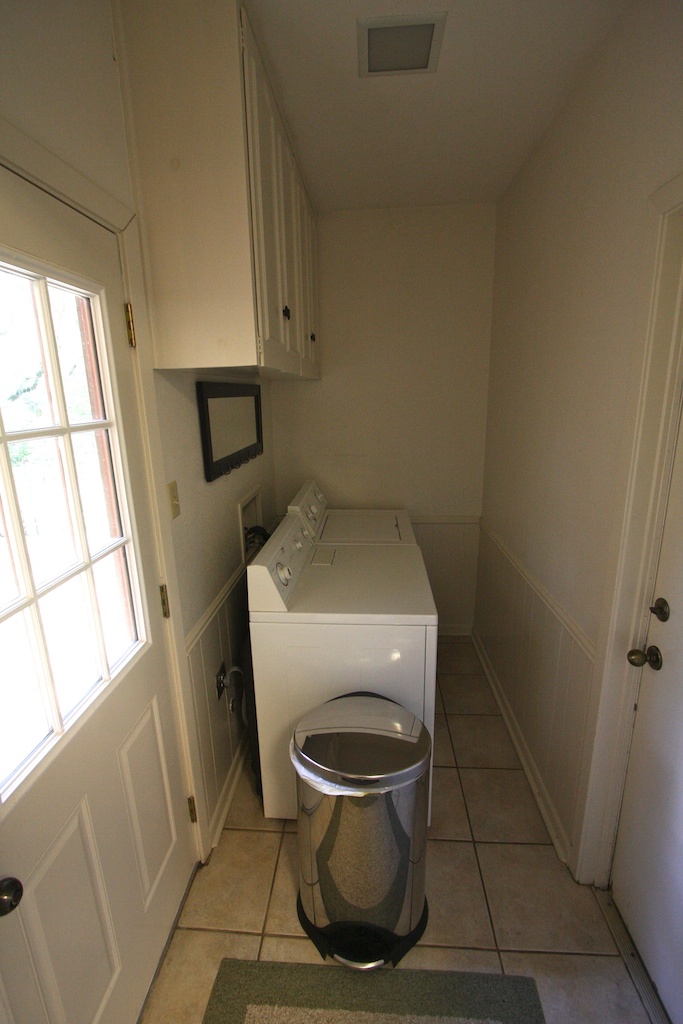 It was completely gutted, and now has marble flooring and a top-of-the-line Electrolux washer and dryer.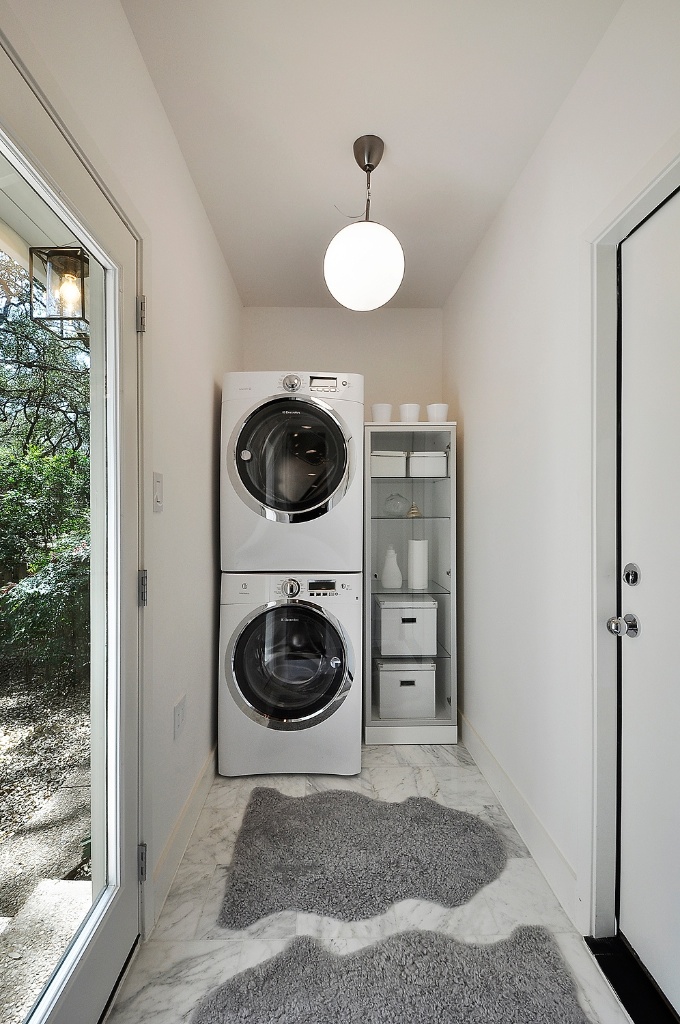 Here's my studio.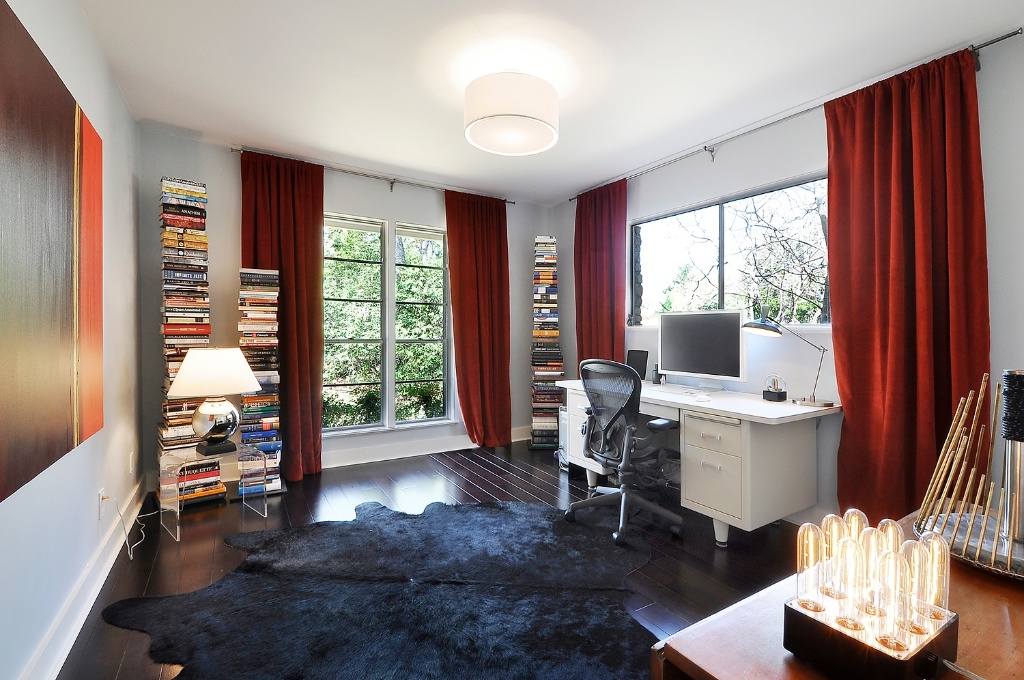 Moving on to the master bedroom… AEJ designed and made that light fixture.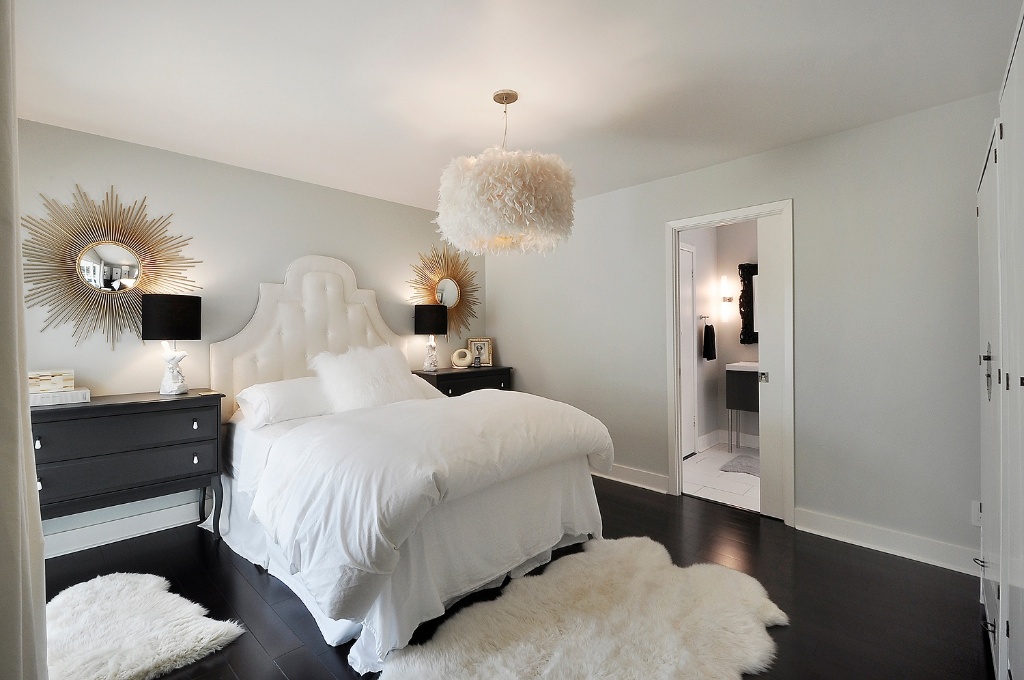 Another angle.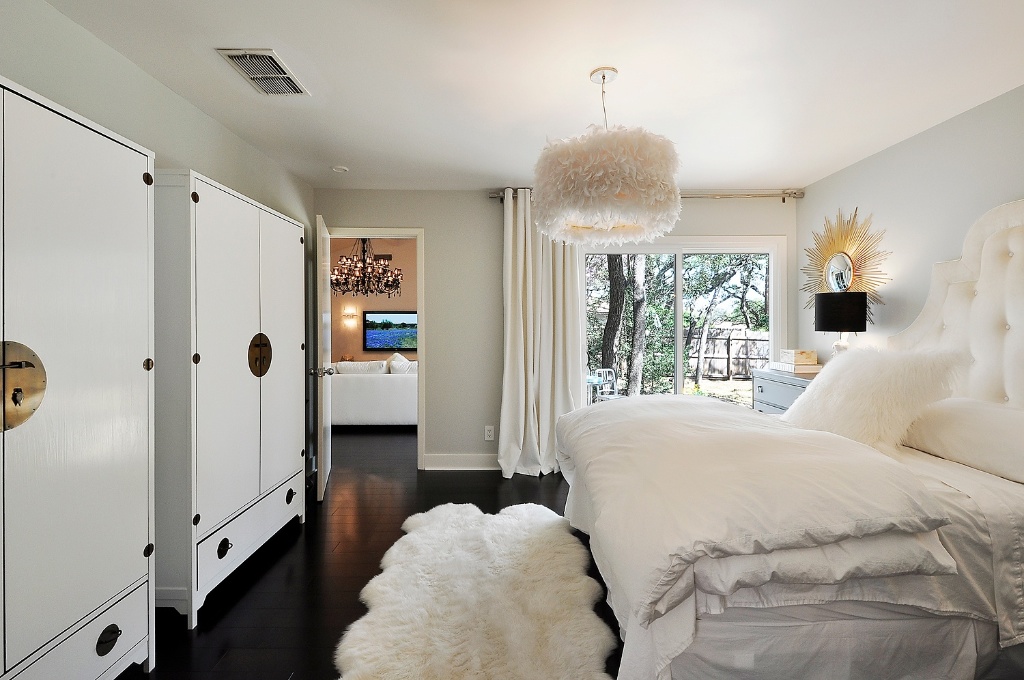 Here's the master bath with the same fixtures as the guest bath (including a ridiculously nice toilet).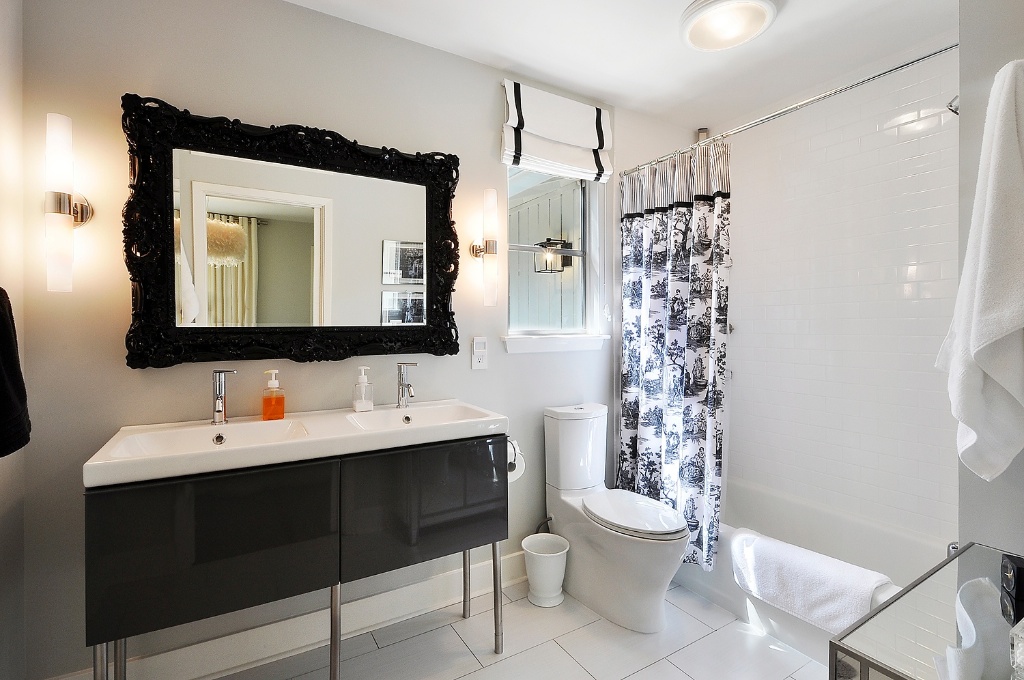 Another angle, looking back through the master bedroom, into the family room.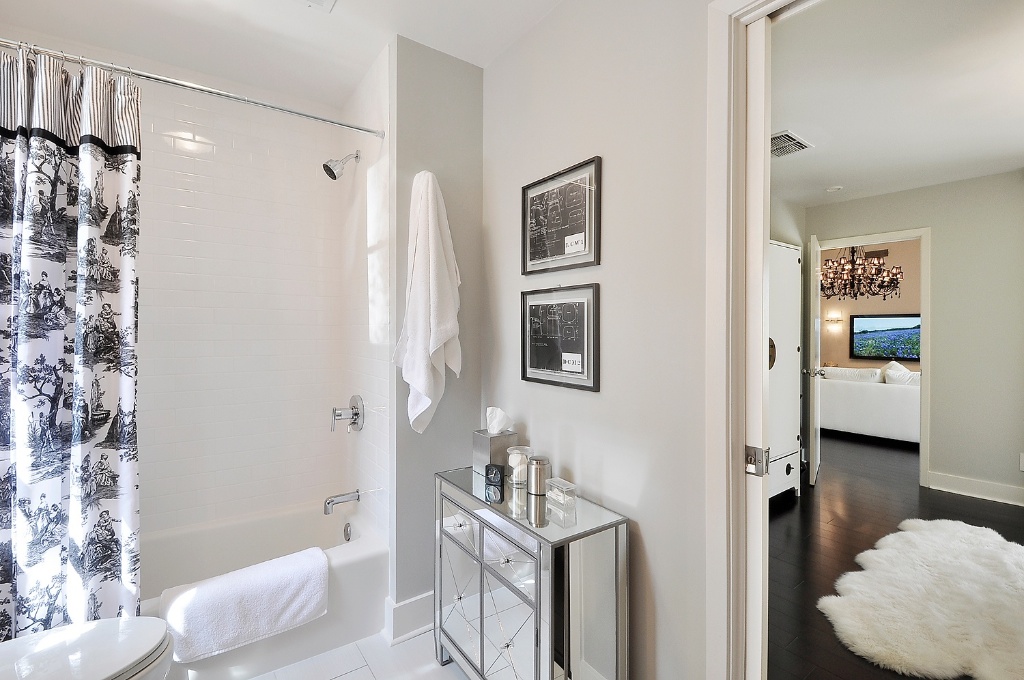 The back yard isn't too much to look at, because it's March. By May, though, this'll be green(er).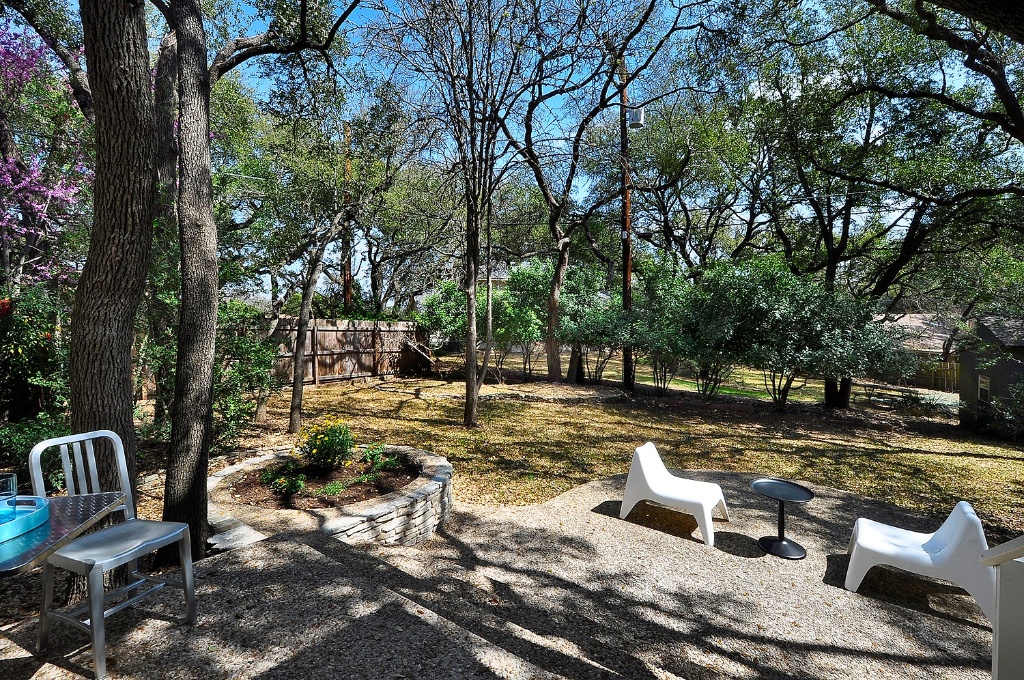 That's the house. Three years of AEJ's heart and soul, and more band booster dollars than I care to discuss. We wish we could bring it all with us — like a terrifying episode of "Haulin' House" — but that's not possible. We hope our house makes somebody else happy, too!