May 2, 2009
Kitchen remodel – update 2
It's been a damn productive week here.  The kitchen remodel started on Tuesday, and it's kind of amazing where we are only 4 work days later.
On Wednesday, they tore down the ceiling.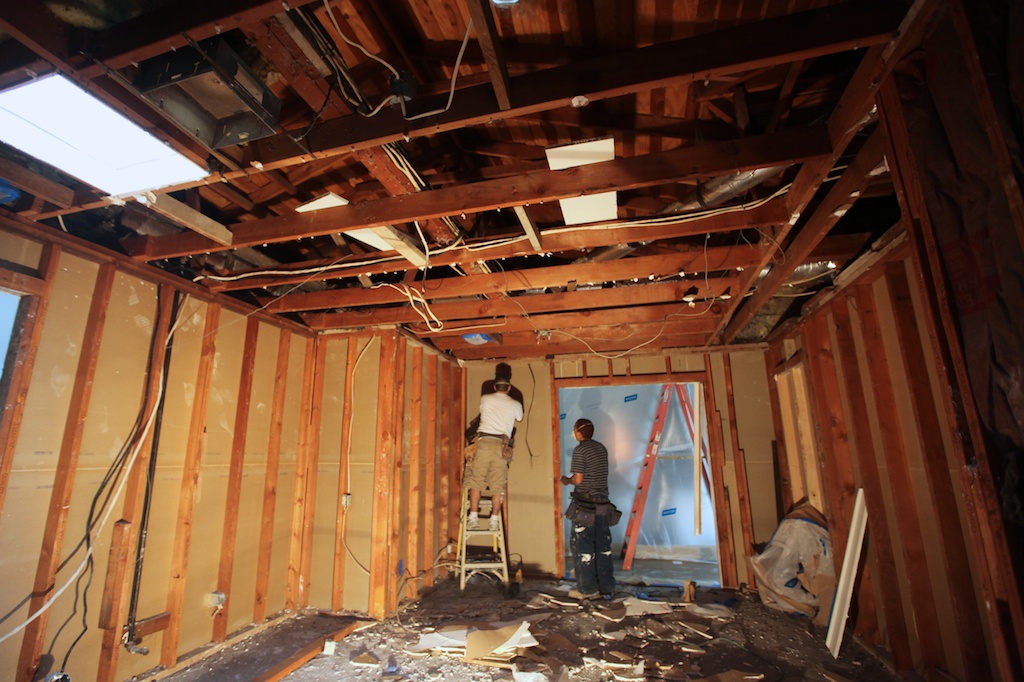 Thursday, the electrician spent 11 hours here. AEJ figured that he ran wiring for something like 28 new things — everything from recessed can lights to undercabinet lights to wall sconces to pendant lights to undercabinet (and hidden) power strips to island power to inner-pantry power to the new dishwasher, garbage disposal, (240V) range, hood, integrated fridge, built-in coffee maker, and combination (240V) microwave-warming drawer-toaster-convection oven. He also re-wired a bunch of circuits so that the living room lights are no longer on the same circuit as the master bathroom's overhead light — since they're on opposite sides of the house. The kitchen lighting got a new dedicated circuit so it won't dim when we turn on other things. Then there was all of the measuring to make sure all of these outlets go exactly where each appliance specs the power to be. For the fridge, for example, the outlet is centered above it — and it's a tall, 80″ refrigerator.  Since we're basically acting as our own general contractor on the remodel, we had to be in the kitchen for all 11 of those hours.  It was a long day.
There's been a good deal of reframing, too. We expanded the doorway between the kitchen and the family room. Here, the guys cut out that large piece of wall.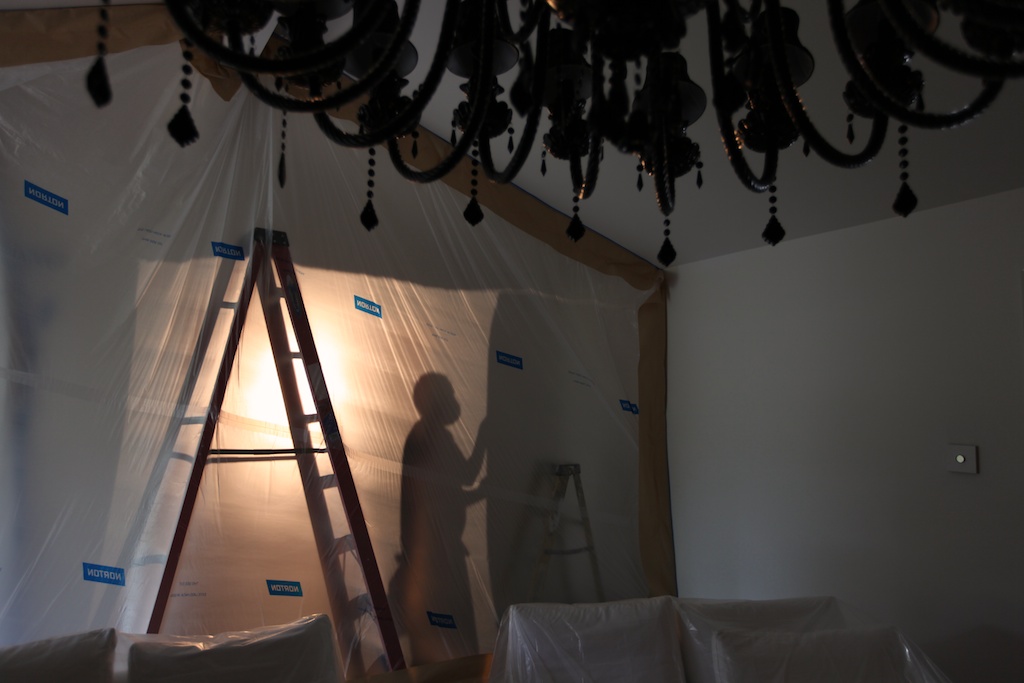 And here they remove the old header to make room for the new (much longer) header.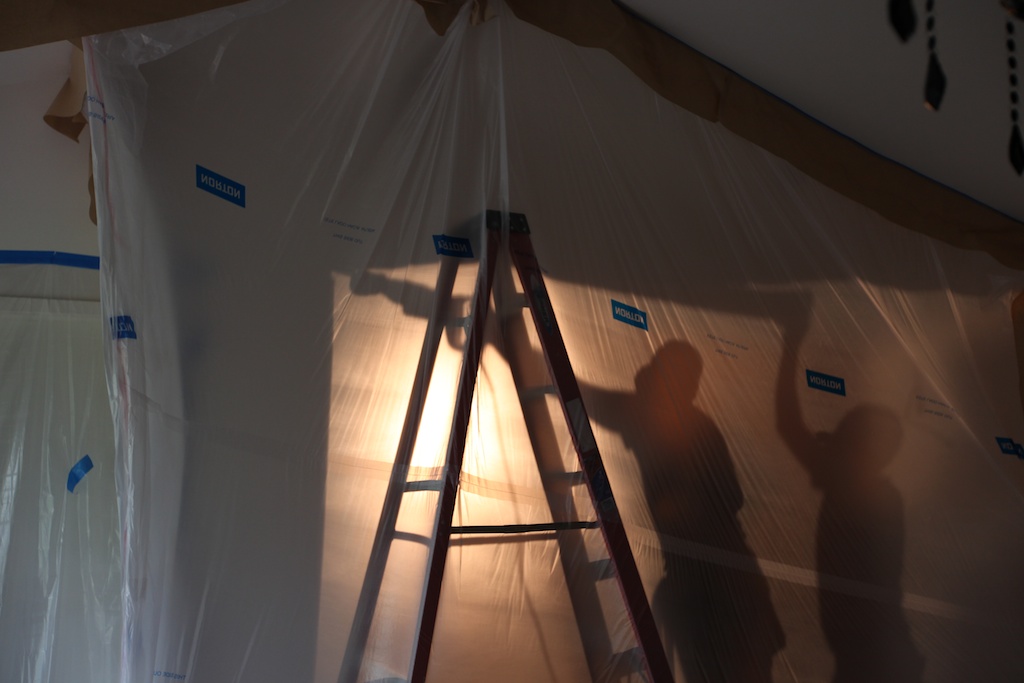 Before long, we'd gone from this…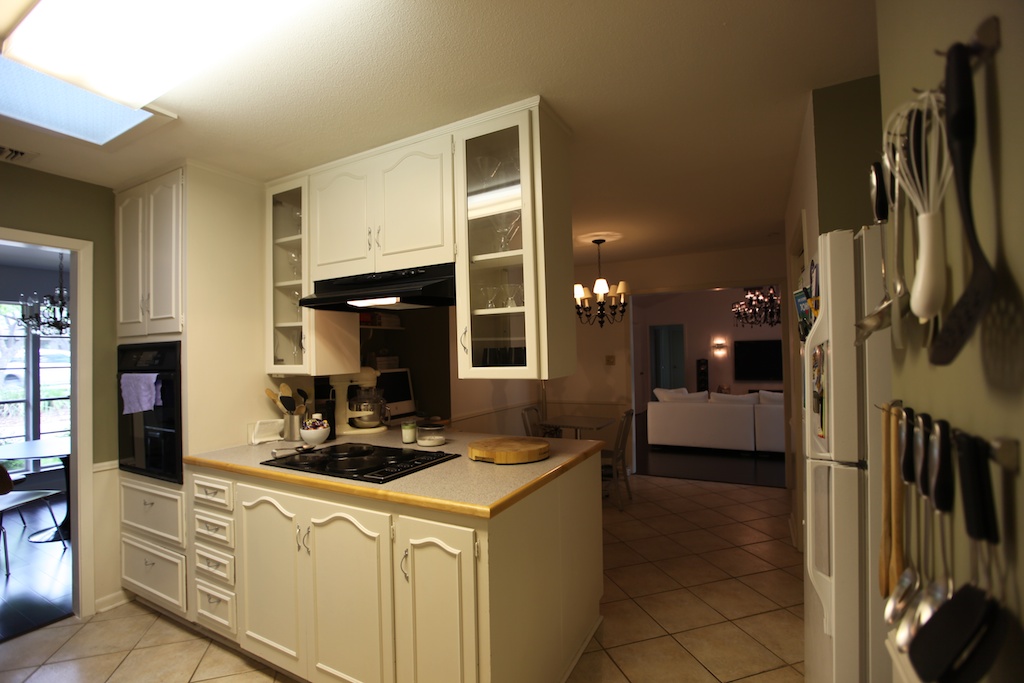 … to this.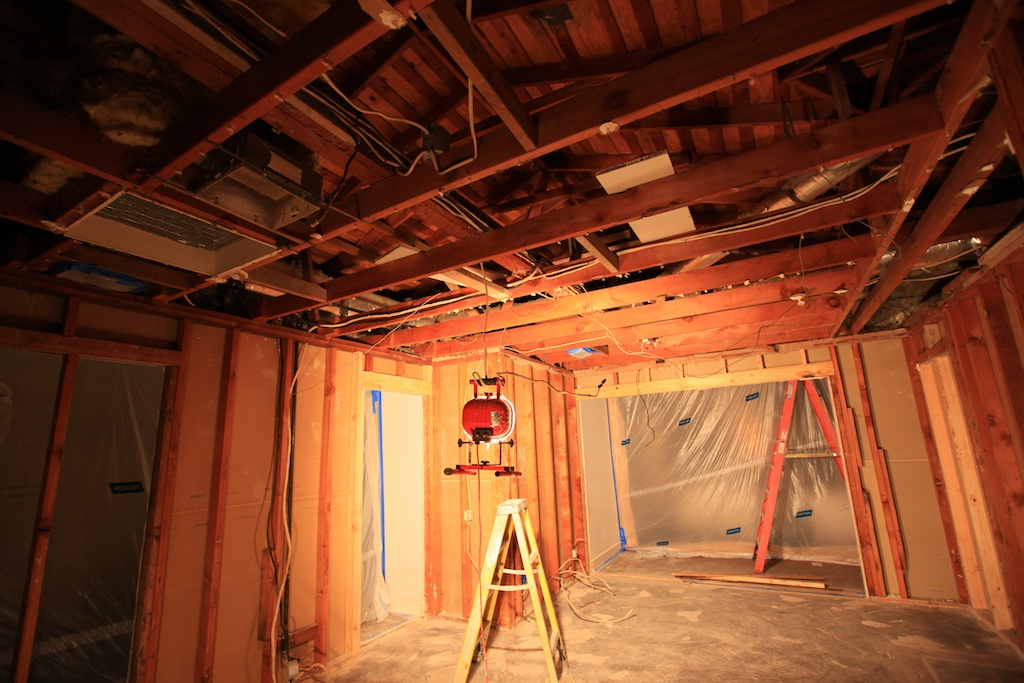 They started hanging fresh drywall yesterday, and by last night, we had this: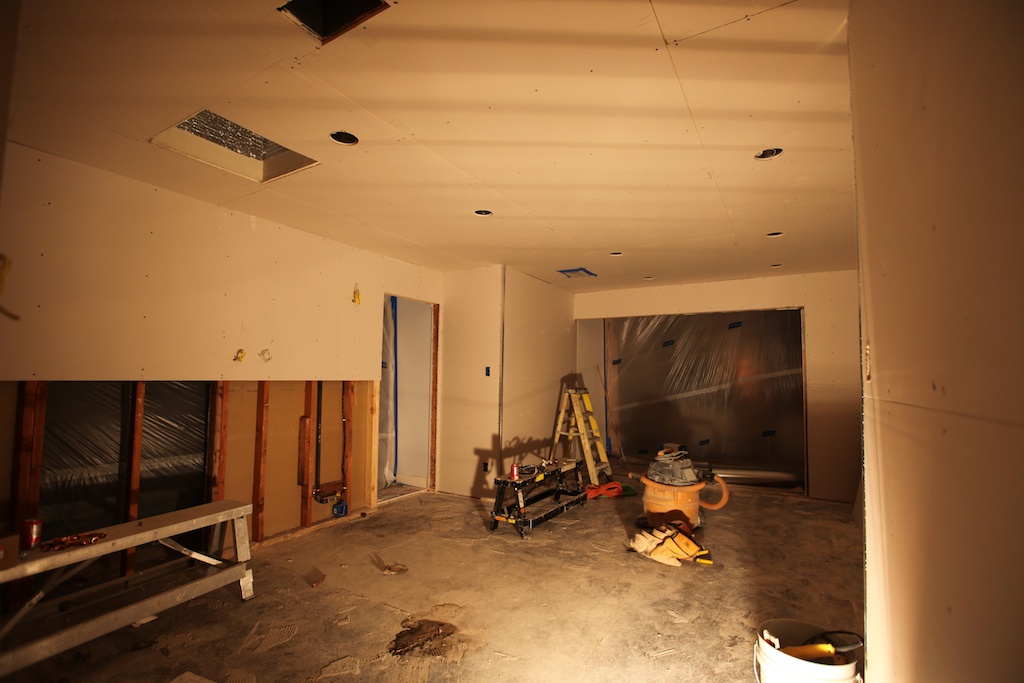 Today is mud & tape day.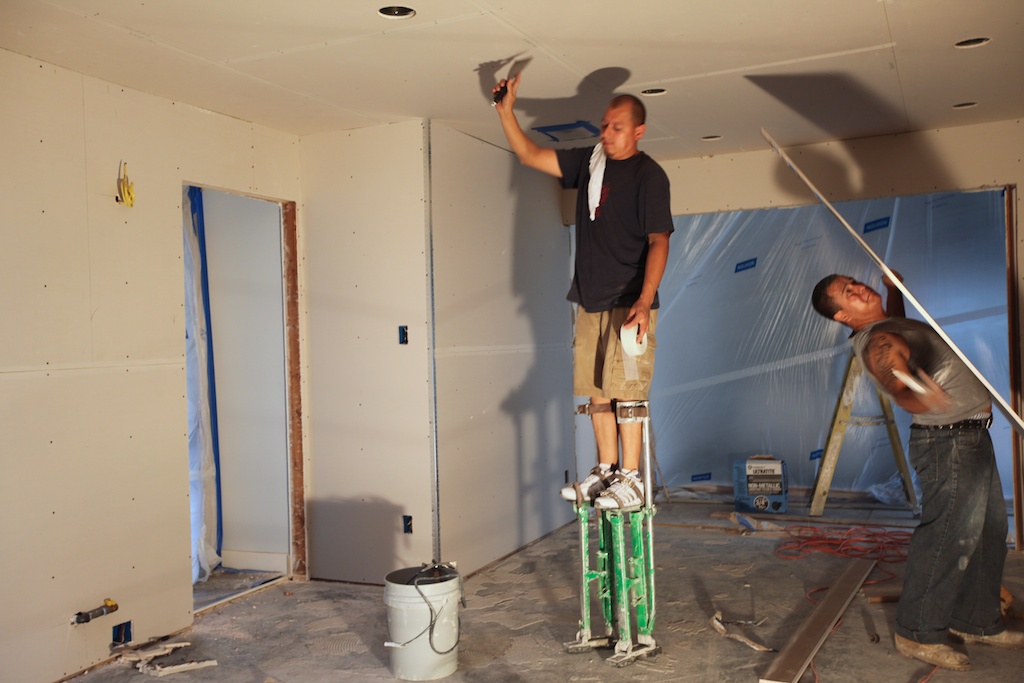 Watching a show on HGTV the other day, we heard homeowners say that the four most expensive words in the English language are "while we're at it…" It's true — and they're hard words to avoid when you have a really great crew at your house every day. So, AEJ and I asked our contractor on Thursday, "while we're at it, what would it take to also gut and resurface this adjacent laundry room?" Oops.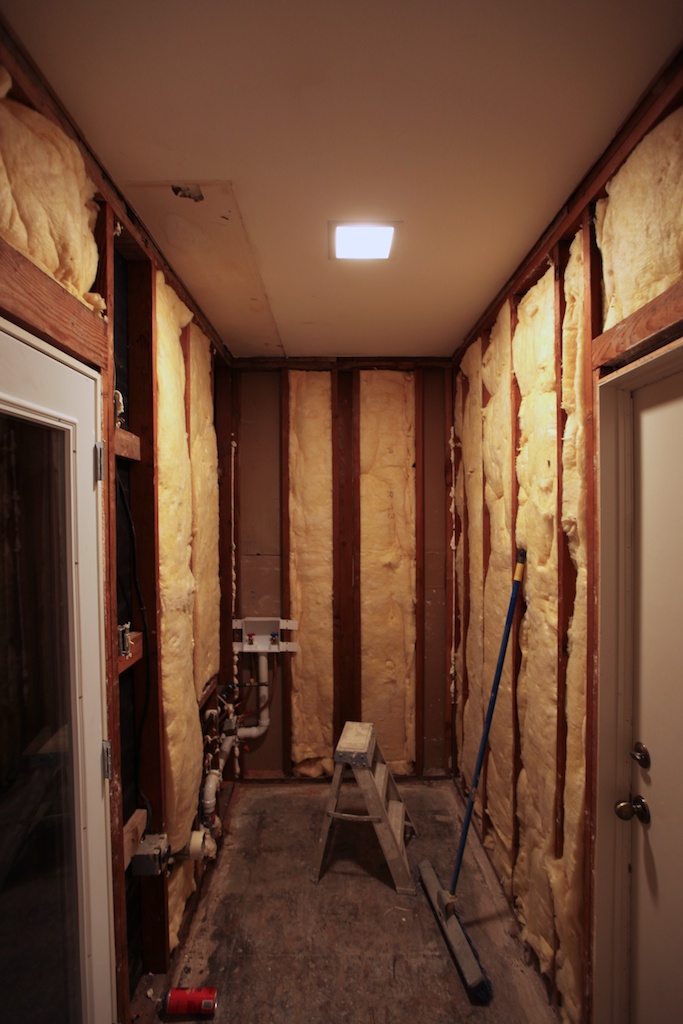 The laundry room is between the garage and the kitchen, and this is the room we come through every time we return home. It was tiny — not much we could do about that — but it was also ugly, and not climate controlled. We're going to run HVAC into the laundry room, insulate the room (it wasn't even insulated), put in new tile flooring, and move the plumbing to a better place so that we can reposition the washer & dryer in a way that won't trap AEJ in there if she has the dryer door open. We also ordered a new washer and gas steam dryer, replacing the old ones that came with the house. We are so friggin' weak.
I'm hoping every high school in America wants to license bunches of my pieces for their fall marching shows. Otherwise, the Mackey house will be really pretty, but we won't be able to afford any food for that fridge. Maybe I can get a part time job at that new Panera Bread…