April 6, 2007
Japan, Part 1 : Tokyo
Here, finally, is part 1 of the blog entry about our recent trip to Japan — complete with dozens upon dozens of photos. Pour yourself some green tea and get comfy, 'cause this is going to take some time…
The flight from LA was direct, and it took about 12 hours. It departed around noon LA-time on Wednesday, and landed around 4pm Japan-time on Thursday (which felt, to us, like midnight). By the time I took this photo, we were pretty ready to get the hell off the plane.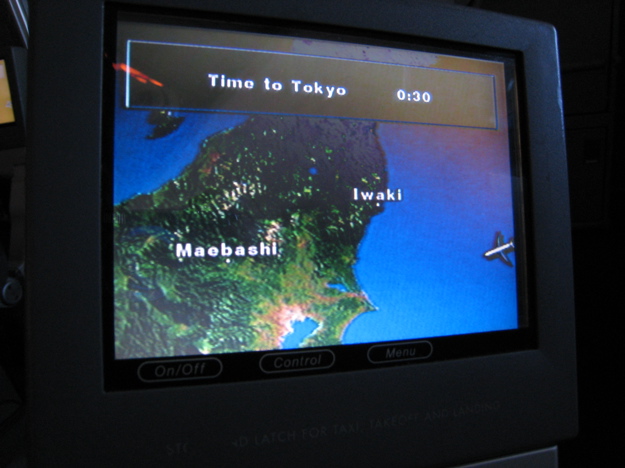 Japan, of course, welcomed us.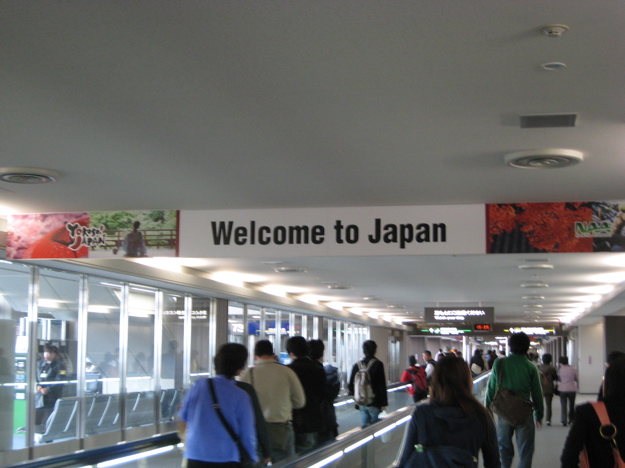 Step one : check into the hotel — the Mitsui Garden Hotel in the Ginza district of Tokyo.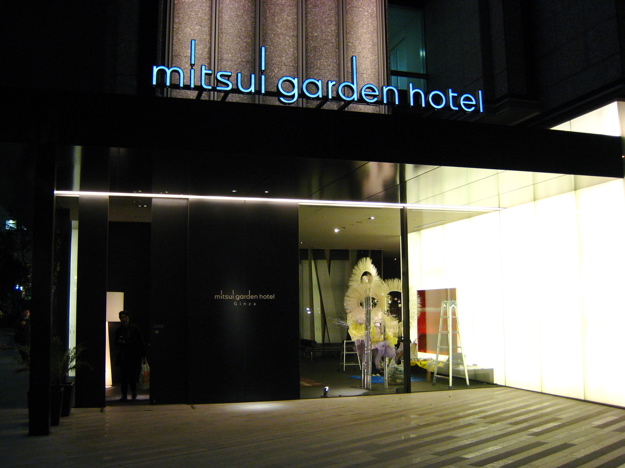 The lobby of the Mitsui Garden. Swanky. I thought it was one of the nicest hotels we stayed in in Japan, and for some reason, it was also one of the least-expensive.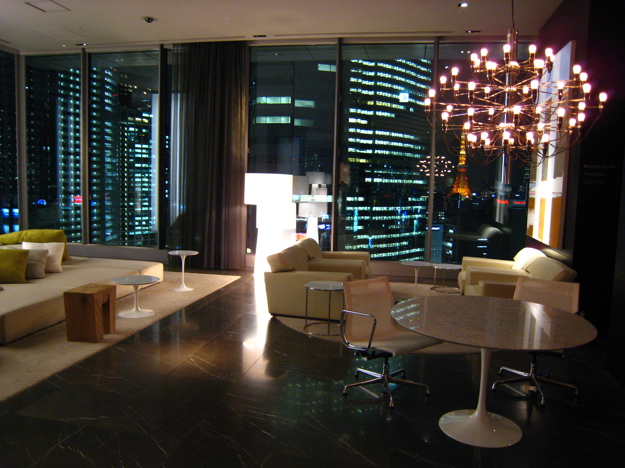 Here's our room. Tiny, as we expected, but very cool. There was a window in the shower wall so you could look through to the living room and see outside while showering. If you wanted privacy, though, you could flick a switch and the window would instantly frost over. This room was awesome.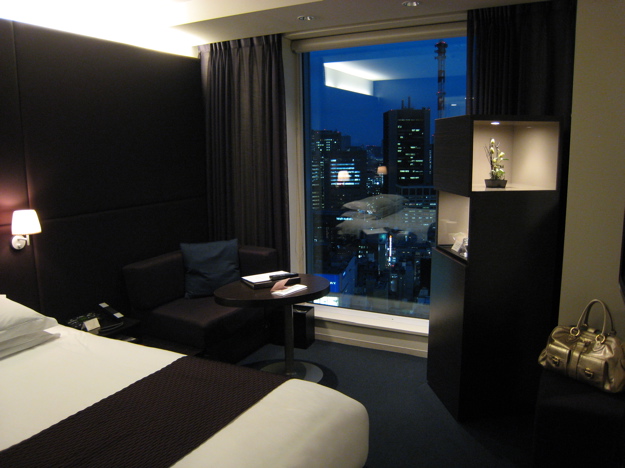 We were on a fairly high floor, and the view was spectacular.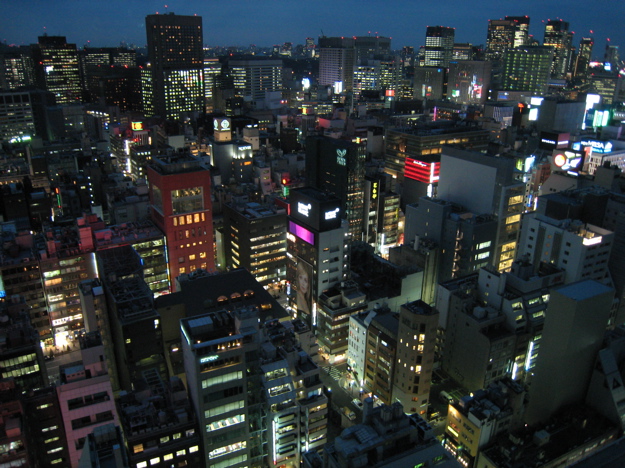 And no bible in this dresser! No sir, it's Buddha all the way!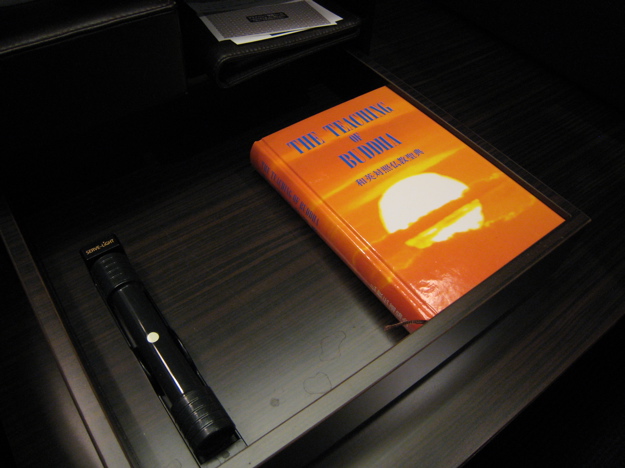 It was probably 7pm by this time, but we wanted to say up until 9 or so to get adjusted to the new time zone, so we counted our per diem (which converts, as far as I could estimate, to about eleventy-gabillion dollars)…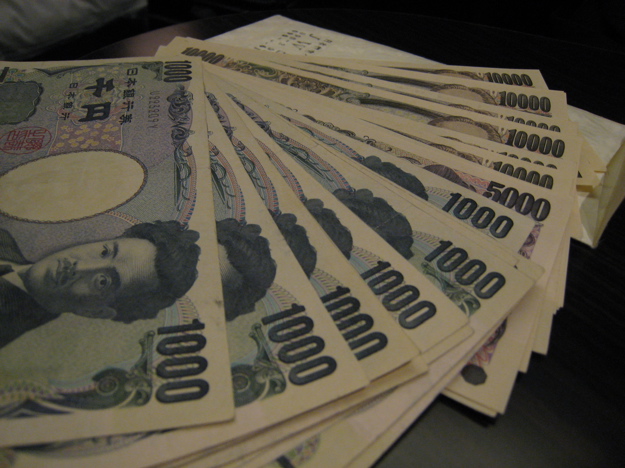 … and went outside to see the neighborhood. This dude was one of the first to greet us.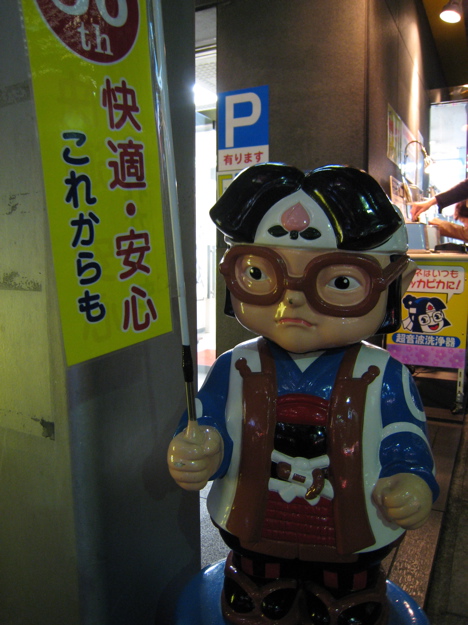 He invited AEJ to clean her glasses with some kind of magical fluid-slash-vibration technology. Her glasses had never been cleaner.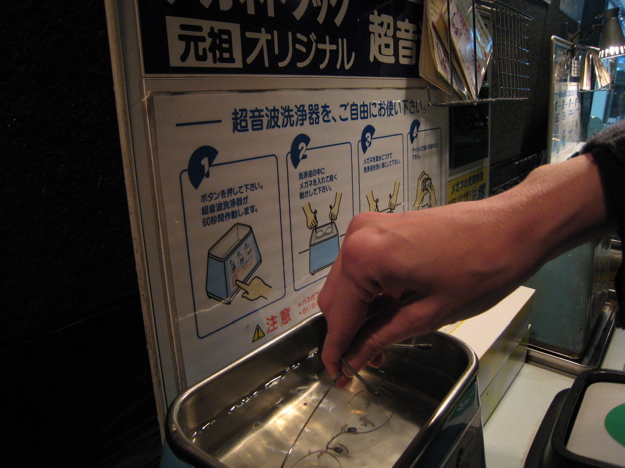 Our friend Wataru had recommended that we have an authentic Japanese dinner of ramen…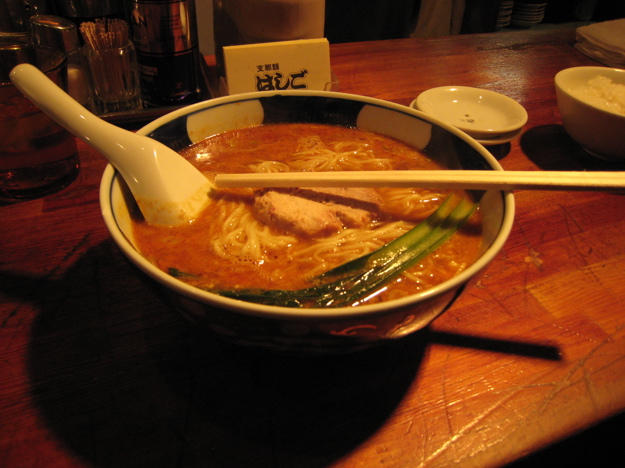 … and gyoza. Wataru gives good advice. It was delicious. (AEJ did a great job ordering in Japanese.)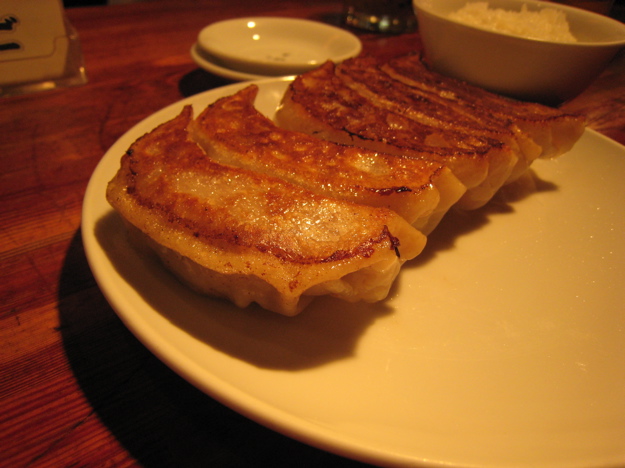 If we hadn't felt like going authentic on our first night, I suppose we could have eaten at the local T.G.I. Friday's. Seriously. I'm not sure that Japan is where you should go for your Cheddar Cheese Nachos (although they're a bargain at 380 yen – which I think is roughly $800. Or so.).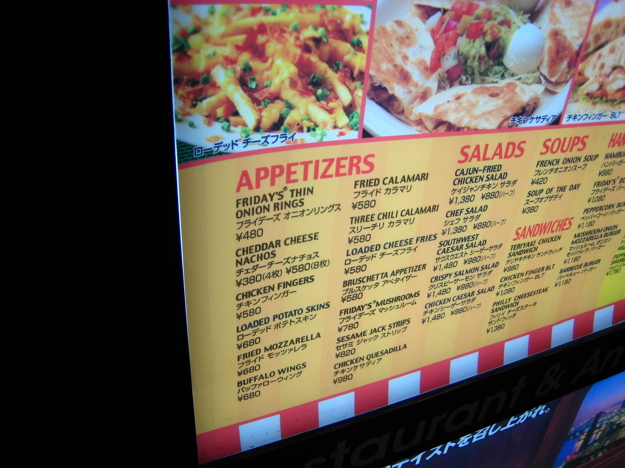 We walked on one of the main drags in Ginza. It looks similar to New York — there's even an Apple Store! — but it was almost silent. Absolutely no honking car horns. The sidewalks were crowded, but everybody was speaking in hushed tones. And weirdest (and most pleasing) of all — we never, during our entire trip, heard a cell phone ring. Everybody in Japan keeps their phones on silent, because ringing cell phones "could annoy your neighbors" (according to the recorded message on one of the buses we rode). It was also spotless.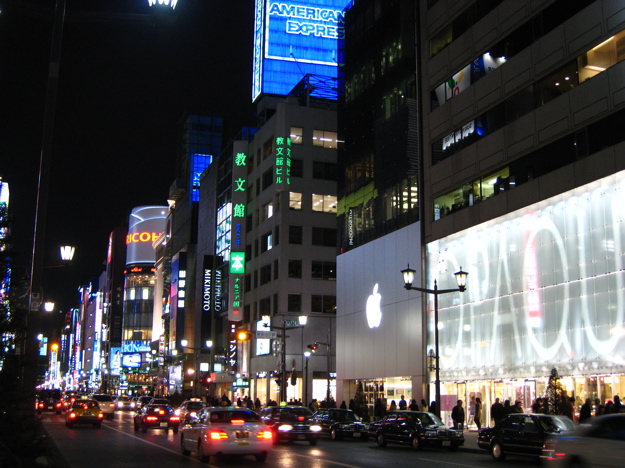 We went into the Apple Store, which felt identical to the Apple Stores elsewhere in the US — expect the prices were in Yen (and boy howdy, when you see a price tag of 319,000 yen, it's kind of striking), and the keyboards had Japanese characters on them.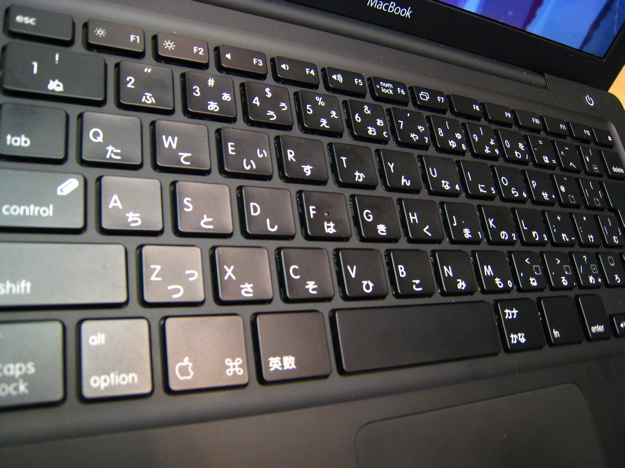 I dug the colors of the lights of this department store.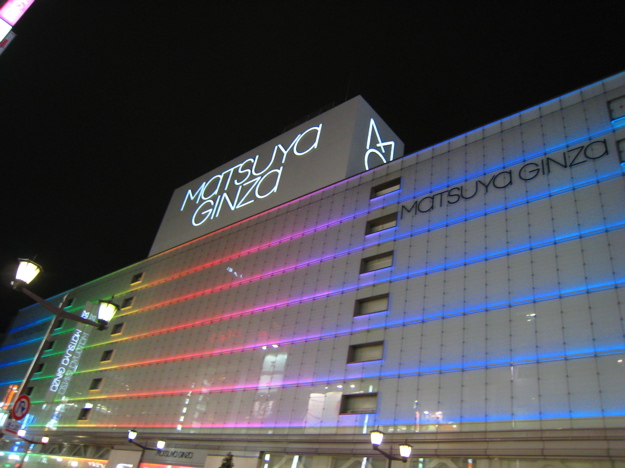 The next morning, I went out for a Starbucks. (You can order a "cinnamon dolce latte" in that language anywhere, apparently.) Fully caffeinated, I was ready for our ride on the bullet train to Kurashiki, a small town near Okayama, where the band convention would be held.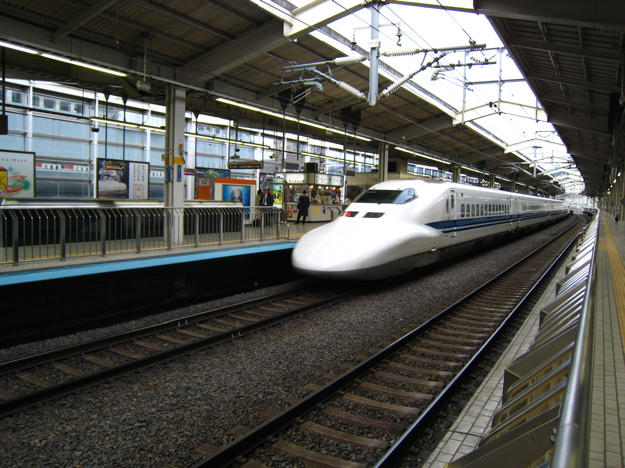 The shinkansen (the bullet train) is nice. Because we were from a foreign land, we were able to buy a one-week rail pass at a greatly-reduced price, allowing us unlimited rides in the reserved "Green" first class car. Roomy.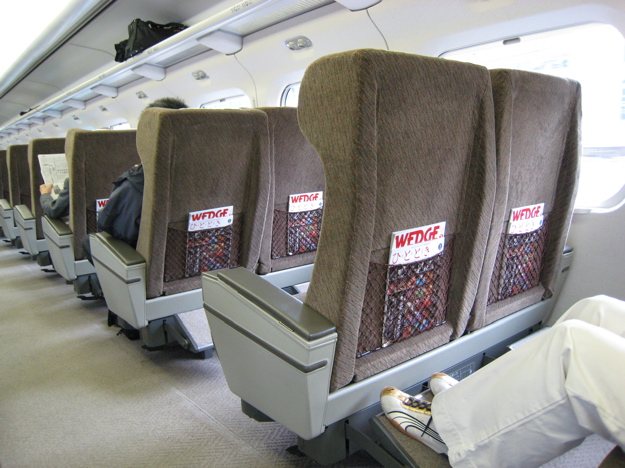 We arrived in Kurashiki that afternoon in time for rehearsal of my brand new piece, "Kingfishers Catch Fire." And that's where part 2 will begin…