July 17, 2009
Come On In!
As I mentioned on Facebook the other day, the kitchen is now 100% finished.  The cabinet company finally delivered (10 weeks after the initial cabinet installation) the correct cabinet front for the dishwasher.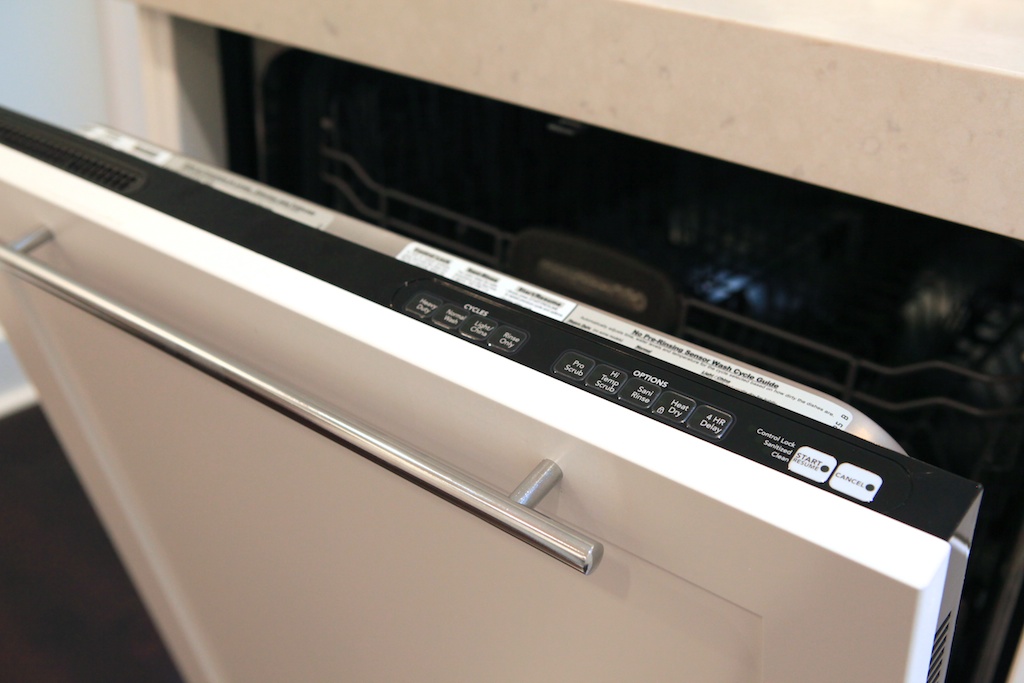 Much better!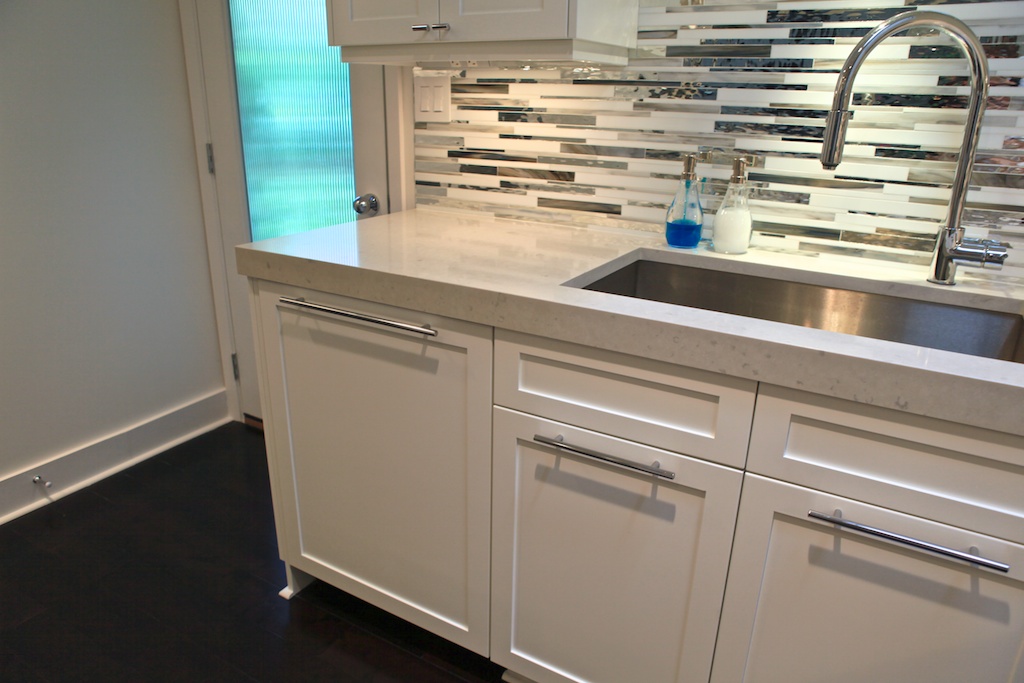 We haven't just been working on the kitchen, though. I've already written about the remodeling of the family room and the living room, but I haven't yet shown the before-and-after shots of another major change we made recently: the new front door.  But how major a renovation could that be?!  That's what I thought before we started.
AEJ, who has a very clear vision for how every detail of the house should look (in case you couldn't tell), hated our front door. To me, it was just kind of regular ol' front door. I mean, this door is all over the place. But this wasn't the original door to the house. Built in 1968, this house probably had a somewhat hip door when it was built. That door is long gone, and we were left with this.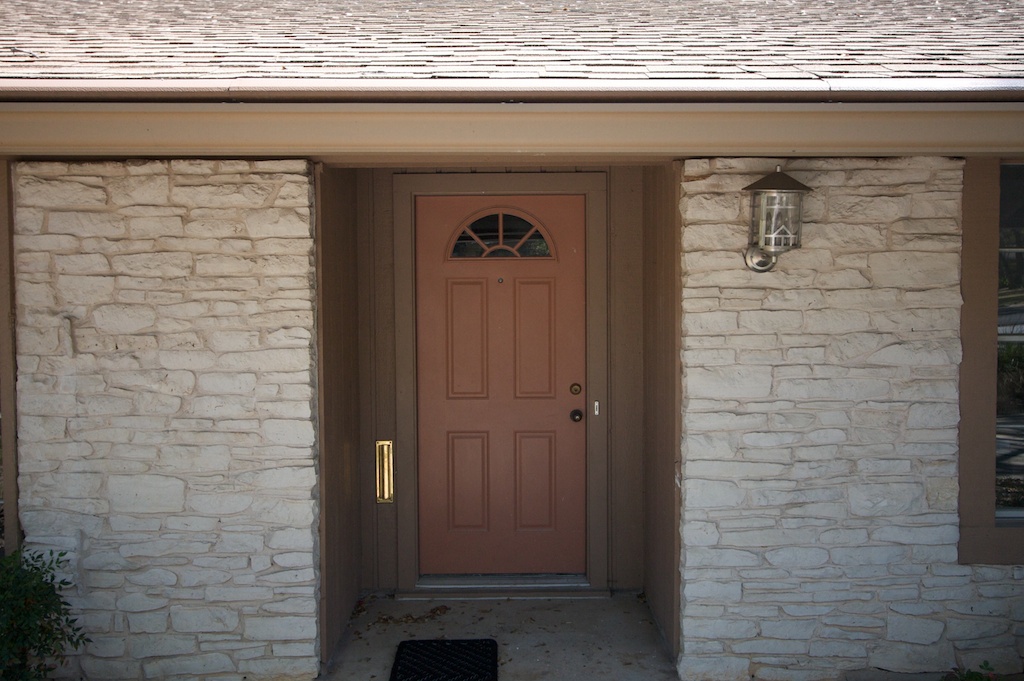 Very soon after we moved into the house, we visited a place in Austin called Crestview Doors. They were a custom door manufacturer (they've since basically gone out of business), and AEJ and I headed over there to talk to them about building the door that AEJ designed. Right. This was not just a new door — it was a custom door, conceived by AEJ. As Jonathan Newman said when I started describing this process, "you know, you can just buy a door, right?" Yes, but that wouldn't be nearly as fun, and wouldn't make AEJ as happy!
Probably 8 weeks later, we received the new door. Where the original door was the standard, off-the-Home Depot shelf 36″ door, the new door was a 48″-wide monster with insulated reeded glass.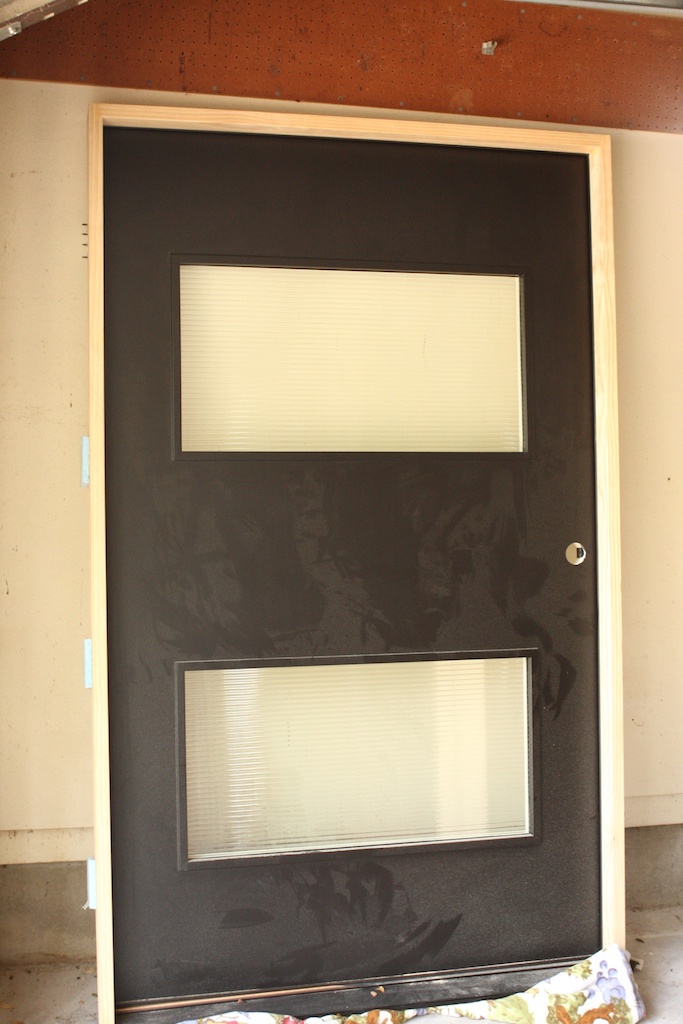 We had the door, but AEJ wasn't done. At all. Her vision was not a standard door knob, but a massive center knob. She wanted it to be like a huge, shiny cabinet pull, right in the center of the door. Awesome! How hard could that be? HA. You have no idea — and neither did I.
The adventure started by visiting a place out in the boonies of Austin — a place called Austin Mac Fab. They're an industrial steel fabrication company, specializing in welding, machining, and now, thanks to us — custom door knobs. (How does AEJ find these places?!) We talked to Jeremy at Mac Fab, and AEJ described what we were after. She showed him a drawing, and miraculously, he didn't think this was an unusual request. I mean, we were at an industrial steel shop, asking for an 18-inch wide oval polished metal door knob.  Jeremy, who was a really smart guy, thought that a great piece of starting material would be a tractor disk. This is a tractor disk.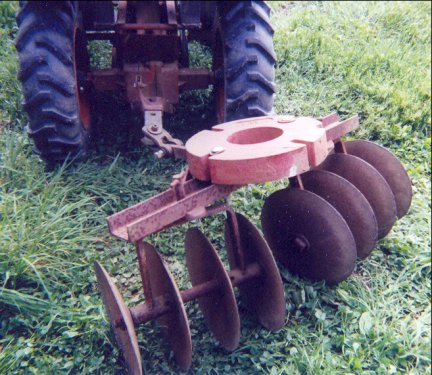 His plan was to cut a large tractor disk into an oval shape, polish it, and figure out a way to securely mount this 45-pound piece of carbonized steel to our front door. Jeremy sent us — I'm not kidding — to a nearby tractor and farming retailer so we could see a tractor disk in person. So we drive up to this place in our Prius — it was the only non-pickup truck in sight — and the owner comes outside, thinking we're obviously lost, and asks us in a thick Texas drawl, "can I haayylp you with sump'n?"  He was very nice, but I'm not sure he quite understood our intensions.  No matter; we had Jeremy order the tractor disk.
Several weeks later, we had our oval-shaped, polished tractor disk and mounting hardware. But it was raw carbonized steel — and AEJ wanted it to be shiny. First we went to a chroming company, thinking maybe we'd have it chromed — like a classic car bumper. The guy at the chroming place kept asking things like, "wait — you want to chrome plate a giant door knob? Why?" This wasn't reassuring, and chrome wasn't going to be right anyway, so we tried another place — Brady's Distinctive Lighting in Central Austin.
How AEJ figured out that a lamp store would have the ability to nickel plate anything, let alone a massive door knob, I don't know, but the owner, the amazing Betty Brady, who seems to have plated just about everything in the 40+ years she's owned this store, didn't question us at all. Somehow, this all made perfect sense to her.   So we asked her to plate this huge thing in nickel. A few weeks later, we had a "knob," which to me almost looked like a huge Texas-sized belt buckle for our big ass door.

So now we can just swap the doors, right? Well, not so much. Remember that the old door was a standard 36″ door — but the new one was 48″ wide? No problem — we just needed somebody to come cut a bigger hole in the front of the house.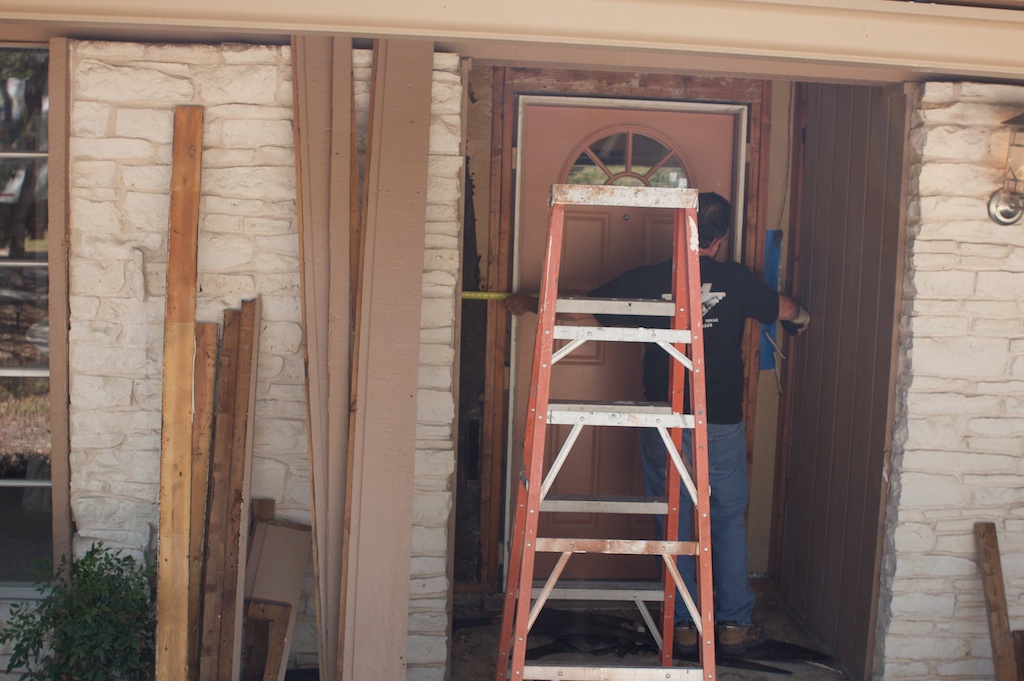 Yeah, that looks big enough.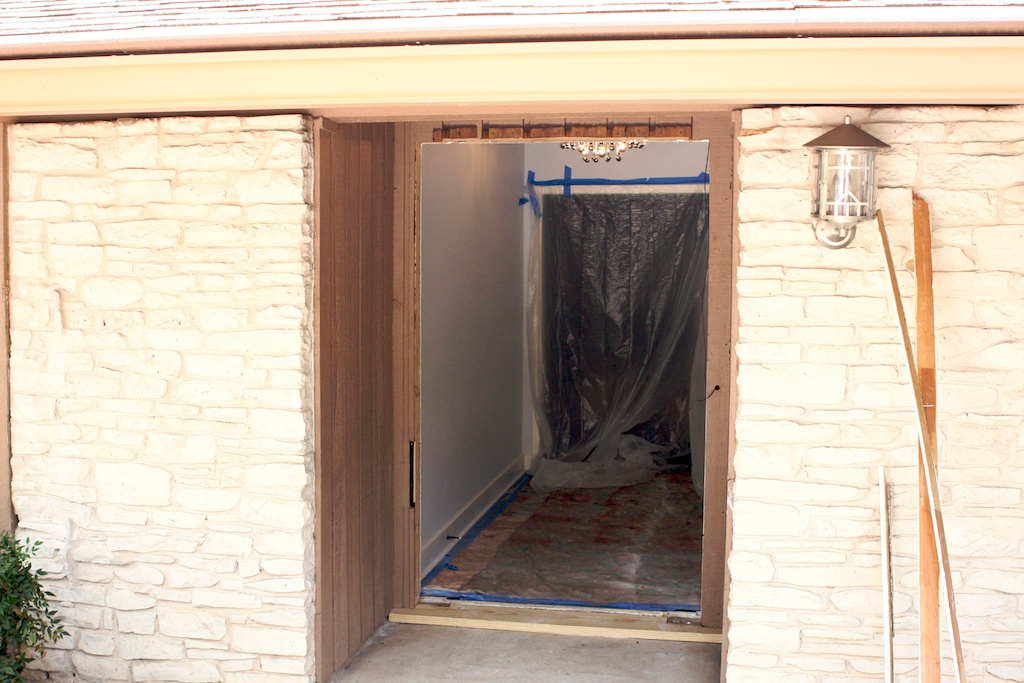 And with that, the old door was out…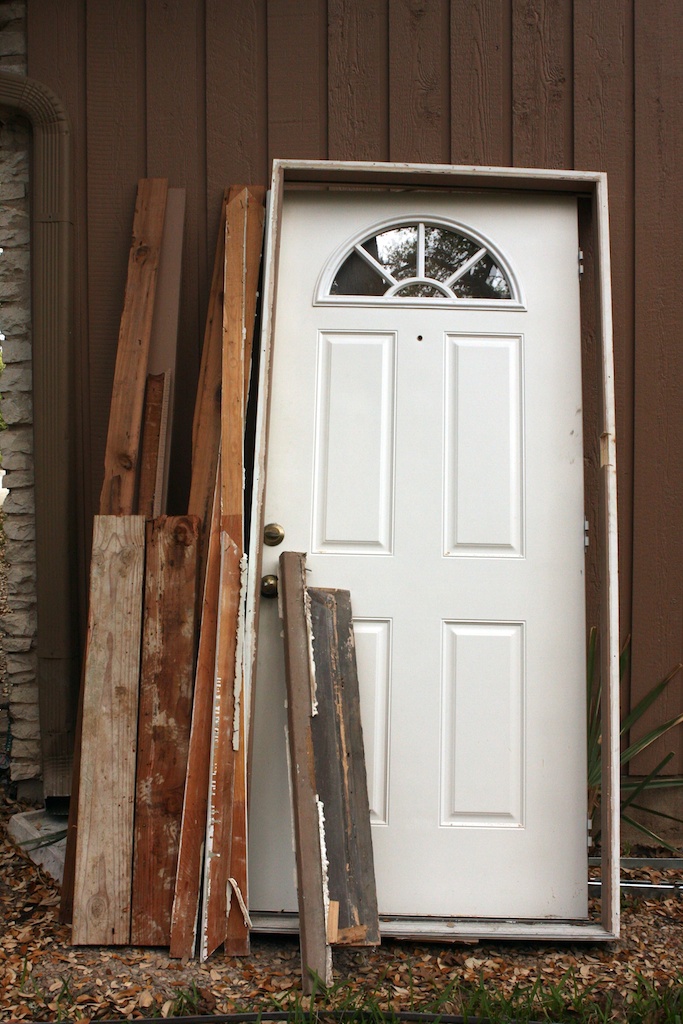 … and the new door was ready to go in.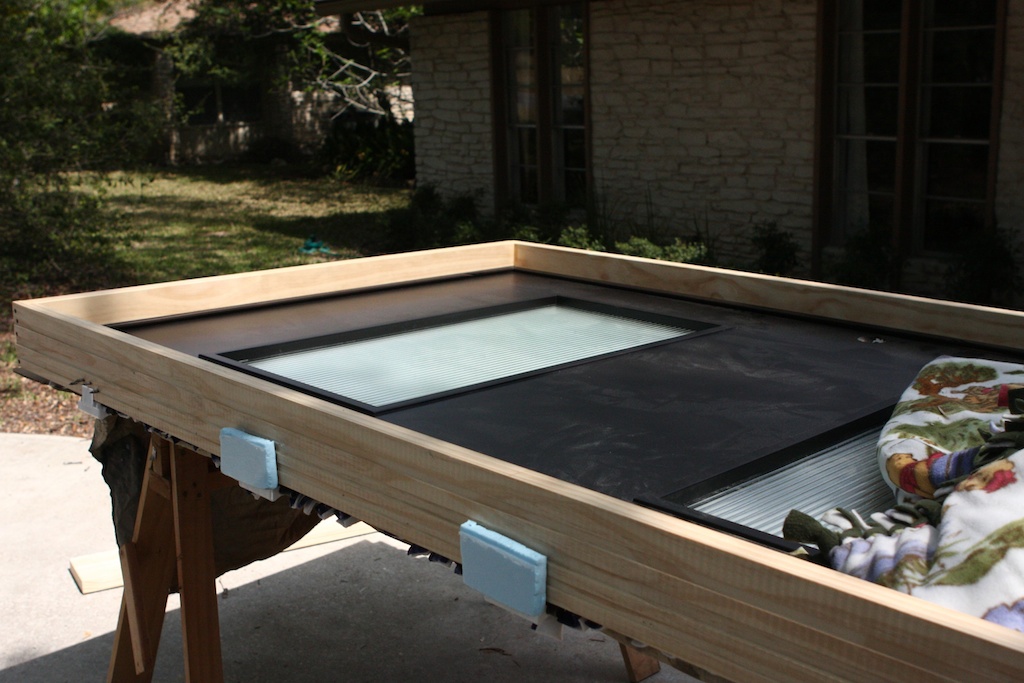 Here's what it looked like before the knob went on, and before the trim was painted.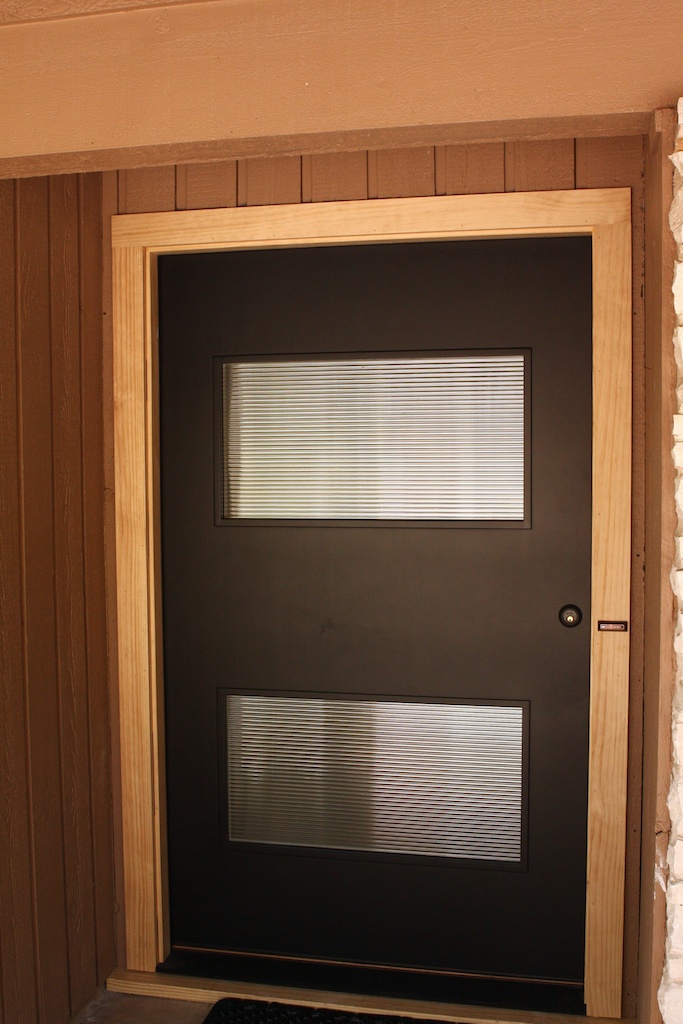 Speaking of that knob again, there's a funny thing on the knob that we couldn't remove, and it's become a cool little detail. The tractor disk was stamped with the manufacturer's name. There was no way to completely sand it off, so it was plated over, but there's still a ghost of that stamp on the knob.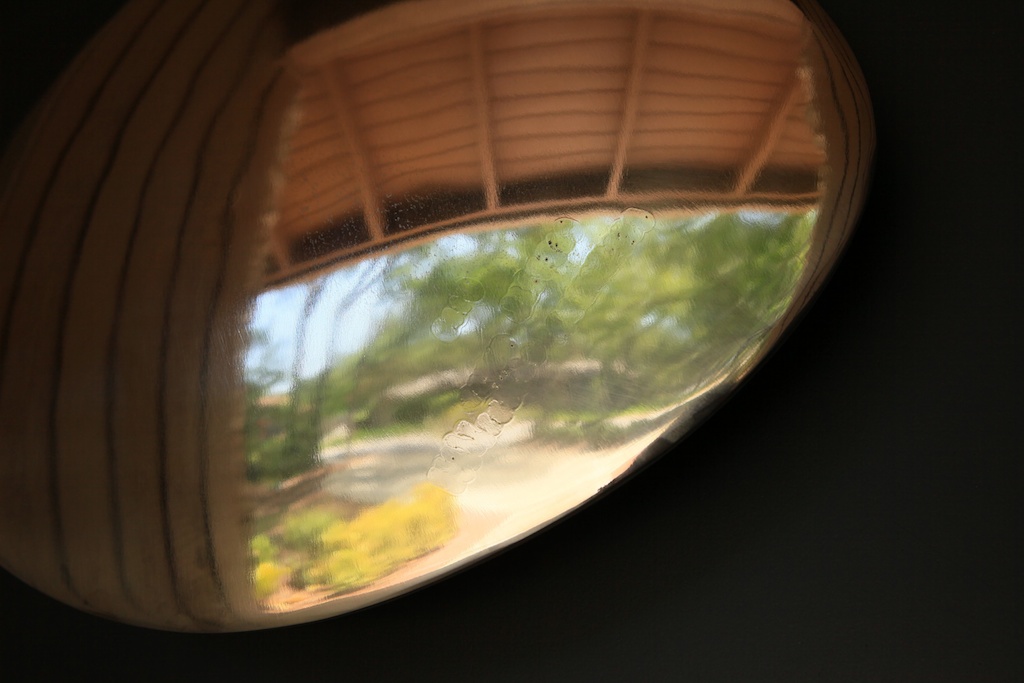 So the door was in, but AEJ also wanted to update the lighting. The outside light went from this, which was kind of squished under the roof overhang…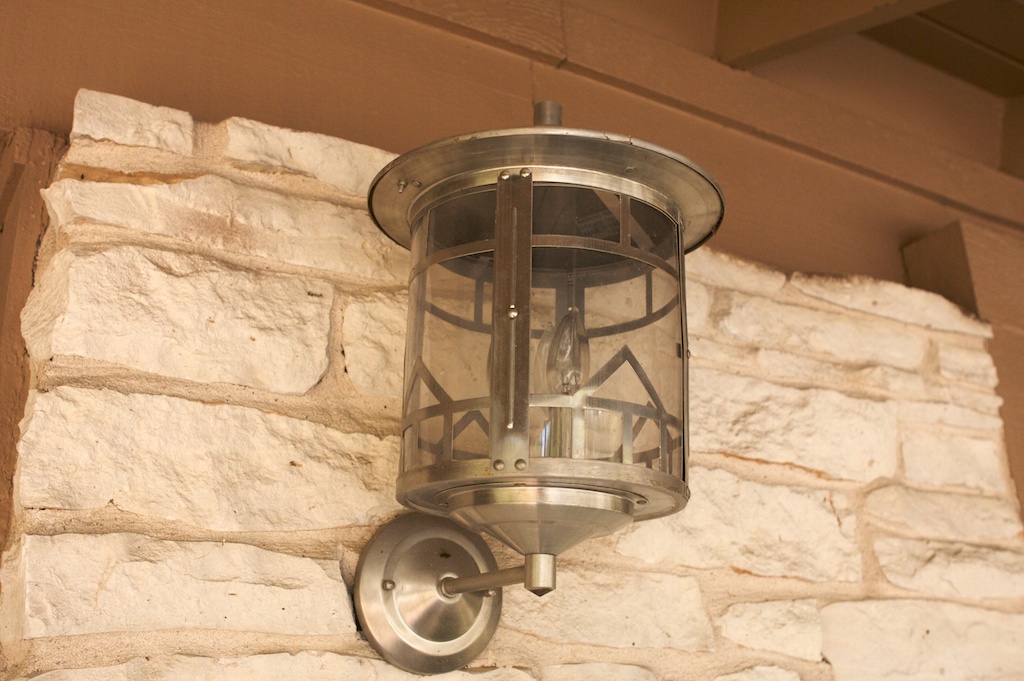 … to this, a more modern fixture that hangs down, instead of sticking up.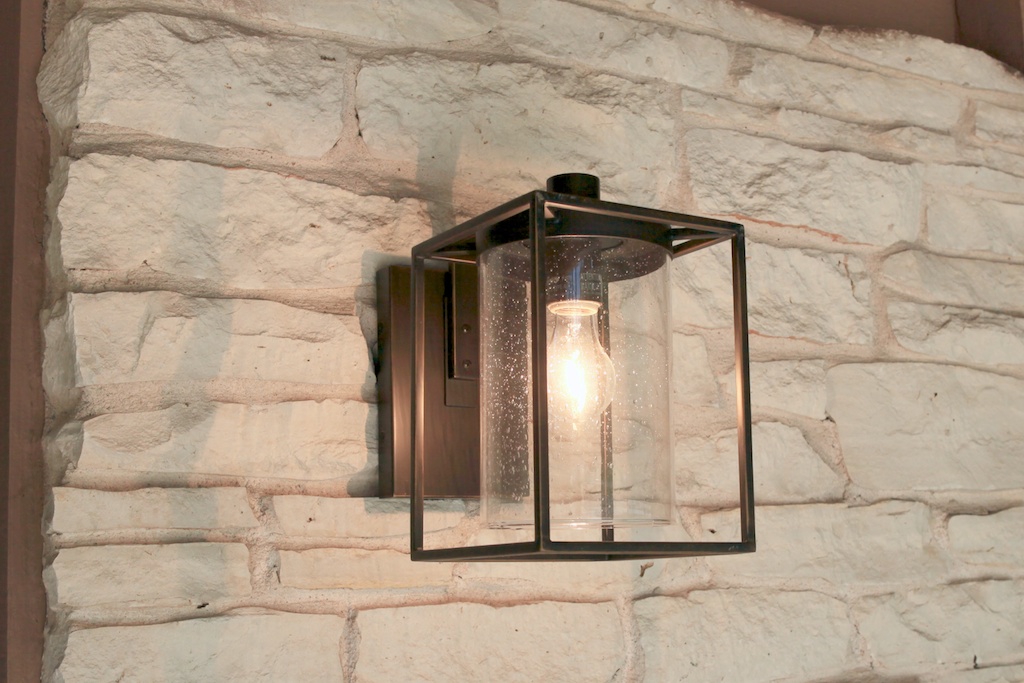 Much more drastic was the lighting change inside the house. We went from this fixture, which hung so low that delivery guys kept slamming their heads into it…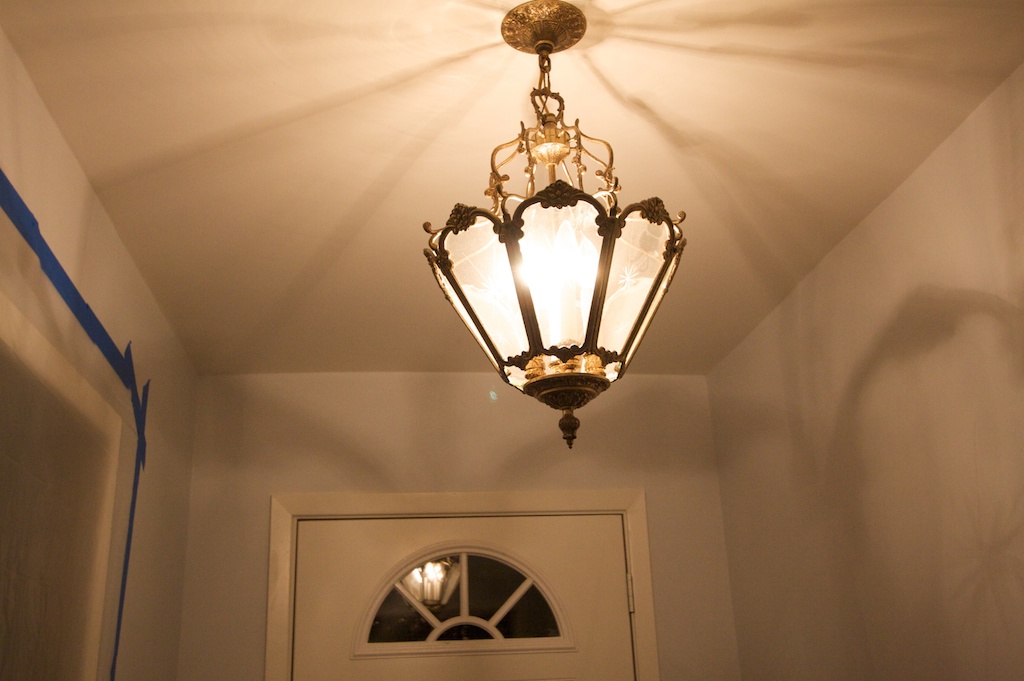 … to this awesome alien-looking thing with chromed light bulbs.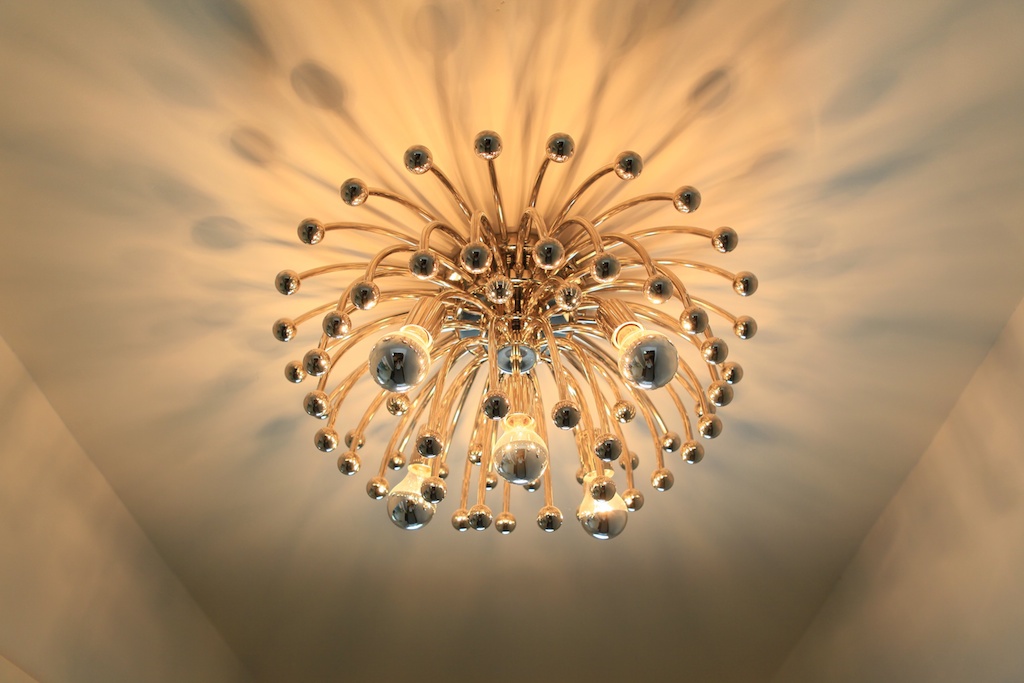 It's all done now, and it's a huge improvement. It lets a HUGE amount more light into the house, and the exaggerated width accentuates the low-slung shape of the 60's ranch-style house.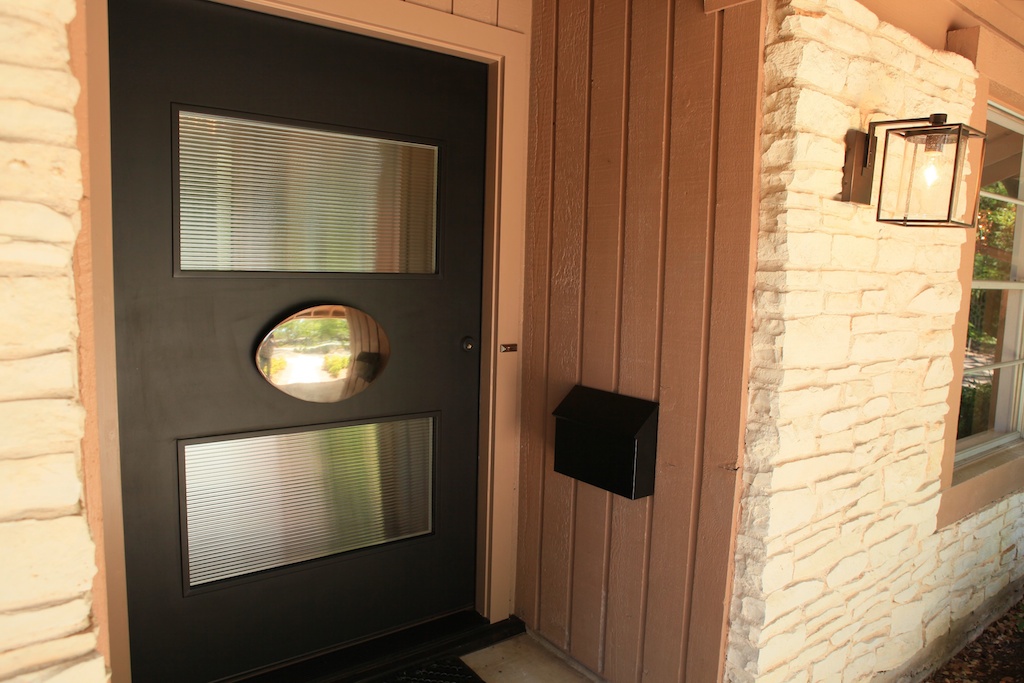 Before…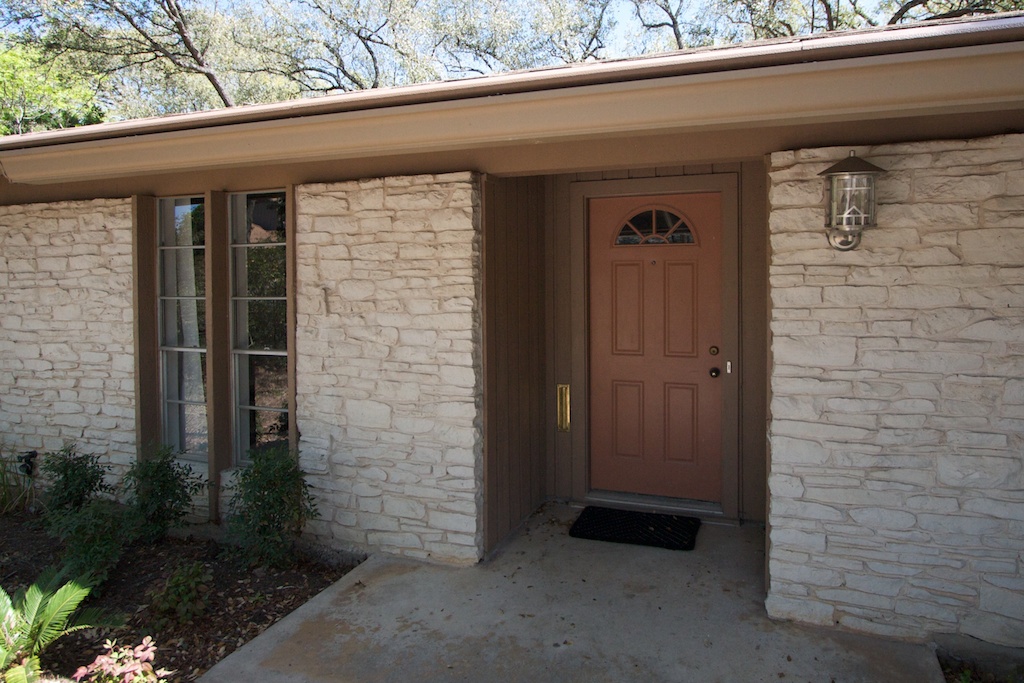 … and now.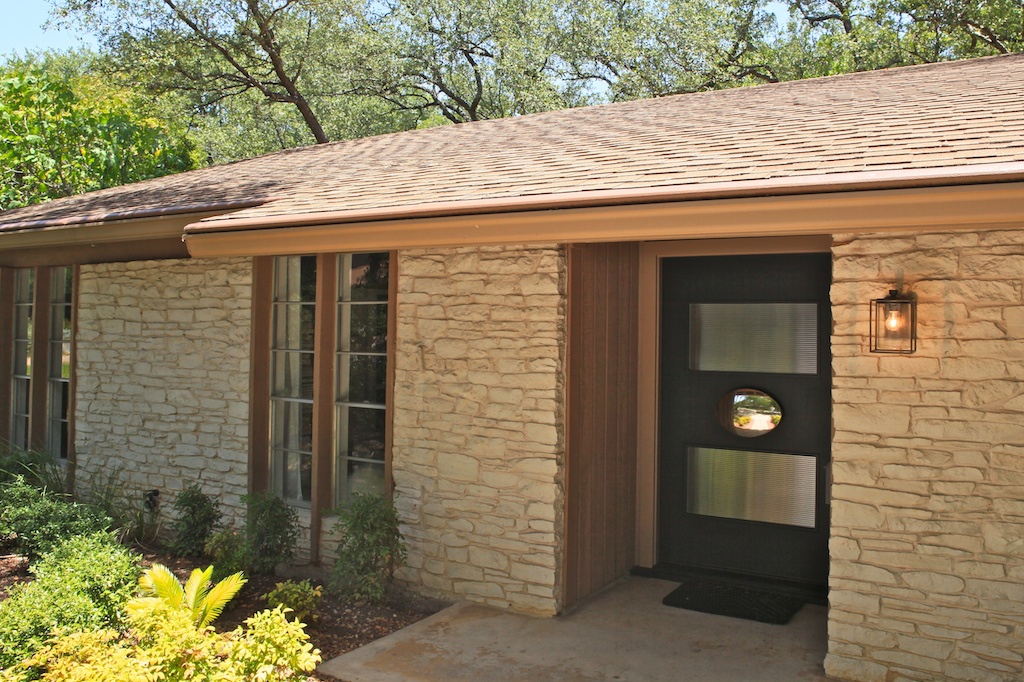 Maybe even more striking is the inside of the house. Here's the foyer when we bought the house. (This is before we changed the floors or anything; this was, I think, taken on the day we looked at the house.  Note the sage green paint, and the wood panel on the wall.)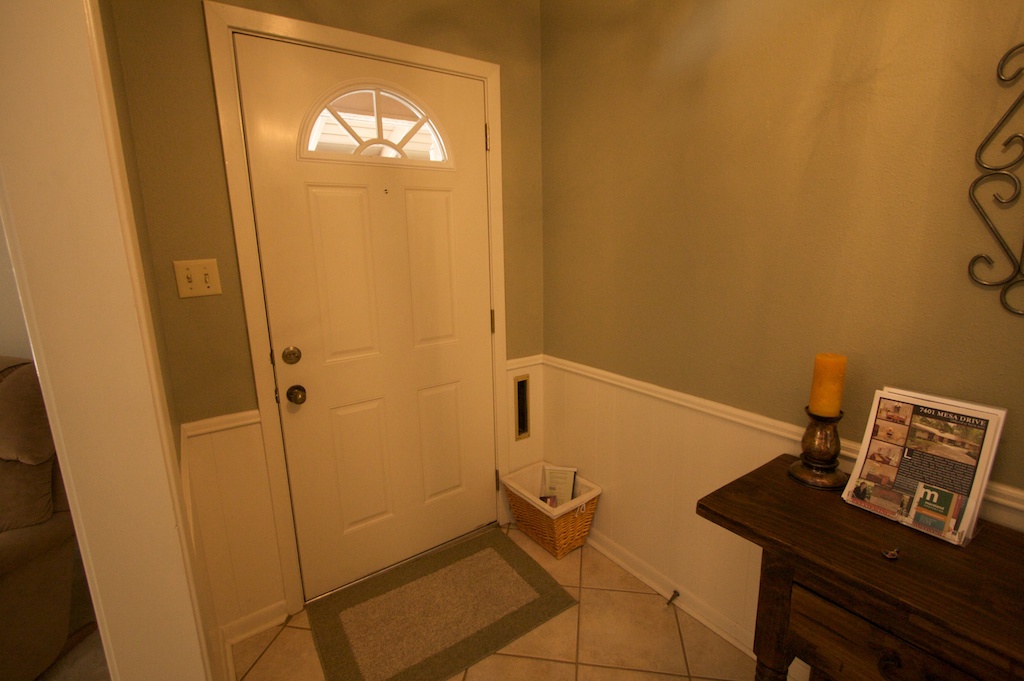 And here's the foyer now.  Oh, that raised stacked wood rectangle in the center of the door? AEJ had to design that, and have it custom built, too. It covers the massive bolts that are holding on the knob.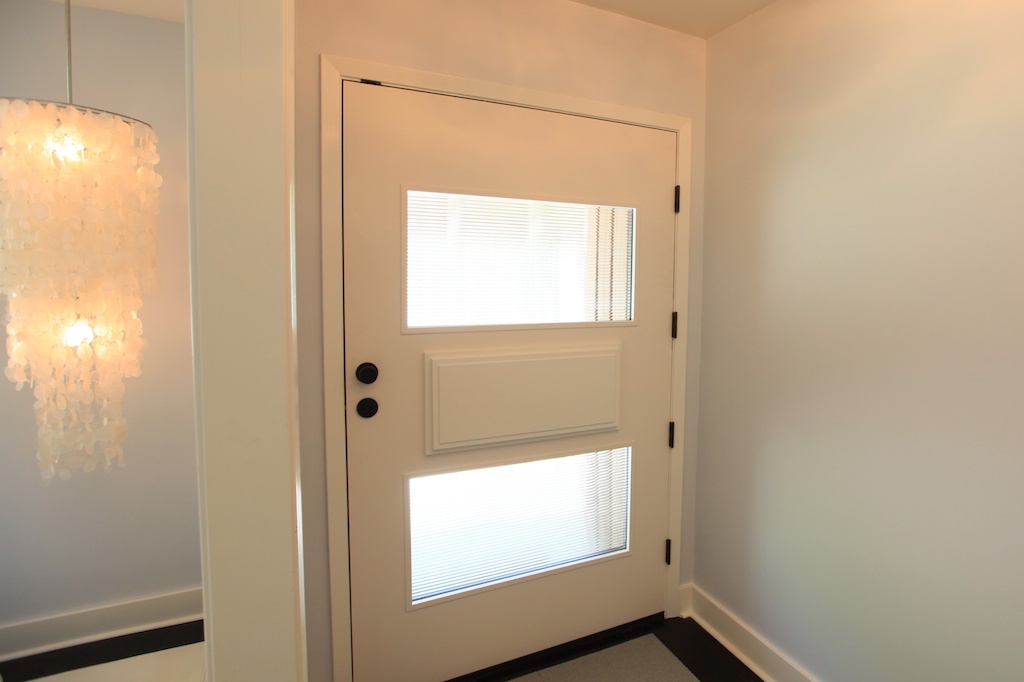 Another angle of the before…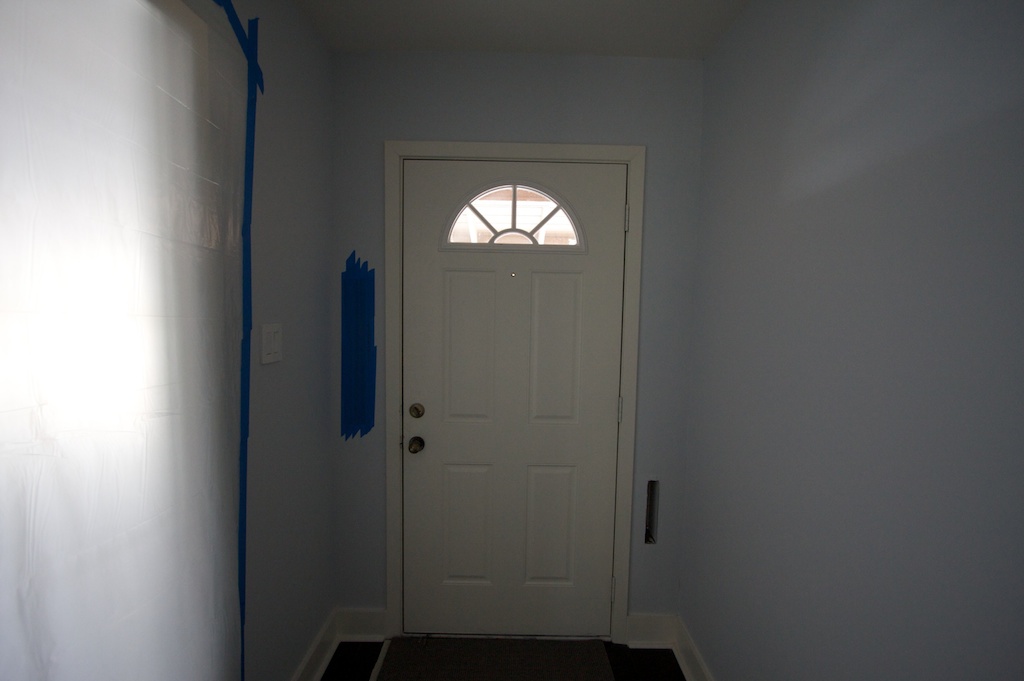 … and now.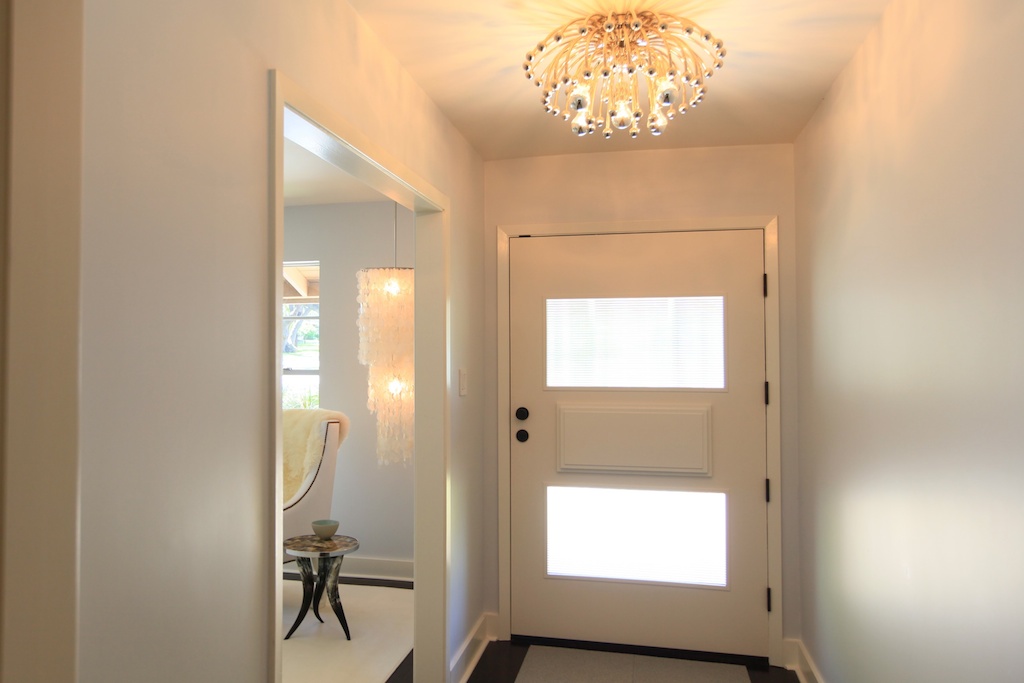 The whole project took months, with all of the research AEJ had to do to find vendors (for everything from the custom knob to the ball-catch that holds the door closed, since it doesn't have a standard knob), to the construction, to the plating, to the installation, to the electrician who had to move outlets… It was such a long process — to put it in perspective, it took longer to complete than the kitchen remodel — that my motto for future renovations became "custom is a very bad word." But now that it's done, I see that as always, AEJ's design eye was spot on. Even the FedEx guy wanted to talk about the door last week. AEJ has nailed yet another one.
Up next… the dining room.